Price analysis and trends of Ethereum and Chainlink
Ethereum prices
With EIP-1559 just hours away, Ether's price movement continues to be closely monitored by both bulls and bears. The debate will soon focus on whether this solution could impact the project's trajectory or whether sharding and ETH 2.0 will be the only real difference factors.
Bitcoin has broken its demand line in the past few days , but the signs of strength on the Ether chart have grown over the same time frame. 
Mudrex's 4-hour ETH chart shows an extremely strong bullish continuation and has also broken against the BTC pair. The next few days should confirm whether the breakout is legitimate or a fakeout. 
The Ether bulls are aiming for $ 2.8k and then $ 3k overhead as intermediate targets. The bears are hoping they can regain some momentum and postpone the price below $ 2.5k and then $ 2k, but the Ether bulls have been in total control for weeks now.
The price of ETH traded in green figures on Monday and ended up + 2.03%.
The 24-hour Ethereum price range is $ 2.507- $ 2.678 and the 7-day price range is $ 2.157- $ 2.678. The 30-day median price of Ether is $ 2,156.
Ether closed the daily candle on Monday with a value of $ 2,606 and in green figures for 13 of the past 14 days.
Chainlink analysis
Chainlink's price was bucking the macro trend at the start of Monday's daily candle, but the momentum faded before the final 4-hour candle and LINK closed at + 6.37% on the day.
The Chainlink network set a personal best for monthly integrations in July with 62. In this period, last year, the LINK token scored more than 157% in a few weeks interval which really sparked a wild summer in the 2020.
LINK is + 70.25% since the LINK token price bottomed out during the last downtrend.
The graph above from Altsignals shows the retest of the pulse generation point on LINK and the spring of LINK at that level. 
In the short term, the bulls target is $ 26 with a secondary target of $ 34. The bears are hoping to push the price back below $ 20 and then again to test recent lows.
Chainlink's 24-hour range is $ 21.41- $ 23.84 and the 7-day range is $ 17.71- $ 23.84. The 30-day average price of LINK is $ 18.01.
LINK closed Monday's daily candle in green numbers and is worth $ 23.46. LINK has closed 11 of the last 13 candles in green figures.
At the start of the first 4hr candle on Tuesday, ChainLink was up 12.5%.
Cardano Partners with Chainlink to Integrate Oracles for Advanced Smart Contracts
Cardano joins forces with Chainlink to provide extra support for developers building smart contracts by integrating oracles
The Cardano team has just published a blog post, announcing a partnership with Chainlink that will result in integrating Chainlink's oracles. These will help developers build smart contracts for Cardano DeFi apps.
The collaboration was announced during the Cardano Summit today, on September 25.
NEW BLOG: Announced just moments ago at #CardanoSummit2021, our collab with Chainlink Labs gives #DeFi developers #BuildingOnCardano secure access to a wealth of real-world data through Chainlink's decentralized oracle networks @Chainlink @Smart_Contract https://t.co/kOWFpjhtpL— Input Output (@InputOutputHK) September 25, 2021
Cardano teams up with Chainlink
Chainlink's oracle networks supply data to blockchain networks and allow smart contracts to work with results of elections, sports statistics, crypto rates, etc. They can also operate weather data (Chainlink is now working with some fintech companies that are bringing parametric insurance to South Africa) and other types of data as well.
Chainlink oracles help run hybrid smart contracts on any DLT network. Presently, Chainlink secures billions of USD in DeFi apps, gaming apps, platforms related to insurance and other top industries.
Chainlink to power Cardano smart contracts
The integration of these oracles in the Cardano DLT will allow dev teams to supply institutional-grade data provided by Chainlink into their smart contracts. The oracles will support prediction apps that deal with sports data, weather data necessary for parametric insurance apps; they will be applied in the sphere of gaming and digital collectibles, like NFTs, etc, via multiple partnerships.
Founder of IOHK Charles Hoskinson stated that Chainlink oracles are necessary for advanced smart contracts and they will provide real-world data to the Cardano blockchain. He emphasized that Cardano intends to provide developers with best tools for creating solutions that will be of actual use.
Hoskinson believes that Chainlink oracle integration will also provide a perfect foundation for the DeFi ecosystem on Cardano.
XRP, Chainlink and This Crypto Project Launching Bitcoin Smart Contracts Are 'About To Go Crazy', Says Altcoin Daily
Altcoin Daily host Austin Arnold is listing three altcoins that he says are "about to go crazy".
In a new video, Austin tells his one million YouTube subscribers that the altcoins in question are Dfinity Foundation's Internet Computer (ICP), the bridge currency XRP, and blockchain oracle network Chainlink (LINK).
Kicking off the list with Internet Computer, Austin says that the crypto project focused on becoming a decentralized global computing platform, is planning to introduce smart contract functionality to Bitcoin.
"Internet Computer smart contracts will gain access to Bitcoin liquidity and Bitcoin will gain powerful new smart contract functionality without the need for insecure and cumbersome trusted bridging services.
So this could be big – a DeFi [Decentralized Finance] ecosystem for Bitcoin is a major industry initiative. It would mean the world's most popular cryptocurrency, Bitcoin, could be used for lending, yield farming, derivatives, liquidity pools and more."
Turning to XRP, Austin says the developer Ripple Labs has encountered a setback in the lawsuit filed against it by the U.S. Securities and Exchange Commission (SEC).
"…Ripple filed a motion back in August 27th requesting information about whether SEC employees had purchased and traded Bitcoin, Ethereum and XRP. The United States Magistrate Judge Sarah Netburn rejected this motion on Tuesday…
…so what this means to you as a potential XRP holder is that Ripple will have to find another way to prove to the SEC that XRP is not a security. That's of course the SEC's point of view. They're the ones that are suing Ripple and the case is heating up."
In the case of Chainlink, Austin says that the blockchain oracle network's recent integration with decentralized cold storage aggregator Coldstack is bullish.
"…big green flag for LINK holders. Here's the reason Chainlink was chosen – because in their [Coldstack] words 'Chainlink is the industry standard in blockchain oracles'."
Austin also quotes Coldstack's CEO Alexander Shishow showering praise on Chainlink.
"In a direct quote from Coldstack CEO… 'There really isn't any substitute for Chainlink – if we want to provide the best data storage solutions for our users, then it makes sense to use the best oracle service provider in the industry.'"
Chainlink Price Prediction: LINK prepares for quick 40% breakout
Chainlink price is grappling with the 50% Fibonacci retracement level at $2.22.
A decisive close above this barrier is likely to trigger a 30% climb to $31.82.
If LINK fails to hold above $19.28, it will invalidate the bullish thesis.
Chainlink price is currently retesting the midpoint of the trading range as it tries to recover from the crash witnessed in the third week of September. A successful flip of this barrier will allow LINK to venture higher and recover the losses over the past week.
Chainlink price ponders a journey higher
Chainlink price rose 21% over the past 48 hours and encountered the 50% Fibonacci retracement level at $25.22. Although the buyers are struggling to push through this barrier, the future remains mildly optimistic.
A decisive close above $25.22 will indicate a resurgence of bulls and propel it to the next supply level at $27.39. While this is a temporary blockade, the market makers will likely push LINK to collect liquidity resting above the September 16 highs at $31.82.
However, investors need to note that this uptrend might first encounter a pullback to the 62% Fibonacci retracement level at $22.76.
This ascent to $31.82 would constitute a 40% climb from $22.76.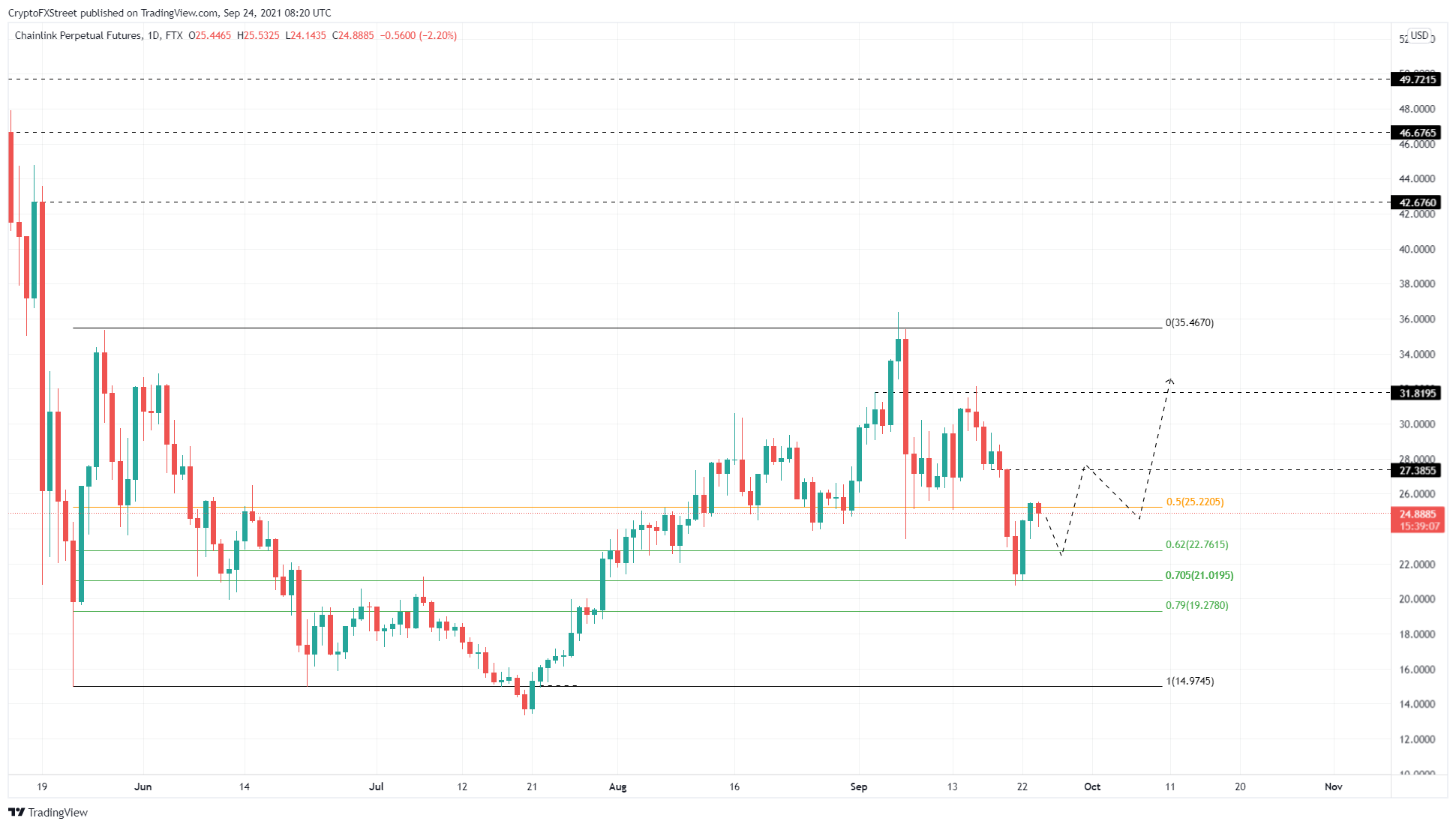 LINK/USDT 1-day chart
On the other hand, if Chainlink price fails to bounce off the 62% Fibonacci retracement level at $22.76, it will reveal a chink in the bulls' armor. Such a development will likely push LINK to $21.02, a second chance to restart the uptrend. A breakdown below this level will create a lower low, invalidating the bullish thesis.
This move might trigger a further correction to the range low at $14.97 if the selling pressure persists.