SEC Chair Gensler Says He's Concerned About DeFi
Gary Gensler has made it clear that he's not a cryptocurrency cheerleader despite his expertise in the sector
Securities and Exchange Commission (SEC) Chair Gary Gensler recently told Bloomberg that he was concerned about decentralized finance.

Apart from DeFi, multiple other sectors of the cryptocurrency industry, including stablecoins and exchange-traded funds, are on the SEC's radar.

Gensler claims that he asked his staff to use all of the agency's authorities:
I've asked the staff to use all of our authorities anywhere we can.
As reported by U.Today, the SEC boss urged Congress to regulate cryptocurrency exchanges during a virtual hearing back in March. 
RelatedSEC Chair Gary Gensler Warns There Are Non-Compliant Crypto TokensDespite teaching an MIT course on blockchain in the past, Gensler made it clear that he's not neutral on crypto when it comes to investor protection:
While I'm neutral on the technology, even intrigued—I spent three years teaching it, leaning into it—I'm not neutral about investor protection.
The Indian Finance Minister warns regulators about Crypto. Here's what she said

Finance minister Nirmala Sitharaman argued that the government's extra cautious nature towards crypto could be a risky choice that may curb "a futuristic thing". She highlighted that the government is going through rigorous consultations on the issue of cryptocurrencies in India and that they are also considering the Reserve Bank of India's POV.
"This is not an era where you can say I don't care about what's happening, or we don't want to do anything. At the same time, are we yet ready to go the El Salvador way? We have to be sure that a futuristic thing can't be shut out,", Sitharaman told Hindustan Times.
Sitharaman asserted that India's own cryptocurrency is not impossible, as the country's technological and fintech infrastructure holds extreme potential. However, according to the Finance Minister, caution remains key to laying out a foolproof plan to incorporate the decentralized sphere into a nation's economy. Yet, she added that it's only a matter of what is most suitable for the country and that before adopting an anti-crypto stance, they should "think it through"
"We have to evolve something suitable for our systems. India has the strength of the technology; fintech gives us the command over the instrumentalities with which you can play; our economy is full of possibilities. So, we have to be cautious; but we have to think it through.", said Sitharaman.
Crypto Tax in India
Earlier this month, the crypto community of India felt relieved as an ET report claimed that the government might tax crypto transactions and exchanges instead of an absolute ban. However, the taxation of crypto assets won't make it an asset class. The report also contradicts recent comments made by the governor of the Indian Central Bank, Mr. Shaktikanta Das who argued that crypto-asset is a major concern.
"We have major concerns on cryptocurrency, which we have conveyed to the government. With regard to advice to investors, well, central banks don't give any investment advice. It's up to each investor to make his own appraisal, to do his own due diligence and take a very careful call with regard to his own investments.", said Das.News Source
Binance faces allegations of insider trading by US officials as regulatory clampdown continues
US investigations into Binance have now expanded to examining allegations of insider trading and market manipulation.
Authorities believe that the leading crypto exchange may have taken advantage of its customers.
While the CFTC continues to investigate, Binance has responded that it has a "zero-tolerance policy" for insider trading.
Binance continues to face regulatory scrutiny as US officials are looking into potential insider trading and market manipulation. Investigations are digging deeper into whether Binance or its staff have taken advantage of its customers.
CFTC continues to probe deep into Binance
The world's largest cryptocurrency exchange, Binance is facing an inquiry from US officials as they are suspecting that the firm has been involved in insider trading and market manipulation. The review involves the US Commodity Futures Trading Commission (CFTC) investigators, who have been speaking to potential witnesses, according to a Bloomberg report.
The authorities in the US are questioning whether the exchange has exploited access to millions of transactions, including the possibility of the firm trading on customer orders before executing them.
In response to the allegations, a Binance spokesperson told Bloomberg that the exchange has a "zero-tolerance policy" for insider trading and an ethical code to prevent any misconduct that could potentially harm customers or the digital asset industry. The security at Binance has strict guidelines that are set for investigating wrongdoing and holding its employees accountable.
Binance has been faced with increased regulatory pressure across multiple continents, as a growing list of countries are demanding the company to halt services within their borders. Previously, the Justice Department and the Internal Revenue Service in the US have launched investigations into Binance's business with concerns over money laundering and tax evasion.
Currently, Binance has not been confronted with any official action, although the CFTC and Justice Department have been looking closely at the firm for months. There could be some time before the agencies decide whether to press charges against the exchange.
Binance Coin price in danger of a 22% decline
Binance Coin price has formed a symmetrical triangle pattern on the 4-hour chart that started on September 7. While the technical pattern suggests that BNB is met with indecision, the breakout of the support trend line at $398 indicates that the exchange-based coin could be headed for a steep fall.
In fact, the prevailing chart pattern suggests that Binance Coin price is headed for a 22% decline toward $309. Despite the pessimistic outlook, BNB has a few lines of defense before the bearish target is in the offing.
Binance Coin price would discover immediate support at the 50% Fibonacci retracement level at $386. The following line of defense for BNB is at the 38.2% Fibonacci retracement level at $355, then at $325, corresponding to the 27.2% Fibonacci retracement level.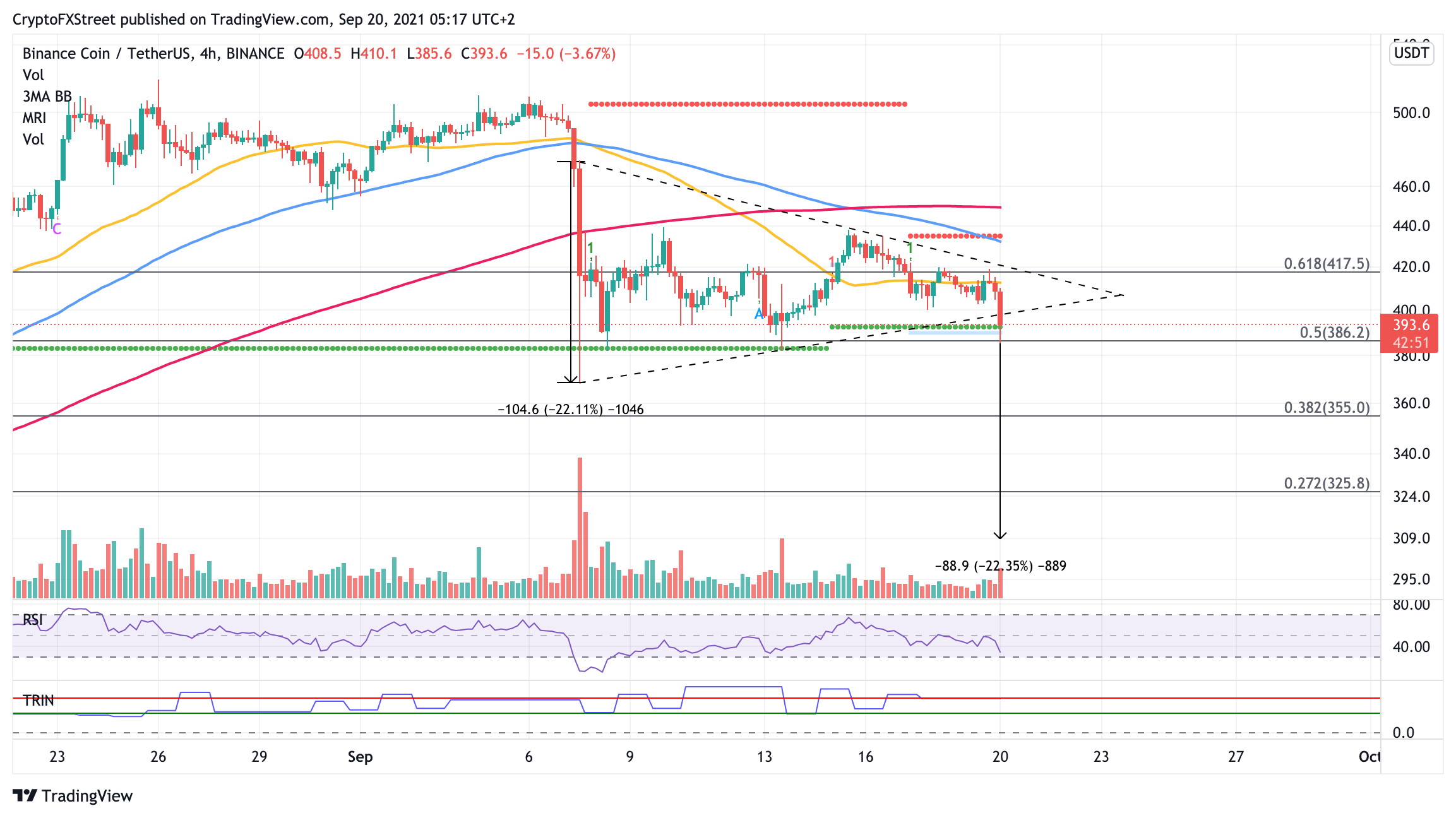 BNB/USDT 4-hour chart
Only a massive spike in selling pressure could see Binance Coin price fall to its bearish target at $309.
BNB must stay above $393, the support level given by the Momentum Reversal Indicator (MRI), to void the pessimistic outlook.
The lower trend line of the triangle would then act as the next level of resistance at $398 before being confronted by the 50 four-hour Simple Moving Average (SMA) at $412.
Mark Cuban Issues His Five Crypto Regulation Commandments – Community Balks
The Shark Tank star, crypto bull and Dallas Mavericks owner Mark Cuban has taken to Twitter to air his opinion on how the crypto sector should be regulated – drawing mixed reviews from the community.
Cuban, who has grown increasingly vocal about all things crypto-related – including dogecoin (DOGE) – in recent months, wrote that while "'crypto' is not monolithic," certain rules needed to be applied. 
Here are his five hot takes:
Stablecoins will be the first to get regulated, as buyers were uncertain as to how "stable" such tokens really are. "It needs standards," he opined.
Smart contracts "are the most likely source of fraud," and "intentional omissions" and "undisclosed actions," as well as "lack of clarity" could blight their cause. But rather than seek regulatory approval, Cuban noted they would likely be subject to fraud probes and "certified audits" – ruling out "anonymous smart contract" deals. "Proof of authorship and identity could be a thing," Cuban remarked.
Tokenomics are "confusing" and "a ripe opportunity for fraud." Liquidity and authorship checks could address possible issues.
Anonymity may have to be sacrificed for tokenomics and smart contracts so the "feds and victims will have a person/entity to sue or indict." Stoically, he mused: "that's the price that will be paid."
Regulation built around existing fraud laws "is not a bad thing," will not hamper innovation, and will "open the door for more people to confidently use" crypto.
Many chimed in with their responses, with crypto trader 'cubantobacco' suggesting that regulators create "a separate whitelist for regulated contracts" and "a regulator standard certification for smart contract auditing companies." Cuban (Mark, that is), responded by calling the notion a "great idea and tagging the Securities and Exchange Commission (SEC) chief Gary Gensler.
Cuban opined that a similar notion already exists "in the stock market" in the form of the OTC Markets Group-compiled over-the-counter (OTC) securities liquidity gauge Pink Sheets and the Financial Industry Regulatory Authority's OTC bulletin board quotation service.
The OTC stock market, he complained, is "full of small market cap junk and trade huge volumes for less than USD 0.01 per share." "If it works in stocks," he asked, "Why not crypto?"
Others took a very dim view of Cuban's opinions, with Meltem Demirors, Chief Strategy Officer at CoinShares, quipping acerbically:
"It's truly incomprehensible to me why y'all simp for this man."
The Wintermute Trading Founder and CEO Evgeny Gaevoy was no less critical.
Tell me you don't understand defi without telling me you don't understand defi🙃 https://t.co/T5xC0GXLHd— wishful cynic (@EvgenyGaevoy) September 17, 2021
But it seems that at least one of Cuban's forecasts may well hit the mark. Bloomberg reported that the American Treasury was "readying" a stablecoin "clampdown," having identified "urgent risks."
The report stated that sources close to the matter were concerned about a lack of "consumer protections": "Treasury officials are paying special attention to how stablecoin transactions are processed and settled, and whether that changes based on market conditions."
Meanwhile, the General Counsel at Compound Labs Jake Chervinsky issued a warning on Twitter, where he wrote:
"Reminder: We have two weeks left until the fiscal year ends for the SEC and the [Commodity Futures Trading Commission]. I have no inside knowledge of any impending actions, but won't be surprised if we see crypto enforcement activity from either or both agencies soon."News Source