Three reasons why Shiba Inu price will quickly drop 45%
Shiba Inu price is locked below the 50-day simple moving average (SMA) as it continues to compress, creating the basis for a decisive move.
SHIB fundamentals and spirit continue to weaken as eToro announcement fails to trigger interest and ShibaSwap DEX TVL falls off a cliff.
Daily active addresses maintain a downtrend with the 7-day moving average tagging the early May levels.
Shiba Inu price has trended lower in a descending parallel channel since the May crash, offering only brief opportunities from low probability patterns or setups. The weak performance is a marked deviation from the extreme price events in early May when SHIB climbed almost 2,000% from May 7 to May 10. Thus, an unfriendly chart outlook mixed with a deteriorating fundamental situation and a bearish trend in an on-chain metric raises the probabilities of a sharp break to the downside from the tightening price range.
Shiba Inu price faces declining interest and fundamentals
Shiba Inu price closed up only 2% on the news that eToro was listing Shiba Inu on their multi-asset investment platform. The bleak response to the opportunity of over 20 million investors having access to trade the meme token encapsulates the waning interest in the cryptocurrency as the multi-week price drift has shaken the bullish consensus and fractured the underlying FOMO that catapulted SHIB higher in April and May.
An additional indictment of the waning interest in Shiba Inu is the plunge in the ShibaSwap DEX total value locked (TVL) from the July 14 high of $1.76 billion to just $389.34 million as of today, representing a 77% fall in less than a month.
It is an embarrassing turn of events from the launch in early July when ShibaSwap DEX hit $1.50 billion in total value locked in less than 48 hours. Actually, the stampede of users rushing to stake on ShibaSwap sent Ethereum's gas fees through the roof.

ShibaSwap TVL – Defi Llama
A final example of the limited interest in SHIB is the steady, low levels in the social media volume. The Santiment Social Volume metric captures the number of mentions of SHIB on 1000+ crypto social media channels, including Telegram groups, crypto subreddits, discord groups and private traders chats.
Excluding a brief rise in the social volume in mid-July, social media interest has remained stagnant, including during the launch of ShibaSwap in early July and following the eToro announcement.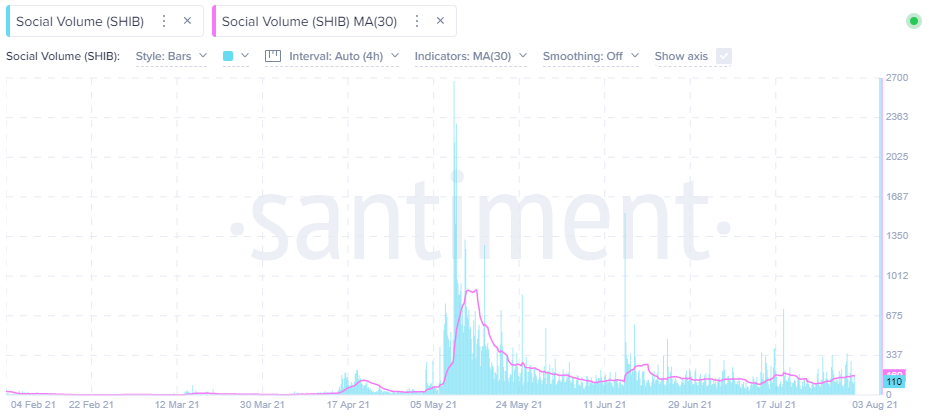 SHIB Social Volume – Santiment
Shiba Inu price suffers from decreased speculation, says on-chain metric
The latest Daily Active Addresses metric published by Santiment shows that the number of unique addresses involved in SHIB transactions daily continues to decline from the early July spike when ShibaSwap went live. The relentless fall has pushed the 7-day moving average to the lowest reading since early May, signaling that the daily level of crowd interaction or speculation with the token has erased the spike associated with the jump in Shiba Inu price in early May.
FOMO has left the building,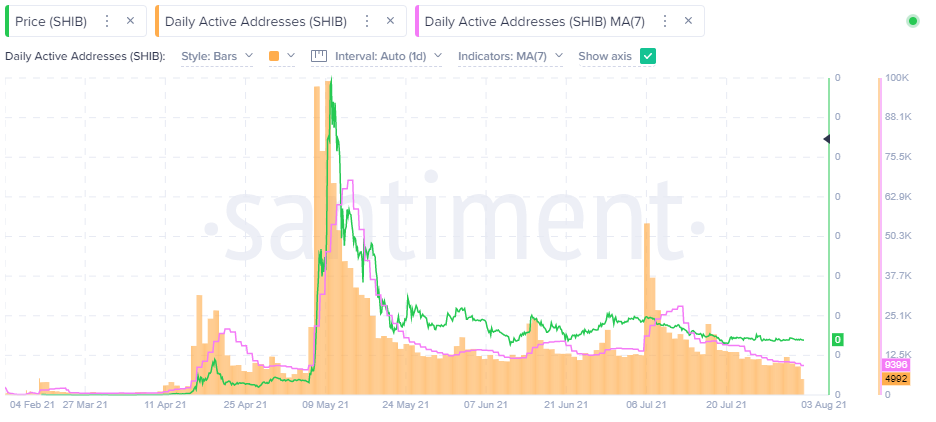 SHIB Daily Active Addresses (DAA) – Santiment
Shiba Inu price fails to participate in the crypto market rebound
Since July 21, Shiba Inu price has climbed 5.95%, owing the positive return to the 11.22% gain on July 21 as the return from July 22 is -4.74%. The return stands in stark contrast to the 40% gains logged by Bitcoin, Ethereum, and other altcoins. 
The negative deviation of Shiba Inu price and increasingly tighter price action just above the critical May 19 low of $0.00000607, but below the falling 50-day SMA, has pushed the 20-day Bollinger Band Width (BBW) to its lowest reading.
The notable price compression reveals that SHIB is near a sharp move in the coming days. With the general trend being down and confirmed by the declining 50-day SMA, there is a high probability that Shiba Inu price will register a daily close below the May 19 low soon. A definitive close below the tactically important level should introduce a sharp move to the lower line of the descending parallel channel around $0.00000333, equaling a 45% decline from $0.00000607.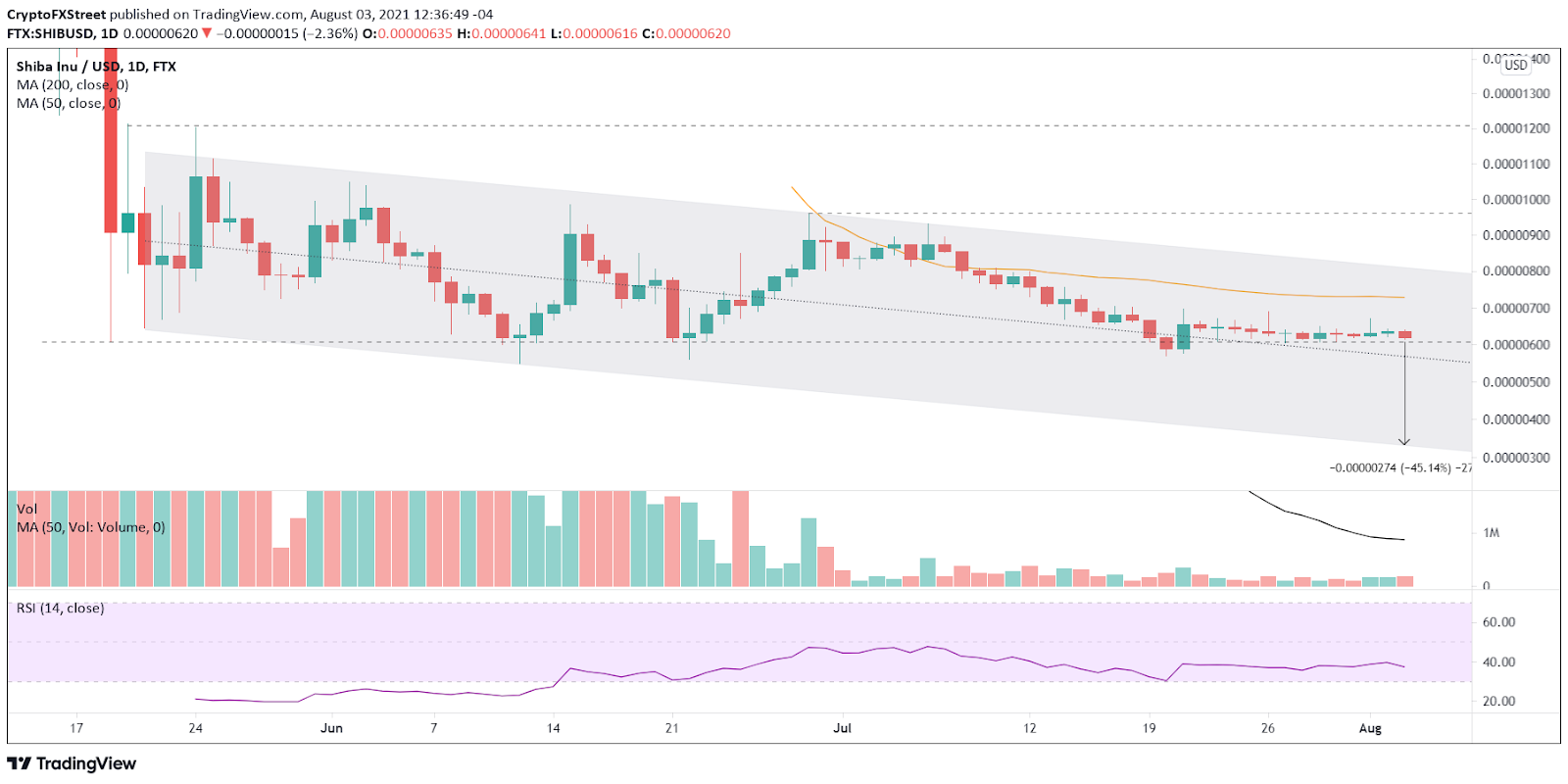 SHIB/USD daily chart
Shiba Inu price is at a crossroads in its short life. However, the lack of interest in the eToro announcement, the absence of social media volume, the rapid descent of the ShibaSwap DEX TVL and a price structure that is definitively tilted to bearish outcomes places SHIB in a vulnerable position moving forward. 
Traders swap Dogecoin for Shiba Inu on rumors of Robinhood listing
Social investing app Public.com lists SHIB for members with crypto access; the platform is yet to launch crypto wallets.
Brazil's largest cryptocurrency exchange Novadax added SHIB to its fiat-crypto market.
All staking and liquidity mining stablecoin rewards on SHIB will now be distributed through BONE, saving Shiba Inu holders the gas fees paid in Ethereum to claim rewards.
Development of Shibarium and Shiboshi games is underway; launch is expected within a few months.
Shiba Inu coin reached over a million new traders through its listing on Novadax, Public.com and CoinFLEX. A crypto exchange offered traders "Flip DOGE for SHIB" and exchanged Dogecoins for Shiba Inu tokens.
Rumors of Robinhood listing, analysts predict SHIB recovery
Public.com, a social investing app, recently listed the Shiba Inu coin for members who have opted in for cryptocurrency access on the platform. The social app added cryptocurrencies to its list of offerings on October 7. The platform has over a million traders on its app. 
Brazilian traders now access SHIB through the country's largest cryptocurrency exchange, Novadax's fiat-crypto market. Traders on the exchange can buy SHIB using Brazilian Real on Novadax. 
Great news for the #ShibArmy in #Brazil, where the biggest exchange in the country now allows to trade Brazilian Reais (BRL) for $SHIB. https://t.co/WZ4FttnIC0#Crypto #SHIBA— Shib (@Shibtoken) October 20, 2021
ChangeNOW, a non-custodial cryptocurrency exchange platform, recently offered its traders the option to "Flip DOGE for SHIB," effectively exchanging their Dogecoin holdings for Shiba Inu coin. Traders availed this service to accumulate more SHIB tokens ahead of the rumored listing on the zero-commission exchange platform, Robinhood.
An anonymous source close to the exchange revealed that Robinhood had taken notice of the social media support for SHIB, and the platform plans to list SHIB soon.
Shytoshi Kusama, the leader of all Shiba Inu ecosystem projects, recently shared an update on the trifecta SHIB, LEASH and BONE. Kusama addressed SHIB holders' issue with ETH gas fee payment in claiming staking and liquidity rewards. All rewards in stablecoins will now be distributed through BONE.
Kusama confirmed that Shibarium and Shiboshi game development is underway, and there are plans to launch the products in the upcoming months.
Pseudonymous cryptocurrency analyst @army_shiba is bullish on SHIB price. The analyst set a target of $0.00004161 and $0.00005201. 
$SHIB CHART! 🔥

📈 It is forming a bullish triangle for around ten days. It accumulates in .2479 (support) and .3519 (resistance) channel!

Once it breaks the resistance, targets will be .4161 and .5201! 🔥 pic.twitter.com/VUhlu55AdW— $SHIB KNIGHT (@army_shiba) October 22, 2021
FXStreet analysts have evaluated the SHIB price trend and predicted that Shiba Inu has one obstacle to overcome before the Dogecoin-killer hits $0.00006. 
Shiba Inu Price Prediction: SHIB at edge of 20% ascent if bulls conquer last hurdle
Shiba Inu price is preparing for a 20% rally once it overcomes one last obstacle.
SHIB needs to slice above the prevailing chart pattern's neckline at $0.00002946 before ascending to the October 7 high.
If Shiba Inu falls below $0.00002712, the token would fall back into a consolidation pattern, continuing to trend sideways.
Shiba Inu price continues to consolidate as it moves sideways following the tremendous bull run earlier this month. SHIB has presented a buying opportunity as it edges closer to a 20% rally following the emergence of a bullish technical pattern.
Shiba Inu price awaits climb toward $0.00003543
Shiba Inu price has formed an inverse head-and-shoulders pattern on the 4-hour chart. The prevailing technical pattern suggests a 20% breakout toward $0.00003543, the October 7 high, once SHIB surges above the neckline of the chart pattern at $0.00002946. Until the dog-themed token is able to slice above this one last obstacle, it may continue to trend sideways.
Adding credence to the bullish outlook is the break above the descending resistance trend line that formed since the swing high on October 7. However, before Shiba Inu price could reach the aforementioned optimistic target, there remain two major hurdles: the October 13 high and the October 11 high at $0.00003073 and $0.00003200, respectively.
Shiba Inu price appears to be also devising a symmetrical triangle pattern, with a measured 42% rally if SHIB makes a decisive move toward the upside. Although the token broke above the resistance trend line, it appears to be hovering around the topside trend line of the triangle pattern.
A spike in buy orders could see Shiba Inu price slice above the inverse head-and-shoulders neckline and eventually prepare for a 20% rally.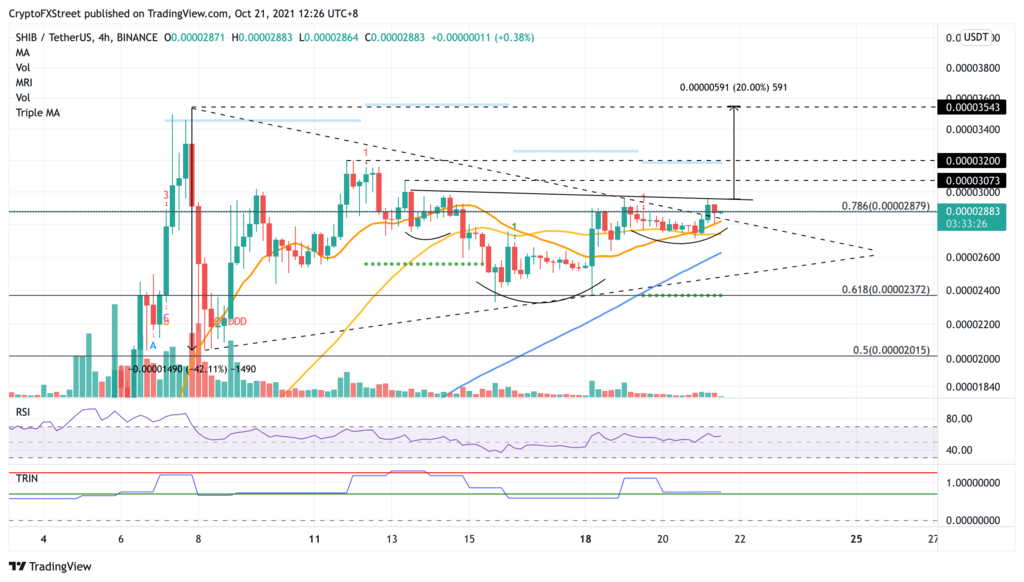 SHIB/USDT 4-hour chart
However, if SHIB suffers weakness and sees its momentum flip to the downside, Shiba Inu price could drop toward the prevailing chart pattern's right shoulder, ruining the bullish outlook.
The first line of defense for Shiba Inu price is at the descending trend line, which coincides with the 21 four-hour Simple Moving Average (SMA) at $0.00002826. Additional support will emerge at the 50 four-hour SMA at $0.00002739, before dropping to the right shoulder's low at $0.00002712. Should SHIB tumble below this level, the token would devastate bulls as the token falls back into the symmetrical triangle pattern, indicating further consolidation.
Additional selling pressure could see Shiba Inu price collapse toward the 100 four-hour SMA at $0.00002626, before descending further, tagging the ascending support trend line at $0.00002497.
Shiba Inu price stares at 15% breakout as SHIB loses directional bias
Shiba Inu price is currently grappling with a crucial support level at $0.0000279.
SHIB could drop 15% to collect liquidity resting below the swing lows around $0.0000237.
Since there is no apparent directional bias, a resurgence of buyers could lead to a retest of $0.0000322.
Shiba Inu price is stuck in a range since it set up the October 7 swing high. As SHIB currently sits on the mid-point of this range, it shows no directionality whatsoever. Therefore, a breakdown of the 50% Fibonacci retracement level could lead to a drop or an upswing if the buyers decide to make a comeback.
Shiba Inu price at inflection point
Shiba Inu price seems to be stuck in a range after its 66% ascent between October 6 and October 7. The trading range extends from $0.0000326 to $0.0000206 and SHIB is trading above the mid-point at $0.0000279.
Since Shiba Inu price has no sense of direction, it could head either way. Therefore, investors need to wait for confirmation.
Assuming a bullish outlook, SHIB needs to bounce off the 50% Fibonacci retracement level at $0.0000279 and produce a decisive 4-hour candlestick close above $0.0000297 to have a chance at retesting the $0.0000322 hurdle. This ascent would constitute a 15% advance from the current position. In a highly bullish case, SHIB could rise to retest the range high at $0.0000353.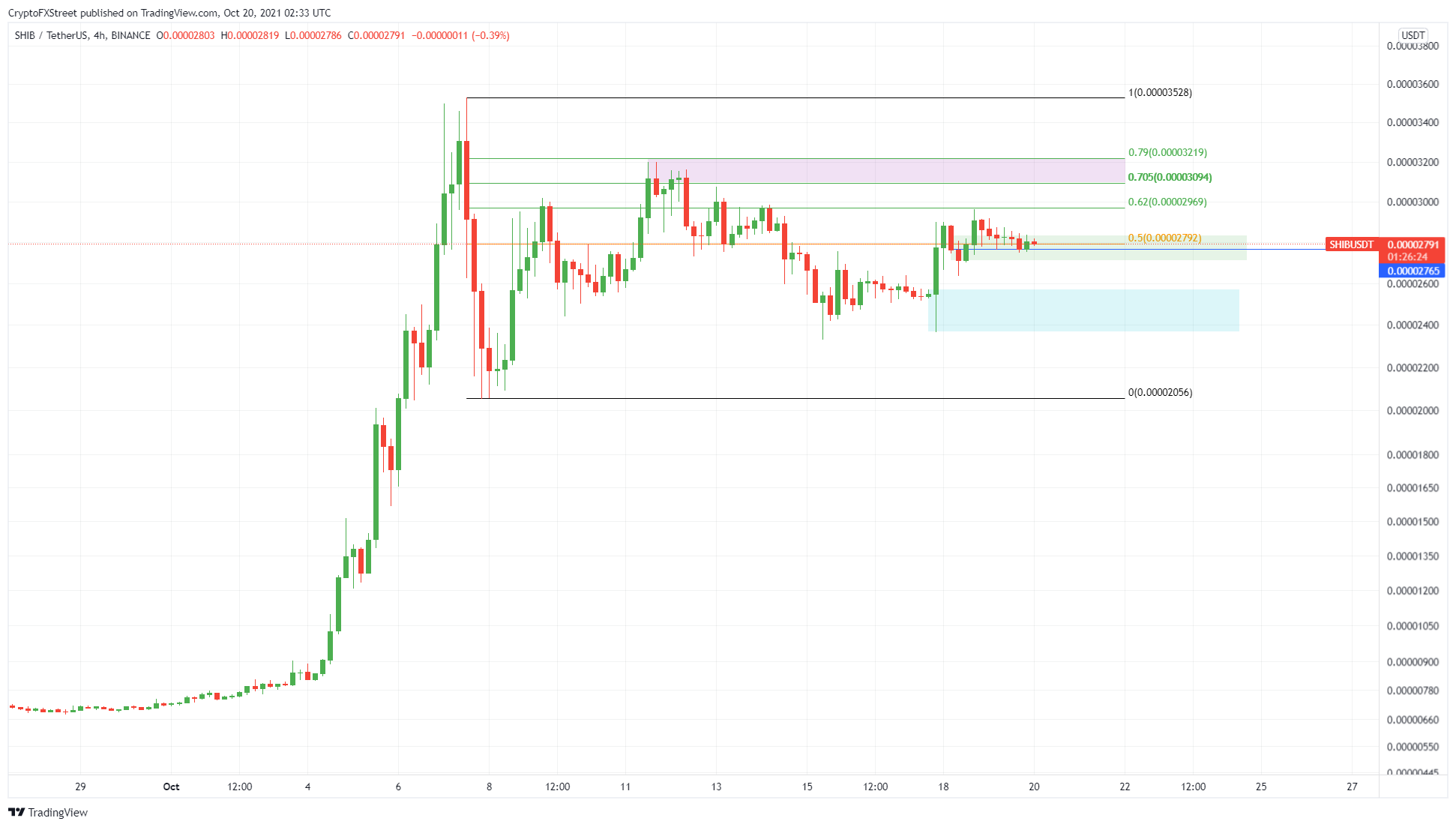 SHIB/USDT 4-hour chart
However, if Shiba Inu price fails to hold above the 50% Fibonacci retracement level at $0.0000279 and produces a decisive close below $0.0000271, it will confirm the start of a downtrend.
In this case, market participants can expect Shiba Inu price to head 15% lower and collect the liquidity resting below the $0.0000237 support levels.