Google has reopened crypto advertising
Since yesterday, Google has reopened to crypto advertising. 
In fact, from August 3, 2021, the new rules on financial services and products announced in June came into force , which again allow the advertising of services and activities related to cryptocurrencies.
So since yesterday, Google's advertising platforms are again accepting advertisers promoting crypto exchanges and wallets in the United States , if they meet certain requirements and are certified by Google.
To become certified by Google, advertisers must be registered with the U.S. Financial Crimes Enforcement Network (FinCEN) or as a federally or state-recognized banking entity in the U.S., and must also comply with relevant legal requirements, including any local legal requirements at the U.S. level. state or federal.
Therefore the opening does not refer to all crypto companies, but only to US companies, or in any case registered with the FinCEN, which possess certain requirements and which are basically exchanges or wallets.
Furthermore, in order to advertise their crypto products or services, advertisers must have requested and obtained the new Google certification for exchanges and wallets.
Finally, advertisements for ICOs, DeFi trading protocols, cryptocurrency loans, initial offers on DEXs, liquidity pool tokens, non-custodian wallets, unregulated dApps will not be accepted, nor will advertisements that combine or compare cryptocurrencies. or related products, such as trading indicators, investment advice, aggregators or affiliate sites with related content or reviews of financial intermediaries.
Google rehabilitates crypto advertising: consequences and impact
However, this is a significant step forward, especially given the total ban in force until the day before yesterday, from June 2018.
It is not yet known which crypto companies have decided to start advertising on Google starting yesterday, but it is logical to imagine that there could certainly be some, starting with giants like Coinbase .
On the other hand, one thing that is difficult to imagine is the impact that this novelty could have on the crypto markets. However, if the American giants of the crypto markets start advertising campaigns, for example on YouTube, they could significantly increase the total number of cryptocurrency holders.
To date, in fact, only a minority percentage of Americans are active on the crypto markets, so the potential growth margins are considerable. In the event of a new bullrun in the markets, blanket advertising campaigns on YouTube could get this percentage off the ground
Legendary Trader Peter Brandt Challenges Binance with Four Questions about 88% BTC Crash
Here's what is unclear for Mr. Brandt about mysterious Bitcoin (BTC) flash-crash of Oct. 21, 2021
Prominent trader and analyst Peter Brandt has taken to Twitter to ask his four questions in the context of the flagship crypto's 88% dropdown.
What do Binance and Binance.US have in common?
First of all, Mr. Brandt challenged the character of corporate relationships between Binance and Binance.US, its unit focused on American markets.
Questions remain:
1. What is exact corp. relationship @binance w/ @BinanceUS
2. Will firm release T&S with all trades/volume/price?
3. Did firm take opposite side of client fills
4. Will firm change low to reflect actual fills
cc: @GaryGensler @CFTC @SECGov @cz_binance @IBKR pic.twitter.com/huqzZbSGIt— Peter Brandt (@PeterLBrandt) October 24, 2021
Also, Mr. Brandt asks whether Binance is planning to release detailed documents to specify statistics for trades, their volume and prices during the flash-crash.
Then, the trading legend asked about the role of the platform in taking the opposite side of a client fills.
Besides the Binance CEO and co-founder Changpeng "CZ" Zhao, Mr. Brandt mentioned the Interactive Brokers platform, U.S. watchdogs CFTC and SEC and Gary Gensler, the SEC chairman.
Most expensive "trading algorithm bug" ever?
Also, Mr. Brandt attached a screenshot of a tweet by CZ when Binance's boss warned his audience about expected volatility spikes across cryptocurrency markets.
Finally, Mr. Brandt added that he never used Binance for trading.
As covered by U.Today previously, on Oct. 21, 2021, amidst a spending rally, the Bitcoin (BTC) price briefly tanked to the $8,000 level, losing more than 88% in no time.
A similar flash-crash was registered on 26 other low-liquidity exchanges. A Binance.US representative attributed this dramatic plunge to a critical bug in third-party mechanisms by one of the platform's sophisticated institutional clients.
Crypto investments a financial backup for Facebook whistleblower
Frances Haugen, a former Facebook employee turned whistleblower, revealed that her refuge in Puerto Rico is currently being supported by an auspiciously timed cryptocurrency investment.
Haugen worked as a Facebook product manager before accusing the company of spreading controversial and insensitive misinformation. She allegedly possesses numerous confidential research documents, which, according to her, shows that "Facebook prioritizes profit over the well-being of children and all users." Previously, Facebook has been accused of influencing the 2016 United States presidential election with the help of Russian agencies.
In a follow-up interview with The New York Times, Haugen was asked about her financial situation:
"For the foreseeable future, I'm fine, because I did buy crypto at the right time."
The whistleblower also received financial help from nonprofit organizations (NPO) backed by Pierre Omidyar, a co-founder of eBay. However, Haugen clarified that Omidyar's NPO fundings were only used to finance travel and related expenses.
According to Haugen, shifting to Puerto Rico helped her join her "crypto friends" who enjoy capital tax exemptions on Bitcoin (BTC) and cryptocurrency assets.
Iconic whistleblower and former U.S. Central Intelligence Agency agent Edward Snowden also continues to show support for the Bitcoin economy amid regulatory pressures from governments across the world.
On Oct. 4, Snowden tweeted about Bitcoin's tenfold growth despite China's blanket ban on crypto mining and trading.
Sometimes I think back to this and wonder how many people bought #Bitcoin then.

It's up ~10x since, despite a coordinated global campaign by governments to undermine public understanding of—and support for—cryptocurrency.

China even banned it, but it just made Bitcoin stronger. https://t.co/pbnOFGfaVf— Edward Snowden (@Snowden) October 3, 2021
Binance Bitcoin Balances Are Draining: 40,000 BTC Moved Away from Biggest Crypto Exchange
According to CryptoQuant data, Binance cryptocurrency exchange once again faced a massive fund outflow totaling 38,246 BTC. After a significant drop in the Bitcoin balance, the total balance on the sheets is close to 500,000.
In-house redistribution of funds
Previously, Binance.US faced a major bug that led to so-called "slippage"—the difference between the expected price of a trade and the actual execution of an order.
Whenever the order book on the market is too thin and an exchange cannot provide enough liquidity, volatility on the asset tends to rise exponentially, which leads to a massive drop in value.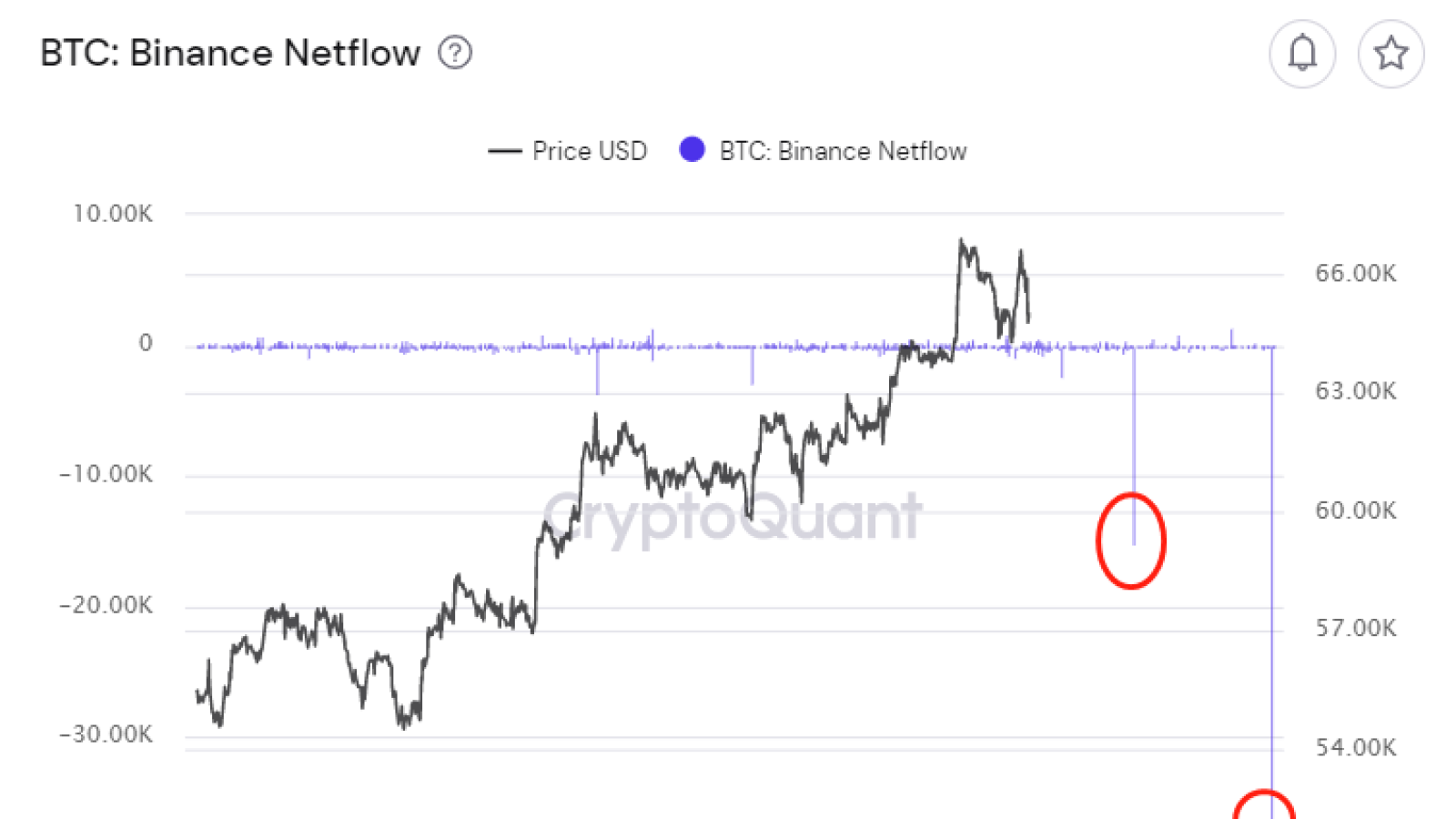 Due to the bug that appeared, the price of Bitcoin on Binance.US has dropped to $8,000, with numerous buy orders being executed on the way down. In order to provide more liquidity to the market on Binance.US, the main platform could have moved some of its funds to the U.S.-targeted platform, which is being counted by on-chain metrics as "outflows."
Natural outflows
With Bitcoin moving past the previous ATH and trading volumes remaining stable, some traders and investors are choosing to move their funds away from exchanges and keep them in their wallets.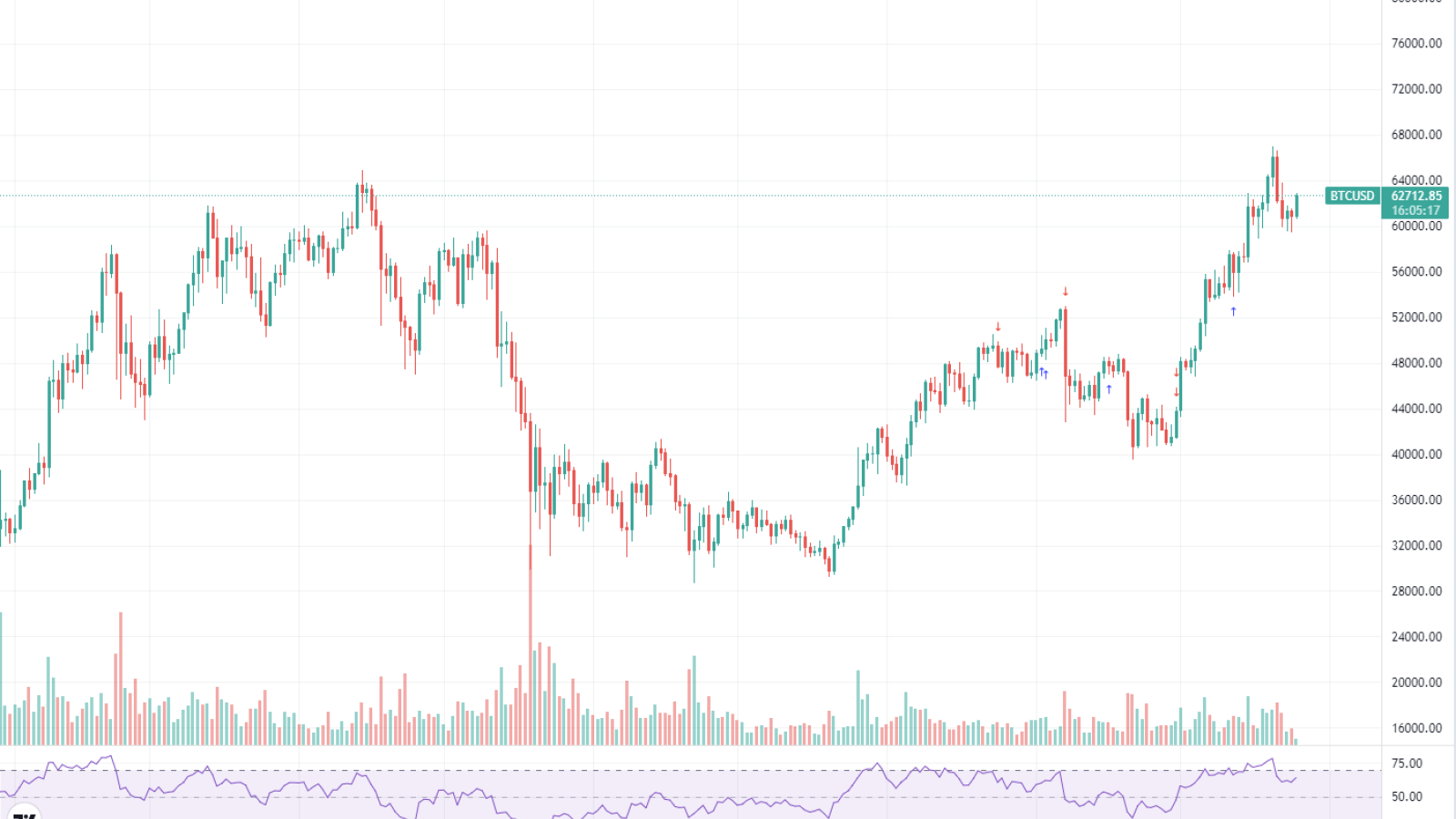 According to volume metrics, no significant selling pressure has been present on centralized exchanges, along with no abnormal trading activities.
Previously, notable exchange inflows appeared back in May, when Bitcoin's price retraced from the previous ATH to $29,000. Most retail investors have moved funds from their wallets to the exchanges to take profit.