Bitcoin: increases the supply in the hands of the whales
The process of redistributing the bitcoin supply between the various levels of ownership continues. 
In particular, as Santiment points out , the accumulation of whales is continuing , while the level of exchanges wallets remains low. 
In fact , starting from the end of June both the addresses that hold from 0.1 to 10 BTC and those that hold from 10 to 1,000 are increasing. 
Instead, the number of addresses that hold more than 1,000 remains substantially stable.
In particular, today there are about 2,100 addresses that hold more than 1,000 BTC, while for example at the beginning of the year there were many more.
Among these addresses, many are those of exchanges, or businesses that manage them on behalf of their customers, and the fact that their number is decreasing over the course of the year makes it clear that many users are probably withdrawing their bitcoins to move them to proprietary wallet.
The process of redistributing the bitcoin supply
Ignoring the more than 35 million addresses that hold less than 0.1 BTC, which moreover have not been growing since mid-May, the most interesting dynamic remains that of the increase in addresses that hold more than 0.1 but less than 1,000. ie both average users and whales. Recall that 1,000 BTC to date are worth about 38 million dollars.
The number of addresses of average users, i.e. those on which there are from 0.1 BTC ($ 3,800) to 10 BTC ($ 380,000), is about 3 million. It is a higher number than both at the end of June and at the beginning of the year, but lower than that of mid-April, when the price of bitcoin reached its all-time high.
Instead, the number of whale addresses, i.e. those on which there are from 10 BTC ($ 380.00) to 1,000 BTC ($ 38,000,000), is about 145,000, and is higher only than at the end of June. In fact, it is even lower than that of the beginning of the year, despite the fact that it is growing, and more or less in line with that of mid-April.
These are therefore two different dynamics, which have in common only the increase starting from the end of June, or rather from when the accumulation phase presumably began .
Instead the dynamics of the number of addresses with more than 1,000 BTC is completely different. 
To the roots of mining: Bitcoin going green faster than ever
There's no denying that over the past couple of years, the narrative that Bitcoin (BTC) consumes too much power has continued to garner an increasing amount of mainstream traction. However, what sometimes gets ignored is that in recent months, an increasing number of Bitcoin miners have moved toward the use of power sources driven primarily by renewable energy.
To expound further on the subject, it should be noted that a number of studies, including one that was released recently by Cambridge University, revealed that more than 75% of all miners operating today make use of renewable sources to power their day-to-day operations.
In this regard, MintGreen, a Canada-based cleantech cryptocurrency miner, recently announced that it had entered into an agreement with Lonsdale Energy Corporation to supply heat generated from BTC mining to the residents of North Vancouver in British Columbia by the start of 2022.
To elaborate on the deal, a spokesperson for MintGreen recently said that the company's digital boilers are capable of recovering more than 96% of the electricity that it uses for Bitcoin mining purposes. As a result of such a setup, the firm will reportedly be able to prevent 20,000 metric tons of greenhouse gases per megawatt from entering the atmosphere per annum.
Not only that, but MintGreen also claims that the harvested energy can and will be used to provide heat to a total of 100 residential and commercial buildings in a Canadian city, which per recent census data currently houses a population of around 155,000 individuals.
But could this be just the tip of the iceberg when it comes to how the crypto industry can impact the environment in a positive way?
Renewables as a game-changer
Providing his thoughts on the matter, Colin Sullivan, CEO of MintGreen, said that his company's partnership with Lonsdale seeks to help mitigate and tackle a number of issues related to climate change that people have tended to associate with various crypto mining activities.
Zach Bradford, CEO of CleanSpark — a sustainable Bitcoin mining and energy technology company — told Cointelegraph that the relationship between energy generation and Bitcoin mining will continue to deepen and expand over the coming decade, adding that there are a lot of stranded energy assets in North America that Bitcoin mining is particularly suited to make use of. He then went on to add:
"There are power plants that are currently too far from large metro areas to be efficient during regular demand. A Bitcoin miner can partner with the community to conserve that energy by using it to mine Bitcoin and send excess energy to other parts of the grid."
When questioned about the long-term viability of a setup such as the one proposed by MintGreen, he opined that it depends entirely from company to company, stating that there are two scenarios that can be used to expand upon the subject: "In one scenario, Bitcoin miners set up shop where there is excess energy — i.e., where energy is already being lost. Mining takes those stranded electrons and converts them into something useful — ala Bitcoin." In the second scenario for Bradford, "Bitcoin miners increase the total energy generation in a particular area," he added.
And while the latter may result in a "loss" of energy for mining, according to Bradford, there is usually much more total energy available when such a setup is involved. Therefore, in case one's local power infrastructure needs that extra energy — for heating or cooling homes during peak periods — it is possible for grids to harness this excess electricity in order to satisfy the demand of their users.
Bitcoin's future is becoming increasingly green
In Bradford's view, Bitcoin mining is the first meaningful investment in decades that is designed to help bolster North America's existing energy infrastructure because he believes that Bitcoin not only increases energy consumption across areas where it is being mined but also improves upon that region's energy generation capabilities, adding:
"This is a key aspect that is sometimes lost in the ideological struggle. North America's energy consumption is going to grow a lot over the next decade as electric vehicles become more mainstream. In California, EVs are already straining the state's power grid. California's present is North America's future."
In this regard, one can see that Bitcoin mining incentivizes energy development and generation, with almost everyone involved — not just miners — standing to gain from this evolution. "We're in for a wild ride as global climate goals, greater energy demand from electric vehicles and monetary policy all collide with Bitcoin at the center of it," Bradford closed out by saying.
Similarly, providing his thoughts on the subject, Samir Tabar, chief strategy officer of Bit Digital — a Bitcoin miner listed on the Nasdaq — told Cointelegraph that Bitcoin miners are and were criticized over the environmental toll from mining. However, the reality today is that Bitcoin miners have become the vanguard in showing innovation and creativity in leveraging sustainable practices. "This experiment with North Vancouver is an illustrative example of that ingenuity," he noted.
Crypto's walk toward a more sustainable future
Per a report released in December 2020, it is estimated that real estate building operations and their associated construction-related activities currently account for a whopping 38% of all carbon dioxide emissions taking place in urban areas. Therefore, the narrative that crypto mining alone is quickly becoming one of the largest contributors to today's global warming could be skewed.
To elaborate further, one study suggests that hydroelectric power is the most common source of energy for miners presently, with a staggering 62% of all mining farm operators reportedly making use of hydroelectricity to facilitate their day-to-day operations — with exhaustible sources such as coal and natural gas taking the second and third spots at 38% and 36%, respectively, followed by wind and solar energy.
Also, with companies like MintGreen now modernizing their mining rigs at an increasingly rapid pace, it stands to reason that more firms and people will look to turn toward various crypto mining operations to meet their power and heating needs in the near future. In fact, MintGreen has already teamed up with the Vancouver Island Sea Salt facility and the Canadian whiskey company Shelter Point Distillery to start selling its excess heat energy by 2022.
As the industry attempts to move closer to a greener future, it appears as though many standards surrounding carbon neutrality are becoming a norm for the crypto mining industry. To put things into perspective, data suggests that gold mining is more resource-exhaustive than BTC. Similarly, it is estimated that flare gas waste can power the entire BTC network 6.2 times over, which just goes to show that crypto miners could turn out to be part of a solution when it comes to wasted energy.
Lastly, as pointed out previously, a growing list of mining firms have adopted strategies that have enabled them to become "climate positive" for Scope 1, 2 and 3 greenhouse gas emissions.
Ethereum Outperforms Bitcoin, Why ETH Could Rally To New ATH
Ethereum started a fresh increase above $4,175 against the US Dollar. ETH could gain pace if there is a clear break above $4,300 in the near term.
Ethereum was able to climb above the $4,175 and $4,200 resistance levels.
The price is now trading above $4,200 and the 100 hourly simple moving average.
There is a major rising channel forming with support near $4,175 on the hourly chart of ETH/USD (data feed via Kraken).
The pair could extend its increase if it clears the $4,300 and $4,320 resistance levels.
Ethereum Price Could Rise Further
Ethereum started a fresh increase after it settled above the $4,050 level. ETH was able to clear the $4,750 resistance zone and the 100 hourly simple moving average.
Ether price even traded above the $4,250 resistance zone. A high was formed near $4,313 and the price is now consolidating gains. It traded below the $4,300 level. An immediate support is near the $4,260 level. The stated level is near the 23.6% Fib retracement level of the upward wave from the $4,091 swing low to $4,313 high.
There is also a major rising channel forming with support near $4,175 on the hourly chart of ETH/USD. An immediate resistance on the upside is near the $4,300 level.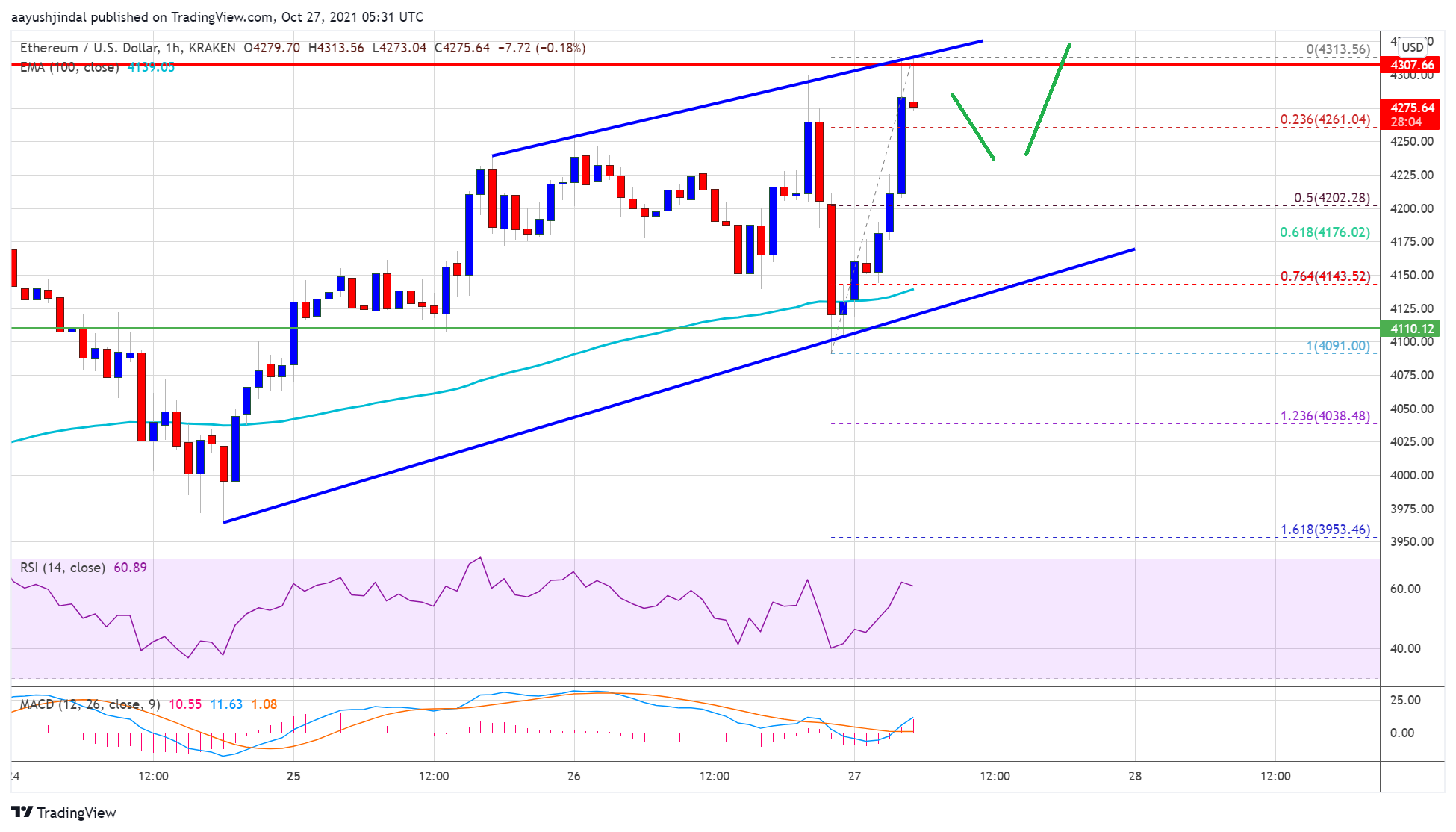 Source: ETHUSD on TradingView.com
The next major resistance is near the $4,320 level, above which the price might start a fresh rally. In the stated case, the price might rise towards the $4,400 level. Any more gains could lead the price towards the $4,550 level.
Dips Supported in ETH?
If ethereum fails to continue higher above the $4,300 and $4,320 resistance levels, it could start a fresh downside correction. An initial support on the downside is near the $4,260 level.
The first major support is near the $4,200 level. It is close to the 50% Fib retracement level of the upward wave from the $4,091 swing low to $4,313 high. The main support is near $4,175 and the channel trend line. Any more downsides could lead the price towards the $4,050 support. The next major support for the bulls is near the $4,000 level.
Technical Indicators
Hourly MACD – The MACD for ETH/USD is gaining pace in the bullish zone.
Hourly RSI – The RSI for ETH/USD is now well above the 50 level.
Major Support Level – $4,175
Major Resistance Level – $4,320
Terra prepares to burn more than 9% of LUNA's total supply
Burning nearly 90 million LUNA tokens into the community pool can put an upward pressure on the native token's price.
Do Kwon, co-founder and CEO of Terraform Labs, the South Korean company behind the blockchain project Terra (LUNA), recently announced on Twitter that on-chain voting for project 44's proposal will begin on Wednesday. ).
The proposal to start burning 88,675,000 LUNA from the community pool to mint 3 – 4 billion UST will reduce the total supply of native token by more than 9%.
TVL on Earth reached ATH
After the integration of the IBC protocol last week and the launch of Wormhole V2 support for Terra, the total blocked value (TVL) in protocols on the network has reached a new high.
Last week, TVL on Earth reached $10.22 billion, with the Anchor, Lido, Mirror and Terraswap protocols accounting for more than 90% of the amount, according to data from DeFi Llama.
Currently, at US$9.97 billion, Terra is ranked as the fourth blockchain with the largest TVL, following Ethereum, Binance Smart Chain and Solana.