Ethereum is becoming ultrasound money, ConsenSys founder says
ConsenSys founder and Ethereum co-founder Joseph Lubin has implied that Ether (ETH) is transitioning to "ultrasound money" status ahead of the London hard fork slated to activate around 12:30 pm UTC on Thursday.
During an interview with Bloomberg TV, Lubin was questioned on the imminent Ethereum Improvement Proposal (EIP) 1559 upgrade, which will see Ethereum transition away from a bidding-based fee market to a fixed price and burn mechanism.
Lubin stated that the London hard fork is part of a broader global movement, in which the first step is the "democratization of the Earth," and the second step is the democratization of the decentralized finance system and the introduction of ultrasound money:
"The second step that's in full play right now is the democratization of the global decentralized finance system. And this step is the introduction of something that people are calling ultrasound money."
The term "ultrasound money" has been a long-running meme held in Ethereum-based communities, which mocks Bitcoiners who describe Bitcoin (BTC) as "sound money" due to its capped supply of 21 million.
The meme refers to the EIP-1559 proposal's burn mechanism that could result in Ether's supply becoming deflationary after more Ether is destroyed than created. Each transaction will burn a base fee, resulting in a decreasing supply of the asset from now on. Some believe that it will give ETH a stronger value proposition than Bitcoin as "ultrasound money.
"So we're a fixed amount of gold on the planet. And the fixed supply of Bitcoin represents sound money to certain people. With $13 billion worth of Ether locked up in Ethereum 2.0 and $70 billion locked up in decentralized finance, we have enormous demand for the Ether token," Lubin said.
"And now we're burning the Ether token with the introduction of the London hard fork," he added.
ETH seems unlikely to become deflationary soon after the London hard fork, and the upgrade doesn't ensure this by default. Twitter user Korpi highlighted on Monday that this "doesn't mean that ETH immediately becomes a deflationary asset. For that to happen, ETH burned must be higher than ETH issued in block rewards." This is more likely after the move to proof-of-stake.
Bitcoin maxi Peter McCormack appeared unhappy with Lubin's interview and discussions of ultrasound money, noting on Twitter that:
"Ultra-sound money is a disingenuous use of language. It implies that Ethereum is better money than Bitcoin. While directionally centralizing and operating with a flexible monetary policy."
Twitter user BobMull12314085 found the funny side, however, stating, "you maxis are so sensitive."
The Bitcoin community has gotten so pathetic that they actively beg regulators to classify ETH as a security. This has been going on for years.

Some examples of many just from today… pic.twitter.com/9I2k96bLma— eric.eth (@econoar) August 5, 2021
The London hard fork is a major milestone in the journey to Ethereum 2.0, which will change the network's consensus algorithm from proof-of-work to proof-of-stake.
Ripple CEO Says the SEC Helped Ethereum to Surpass XRP as No.2 Crypto
Ripple CEO aired his opinion on the crypto market and regulations.
Brad Garlinghouse said the US SEC granted Ethereum regulatory green light.
At the DC Fintech Week virtual conference on October 21, Ripple CEO Brad Garlinghounse aired his thoughts on the state of the crypto market and regulations. Besides, he holds a grudge over the financial regulator's approach to Ethereum.
In addition, Garlinghouse declared that the US Security and Exchange Commission (SEC) granted Ethereum regulatory green light that enabled it to surpass his firm's XRP token.
Likewise, the Ripple boss feels that his firm has been played out. But, at the same time, Ethereum's subsequent success is at least in part down to more favorable treatment by the US SEC. Also, Garlinghouse stated that it is affecting its market. He said,
"Within the last few years, XRP was the second most valuable digital asset. As it became clear the SEC had given a hall pass to ETH, ETH obviously has exploded, and that clarity has helped."
To clarify, XRP was the second-largest crypto asset by market cap in late December 2017. But, currently, it has dropped to seventh place while Ethereum has kept the second spot ever since.
Furthermore, the reason why XRP dropped is the US SEC pursuing Ripple over claims that XRP is unregistered security. In fact, in January, Ripple filed a Freedom of Information Act request with the US SEC demanding to know why it didn't consider ETH security.
As a result, later in July, a district judge allowed the firm to depose a former official who declared in 2018 that ETH was not a security.
Ripple CEO reinstates SEC bias towards ETH, claiming XRP could've been No.2

It is not news that the ongoing XRP lawsuit has got the better of Ripple's XRP token. Ripple CEO, Brad Garlinghouse recently questioned the SEC's bias towards Ethereum, claiming that XRP would've been at the No. 2 position instead of ETH if it weren't for the commission's partial crackdown. Garlinghouse spoke at the DC Fintech Week virtual conference yesterday, arguing that the U.S. Securities and Exchange Commission alleged Ripple's XRP as unregistered security while granting Ethereum a regulatory free pass, which in turn helped ETH shoot through the roof.
"Within the last few years, XRP was the second most valuable digital asset. As it became clear the SEC had given a hall pass to ETH, ETH obviously has kind of exploded and that clarity has helped."
XRP secured the position of the second-largest crypto asset by market capitalization during the latter half of 2017. However, the token has dropped down to seventh place while Ethereum stands strong as No. 2. Furthermore, Garlinghouse claims that the SEC's exclusively aggressive anti-crypto stance to allegedly protect the consumers is in fact anti-investors. Referring to the XRP lawsuit, Ripple CEO emphasizes that "nearly 50,000 U.S. people who hold XRP who are trying to sue the SEC for 'protecting them'".
XRP Holders left with bearish and frozen funds
Earlier this week, Attorney Deaton Filed a Letter Motion on behalf of the XRP Holders (Movants) that contended SEC's extension request, with the main argument concerning the XRP holders' frozen funds because of the consistent postponement of the lawsuit's final verdict. During the ongoing bull run, XRP remains considerably bear because of the regulatory crackdown on Ripple. However, the court has overlooked the community's concern and granted the extension explaining that in lieu of pending motions, extra time will only facilitate both parties to complete pending fact discovery and thoroughly prepare for upcoming expert depositions.
"The lack of liquidity within the United States, coupled with the mass de-listings prevents XRP Holders from trading, selling, transferring, or converting their XRP. It is because of this de facto in place seizure of their property that XRP Holders took the extraordinary step to seek intervention as defendants… Any delay in the underlying action marks yet another day XRP Holders do not have access to their funds.", wrote Deaton.
Playboy Releases Ethereum-Based Rabbitars NFTs, Presale Begins in 2 Days
Playboy has created Ethereum-based Rabbitars NFTs as ERC-721 tokens. The project's website describes Playboy Rabbitars as a "lagomorphic-themed civilization of unique and non-fungible rabbits." There are 11,953 of them, inspired by Playboy iconography, heritage and lore.
The news was shared by Chinese crypto journalist and blogger Colin Wu. He posted a screenshot from the project's website, featuring some of the Playboy Rabbitars.
Playboy launched Rabbitars NFT, which will be officially sold in two days, with a Mint price of 0.1953 ETH. https://t.co/HzCIf6W9nT pic.twitter.com/FaQRskQEQZ— Wu Blockchain (@WuBlockchain) October 22, 2021
The sale will begin in two days at a mint price of 0.1953 ETH ($803). The website explains that in order to become an owner of such an NFT, a user needs to set up a Metamask wallet. However, NFTs will be available for sale both for fiat and crypto.
Those who want to pay in ETH need to load up their wallet at least two days before the sale starts. Presale for ETH will begin on Oct. 24. The public sale for U.S. dollars will start on Oct. 26, and the next day, users will be able to buy Rabbitars for ETH.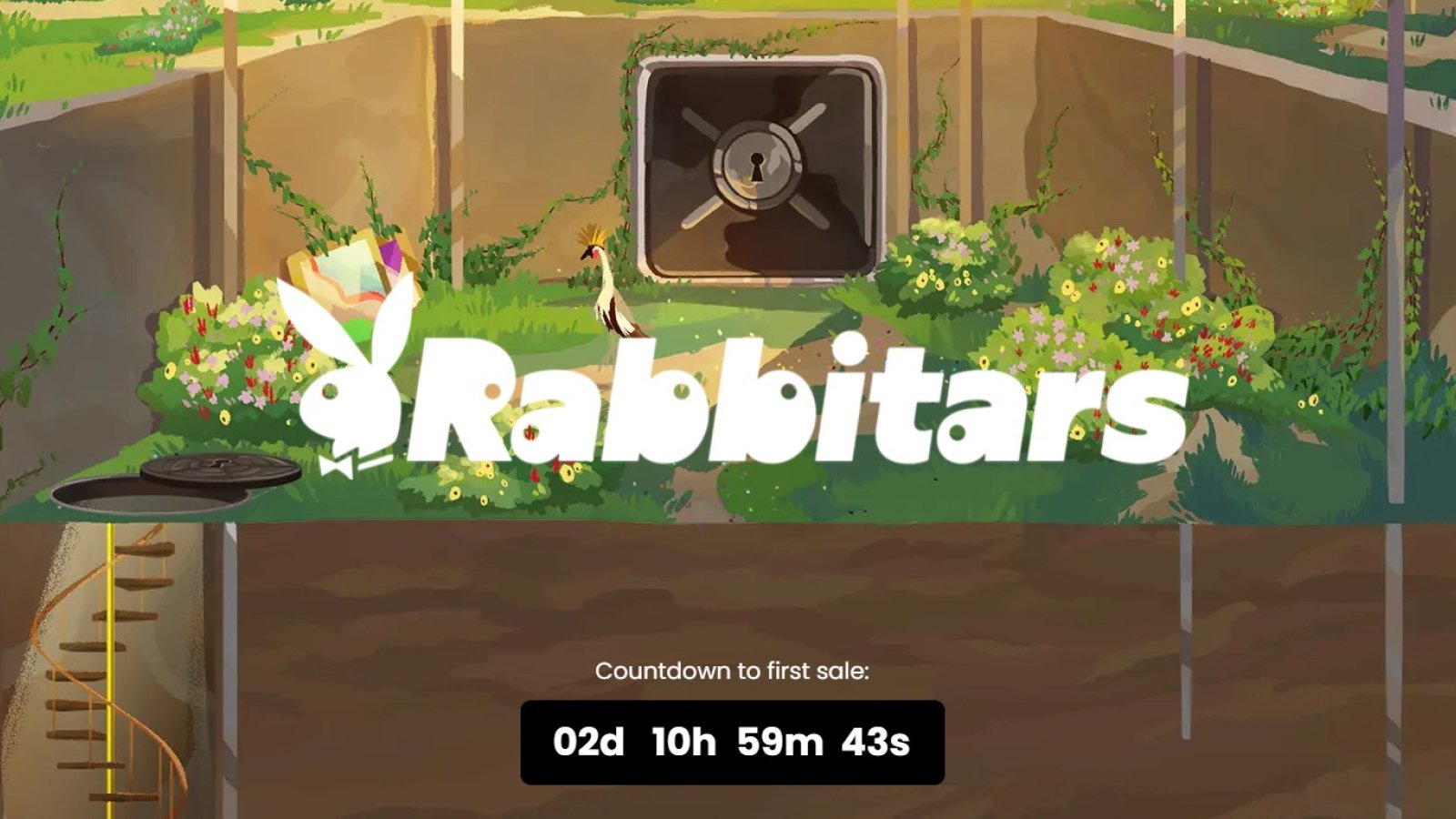 It is possible to order 1-2 NFTs during the presale. At a public sale, one user is allowed to buy up to ten Rabbitars.