Interview with Minswap, a DEX on Cardano
The Cardano ecosystem is witnessing the birth of many DeFi projects , including DEX and lending protocols, which are preparing for the activation of smart contracts on the mainnet by means of the Alonzo hard fork , which will mark the end of the Goguen era. .
Cryptonomist reached out to the decentralized exchange (DEX) Minswap team to answer some questions about their project.
Hi, it's a pleasure to have you here. What is Minswap and what are you bringing to the Cardano ecosystem?
Minswap is a decentralized exchange developed on Cardano with multiple liquidity pool functions and IFO (Initial Farm Offering) launchpad. We will offer various types of liquidity pools to mitigate user risk and maximize returns, all in a low-cost, highly intuitive and community-governed protocol.
Our launchpad will be a tool that will allow projects to materialize, bringing greater freedom of choice in decentralized finance, and allowing users to participate in projects at their birth.
The Cardano ecosystem has recently seen the arrival of something called Initial Stakepool Offering (ISO), can you tell us what it is and how did you implement it in your project?
L'ISO è un metodo di distribuzione iniziale di token in cui gli utenti fanno staking con certi pool e sacrificano le loro ricompense ADA in cambio di token. Tuttavia, questo metodo è stato oggetto di critiche perché sottrae la delegazione dai piccoli Stake Pool Operator e sfrutta la psicologia umana in un modo che alla fine risulta nell'estrazione di molto più capitale di quanto sia necessario, e con importi così grandi, c'è molto meno incentivo a continuare a sviluppare rispetto al scappare con i soldi.
And so we came up with the Fair ISO, or FISO. We have selected a few small pools to which interested parties can delegate their ADAs, delegators will continue to receive their ADA rewards and will also receive MIN tokens as an airdrop for their help in decentralizing the network. This is a prototype of an attempt to involve the PES and to set a cap on the capital raised. We are actually raising zero capital, but this concept will be expanded. We will have more details on the FISO on August 7 via Twitter and Medium.
Ethereum's first-mover advantage in the DeFi landscape is quite evident, how do you think Cardano can be competitive? What are the advantages of DEXs on Cardano over those on Ethereum?
Both Ethereum and Cardano are assets located in the tech sector, the tech sector is full of stories of companies that appeared to be giants built on innovation and that have been surpassed by what has become the industry standard. These titans sometimes reign for decades before being replaced. Between gas fees, loss of custody while staking, lack of scalability, and the fact that Ethereum's market cap was about the same size as Cardano's just a short while ago, we think the day Cardano will overtake Ethereum in mass adoption is close.
The advantages of building on Cardano are enormous: having no fees on failed transactions and having ADAs staking while swapping are two examples. The fact that Cardano's blockchain only stores smart contract hashes and not actual smart contract scripts will greatly reduce the storage requirements of a full node, thus encouraging everyone to run their own full node to help decentralize the network. .
Liquidity is vital for a DEX, can you give an overview of your strategy to attract users and therefore liquidity to your protocol?
We have positioned ourselves in the market and built our community from hardcore DeFi users rather than speculators. We are probably one of the projects with the most informed and organic public on Cardano. We will distribute our tokens via airdrops in the FISO campaign, but most of them will be MINt tokens which can only be converted into our MIN tokens by providing liquidity to our DEX and locking them there for a period of time. You can read more about our new airdrop concept here .
Thanks for your time, is there anything you would like to add? Where can our readers find you?
Stay tuned for FISO-related updates on our Twitter , be sure to engage with our awesome Discord community, and check out our new website !
Ethereum's Platform Paved the Way for Future Crypto Gambling
Bitcoin is hands down the most well-known cryptocurrency on the market. However, Bitcoin doesn't rule the crypto world alone, as Ethereum's digital currency follows closely. Indeed, Bitcoin does have the highest market cap in comparison to Ether and other digital tokens. Bitcoin's success doesn't wipe away Ethereum's impressive contributions to decentralized gambling. Bitcoin may reap the fame, but Ethereum built crypto's future in gambling and centralized financial networks. Ethereum has been making waves in the crypto world for several years, but no one knew how high the blockchain giant would rise.
Pro Gamblers Prefer Using Ethereum for Online Betting
Ethereum is not only a cryptocurrency, but it is also a blockchain platform built with smart contracts. Using Ethereum's ledger, users' transactions turn into smart contracts, which are software code units. Ethereum's impenetrable smart contracts aren't the most exciting thing about the platform. Most pro gamblers prefer using Ethereum for online betting because crypto payouts are higher than traditional currencies. Also, Ethereum transactions require fewer fees, making Ether tokens more affordable than alternative currencies.
Virtual casino platforms now accept a more comprehensive range of cryptocurrencies than ever before, with Ether among the ranks. Blockchain casinos are far more interested in Ethereum's blockchain platform than anything else, but online gamblers find Ether tokens appealing for different reasons. For example, Ether tokens are widely accepted by hybrid casinos because Ethereum's contracts enhance security and privacy for all parties. Bitcoin and Ether tokens vary significantly in value and acceptance. However, Ethereum's elevated anonymity blows Bitcoin out of the water.
Cons Related to Gambling With Ethereum
Gambling with Ether tokens provides countless perks and incentives, especially when compared to similar cryptocurrencies. However, Ether gambling isn't perfect, as there are a few drawbacks to consider. Novice crypto gamblers have described Bitcoin as more user-friendly than Ether. Bitcoin is pretty straightforward, but Ethereum offers advanced functionalities, making Ether too complex for newbies. Even experienced crypto gamblers have experienced challenges understanding Ether's additional features.
Most casino operators prefer utilizing Ethereum's blockchain to guarantee fair gameplay and complete security, ultimately drawing in more players. On the other hand, hybrid casinos are less likely to accept Ether tokens for deposits. Crypto-exclusive gambling platforms occasionally welcome Ether users, but players can't expect guarantees. Ether gambling will slowly make its presence more well-known in mainstream markets.
New Gaming Options Using Ethereum's Blockchain
Ethereum's blockchain platform is highly sought after by virtual casinos and Sportsbook operators. Yet, Ethereum's blockchain is opening new gaming possibilities. For example, Decentral Games recently joined forces with Atari to launch an Ethereum-based crypto casino in the Decentraland metaverse. Ethereum's smart contracts are working in nearly every area of the digital gambling sector. Plus, without Ethereum's blockchain, games like Ether Derby wouldn't be possible.
Ether gambling has recently broken into the mobile gaming industry, making history for e-gamers. By launching entertaining and lucrative e-games, Ethereum has managed to get gamers and operators excited about technology's advancement. CryptoCasinos has the lowdown on blockchain casinos accepting Ether tokens. You'll find gambling guides, casino reviews, and other invaluable information.
Key Takeaway Points to Remember
Ethereum's blockchain platform is the driving force powering multiple crypto-friendly casinos. While Ether tokens somewhat retain value, they're not as widely accepted for online gambling. Loyal Ether fans will find various e-gaming options fueled by Ethereum's blockchain capabilities. Crypto gambling is still relatively new, meaning its future holds unlimited possibilities. Don't miss out on your chance to be part of the action!
Cosmos, VeChain, Stellar Price Analysis: 15 July
Optimism in thecryptocurrency market skedaddled after a brief accumulation period. Just when Bitcoin and the rest of the altcoins appeared to be bouncing off support levels. While a few tokens decoupled with the broader market to post significant gains, the cumulative valuation fell to $1.30 trillion.
Cosmos [ATOM] gets pushed to the downside
Cosmos slashed all its weekly gains following the back-to-back pullback as the incessant consolidation took a major bearish turn. Over the past day, it was down by 8.45% which pushed the asset to a price of $11.02. At the time of writing, ATOM recorded a market cap of $2.39 billion and a 24-hour trading volume of $200 million.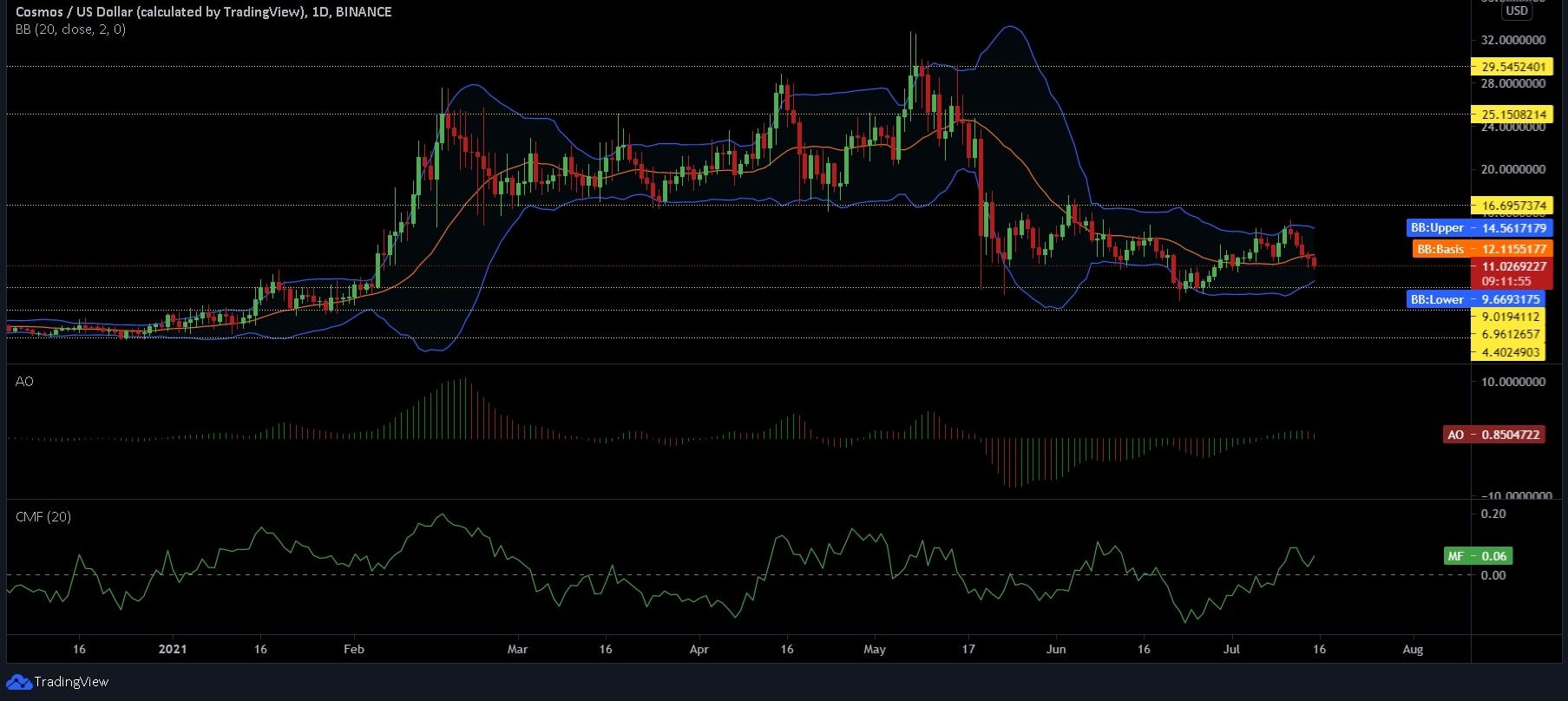 The squeeze in Bollinger Bands depicted a less volatile period for ATOM. The formation of red closing bars depicted a shift towards bearish momentum. The Chaikin Money Flow [CMF], however, portrayed a contradictory picture of increasing capital inflow in the coin market.
Cosmos could face $16.69 in case of a bullish reversal, before targeting other resistance levels of $25.15, and $29.5. The support levels stood firm at $9.09, $6.96, and $4.40.
VeChain [VET] buyers could take over the volume
After four consecutive red candles, VeChain's weekly losses totaled 9.02%. At a price of $0.0698, the crypto-asset was now trading close to a crucial support line while sitting at a market cap of $4.46 billion. Over the past 24-hours, VET dropped by 4.77% which drove its trading volume to $394 million.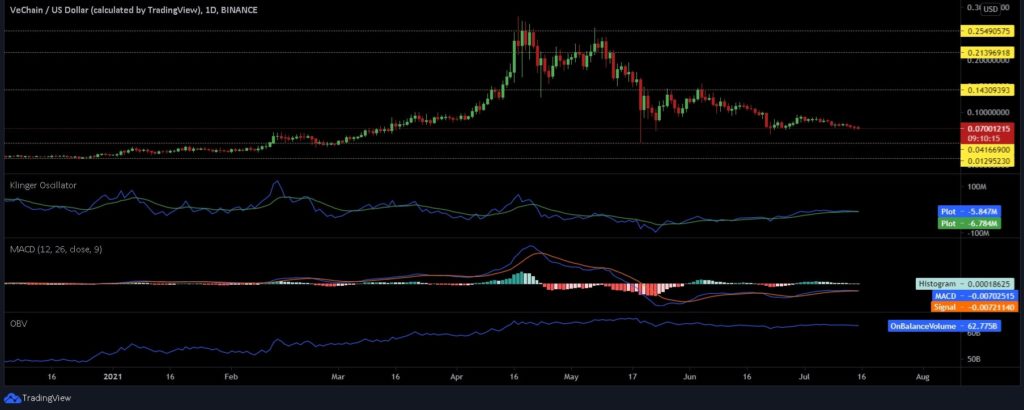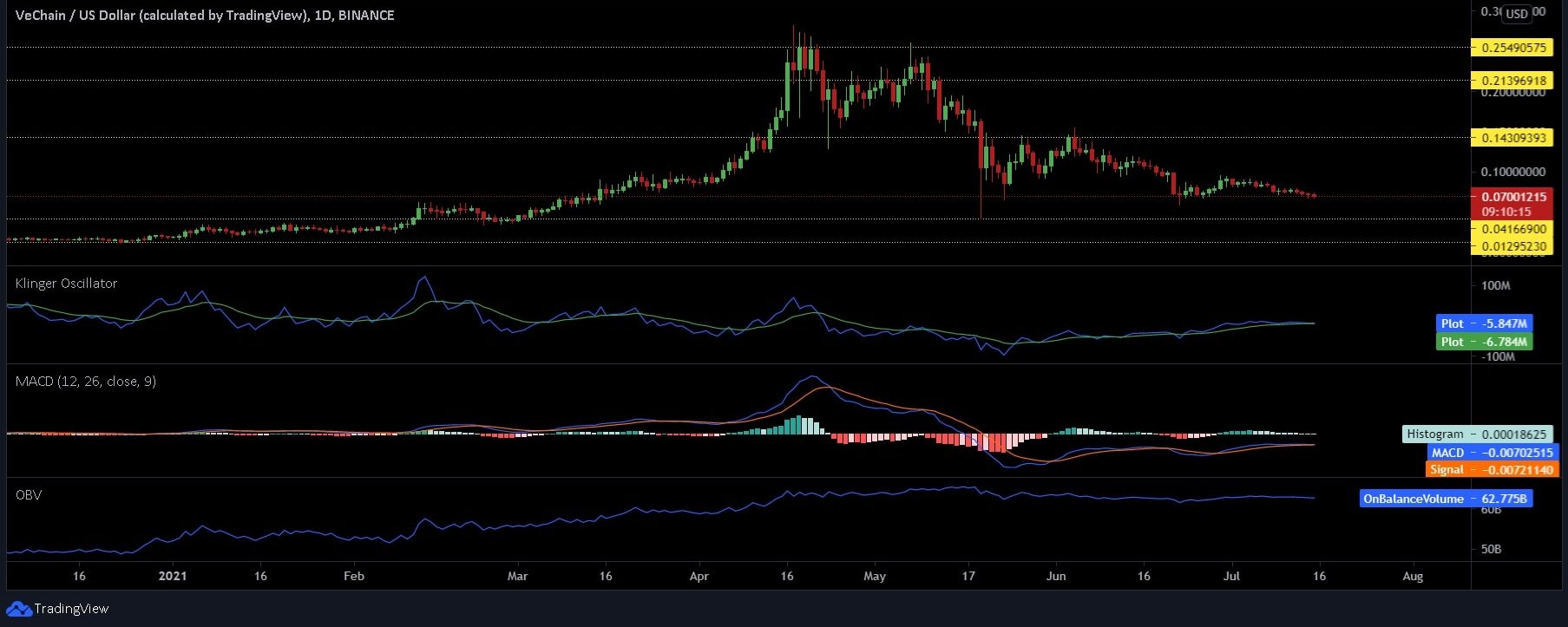 Klinger Oscillator [KO] was on the brink of a bearish crossover. So was the case with MACD as it turned towards the bear indicating that the buying pressure could have exhausted. The OBV, on the other hand, depicted consistent volume in the VET market.
If the bears sink the price, VET could revisit its nearest support area of $0.04, a further downside could trigger a fall to $0.0129. The resistance levels for the asset were found to be at $0.143, $0.213, and $0.254 respectively.
Stellar [XLM] sellers looking for an entry to short
Similar to many of its peer assets, Stellar has been hovering at a critical support region, a fall from which could prove damaging. It declined by 2.80% over the past 24-hours and was currently priced at $0.231. XLM held a market cap of $5.38 billion and a 24-hour trading volume of $420 million.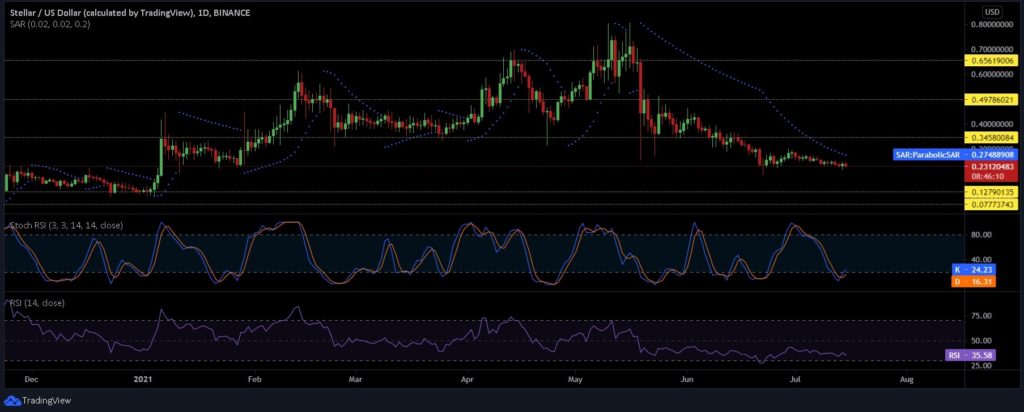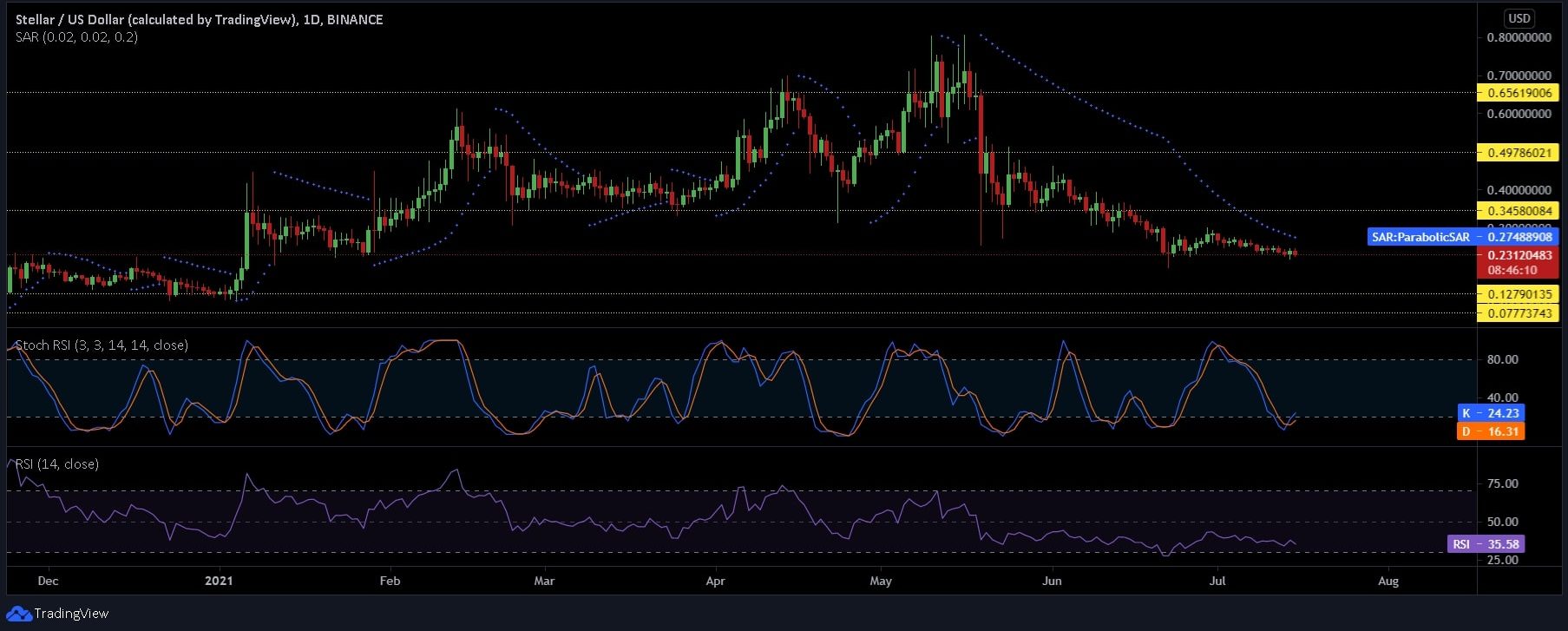 The dotted markers of the Parabolic SAR continued to hover above the Stellar candles, a pattern that has been in continuation since the mid-May pullback. The Stochastic RSI underwent a bullish crossover as it bounced from the extreme oversold region depicting a potential bullish reversal in XLM's price. The RSI, however, settled close to the oversold conditions with no hints of rebound indicating an increasing selling pressure in the coin market.
If strong hands happen to enter the Stellar market, its price could surge to immediate resistance levels of $0.345, $0.497, and $0.656. On the flip side, the support levels were at $0.127, and $0.077
Ethiopian government to use Cardano blockchain to benefit 5 million students
Global blockchain research and Cardano development company IOHK has announced a partnership with the Ethiopian Government, as per a release shared with CryptoSlate.
"Ethiopia's blockchain-based education transformation is a key milestone on IOHK's mission to provide economic identities and employment, social and financial services for the digitally excluded," said IOHK African operations director John O'Connor in a statement.
He added, "After five years of R&D, Cardano is now mature enough to underpin a blockchain solution which can scale to serve an entire national population."
What does the world look like when everyone gets an equal opportunity to innovate, to grow, to thrive?

Join us for #CardanoAfrica this Thursday April 29 & learn how #Cardano is building fresh opportunities across the African continent: https://t.co/gtrEhmDh0p pic.twitter.com/MeJecPr1Dk

— Input Output (@InputOutputHK) April 26, 2021
Education sees a blockchain boost
The country will implement a national, blockchain-based student and teacher ID and attainment recording system to digitally verify grades, remotely monitor school performance and boost education and employment nationwide.
IOHK's Atala PRISM identity solution will enable authorities to create tamper-proof records of educational performance across 3,500 schools, 5 million students, and 750,000 teachers to pinpoint the locations and causes of educational under-achievement and allocate educational resources effectively.
The aim is to provide all students with blockchain-verified digital qualifications to reduce fraudulent university and job applications and increase social mobility by allowing employers to verify all applicants' grades without third-party agencies.
The government is also issuing all teachers and students with tablets and a dedicated internet network giving all students instant access to their academic records, opening up higher education and employment opportunities for the 80% of Ethiopia's population living in rural regions.
Student IDs will be paired with data from Learning Management Systems and harnessed by machine learning algorithms to drive personalized tuition, a dynamic curriculum, and data-driven policies and funding.
As such, Ethiopia is examining wider adoption of IOHK's Atala products, which include the PRISM platform, for everything from blockchain-based 'track-and-trace' of smallholder agricultural supply chains to digital IDs for transport or healthcare. IOHK is already in discussions around a blockchain-based digital transport ticketing system in Addis Ababa.
Using Cardano for good
IOHK's Cardano blockchain will allow accurate tracking of individual grades, behavior, attendance and educational attainment across all kindergartens, elementary schools, and general secondary schools.
Teachers will also use the system to manage schedules or transfers, and report behavior or dropouts. The project could ultimately be extended to universities where degrees are also digitally verified on the Cardano blockchain, allowing employers to easily validate the authenticity of applicants' educational credentials.
IOHK has long recognized that developing countries could uniquely benefit from blockchain technology because of their lack of embedded, legacy digital systems and the fact that blockchains are lower cost than cumbersome infrastructure.
Meanwhile, the firm is already working with other governments on using blockchain to digitize public services, including a project with Georgia's Ministry of Education pioneering the use of its Atala products to underpin a blockchain-based system for verifying graduate degrees.
This project could light the touchpaper for a wave of third-generation blockchain innovation across Africa and the developing world, bringing vital services to those who have previously been cut off from them."