Polkadot Price Analysis: DOT fails to reach the previous high at $20, set for another retracement?
Resistance found around $19.5.
Polkadot is set to retest $17 support again.
Polkadot price analysis indicates bearish momentum to follow later today as a slightly lower high was set overnight, and bears have taken over market momentum over the past hours. Therefore, we expect DOT/USD to retrace later today and retest the $17 support once again.
The cryptocurrency market traded with a slight gain over the last 24 hours despite bears taking over the market momentum overnight. Bitcoin has lost 0.16 percent, while Ethereum 4.45 percent. Polkadot (DOT) is among the best performers, with a gain of almost 6 percent.
Polkadot price movement in the last 24 hours: Polkadot fails to reach previous high below $20
DOT/USD traded in a range of $17.42 – $19.52, indicating substantial volatility over the last 24 hours. Trading volume has increased by 54.3 percent and totals $1.764 billion, while the total market capitalization totals around $18 billion, ranking the cryptocurrency in 9th place overall.
DOT/USD 4-hour chart: DOT starts to retrace again
On the 4-hour chart, we can see the Polkadot price moving lower again over the last hours as bears want to retest the $17 support once again.
Polkadot price action has traded with a strong bullish momentum over the last weeks. After a significantly lower swing low was set around $10.5, DOT/USD rallied by almost 90 percent until the $20 mark.
Since the previous swing high around $17.5 was broken, we can assume that the Polkadot price action has turned bullish once again. However, DOT has shown signs of weakness overnight, and a further higher high could not be set after another strong rally yesterday.
DOT/USD set a slightly lower high and started to retrace over the past hours. This price action development should lead Polkadot towards further downside over the next 24 hours as bears want to test the $17 support once again.
Polkadot Price Analysis: Conclusion
Polkadot price analysis indicates bearish momentum to follow later today after a slightly lower high set overnight and further downside over the past hours. Therefore, we expect DOT/USD to continue lower later today and look to retest the $17 support.
While waiting for Polkadot to move further, read our articles on investing in PayPal Bitcoin, Bitcoin trusts, as well as Dogecoin as a good investment.
News Sourcehttps://www.cryptopolitan.com/polkadot-price-analysis-2021-08-05/
Polkadot price bound for 50% breakout if DOT bulls can overcome this hurdle
Polkadot price is consolidating between two vital levels at $47.96 and $38.69.
A decisive close above either of these levels will kick-start a new rally.
DOT is likely to embark on a 50% ascent if it surpasses $47.96 due to the market's bullishness.
Polkadot price is currently facing a decisive moment as it trades between two significantly troublesome barriers. While overcoming these hurdles will be trying, doing so will lead to a volatile move.
Polkadot price at make or break point
Polkadot price has risen roughly 75% over the past 24 days and is currently sitting between $47.96 and $38.69, two barriers that will determine the direction in which DOT will go next. The former barrier is sitting just under DOT's all-time high at $49.78, therefore, investors already in the trade could choose that point to book profits, making it a challenging level to crack.
In a scenario where buyers manage to overcome the selling pressure and produce a decisive close above this barrier, it will open the path to a new uptrend. The 100% trend-based Fibonacci extension level at $53.90 is where the Polkadot price may make a new high.
Clearing this blockade will eventually push the DeFi token to the next barrier at $71.45, coinciding with the 161.8% trend-based Fibonacci extension level.
The ascent from the $47.96 to this record-high would constitute a 50% gain.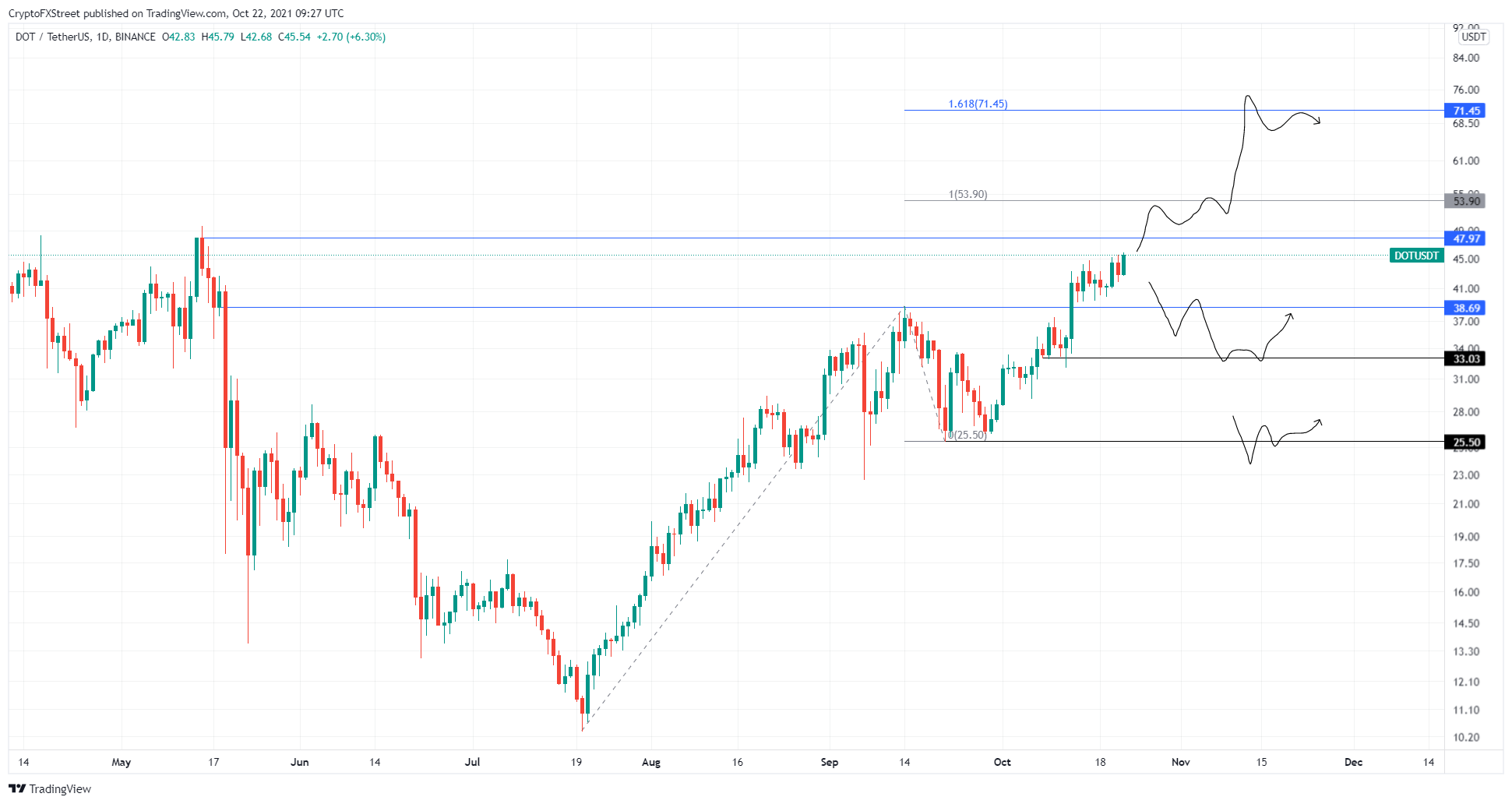 DOT/USDT 1-day chart
On the other hand, if the Polkadot price fails to slice through $47.96, it will indicate that buying pressure is waning. In this situation, DOT might revisit the $38.69 support floor, where the bulls can make a comeback.
If the Polkadot price flips this support level into resistance, it will trigger a 15% crash to $33.03. A breakdown of this level will lead to DOT retesting the $25.50 barrier, constituting a 33% descent from $38.69.
Cardano, Polkadot and Four Additional Altcoins Are Set To Explode in 2022, According to Crypto Trader Austin Arnold
Crypto trader and Altcoin Daily host Austin Arnold thinks six major altcoins are gearing up for massive rallies in the next year.
In a recent crypto update, the YouTube star tells his 1,040,000 subscribers that Ethereum layer-2 (L2) scaling solution Polygon (MATIC) is gaining momentum after landing a partnership with the $20 billion gambling company DraftKings.a
Arnold shares a statement from DraftKings' president of global product and technology, Paul Liberman, explaining how the company is positioning itself to grow alongside Polygon.
"Although DraftKings marketplace is still in its nascency, we are bullish on the possibilities that blockchain, NFTs, cryptocurrency and more will present as we prepare for Web 3.0 alongside Polygon and the new innovations ahead for digital collectibles."
Next, Arnold looks at the decentralized interoperability platform Polkadot (DOT). He points to a recent tweet from Polkadot founder Gavin Wood explaining that there are currently just under 19 million DOT tokens stored in the DOT treasury to fund community projects.
If any DOT goes unused, it gets burned. Currently, the Polkadot treasury is burning 239,988 tokens every month, according to Gavin Wood.
"Either burned or used, the DOT token is only getting more scarce. We have seen a rally in the DOT price recently. This could be linked to some exciting developments ahead, such as the upcoming parachain launch and slot auctions – these parachain auctions will take DOT off the market as well.
And with the first 11 parachain auctions coming to Polkadot next month, along with the 100 or so available slots to be filled, this could boost Polkadot's presence in the crypto sector, and could cement the multichain system's rising status."
The third coin Arnold looks at is the supply chain management protocol VeChain (VET). The trader highlights that VeChain recently landed a partnership with major logistics company DHL for enterprise NFT (non-fungible token) issuance.
"This collaboration with DHL China, one of the first things it will allow customers to experiment with is customize the DHL mascot and then mint it as NFTs on the VeChainThor blockchain solution."
Next up is the smart contract platform Cardano (ADA). Arnold notes that Cardano appears to be gaining more traction after landing partnerships with television satellite provider DISH and announcing that the network has received $100 million for investment in Cardano-focused projects in Africa.
"Simply put, there are so many people in more developing areas of the world that don't have financial stability, and that can be changed with Cardano with blockchain."
Another coin on Arnold's list is the decentralized oracle network Chainlink (LINK). He notes that despite the token's lackluster performance over the last few months, he believes there is still massive upside for LINK to realize in the market as partnerships continue to rise month-over-month, with 84 integrations made just in September.
"I get it, but in my opinion, Chainlink still has a lot of room to grow. Think about this: Chainlink already has a ton of exclusive, big partnerships with big companies – Google and Oracle to name two – over 75 different blockchains already use Chainlink technology, as well as being used by many data feeds, including USD [US dollar] currency pairs. That's a strong foundation.
My speculation is this: over these next few years, as DApp [decentralized application] platforms like Ethereum [ETH], Cardano, Solana [SOL], Polkadot, Elrond [EGLD], etc. continue to fight for market share… Chainlink is integrating with all of them… Something to think about."
Finally, the crypto trader thinks that the leading smart contract platform Ethereum is gearing up for a huge 2022. He notes that Ethereum developers announced that ETH is planning to make the transition into Ethereum 2.0 in May-June of 2022, which will convert the blockchain to a proof-of-stake protocol.
"The code should be ready around February 2022. The merge to mainnet, to ETH 2.0, in June of 2022 at the earliest. Next year will be known as the year of ETH. That's where DeFi [decentralized finance] is, that's where NFTs are."
Institutions pour $3.6M into Polkadot ahead of parachain auctions, pushing DOT to breakout
The 12th auction on Kusama is set to commence on October 23.
The staking rate on Polkadot has dropped to 58.5%; it has relatively stayed constant for Kusama at 42.8%.
Kraken announced support for Parachain auctions.
The platform empowered clients to invest $35 million in Kusama auctions.
The DOT founder recently announced a $774 million development fund for DeFi.
Digital asset managers have reported a rise in the institutional capital inflow in Polkadot as the overall cryptocurrency market capitalization climbs higher. A Polkadot founder announced $774 million dedicated for developing DeFi projects. 
Polkadot is a top choice among institutions, investment flow in DOT spikes
Over $80 million in institutional investment flowed into cryptocurrency funds last week. Of the $80 million, $3.6 million was dedicated to Polkadot products.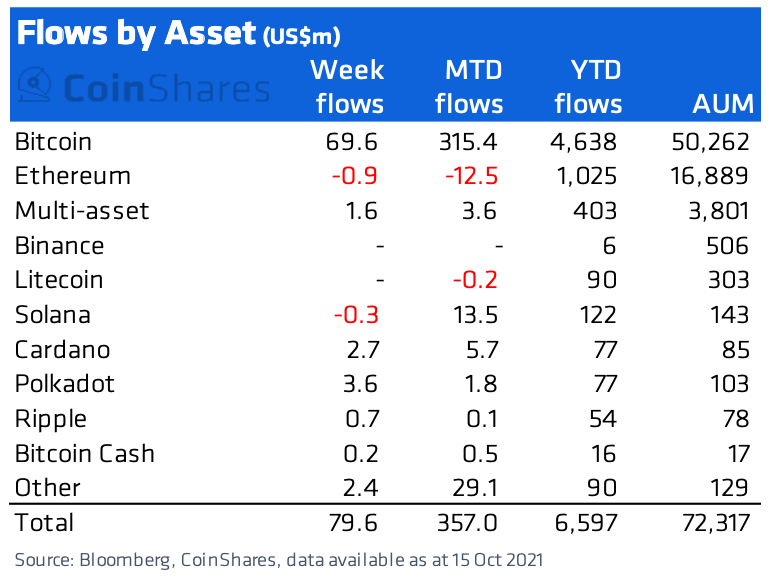 Institutional inflow by assets as of October 15, 2021.
The Polkadot ecosystem has been abuzz with new updates since the announcement of the Parachain launch. The 12th Kusama auction is set to go live on October 23. The new proposal on Kusama aims to schedule 1 auction per week for the next 48 weeks. Winning parachain projects will be onboarded at the beginning of the following lease period as per the proposal. 
Based on the community's response to the Polkassembly post "The Case For Continuous Auctions", a council member submitted a motion for council to vote on scheduling the next auctions. If passed, the first auction will be at block #9777777 [Oct. 23, 2021].https://t.co/Av8OpeMxY8— kusama (@kusamanetwork) October 18, 2021
Proponents expected the staking rate on Polkadot to remain steady; in contrast, there was a drop to 58.5%. Kusama's staking rate remained steady at 42.8%. The news of the Polkadot-Kusama bridge project led to a bullish outlook on KSM price since it boosts the interoperability of assets on both blockchains. 
Leading cryptocurrency exchange Kraken announced support for Parachain auctions. Last week there was an announcement that the world's largest cryptocurrency exchange, Binance, supporting the auction. Clients on Kraken's platform invested over $35 million in Kusama parachain auctions.
Gavin Wood, the founder of Polkadot and Kusama, recently announced $774 million slated for a development fund for DeFi. Wood teased that the fund is ready to spend on innovative ideas. Instead of burning slowly, the network's governance is keen on investing in anything it believes is valuable. 
The @Polkadot treasury currently has 18,936,300 DOT (DOT, not USD – do the math) in it ready to spend on *your* ideas for building, improving, educating and indeed, anything else that the Polkadot governance believes valuable.— Gavin Wood (@gavofyork) October 17, 2021
FXStreet analysts have evaluated DOT price and predicted that the altcoin is primed to hit higher highs after cracking $40.