Top 3 Price Prediction Bitcoin, Ethereum, Ripple: Cryptocurrency markets make comeback as BTC bulls resurface
Bitcoin price taking a second attempt at an upswing to retest $42,451.
Ethereum price has flipped a crucial resistance level at $2,640 into a support barrier.
Ripple price lacks momentum and is close to testing a crucial demand zone extending from $0.623 to $0.671.
Bitcoin price is taking a break from retracing as it rallied on August 4. If the upswing continues, it is likely to retest a crucial resistance level.
While Ethereum price is following in BTC's footsteps, Ripple is consolidating and showing no strength.
Bitcoin price takes a second jab
Bitcoin price put an end to its 11% retracement as it rallied roughly 6% and is currently attempting to retest the range high at $42,451. However, the ascent to do so is sprinkled with resistance levels at $40,550 and $41,330.
Breaching through these barriers is crucial to retest $42,451 and to scale to $46,000. Therefore, investors need to keep a close eye on this climb and its reaction to the immediate supply barriers.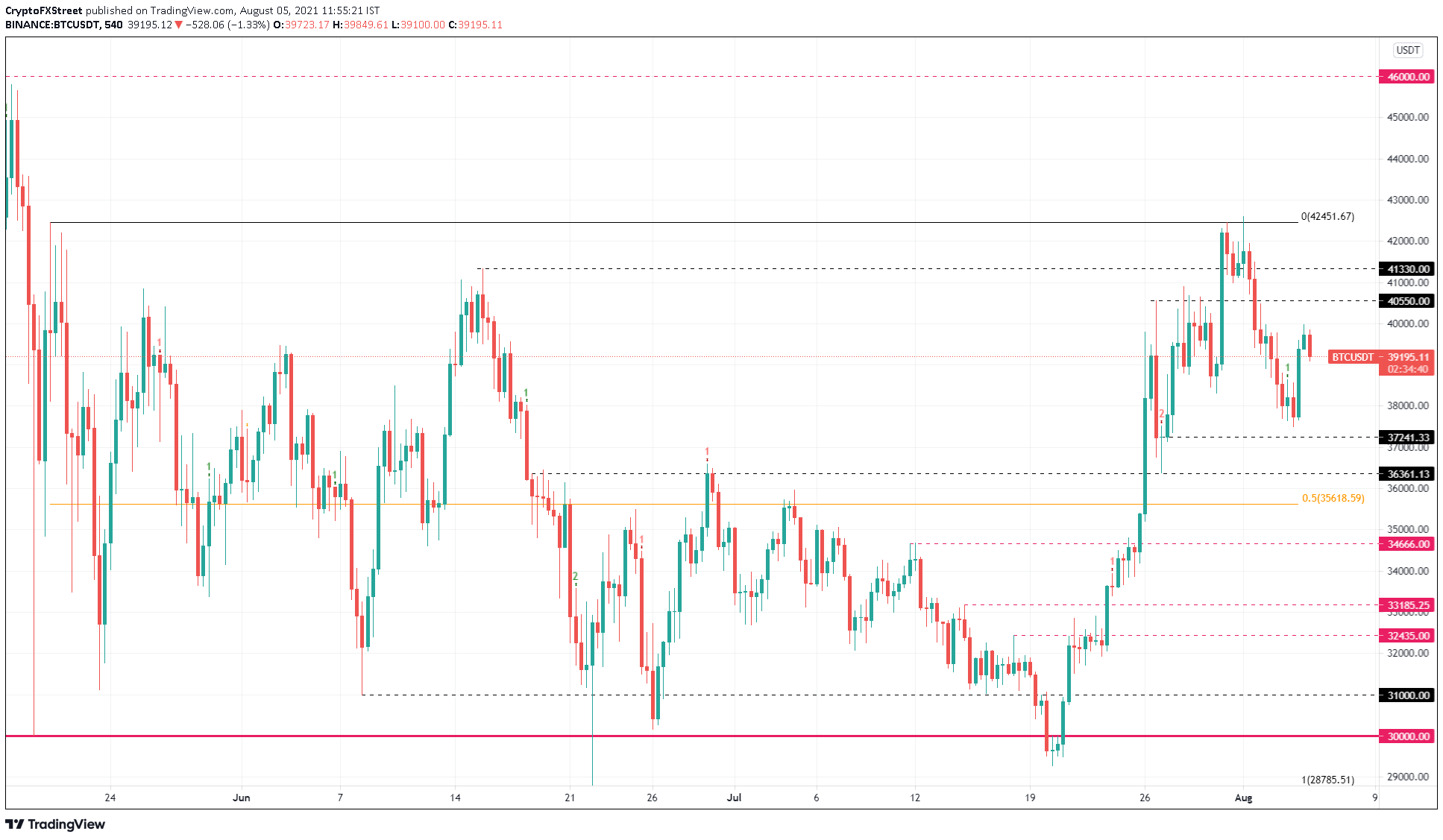 BTC/USDT 9-hour chart
On the other hand, if the upswing fails to hold up, it might slice through the $37,241 support level. Breaching this barrier will invalidate the bullish thesis and trigger a correction to $36,361.
Ethereum price shatters barriers
Ethereum price follows BTC's footsteps but takes it up a notch. The recent run-up for ETH after the retracement has pushed it above the $2,640 resistance level. This move opened up the path toward the range high at $2,895 and the liquidity resting above it up to $3,017.
Clearing this area might propel Ethereum price to $3,240.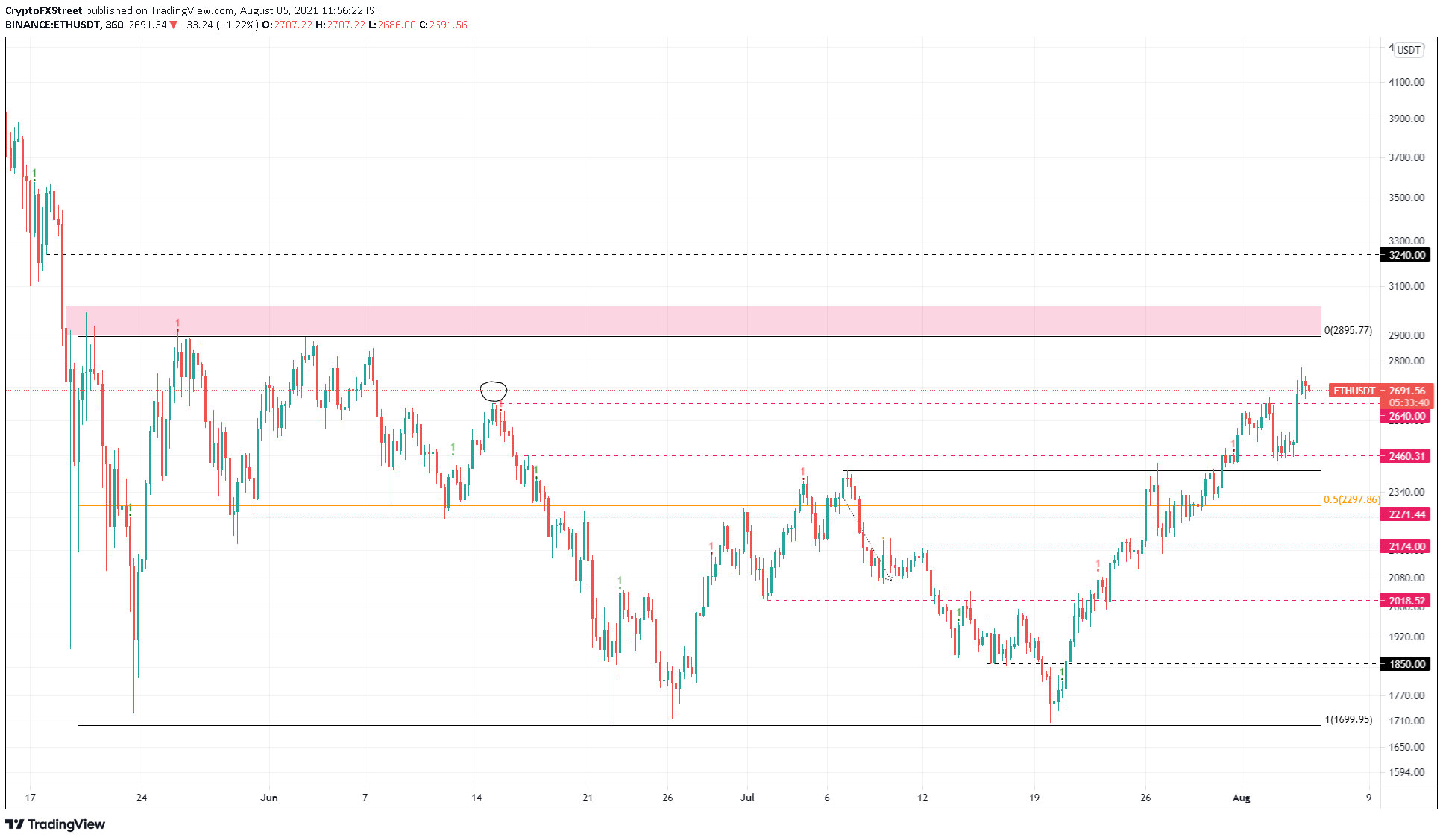 ETH/USDT 6-hour chart
Regardless of the bullish outlook, failing to hold above $2,460 will indicate weakness among buyers. In some cases, this weakness could translate into a retracement to $2,460. A breakdown of this barrier will invalidate the bullish thesis and, in some cases, catalyze a sell-off to $2,297.
Ripple price falters as altcoins rally
Ripple price has failed to muster up buying pressure since it tested the range high at $0.785. This move has resulted in a slow and steady downtrend floating above the support level at $0.688.
While a retest of this is likely, a reversal is more probable to occur near the demand zone extending from $0.624 to $0.671.
An impulsive wave that originates here is likely to shatter through the range high at $0.785 and retest these levels – $0.827, $0.91 and $1.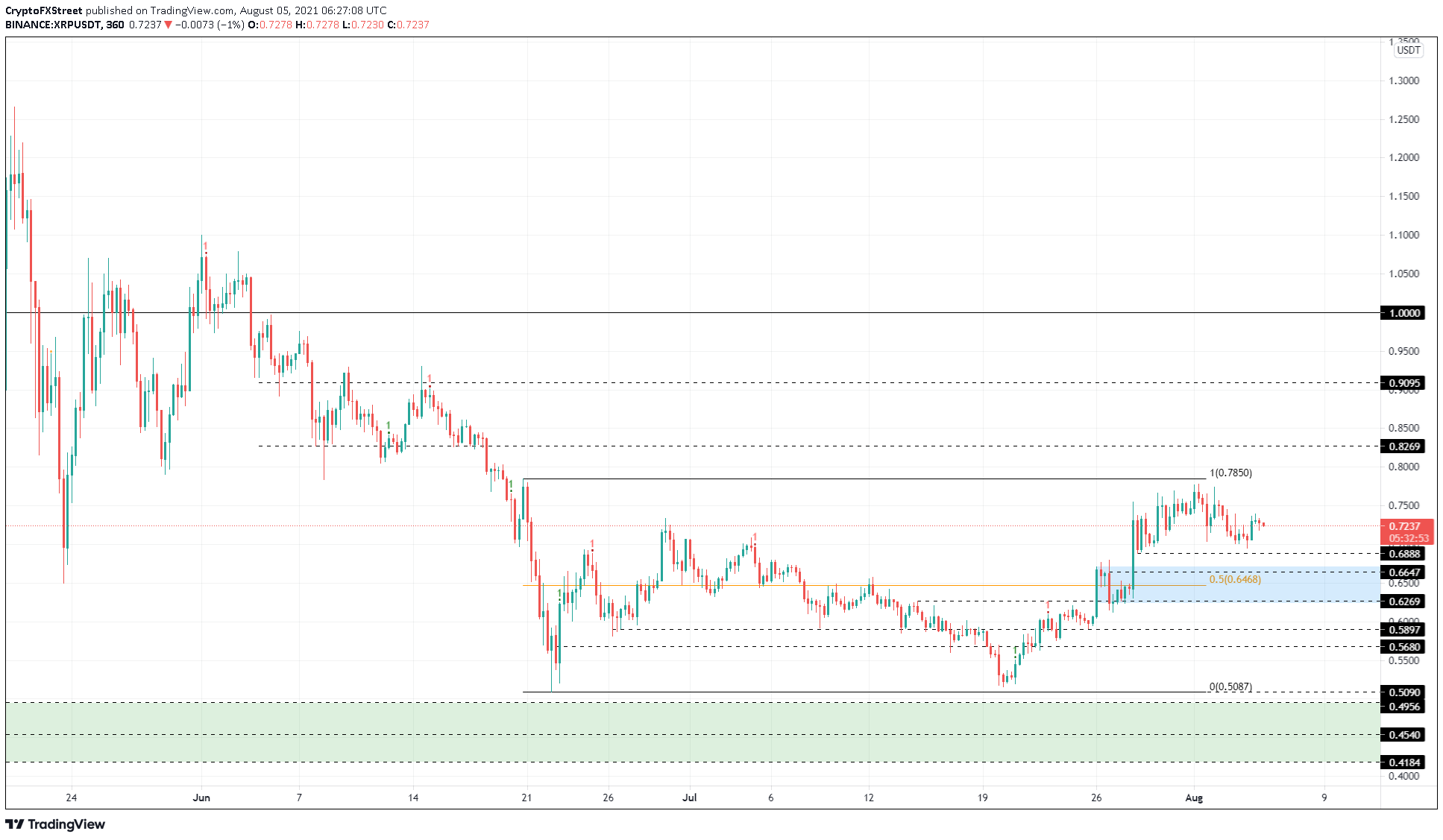 XRP/USDT 4-hour chart
While things seem to be going slow for XRP price, a breakout above $0.785 will change things for the better. However, the opposite could occur if Ripple bears slice through $0.624. This development will invalidate the bullish outlook and potentially trigger a downswing to $0.590.
BTC Records a New ATH Amid Bitcoin Fut
Bitcoin recorded a new ATH of $66,930 on Wednesday, October 20, as ProShares' Bitcoin futures ETF makes an astonishing debut on New York Stock Exchange (NYSE).
As Crypto Economy reported, Tuesday, October 19, was a historic day for Bitcoin (BTC) as the world's first Bitcoin Futures ETF by ProShares, under the ticker symbol BITO, went live on NYSE that generated an astonishing $1 billion in volume and over 24 million shares traded on its very first day. According to some reports, this first Bitcoin-linked exchange-traded fund listed in the US debuted as the second-most heavily traded fund on the record.
As expected, this historic moment has helped the world's largest crypto asset by market cap to achieve its new all-time high (ATH) on Wednesday, October 20. According to crypto market tracker CoinMarketCap, the coin crossed its previous ATH of $64,895 on Wednesday evening and then continued to post a new ATH of $66,930. The price has corrected a little and the coin is now changing hands at around $65,000 at the time of writing.
TVL on Ethereum DeFi tops $100 Billion
This watershed moment is positively impacting the overall cryptocurrency market. As the confidence in crypto is growing, so does the DeFi activity. With this recent crypto rally, the total value locked (TVL) on Ethereum-based DeFi protocols has also crossed $100 billion for the first time, according to the data provided by DeFi Pulse. Aave is leading the DeFi by having more than $17 billion in TVL on its platform.
According to DeFi Llama, the TVL on all DeFi platforms is $219 billion.
VanEck ETF is Coming Next Week
A Bitcoin ETF has been long-awaited by both the crypto community and investors on Wall Street, many of whom have argued for years that approval by regulators would open up digital currencies to more mainstream investors. Some thought that the US might ban cryptocurrency altogether like China, but the government's approval of Bitcoin Futures ETF is an indication that regulatory headwinds may not be as strong as some expect.
As the first Bitcoin-linked ETF has gotten the regulatory green light, many more are waiting in line. VanEck will be the second asset manager to share its part in this new era of Bitcoin. A document filed with the US SEC on October 20 indicates that the regulator has given the company permission to launch its fund after Saturday, October 23. The company has announced that its Bitcoin Strategy ETF, under the ticker symbol XBTF, will go live on Monday, October 25.
Bitcoin Price Analysis: BTC breaks above $65,000 all-time high, further upside to follow today?
Bitcoin price analysis is bullish.
BTC/USD set a new all-time high at $67,000 yesterday.
Slight retracement to retest $65,000 as support overnight.
Bitcoin price analysis is bullish today as a higher low has been set after a retest of $65,000 as support. Therefore, we expect BTC/USD to continue higher over the next 24 hours.
The cryptocurrency market traded with strong bullish momentum over the last 24 hours. Bitcoin gained 3.12 percent, while Ethereum gained 12.35 percent. Meanwhile, Solana (SOL) continues to dominate the market, with a gain of 20 percent.
Bitcoin price movement in the last 24 hours: Bitcoin sets new all-time high at $67,000
BTC/USD traded in a range of $63,807.96 – $66,930.39, indicating substantial volatility over the last 24 hours. Trading volume has increased by 34.33 percent and totals $49.2 billion, while the total market cap trades around $1.24 trillion, resulting in the market dominance of 46.29 percent.
BTC/USD 4-hour chart: BTC to reach $68,000 today?
On the 4-hour chart, we can see Bitcoin price slightly retracing overnight as bulls prepare for another push higher today.
Bitcoin price action has seen steady growth so far in October. After a several-week consolidation above $41,000 at the end of September, a strong push higher was seen on the 1st of October.
Since then, BTC/USD has seen steady growth with several higher highs and lows set. From the previous major swing low of $41,000 to the current swing high of $67,000, BTC has gained around 63 percent.
Yesterday, the previous all-time high of $65.000 was broken clearly, further indicating strength for the momentum. Overnight a slight retracement back to the $65,000 mark was seen as bears looked to retest it as support, likely before further upside is seen today.
Bitcoin Price Analysis: Conclusion
Bitcoin price analysis is bullish as a slightly higher low has been set after a retest of $65,000 previous resistance as support. Therefore, we expect BTC/USD to continue higher over the next 24 hours.
While waiting for Fantom to move further, read our guides on LTC wallets, Gero wallets, and  DeFi wallets.
PayPal co-founder suggests he's underinvested in Bitcoin while it records new ATH
Bitcoin [BTC] did it once again. The asset broke its own record and caught the attention of the entire globe. Amidst this, PayPal's co-founder, Peter Thiel expressed his angst over being "underinvested" in the world's largest cryptocurrency.
The crypto industry as a whole garnered immense popularity over the last couple of years. From being closely regarded as an instrument that carries out illicit activities, to being adopted by governments across the globe, Bitcoin has certainly come a long way. Now, with a market cap of $1.2 trillion, Bitcoin stands as one of the most prominent currencies in the world.
Earlier today, BTC pushed past its previous all-time high of $64,899 and managed to hit a new high of $66,930.39. While BTC HODLers rejoiced this surge, an array of people were rather disappointed that they hadn't poured in their money into the king coin. One of them was PayPal's co-founder Peter Thiel.
PayPal's co-founder talks crypto
During a recent interview, PayPal's Thiel revealed why he felt underinvested in the asset. He added,
"You're supposed to just buy Bitcoin. I feel like I've been underinvested in it."
The latest move of Bitcoin was lauded by the entire market. Speaking about the effects of BTC's ongoing rally, the PayPal co-founder suggested that "we are at a complete bankruptcy moment for the central banks."
An array of people took to Twitter and made their own predictions about Bitcoin. While some suggested that BTC was slated to endure a major fall, a few others noted that the coin could be aiming for $70K. Tesla's Elon Musk had a rather bizarre prediction for the coin.
The Tesla CEO's latest tweet read,
pic.twitter.com/pCO0wNNZtz— Elon Musk (@elonmusk) October 21, 2021
Bitcoin's rally certainly paved the way for several altcoins hitting new highs. Ethereum PETH], the second-largest cryptocurrency followed the footsteps of BTC and managed to hit an all-time high of $4,366.
PayPal has played a major role in the crypto-verse in the last year. From opening doors to crypto and constantly remaining bullish about it, has pushed several assets to a new level.