Market Wrap: Ethereum hard fork rally outperforms Bitcoin
Ether is up 3% over the past 24 hours.
Ether, the second largest cryptocurrency by market capitalization, was in the spotlight on Thursday as the latest , which wasa dubbed "London," officially activated on the Ethereum blockchain network. The upgrade contributed to bullish price action as ether rose about 5% over the past 24 hours, compared with a 3% rise in bitcoin during the same period.
Despite ETH's rally, some analysts expect widespread institutional adoption to take a few years. Institutional interest boosted bitcoin's investment appeal over the past year, which contributed to a crypto rally during the fourth quarter of 2020.
"I think Ethereum might flip the bitcoin market cap in the long term, but not this year," CryptoQuant CEO Ki Young Ju, said in an interview with WuBlockchain.
"I met Goldman Sachs, Fidelity and other big institutional asset management firms in Miami a few weeks ago and they said they're still struggling explaining what Ethereum/DeFi (decentralized finance) is to their bosses," Ju said.
Latest prices
Cryptocurrencies:
Bitcoin (BTC) $41143, +2.83%
Ether (ETH) $2806.8, +4.11%
Traditional markets:
S&P 500: 4429, +0.6%
Gold: $1814.2, +0.21%
10-year Treasury yield closed at 1.217%, compared with 1.16% on Wednesday.
Meanwhile, some institutions remain active across the crypto market either directly or indirectly. On July 22, Fidelity Investments acquired a 7.4% stake in crypto miner Marathon Digital Holdings for about $20 million.
On Thursday, French asset manager Melanion Capital won regulatory approval to launch an exchange-traded fund (ETF) tracking the price of bitcoin and several crypto-related stocks.
Also on Thursday, Invesco, a U.S.-based asset manager, filed with the U.S. Securities and Exchange Commission (SEC) to list an ETF with indirect exposure to bitcoin via futures and other investment vehicles.
Large institutions are easing into the crypto market with a bitcoin-first approach. It will likely take some time, however, before investors fully embrace altcoins such as ether as regulatory hurdles must be cleared first.
Ethereum London hard fork
Ether was initially steady after the London hard fork was activated, but it started rallying about an hour later. As of press time, ether was changing hands at around $2,807, up from about $2,600 right before the changes took effect, CoinDesk 20 data shows.
Many crypto traders are focused on one component of the upgrade, called Ethereum Improvement Proposal (EIP) 1559, which changes the network's fee structure so that a certain amount of the cryptocurrency's supply will be "burned," or removed from circulation. The bet is that the blockchain's net issuance of new units of the cryptocurrency will slow as a result of the change, ultimately helping to set a floor under the price.
Analysts at Stack Funds and elsewhere have compared the London hard fork and implementation of EIP 1559 to the Bitcoin blockchain's "halvings" that occur every four years in the sense that major changes in the cryptocurrency's supply growth are deployed at specific moments in the blockchain's lifecycle. Some investors believe Bitcoin's halving events in the past have helped to increase the price of the underlying cryptocurrency.
As of 15:06 UTC, some 585 ETH of fees had been burned, or roughly 43% of the block rewards issued since the Ethereum hard fork took effect at data block No. 12,965,000, according to the website ultrasound.money.
Ether technicals
Ether is now above the 100-day moving average for the first time since June. The price rally has cleared a significant technical hurdle, although the price could find some resistance at the $3,000 level.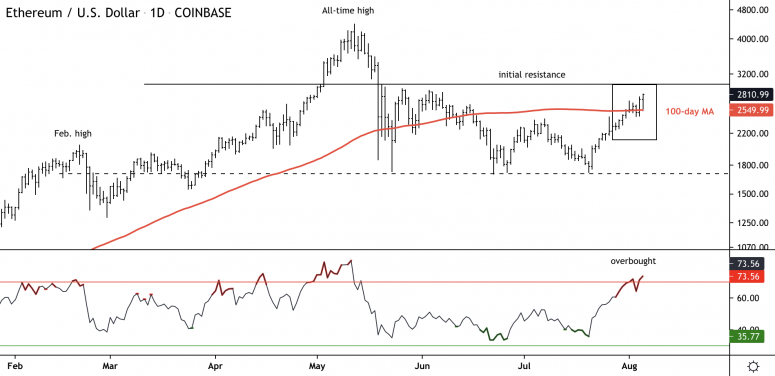 Ether daily price chart shows support and resistance levels with RSI.
Source: TradingView
ETH's rally has outperformed bitcoin after a few months of consolidation. The ETH/BTC ratio is testing initial resistance at 0.06, but could see further upside as momentum improves.
ETH/BTC daily chart shows recent breakout with support and resistance levels.
Source: TradingView
Bitcoin seasonality
Similar to stocks, bitcoin is approaching a seasonally weak period, which could encourage buyers to take profits. The table below shows, on average, relatively weak returns in August over an eight-year period. September tends to be the worst month. Buying picks up in October and February.
Seasonal patterns can vary, especially as bitcoin departed from its historical trends when it tumbled in May.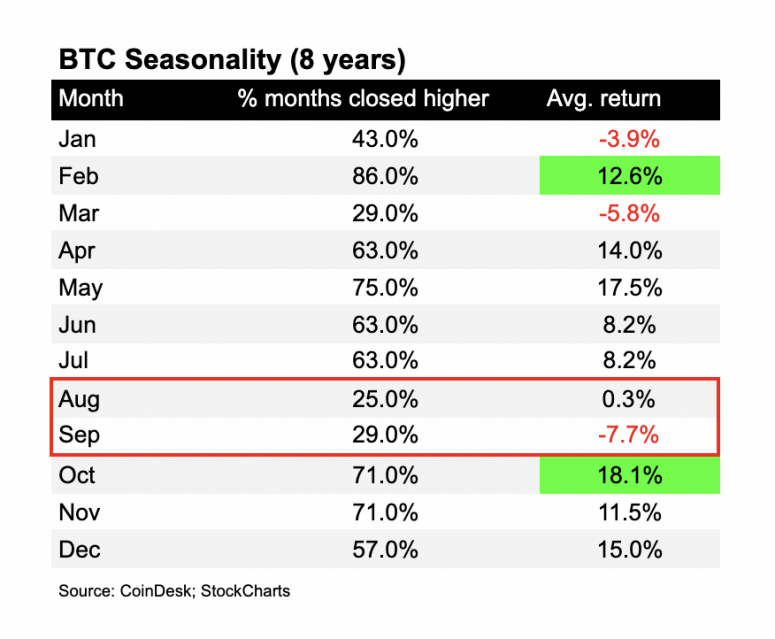 Table shows average monthly historical bitcoin returns over an 8-year period. Source: CoinDesk, StockCharts
Stablecoins as collateral
The margin assets for bitcoin futures trading has been shifting from bitcoin to stablecoins, according to Delphi Digital, a research company that focuses on digital assets. The shift has become especially significant as cash margined open interest soared after bitcoin's price crashed in May. 
"The most important implication of this is that longs don't have the added boost of holding both spot BTC and BTC futures while it goes up, but they're no longer exposed to deeper losses when their position turns against them (because their margin is in stablecoins, not BTC)," Delphi wrote. "For shorts, they can take advantage of downtrends without their margin value eroding, but they lack protection when BTC moves up."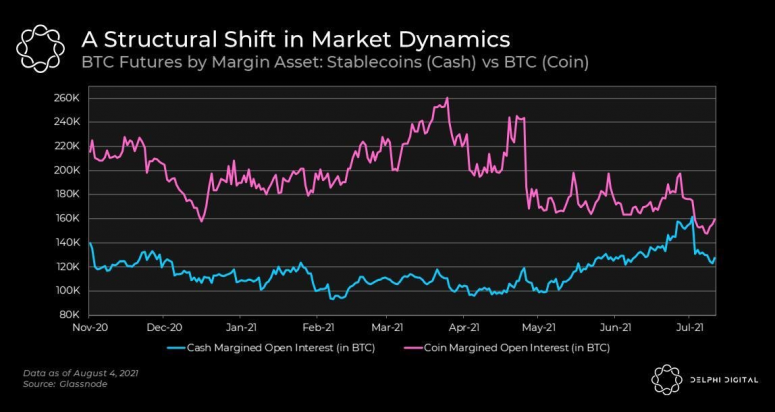 BTC Futures by Margin Asset: Stablecoins (Cash) vs BTC (Coin)
Source: Delphi Digital.
0/ In today's Delphi Daily, we explore how stablecoins have transformed crypto trading.

We analyzed the $BTC options market, the upside of unpegged currencies, and stablecoins as the margin asset of choice.

Check out the full report👇👇https://t.co/QwzPNlpyO8— Delphi Digital (@Delphi_Digital) August 4, 2021
Altcoin roundup
TRU soared following TrustToken's fundraising news: The price of TRU, the native token of TrustToken's DeFi lending protocol TrueFi, rose 414% to $0.863. CoinDesk that TrustToken had raised $12.5 million in a new funding round led by BlockTower Capital, Andreessen Horowitz (a16z) and Sam Bankman-Fried's Alameda Research. TRU is trading at $0.65 as of press time. (Bankman-Fried is a billionaire, who also founded the FTX crypto exchange.)
HUSD reserves all held in cash: The reserves backing HUSD, the eighth-largest stablecoin by market cap, are all held in cash in money market accounts in the United States, the token's issuer, Stable Universal, told CoinDesk. It's the first time the issuer has released such information. (EideBailly, an accounting firm, publishes monthly attestations that the HUSD token is backed 1-to-1 with dollars, but has never provided a reserve composition.) The disclosure comes at a time when more stablecoin issuers have started revealing the breakdown of their reserves, as investors and regulators demand more transparency.
Are Web 3.0 Tokens the next hot trade? Data tracked by Messari and published by Arca Chief Investment Officer Jeff Dorman shows the cryptocurrency sub-sector of "Web 3.0 tokens" gained 22% in the week ended Aug. 1, outshining bitcoin and every other sub-sector, including non-fungible tokens (NFTs). Bitcoin, the largest cryptocurrency by market value, rallied 10%. Web 3.0 tokens refer to digital assets associated with visions of a decentralized internet.
Mark Cuban's NFT platform completes Polygon integration: Billionaire entrepreneur Mark Cuban's NFT platform, Lazy.com, has joined forces with Polygon, an Ethereum-scaling product, to offer cheaper transactions. Polygon's NFT-centric and gaming hub Polygon Studios announced the integration on Thursday, stating it would help drive mainstream adoption of digital collectibles. Users can now connect their Polygon wallet to Lazy.com, which also supports NFTs based on the Ethereum blockchain.
Chainlink Unveils Crypto 'Keepers': Chainlink, the market-leading provider of data feeds to blockchain-based smart contracts, is expanding its services to include decentralized off-chain computation – a job done by a network of node operators known as "Chainlink Keepers." Chainlink Labs is also standing up cross-blockchain bridges that come with an anti-fraud risk monitoring component.
Other markets
Notable winners of 21:00 UTC (4:00 p.m. ET):
aave (AAVE) +10.92%
uniswap (UNI) +8.39%
algorand (ALGO) +2.09%
Notable losers:
stellar (XLM) -1.68%
chainlink (LINK) -0.85%
dogecoin (DOGE) -0.63%
Bitcoin extends correction as Ethereum sees 'picture perfect' rejection at all-time highs
Bitcoin (BTC) stayed closer to $60,000 on Oct. 22 after the largest altcoin Ether (ETH) failed to cement new all-time highs.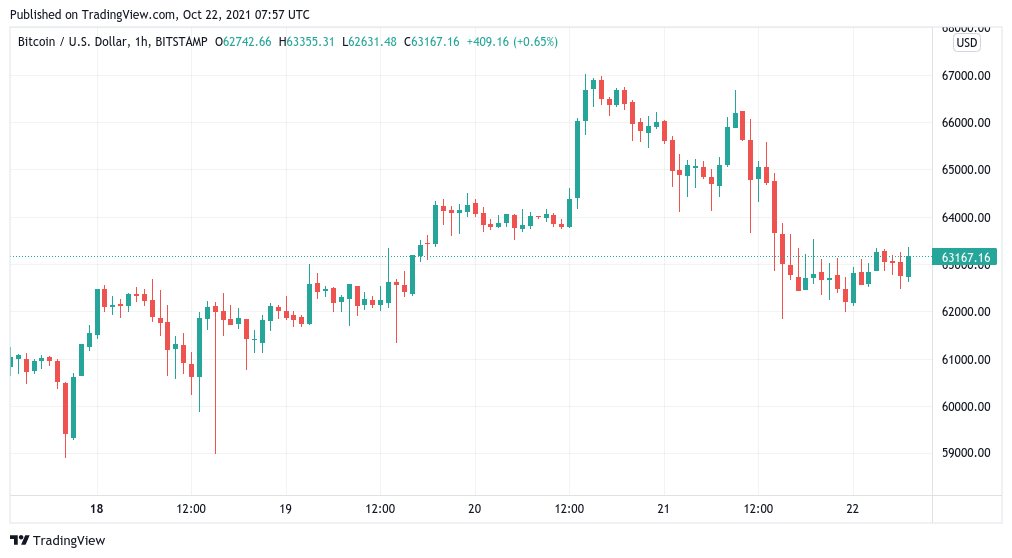 BTC/USD 1-hour candle chart (Bitstamp). Source: TradingView
ETH all-time high? Blink and you'll miss it
Data from Cointelegraph Markets Pro and TradingView ETH/USD just match its record $4,380 on Bitstamp before seeing a harsh rejection.
Traders watched in anticipation as Ethereum appeared to follow Bitcoin to historic new levels, only to face immediate resistance and fall sharply back into a lower range.
Trader and analyst Rekt Capital called the event a "picture perfect rejection."
At the time of writing, ETH/USD circled $4,150, preserving $4,000 as support with the exception of a flash dip which immediately followed the all-time high rematch.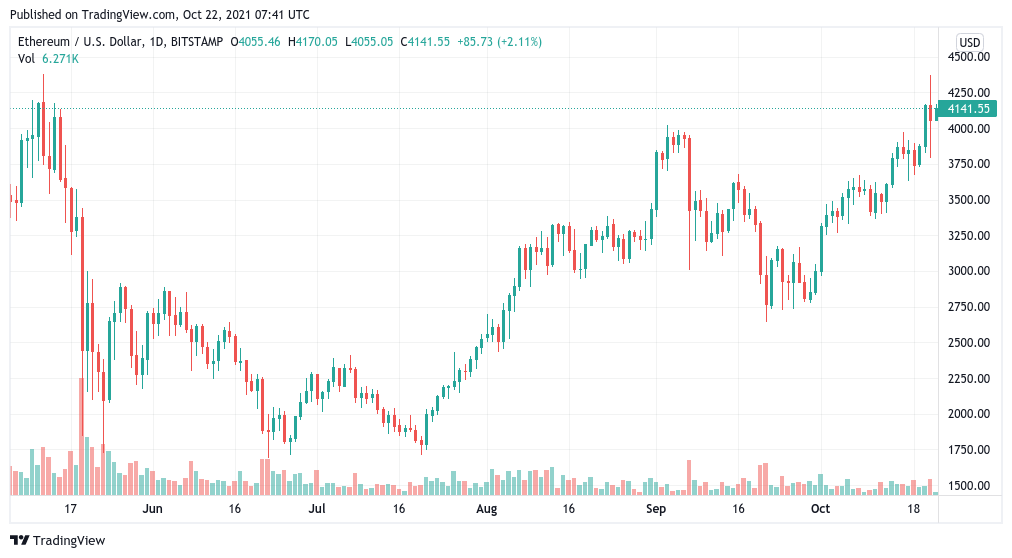 ETH/USD 1-day candle chart (Bitstamp). Source: TradingView
Against Bitcoin, Ethereum fared better, with the ETH/BTC pair having bounced near lows last seen in late July. 
Bitcoin could see "additional topside euphoria"
Having similarly failed to hold significantly higher levels, Bitcoin itself took an extended break as overheated markets cooled their excitement.
Funding rates were returning to normal on Friday, having reached a state reminiscient of the blow-off top from April.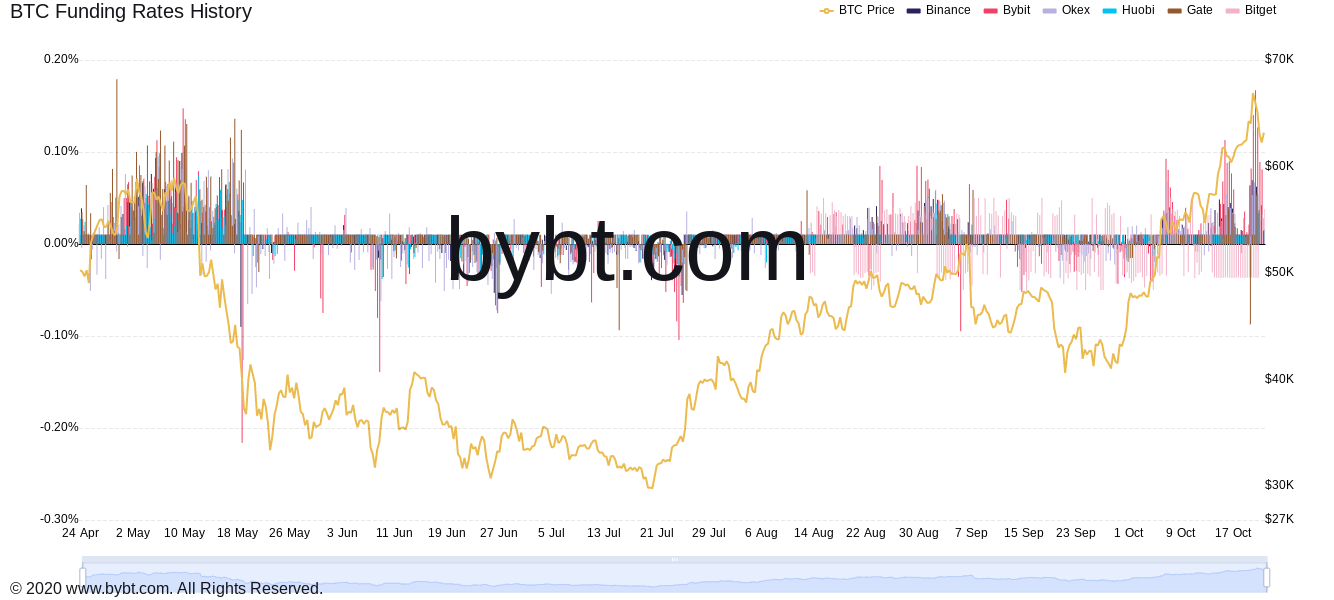 Bitcoin funding rates chart. Source: Bybt
As with open interest, however, these were not as frenzied as the Q2 rush, which produced the $64,900 all-time high in place until this week.
"This means there is possibly still room for additional topside euphoria but we are at levels that are starting to stretch the market," crypto trading firm QCP Capital commented in its latest market update.
Bitcoin Forecast and Analysis BTC/USD October 22, 2021
BTC/USD are trading at 64619 and continue to move as part of the correction and the bullish channel. Bitcoin cryptocurrency capitalization at the time of the publication of the forecast is $1,194,342,792,891. Moving averages indicate a short-term bullish trend for Bitcoin. Prices went up from the area between the signal lines up, which indicates pressure from buyers of "Digital Gold" and a potential continuation of the rise in the value of the asset already from the current levels. As part of the cryptocurrency rate forecast for tomorrow, October 22, 2021, we should expect an attempt to develop a decrease in the value of a digital asset and a test of the support level near the 57505 area. Where again should we expect a rebound and an attempt to raise the Bitcoin rate with a target above the 74055 area.
Bitcoin Forecast and Analysis BTC/USD October 22, 2021
An additional signal in favor of the growth of BTC/USD quotes will be a test of the rising trend line on the relative strength index (RSI). The second signal in favor of this option will be a rebound from the lower border of the bullish channel. Cancellation of the growth rate and value of Bitcoin will be a fall in the value of the asset and a breakdown of the area of ​​52205. This will indicate a breakdown of the support area and a continuation of the fall in the Bitcoin rate with a potential target at 42055. Confirmation of the rise in the price of the asset will be a breakdown of the resistance area with the price fixing above the level of 69205.
Bitcoin Forecast and Analysis BTC/USD October 22, 2021 suggests an attempt to test the support level near the 57505 area. And further, the cryptocurrency will continue to grow with a potential target at 74055. An additional signal in favor of the Bitcoin rate rise will be a test of the support line on the relative strength index (RSI). Cancellation of the cryptocurrency growth option will be a fall and a breakdown of the 52205 area. This will indicate a continued fall with a potential target below the 42055 area.
Bitcoin Price Flash Crashes for Second Time in a Month in the US
The price of bitcoin (BTC) on Binance.US, the US-based exchange affiliated with Binance, briefly crashed to as low as USD 8,200 today – a drop of 87% – before recovering again. The crash marks the second time in a month when bitcoin prices in the US have briefly disconnected from the rest of the world. 
Today's flash crash, which was one of the most significant on a major exchange in bitcoin's history, all happened within less than 1 minute, the BTC/USD price chart from Binance.US showed.
Although the flash crash was all over within a minute, the trading volume showed that a significant number of coins did change hands during the crash, indicating that some traders may have been able to fill orders for bitcoin at extremely low prices.
Flash crashes can happen when large market sell orders are sent to exchanges without sufficient liquidity on its order books, for instance, because a large trader accidentally placed the order as a market order instead of a limit order.
Today's flash crash on Binance's US exchange is the second such incident in a month in the US. On September 20, a data feed for crypto prices called Pyth that is used by some of the largest financial institutions on Wall Street showed a 90% crash in the price of bitcoin.
The feed briefly showed bitcoin at a price of USD 5,402. However, a similar price crash was nowhere else to be seen. Two days later, in a report about the incident, Pyth concluded that the abnormally low price was indeed a technical glitch, "caused by the combination of (1) two different Pyth publishers publishing a near-zero price for BTC/USD and (2) the aggregation logic overweighting these publishers' contributions."
Discussing today's incident on Twitter, many traders complained about being forced by US regulations to use exchanges such as Binance.US, which has thin order books and low liquidity compared to the international version of the exchange.
No statement has yet been made from Binance or Binance US regarding today's flash crash.

At 16:11 UTC, BTC trades at USD 63,180 and is down by almost 6% in a day, trimming its weekly gains to 10%.