Dogecoin price aims higher, but upside appears to be limited
Dogecoin price is grappling with the $0.213 crucial resistance level.
A breach of this barrier might lead to a 20% upswing to $0.255.
However, if DOGE bulls fail to defend $0.168, it will invalidate the bullish thesis.
Dogecoin price is currently tussling with a vital resistance level, a breach of which will open the path for more gains. However, the upside seems to be limited due to the presence of a massive supply zone.
Dogecoin price contemplates a breakout
Dogecoin price has set up three lower highs since June 25, indicating a waning bullish momentum. Drawing a trend line along these swing points shows a declining resistance level that DOGE is currently tagging.
Interestingly, the resistance level at $0.213 coincides with the supply barrier mentioned above. Therefore, a decisive 9-hour candlestick close above this confluence will signal the presence of bulls and open up the path for further upside.
However, investors should note that Dogecoin price is likely to rally 20% to tag the supply zone' ranging from $0.255 to $0.290.
In some cases, this upswing might retest the $0.273 resistance level, which would constitute a 30% rally from $0.213.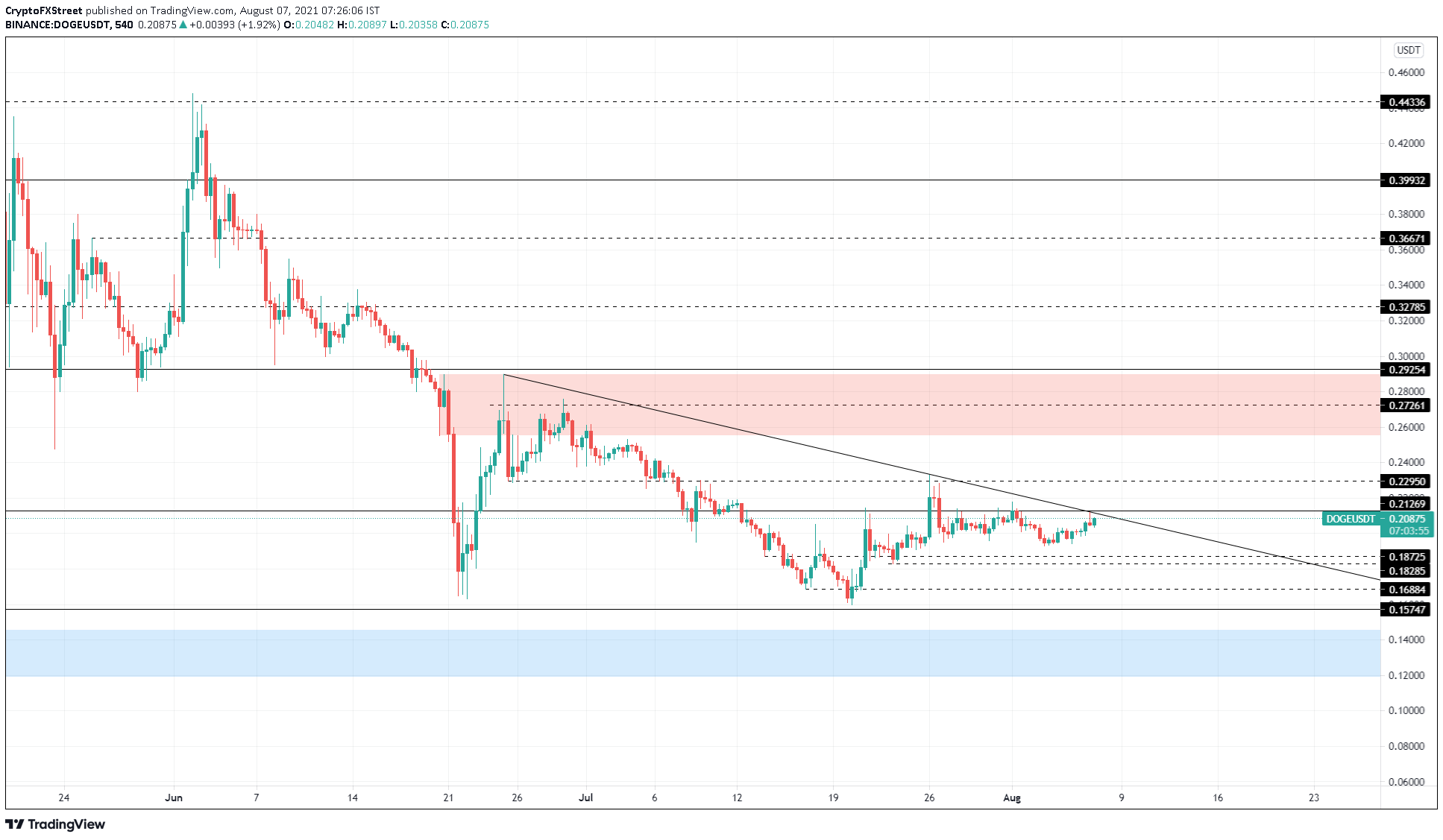 DOGE/USDT 9-hour chart
Conversely, if DOGE bulls fail to push through the declining trend line and the horizontal resistance level at $0.213, a retracement will likely ensue.
The support barriers at $0.187 and $0.182 are the most likely candidates that might end the correction. However, if the selling pressure persists, Dogecoin price will tag $0.168.
While a reversal from this area is likely, market participants should note that a breakdown of the said demand barrier will invalidate the upswing and potentially trigger a downswing to $0.157.
Dogecoin holders in the US significantly outnumber the rest of the world
• The meme crypto is trading over $0.24 today, the 23rd of October.
• Dogecoin touted as a perfect alternative for fast crypto transactions.
According to research from Finder, a cryptocurrency survey agency, Dogecoin has improved its adoptions among North American enthusiasts. The agency specifies that the purchase of the token has doubled so far this year, positioning the US as number one in DOGE adoptions.
Doge, a meme cryptocurrency developed in 2013, has gained fame with the CEO of Tesla Elon Musk alongside other celebrities on Twitter's speculations. The research agency indicates that DOGE ranks high among the top three cryptocurrencies, alongside Ether and Bitcoin.
Dogecoin has become one of the favorite tokens for Americans
Finder clarifies that Dogecoin is becoming one of the favorite cryptos for Americans after Bitcoin. The figures indicate that the adoptions wave in DOGE is 30 percent, which shows a large increase compared to last year.
The research also talks about ADA, a cryptocurrency developed by Cardano, which has been very famous among Australians. According to research, ADA would be in fourth place in adoptions in the United States, while 4 out of 10 people in the Australian region have it.
The study also focuses on the crypto adoptions wave in Asia, where Dogecoin is not as well-received as Bitcoin, Binance Coin, and Ethereum. Enthusiasts focus on Bitcoin's highest value in this region, while another part seeks to profit from ETH.
The research is based on over 41,000 people surveyed in the United States and 21 other countries. According to the study, at least one in ten people have cryptocurrencies globally, showing that the adoption wave grows.
The reason for DOGE's increease in adoptions
The new adoptions wave in Dogecoin could be due to many reasons, starting with the token's value in recent weeks. According to CoinMarketCap, DOGE is trading at $0.2468, representing a rise of 3.24 percent of its price in less than 24 hours. The crypto website also specifies that the token has increased in price to over 2.69 percent in the last seven days.
After Polkadot, this high index makes crypto meme number nine among the top crypto outperforming USDC and LUNA. DOGE has also gained fame as the preferred crypto of Elon Musk. Musk recently posted a new tweet about Dogecoin that helped boost its value.
The cryptocurrency meme has also been taken as a great option for enthusiasts looking for speedy crypto transactions. DOGE has become the perfect alternative to tokens like Bitcoin because its demand is not that high. However, it is a long way from comparing itself to the higher-priced cryptocurrency, which recently surpassed the $66,000 range.
JPMorgan Has Bearish Warning About Dogecoin and Robinhood
JPMorgan's analyst maintains his bearish view on Robinhood due to low retail interest in Dogecoin
JPMorgan has maintained an "underweight" rating on the Robinhood stock, sticking to its $35 price target.  

In a Friday note, analyst Kenneth Worthington cites weak Dogecoin volumes as the key reason why he thinks that the leading online brokerage app is vulnerable.    

As reported by U.Today, the meme cryptocurrency accounted for a whopping 62%  of the firm's crypto-related revenue in Q2.   

Worthington writes that, unlike cryptocurrency-focused trading platforms, Robinhood has failed to record an upsurge in trading volumes this October:
While 3Q21 volumes remain robust, they slowed down materially from 2Q21 levels.
Dogecoin is only up a modest 15% this month, significantly underperforming its canine rival Shiba Inu. Yesterday, Robinhood CEO Vladimir Tenev seemingly dodged a question about listing plans for SHIB amid rampant speculation on social media.

In late September, Worthington also wrote that the company's stock could experience significant selling pressure after the expiration of the lockup period on Dec. 1. More than half a million shares will be unlocked on that day.
Robinhood is set to announce its Q3 earnings on Oct. 26.  
Elon Musk Says He Will Become First Dogecoin Trillionaire
The Tesla CEO says that he will become the world's first trillionaire in Dogecoin
Tesla CEO Elon Musk claims that he will become the world's first Dogecoin trillionaire in a recent tweet. 
*In Dogecoin— Elon Musk (@elonmusk) October 22, 2021
Musk's net worth has now swelled to $249 billion, according to the Bloomberg Billionaires Index.
The entrepreneur is now worth more than the gross domestic product of New Zealand (and he's close to surpassing Portugal).
His wealth has increased thanks to the renewed Tesla rally. The shares of the leading e-car maker hit a new all-time high of $910 earlier today.
Morgan Stanley predicts that Musk is on track to become the world's first trillionaire thanks to SpaceX.
In July, Musk revealed that he personally owns Bitcoin, Dogecoin and Ether.
News Source