Dogecoin Price Analysis: DOGE retests $0.23 resistance, prepares to reverse?
DOGE started to rally again yesterday.
Strong bullish momentum was seen overnight.
DOGE/USD retests $0.23 resistance.
Dogecoin price analysis indicates bearish momentum to follow over the next 24 hours as previous resistance around $0.23 was retested earlier today, and any further upside was rejected. Therefore, we expect DOGE/USD to retrace again and move towards the $0.20 support again.
The cryptocurrency market has seen a strong increase over the last 24 hours. Market leader, Bitcoin is up by 6.3 percent, while Ethereum is up by 11.3 percent. 
Dogecoin price movement in the last 24 hours: Dogecoin retests $0.23 resistance
DOGE/USD traded in a range of $0.2 – $0.2309, indicating strong volatility over the last 24 hours. Trading volume has spiked by 177 percent and totals $3.1 billion, while the total market cap trades around 28.8 billion, ranking the cryptocurrency in 7th place overall.
DOGE/USD 4-hour chart: DOGE rejects further upside around $0.23
On the 4-hour chart, we can see the Dogecoin price spiking to the $0.23 previous high and rejecting further upside as of now.
Dogecoin price action saw a strong rally at the end of July. From the $0.16 support, DOGE/USD rallied by more than 45 percent until the $0.23 provided resistance. Since then, DOGE retraced back to the $0.20 support and established a several-day consolidation.
Earlier this week, DOGE moved past the $0.20 mark and set a slightly lower low around $0.195. However, further downside was not seen as the Dogecoin price gathered momentum and moved back above the $0.20 mark.
This price action development resulted in a sharp rally over the past 24 hours, with the $0.23 mark reached once again today. Since further upside currently gets rejected, we can expect DOGE to retrace further later today and try to establish another higher low from which to move higher later this week.
Dogecoin Price Analysis: Conclusion
Dogecoin price analysis is bearish for the next 24 hours as any further upside is currently rejected after a rapid move towards the $0.23 previous resistance earlier today. Therefore, we expect DOGE/USD to retrace some of the gains and retest previous lows later this weekend.
While waiting for Dogecoin to move further, read our articles on investing in PayPal Bitcoin, Bitcoin trusts, as well as Dogecoin as a good investment.
Dogecoin Price Prediction: DOGE poised for 64% breakout if this key level breaks
Dogecoin price looks ready for a 64% climb as it moves higher toward the upper boundary of the symmetrical triangle pattern.
A break above $0.269 could put the bullish target of $0.435 on the radar.
DOGE may discover a strong foothold at $0.242 if selling pressure spikes.
Dogecoin price is preparing for a 64% rally, but the dog-themed token has one last hurdle to overcome before the bullish target is in the offing. DOGE must climb above the descending resistance trend line that has acted as a headwind for the token since June 3.
Dogecoin price to clear one last barrier
Dogecoin price has formed a symmetrical triangle pattern on the daily chart as the bulls catch their breath. While DOGE consolidates, the token is supported by a few significant technical indicators, suggesting that the token is poised to aim higher.
The prevailing chart pattern suggests a 64% climb for Dogecoin price if the token manages to slice above the upper boundary of the technical pattern at $0.269. Before the bulls can anticipate a bull run toward the optimistic target, DOGE would also need to conquer the nearest resistance at 50% Fibonacci retracement level at $0.255.
If a spike in buying pressure occurs, and Dogecoin breaks above $0.27, DOGE would be met with another obstacle at the 61.8% Fibonacci retracement level, coinciding with the 200-day Simple Moving Average (SMA) at $0.277.
Additional hurdles may emerge at the 78.6% Fibonacci retracement level at $0.310, then at the August 16 high at $0.351 before eventually reaching the aforementioned bullish target at $0.435.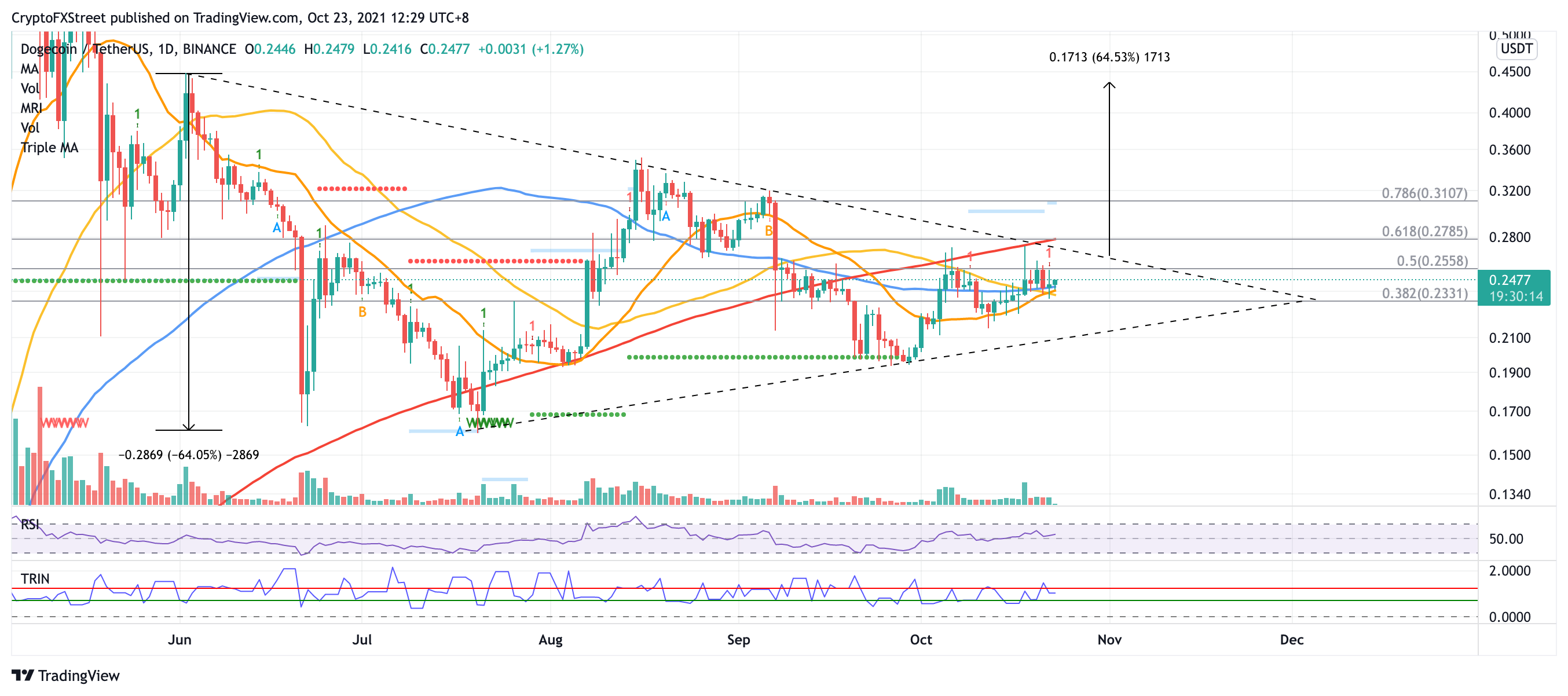 DOGE/USDT daily chart
Given that Dogecoin price is still trapped in a consolidation pattern, DOGE could still oscillate within the governing technical pattern until a decisive move toward the upside, accompanied by a surge in buy orders. Until then, the dog-themed token may be exposed to minor sell-offs, in which case the nearest foothold at the 100-day SMA at $0.242 will act as substantial support. 
Adding credence to the strength of this support level is IntotheBlock's In/Out of Money Around Price (IOMAP), indicating that 80,240 addresses purchased 14.73 billion DOGE at an average price of $0.242.

DOGE IOMAP
Additional lines of defense will appear at the 20-day and 50-day SMAs, which sit at $0.238 before dropping lower toward the 38.2% Fibonacci retracement level at $0.233. Only a rise in selling pressure would see Dogecoin price tag the lower boundary of the triangle at $0.213. 
Elon Musk Denies That His Associate Is Affiliated with Dogecoin Foundation
Elon Musk associate Jared Birchall wasn't involved in the restoration of the Dogecoin foundation, according to the centibillionaire
Tesla CEO Elon Musk has denied that Jared Birchall, the head of his family office, is on the advisory board of the re-established Dogecoin foundation.
In a recent tweet, the centibillionaire writes that neither he, nor Birchall, nor any of his associates are involved.
Neither Jared, nor me, nor anyone I know has anything to do with this foundation— Elon Musk (@elonmusk) October 24, 2021
The clarification caused a lot of confusion within the Dogecoin community since it implies that the foundation lied about being affiliated with Musk's team.      
Hello Elon! We are confused!— Mishaboar (@mishaboar) October 24, 2021
As reported by U.Today, the renewed Dogecoin Foundation announced that it had relaunched, with Birchall, Ethereum co-founder Vitalik Buterin and Dogecoin co-founder Billy Markus joining its board of advisors. The addition of Musk's right-hand man to the board initially didn't raise any suspicion and was celebrated within the community. Musk is known as one of the most vocal supporters of the meme coin, recently predicting that he would become the first Dogecoin trillionaire.     
 
The composition of the board remains the same, according to the official website of the organization.

Last month, the foundation showed its teeth, threatening copycat Dogecoin 2.0 (DOGE2) with legal action in order to protect the cryptocurrency's brand.
Musk bemoans crypto scams
In a separate tweet, Musk complained about the proliferation of cryptocurrency scams on Twitter.
Plus crypto scams haha— Elon Musk (@elonmusk) October 24, 2021
The centibillionaire, whose net worth recently surpassed the GDP of Portugal, has been speaking out against crypto fraudsters who impersonate famous people since 2018.
Last July, Musk's Twitter account was hacked in order to promote a Bitcoin giveaway scam.
Shiba Inu Gears to Flip Dogecoin Anytime Soon
SHIB might flip DOGE anytime soon.
Countries accept SHIB as their mode of payment.
Shiba Inu (SHIB) continues to make noise that can be heard in all corners of the crypto world. In detail, SHIB has been aggressively increasing its market position in the past few days. At the time of writing, SHIB has recorded a 24-hour trading volume of almost $6 billion. This achievement of SHIB made crypto analysts think that maybe sooner or later SHIB can flip DOGE.
This made Watcher.Guru, a crypto enthusiast react in a tweet post:
Will $SHIB flip $DOGE in 2021? 🤔— Watcher.Guru (@WatcherGuru) October 23, 2021
This post made by Watcher.Guru gathered over 6k likes and 1k shares on Twitter. Furthermore, it also collected a lot of different opinions about SHIB's possibility of flipping DOGE. There are some that agree and some that don't, while some remain neutral.
Regardless, SHIB remains one of the top 15 crypto assets in CoinGecko. In addition, it has a market cap amounting to almost $18 billion. Through this, we can truly say that the SHIB army continues to walk strong and stand tall despite the challenges in the crypto world.
On the other hand, some countries are beginning to adopt SHIB as their mode of payment for goods and services. The country of Venezuela is one of the countries in the world where some of their shops accept SHIB as their mode of payment.
At the time of writing, Shiba Inu (SHIB) trades at a bullish price of $0.00003769 with a 24-hour growth rate of +33%.