Bitcoin (BTC) Price Prediction 2021: Market Analysis and Opinions
This year, the cryptocurrency market has been very volatile, making governments issue advisories on crypto investments, but that will not restrain us from making this Bitcoin price prediction 2021. Data from CoinMarketCap indicates that the "King coin," with a market capitalization of $710,301,779,177 and a 24-hour trading volume of $710,301,779,177, has a circulating supply of 18,724,768.00 BTC at the time of writing.
Bitcoin Price Prediction 2021: Technical Analysis
Undoubtedly, Bitcoin investors have been nervous since the beginning of the year, as the coin has repeatedly broken fresh ground. The digital asset started the year at slightly below the $30,000 mark.
The coin has been riding high throughout the year, hitting an ATH of $63,626.60 on April 14. It just fell short of the resistance level of $65,000.
Before making a Bitcoin price prediction for 2021, let's look at some of the factors that have buoyed the coin's meteoric rise in 2021.
Bitcoin's dramatic price rise began way back in late October, creating a bull run in the market. At the time, PayPal announced that it would allow its customers to buy and sell cryptocurrencies. The news excited the market, causing a price rally on BTC.
Also, institutional investors, who previously had a pessimistic outlook of Bitcoin, have increasingly adopted the coin as an alternative to gold. Notably, they are bullish on the BTC and are now advising their clients to invest in the coin. They are using Bitcoin as a hedging tool for their funds.
Additionally, high-profile investors have also played a role in creating the market sentiment required to create a bullish trend. When BTC price experienced a price crash, Elon Musk came in handy by his tweet in late January when he updated his Twitter bio by adding the #Bitcoin hashtag. Subsequently, the coin rose from $32,000 to $38,000. He even proceeded and termed the coin a "good thing." Then, BTC rose to hit the $50,000 mark on February 14.
Similarly, In a February SEC filing, Tesla revealed that they had bought $1.5 billion worth of Bitcoin. In the subsequent months, the price rallied to highs of $64,000 in April. Previously, Square and Microstrategy had purchased Bitcoin using corporate cash. Moreover, MasterCard and BNY Mellon have also shown their willingness to use crypto, thereby creating more institutional interest in Bitcoin. Thus, more and more people want to own a Bitcoin wallet to be able to store it safely, and this interest is expected to grow in the future.
In May, news that Tesla had suspended vehicle purchases using Bitcoin hit the crypto hard, and matters were exacerbated by another of his tweet questioning the use of coal for Bitcoin mining.
Despite Elon Musk's contradictory signals about Bitcoin, other notable investors have shown their interest in the ubiquitous coin. Notably, Mark Cuban tweeted to infuse hope to a market that was getting jittery after Musk declared that Tesla wasn't accepting BTC for car purchases.
Bitcoin Price Prediction: Market Opinions
In making our Bitcoin price prediction, we will assess the forecasts made by authoritative sites for guidance. While we may look at these BTC price predictions, we can't vouch for them. We will only use them as a guideline in giving our verdict.
Bitcoin Price Forecast for June
TradingBeasts
TradingBeasts's Bitcoin price prediction for June is rather pessimistic. According to the site, BTC will reach a price of $33,877.138 at the commencement of June, with a minimum price of $29,201.848 and a maximum price of $42,943.894. They believe that the price will remain within the current range.
Walletinvestor
Walletinvestor's BTC price prediction shows that the coin will be on a downward spiral for June. It will start the month trading at $32,203.90, with a minimum price of $27,997.70 and a maximum price of $36,180.80. Below is the forecast for the next 2 weeks of June:
| | | | |
| --- | --- | --- | --- |
| Date | Price | Min Price | Max Price |
| 2021-06-03 | 34918.70 | 30623.50 | 38949.80 |
| 2021-06-04 | 34228.10 | 30218.30 | 38273.40 |
| 2021-06-05 | 33577.00 | 29774.00 | 37573.20 |
| 2021-06-06 | 32617.50 | 28477.30 | 36721.50 |
| 2021-06-07 | 32357.60 | 28415.90 | 36457.80 |
| 2021-06-08 | 31267.70 | 26973.80 | 35344.40 |
| 2021-06-09 | 30749.40 | 26716.80 | 34613.10 |
| 2021-06-10 | 28402.20 | 24550.20 | 32671.20 |
| 2021-06-11 | 27711.60 | 23763.00 | 31799.80 |
| 2021-06-12 | 27060.50 | 23175.90 | 31063.10 |
| 2021-06-13 | 26101.00 | 22134.50 | 30072.10 |
| 2021-06-14 | 25841.10 | 21531.40 | 29643.90 |
| 2021-06-15 | 24751.20 | 20690.90 | 28750.00 |
| 2021-06-16 | 24232.90 | 20074.10 | 28297.10 |
Gov.capital
According to Gov.capital, BTC will start trading at $36,224.68 in June, with a best possible price of $41,658.382 and a least possible price of $30,790.978.
Bitcoin Price Forecast for the Rest of the Year
TradingBeasts
TradingBeasts's Bitcoin price prediction for the remaining part of the year reveals that the coin will close the year at:
maximum price – $45,680.155;
minimum price – $31,062.505;
average price – $36,544.124.
| | | | | |
| --- | --- | --- | --- | --- |
| Month | Minimum Price | Maximum Price | Average Price | Change |
| July 2021 | 28,921.179 | 42,531.146 | 34,024.917 | -6.01 % |
| August 2021 | 29,332.953 | 43,136.696 | 34,509.357 | -4.68 % |
| September 2021 | 29,756.026 | 43,758.862 | 35,007.090 | -3.30 % |
| October 2021 | 30,176.169 | 44,376.719 | 35,501.375 | -1.94 % |
| November 2021 | 30,621.286 | 45,031.303 | 36,025.042 | -0.49 % |
| December 2021 | 31,062.505 | 45,680.155 | 36,544.124 | 0.95 % |
Walletinvestor
Despite the slow start in June, the prediction for the year 2021 shows that the coin will gain and maintain a bullish momentum, as indicated by the graph below:
Gov.capital
Gov.capital thinks that it'll sustain a bullish rally for the remaining part of 2021 to close above the $44,000 mark. You can see the whole price evolution in the graph below:
Cryptocurrency Experts and Influencers
Admittedly, 2021 has been the rockiest period for cryptos that even making Bitcoin price prediction may seem like an overstretched imagination. Nonetheless, that does not deny market enthusiasts the liberty to make projections.
Mark Yusko, a Morgan Creek Capital hedge fund executive, is very optimistic about bitcoin. He believes that BTC will hit $100,000 in 2021 and even grow exponentially to hit $250,000 in five years.
Fred Schebesta, the founder of the financial comparison platform Finder.com, is also very bullish on the prospect of Bitcoin. He believes that BTC will hit $70,000 before the end of the year. Moreover, Finder.com released a survey report from academicians and market analysts in which more than half of them believe that the coin is undervalued. They, however, came to a consensus that BTC will close the year just shy of the psychological mark of $100,000.
Mike McGlone, senior commodity strategist at Bloomberg Intelligence, believes that BTC will peak at $400,000 this year. In a tweet, the veteran strategist asserted that the coin is on its way to becoming a global digital reserve asset.
A Wall Street strategist, Tom Lee, believes that BTC's price, despite being volatile, will close the year at $100,000.
Although Elon Musk often gives mixed signals through his quotes, he still holds BTC and believes in the coin. He recently sent a tweet that he was in discussion with North American miners, and the price rose by 4%.
Latest News and Happenings Concerning Bitcoin
Historical data has shown that the price of Bitcoin (BTC) rises whenever there is a halving event. The scenario played out after the 2012 and 2016 halving. In 2020, the results were not immediate, as analysts argued that the market had factored in the pricing event.
Nonetheless, other analysts believe that the effect can be seen 12 to 18 months later. If we go by the optimistic view of 18 months, we expect the price of BTC will be high by the close of 2021- a year and a half since the last halving.
Another development that will make BTC assert a bullish price rally in the future is that institutions are increasingly developing an appetite for the coin. Specifically, they see Bitcoin as a digital gold that can be used as a hedge against inflationary pressures.
Moreover, for a country like the US, which recently experienced a 4.2 % year-on-year inflation for April, BTC is seen as a haven for consumers who want to use it as a store of value for their savings. This will create an increased demand for the coin that will cause the price to rise.
Bitcoin Price Prediction: Verdict
Conisdering price predictions made by forecasting firms and notable investors, the verdict is clear – BTC will remain bullish in 2021. Of course, we cannot rule out the occasional seesawing of prices caused by price corrections and speculative activity. However, the coin will remain versatile as already articulated by academicians, influencers, and price prediction sites that use models. Therefore, depending on your risk appetite, we urge you to take advantage of the current low prices, so that you may reap big in the future.
Ethereum Strength Sends Bitcoin Ratio To 2018 Highs
As Bitcoin (BTC) is coming out of a harsh weekend with a 5% drop and a huge sellout, ether (ETH) still maintains its strength in comparison, which has been happening since October. 
Arcane Research's weekly update shows that the ETHBTC pair reached its highest level since May 2018 reaching 0.085 BTC, seeing possible signals of maturity and an upcoming alt-season.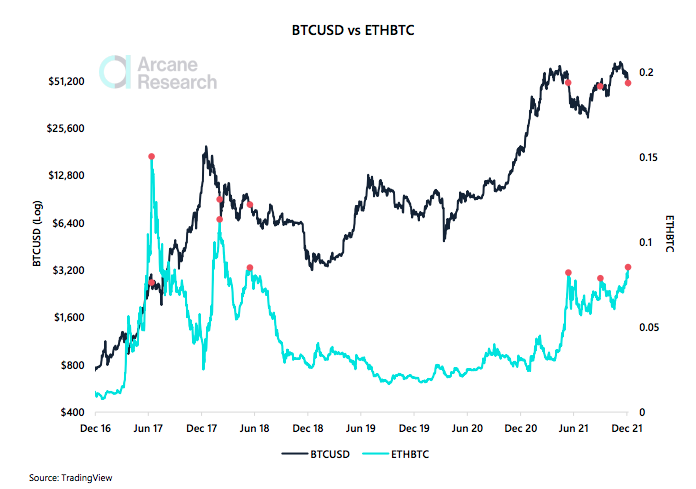 In 2021, ETH has shown greater strength than bitcoin. The cryptocurrency could be signaling its maturity as it sees higher lows –compared to BTC– than it did in 2017 and 2018.
However, Arcane Research noted that back in 2021 and 2018 the strength of ETH and altcoins' performances in periods when BTC saw lows also signaled lower prices to come, so a similar scenario could happen during 2021's fourth quarter.
The current ETHBTC pair peak is similar to the one seen in May, which was followed by May 19th's crash during massive liquidations and new buyers panic –which some users called the second worse day ever for Ethereum, although similar phenomenons had happened in earlier years–. Then, the ETHBTC pair saw another spike at the beginning of September as Bitcoin saw lows on the 7th.
Furthermore, we could be facing froth in the market as altcoin's strength has signaled before.
Ether was also down on Saturday but surged to the mentioned 0.086 Bitcoin high during Sunday. The price dropped 5.5% on Monday to $3,965, and overall, it traded down by 0.51% in the past week compared to BTC's 10.06% decline.
Today, the Ethereum price is up again around $4,352.74, up 2.93% in the day-to-day, surging more than 24% from the low. Even though it's 9% away from its all-time high, it is also 496% up in comparison to 2021's early days. ETH also shows a 24-hour trading volume of $23,566,690,676 and a market cap of $512,648,545,331.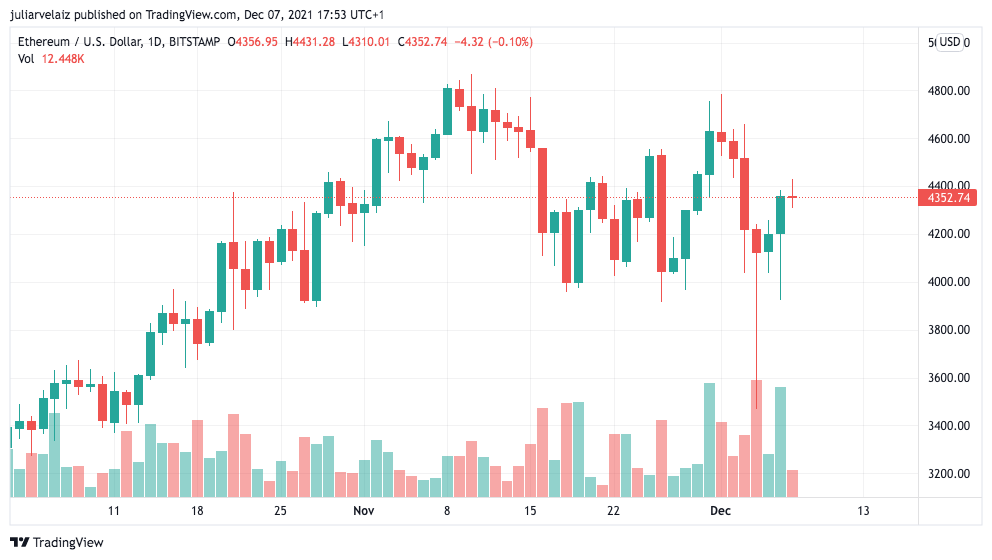 Bitcoin Dominance Sees New Lows
Today, Bitcoin's dominance is 40.65%, seeing no increase over the day. It had fallen towards 40% on December 5th as it saw its newest bloodshed. BTC also saw its dominance drop in September and May, but it has not seen other lows alike since May 2018.
As the crypto market started to fall on Friday –with 372,000 liquidated crypto accounts by Monday totaling $2.3 billion-, Saturday's early morning saw bitcoin drop $10,000 in price, going from around $57,000 to $47,000.
Over the weekend, the drop reached a $14,000 loss and experts saw no clear reason for it, but since then traders have suggested a connection with the fear around the Omicron variant plus market moves exaggerated by lower trading liquidity.
Compared to its November all-time-high, BTC is down by $21,000, but also up over 75% in all 2021. The price has climbed back up to over $50,000, more than 4% higher, and the total crypto market cap surged 5% to $2.5 trillion.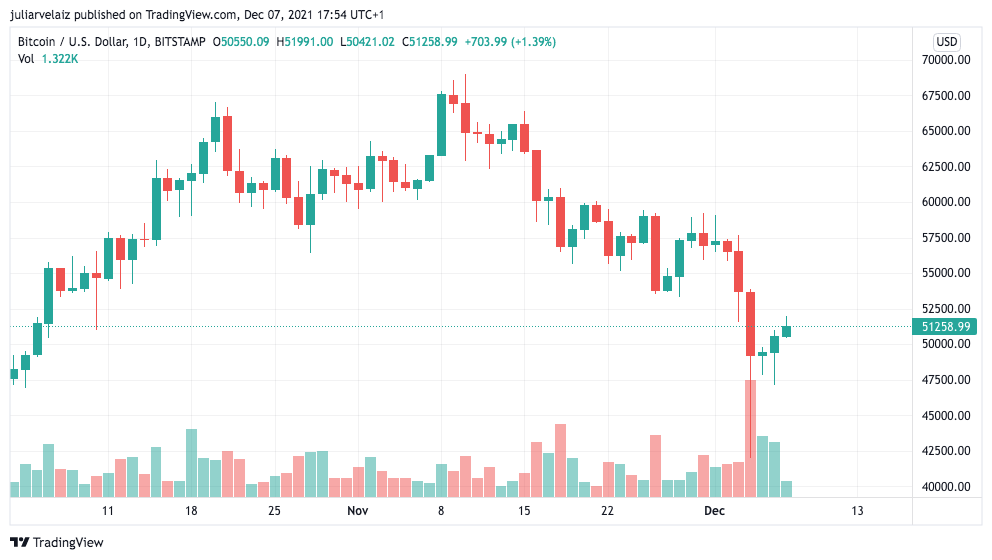 Some expect a hard end of the year for Bitcoin as it has not shown its regular strength, but at the same CNBC quoted Will Clemente, insights analyst at Blockware Solutions, who thinks these dynamics are "healthy and show supply continues to move to long term investors" and BTC could actually see a new bull run at the start of next year:
There's a reasonable case that we could see the opposite effect heading into Q1, as funds are willing to take on more risk for the new year with fresh profit and loss, … This effect assisted in bitcoin's massive move in January 2021.
Top 3 Price Prediction Bitcoin, Ethereum, XRP: Crypto market dazed post flash crash
Bitcoin price finds support against a combination of key price levels.
Ethereum price returns inside the bear flag, creating mixed sentiment.
XRP price is developing an insanely bullish reversal weekly candlestick.
Bitcoin price gets a big bounce off the $44,000 value area, moving more than $7,000 higher. Ethereum is now sandwiched between solid support and strong resistance. XRP price has one of the most potent and sought-after bullish reversal candlesticks forming on its chart: the hammer.
Bitcoin price retraces nearly all of Saturday's flash-crash
Bitcoin price action has been a strong performer since the recent flash crash. Significant support for Bitcoin was found where the 61.8% Fibonacci retracement and top of the Ichimoku Cloud (Senkou Span A) share the $44,000 price level. The support was strong enough to rally Bitcoin above the 50% Fibonacci retracement at $48,000 and the Kijun-Sen at $49,300.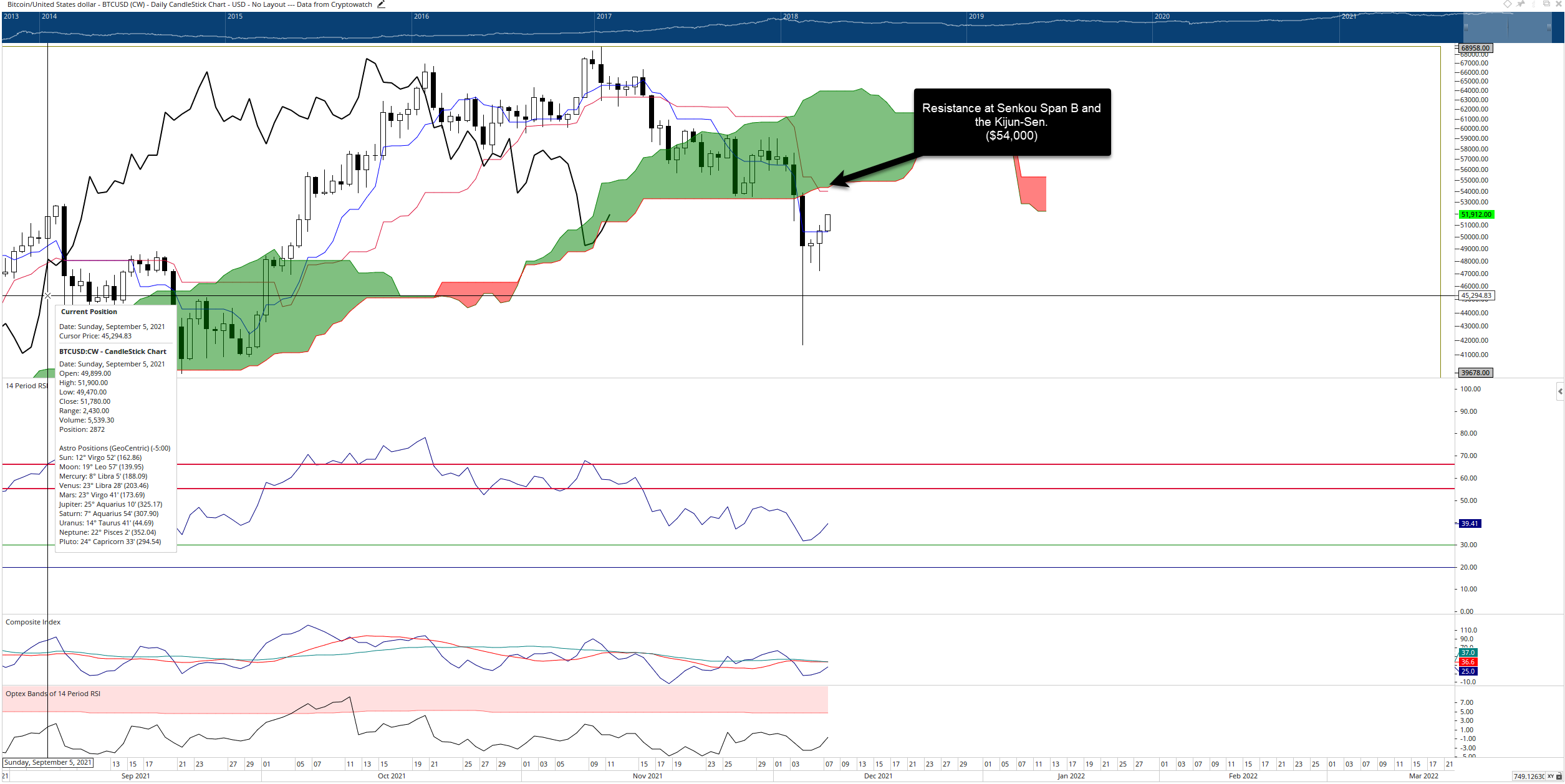 BTC/USDT Weekly Ichimoku Chart
However, the upside potential may be limited. There is significant resistance within the Ichimoku Kinko Hyo system on the daily chart. The daily Kijun-Sen and Senkou Span B share the $54,000 price range. Longs may take profit at $54,000, and short-sellers may open up new short positions on any weakness. A close at or above $55,100 would like to remove any further near-term bearish sentiment.
Ethereum price between a rock and a hard place
Ethereum price had a spectacular Saturday close on the daily chart, closing above the dominant interior trend line (black diagonal line). Then, on Sunday and Monday, Ethereum continues to press on higher with closes above the Tenkan-Sen and Kijun-Sen at $4,100. ETH has not returned inside the channel of the former bear flag but finds itself facing resistance against the top of the Cloud (Senkou Span A).
A close at or above $4,500 would put Ethereum price above the Cloud, but the Chikou Span would still be slightly below the candlesticks. However, the oscillators support a sustained breakout. So, if Ethereum does close to at least $4,500, there is enough momentum and space for it to move higher and get to a close that would position the Chikou Span above the candlesticks – to at least $4,725.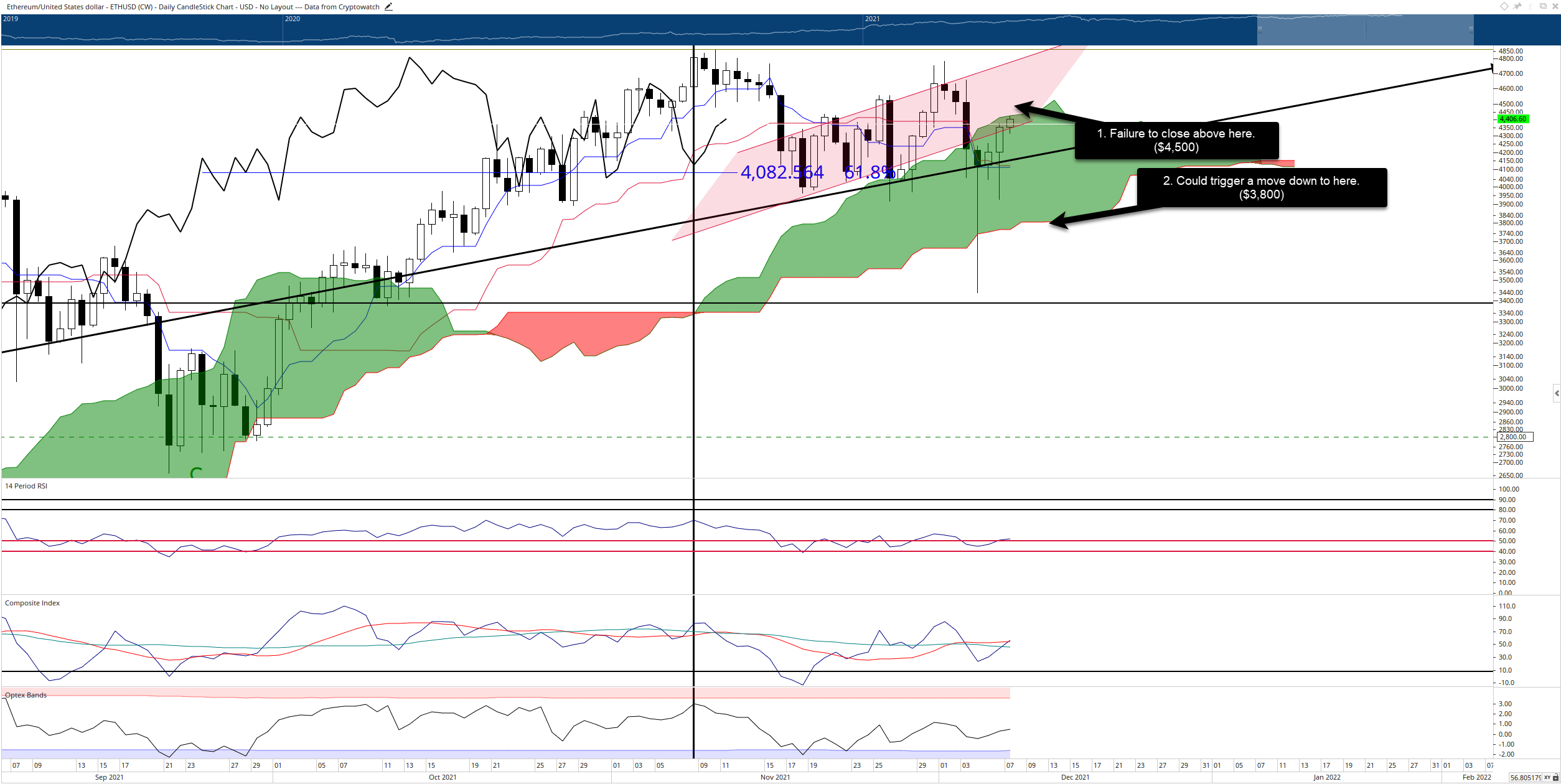 ETH/USDT Weekly Ichimoku Chart
From there, the $5,000 value are will likely be tested, and new all-time highs are likely soon after. However, any failure by Ethereum to successfully breakout above the Cloud could see a deeper retracement to test the bottom of the Cloud at Senkou Span B ($3,800).
XRP price weekly candlestick hints at a bullish reversal
XRP price action suffered some of the most bearish price action during Saturday's flash crash. XRP dropped nearly 38% before finding massive support at the 50% Fibonacci retracement and 2021 Volume Point of control in the %0.65 value area. From there, it shot up higher, past the 38.2% Fibonacci retracement at $0.84 to settle just above that price level.
The resulting price action has created a bullish hammer candlestick pattern on the weekly chart. The positioning and timing of this pattern could not have been more fortuitous for XRP price. The hammer pattern will help confirm the likelihood of a bullish reversal with the Relatives Strength Index and Composite Index oscillators. Combining the bullish hammer, the Relative Strength Index between two support levels, and the Composite Index at a historical low gives XRP a very high probability of moving higher.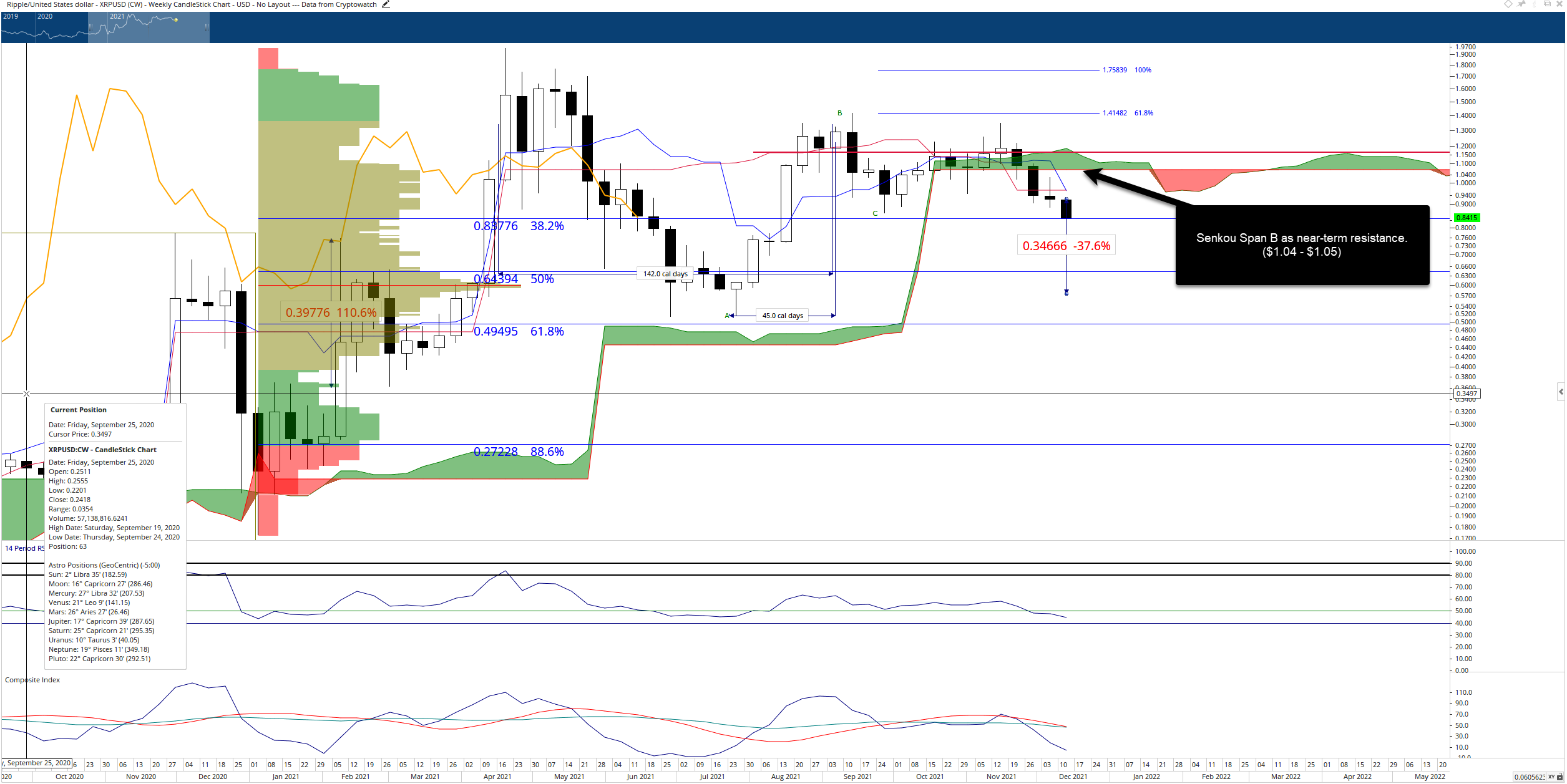 XRP/USDT Weekly Ichimoku Chart
Initial resistance will likely be Senkou Span B at $1.04. Given how long Senkou Span B has traded in a flat condition, if XRP can rally above, it will be a significant, bullish event.
Jack Dorsey's Spiral Unveils Bitcoin Lightning Development Kit

Payments company Spiral, previously called Square Crypto, has unveiled the Lightning Development Kit (LDK), a tool that allows developers to integrate instant bitcoin (BTC) payments into their applications.
The crypto arm of Block (previously Square) published a video on Monday, introducing the LDK and highlighting the benefits of the Bitcoin Lightning network.
The Bitcoin Lightning Network is a layer 2 solution designed on top of Bitcoin that aims to tackle the flagship cryptocurrency's scalability problem. Lightning transactions are fast and cheap, but developers face various problems when trying to implement the network.
"When our team formed, we went out and interviewed dozens of wallet projects and developers," Steve Lee, lead at Spiral, said in the film. "What we learned is that they were having a lot of problems adding Lightning Network capabilities."
Spiral has developed the LDK to tackle this issue. According to Conor Okus, project manager at Spiral, the "Lightning Development Kit is a way to easily integrate instant bitcoin payments into any application."
Summarizing the LDK's objective, former Twitter CEO Jack Dorsey said that the tool intends to make "it easy for any developer in the world to build a wallet."
In the video, Spiral noted that their team has been working on the kit for the past couple of years.
Aside from the LDK, Spiral is also working on the Bitcoin Development Kit (BDK), a set of tools for developing Bitcoin wallets that can interact with different platforms.
Jack Dorsey's payments firm Square announced earlier this month that it has rebranded to Block. The crypto arm of the company, Square Crypto, a "separate initiative of the company dedicated to advancing Bitcoin," also changed its name to Spiral.