Cardano (ADA) Price Prediction 2021: Market Analysis and Opinions
If you are a cryptocurrency enthusiast, you have to check the predictions from reliable sources; currently, you'd be more interested in a Cardano price prediction 2021. Why? Because this altcoin is on the list of the most promising coins this year. Currently, Cardano (ADA), with a circulating supply of 31.93B ADA, is trading at $1.57 and has a market capitalization of around $50,173,123,068, making it the 5th in the category. It has a total supply of 32,681,678,109 and a maximum supply of 45B. At the time of writing, its 24-hour trading volume is $3,097,734,728.
Cardano Price Prediction: Technical Analysis
For most of 2020, ADA price was largely static at around the $0.10 range. However, in late December, Cardano started recording impressive gains that continued into the beginning of 2021, when the altcoin touched the $0.2 mark. Since then, the coin has been on a bullish streak, rising to cross the $1.0 mark on February 20th. For a coin that was trading at lows of 0.12 in December, its meteoric rise stunned the cryptocurrency community.
So, why is ADA rising fast? Well, some reasons explain this. Within the cryptocurrency community, there is a general feeling that the coin may soon replace Ethereum. Therefore, retail investors have developed an appetite for Cardano, pushing up its price to levels unimagined before.
In May 2021, ADA continued rising until it hit its ATH of $2.4. Actually, it was the fourth coin according to its market capitalization at the time. It is worth noting that the steep price increase came after Elon Musk remarked that he was looking for alternatives to Bitcoin, with less fuel consumption during mining. Although the price rose remarkably, the bulls could not sustain the rally and crashed to $1.2
As we make our Cardano price prediction, we emphasize that ADA, unlike BTC and ETH, is an environmentally friendly coin because of its underlying architecture, which is differentiated. Therefore, the mining process does not waste a lot of energy.
In addition, while Bitcoin and Ethereum use the Proof-of-Work (PoW) algorithms during verification, Cardano uses the Proof-of-Stake (PoS) algorithm. The former means that several miners compete to solve a hashing function, with the first one to solve wins everything. As a result, the other miners competing to solve the problem lose their computing power. This is in stark contrast with the Proof-of-Stake where miners collaborate; thereby no mining power goes to waste.
Therefore, as crypto influencers continue to advocate for "green coins," ADA will be a beneficiary of the new reality in the market. No wonder ADA has outperformed other coins in terms of market capitalization and trading volumes as investors scramble to buy the coin and reap from the envisaged acceptance.
Cardano Price Prediction: Market Opinions
Before we make our ADA price prediction, we will assess what cryptocurrency price prediction sites have to say concerning the coin. We will then analyze the opinions and offer our Cardano price prediction.
Price Prediction Sites
Tradingbeasts
Tradingbeasts has a bullish Cardano price prediction for 2021. The prediction firm believes that ADA will be around the $1.89 region by the end of June. It will trade at a maximum price of $2.38987 and a minimum price of $1.62511 at the commencement of July.
By the end of 2021, the price will be on average $1.43705, with a maximum of $1.79631 and a minimum of $1.22149.
| | | | | |
| --- | --- | --- | --- | --- |
| Month | Minimum Price | Maximum Price | Average Price | Change |
| July 2021 | 1.62511 | 2.38987 | 1.91189 | 23.35 % |
| August 2021 | 1.64025 | 2.41213 | 1.92971 | 24.50 % |
| September 2021 | 1.65624 | 2.43564 | 1.94852 | 25.71 % |
| October 2021 | 1.67251 | 2.45957 | 1.96766 | 26.95 % |
| November 2021 | 1.69013 | 2.48549 | 1.98839 | 28.28 % |
| December 2021 | 1.22149 | 1.79631 | 1.43705 | -7.29 % |
Coinpedia
Coinpedia provides a Cardano price prediction based on three scenarios. First, the forecasting firm predicts that the ADA will rise to $3.194 by the end of 2021, if the network maintains its sustainability endeavor.
Secondly, Coinpedia anticipates another scenario that places ADA price prediction at $2.561, if the network doesn't further its sustainability goals. In such a case, it will rely on users who are after scalability and user-friendliness.
Finally, the third scenario is quite pessimistic, assuming that the network fails to implement its projects within the foreseeable months. In such a case, the price of ADA will crash to lows of $1.993.
Walletinvestor
Within the short term, Walletinvestor forecasts that the price of ADA will continue to crash, dropping to lows of $1.4 in two weeks.
| | | | |
| --- | --- | --- | --- |
| Date | Price | Min Price | Max Price |
| 2021-06-11 | 1.558 | 1.299 | 1.778 |
| 2021-06-12 | 1.560 | 1.310 | 1.820 |
| 2021-06-13 | 1.560 | 1.315 | 1.835 |
| 2021-06-14 | 1.566 | 1.311 | 1.827 |
| 2021-06-15 | 1.557 | 1.302 | 1.792 |
| 2021-06-16 | 1.508 | 1.266 | 1.773 |
| 2021-06-17 | 1.526 | 1.290 | 1.773 |
| 2021-06-18 | 1.480 | 1.238 | 1.719 |
| 2021-06-19 | 1.483 | 1.242 | 1.749 |
| 2021-06-20 | 1.482 | 1.223 | 1.740 |
| 2021-06-21 | 1.488 | 1.244 | 1.729 |
| 2021-06-22 | 1.479 | 1.218 | 1.721 |
| 2021-06-23 | 1.430 | 1.175 | 1.677 |
| 2021-06-24 | 1.448 | 1.191 | 1.689 |
However, the firm has a positive outlook for the performance of ADA for 2021. The Cardano price prediction by Walletinvestor shows that the price of ADA will rise to highs of $2.5 by the end of 2021 and even surpass the mark in 2022.
Digitalcoinprice
Digitalcoinprice predicts that the price of Cardano will be at around $2.1 by the end of the year 2021. Below is their Cardano price prediction for the rest of the year.
| | | |
| --- | --- | --- |
| Month | Average Price ($) | Change (%) |
| Jul 2021 | $2.55 USD | 62.42 % |
| Aug 2021 | $2.21 USD | 40.71 % |
| Sep 2021 | $2.53 USD | 61.37 % |
| Oct 2021 | $2.16 USD | 38 % |
| Nov 2021 | $2.33 USD | 48.66 % |
| Dec 2021 | $2.1 USD | 33.93 % |
Coinpriceforecast
Coinpriceforecast is quite bullish on the trajectory of ADA price. In their Cardano price prediction, they forecast that the altcoin will hit $2.09 at the end of 2021. Similarly, the prediction shows that the coin will hit $1.97 in the middle of 2021.
Cryptocurrency Experts and Influencers
This year, we have seen the price of altcoins shoot to hit their ATH's, thanks to the notable contributions of influencers. Specifically, Elon Musk has been very active in pushing the hype in the cryptocurrency market through his tweets.
Recently, the Tesla and SpaceX billionaire changed his Twitter profile to make it feature a fork that was stabbed into a road. He then proceeded to add the words "meta fork" to his bio. This was interpreted to mean that he was endorsing the Mary Hard fork that took place in March.
That aside, in May, he indicated via a tweet that Tesla was looking for cryptos that consume less than 1% of Bitcoin's energy in transactions. While the tweet dealt a big blow to Bitcoin, other altcoins that are environmentally friendly, such as Cardano, registered impressive price gains.
Latest News and Happenings Concerning Cardano
As already discussed, the ADA price surge from lows of $0.10 to highs of $2.0 in 2021 within a short time frame because of certain developments. Notably, the Shelly, Mary, and Goguen hard forks have made the network more utility-oriented, thereby making it attractive for large-scale adoption.
The Shelly upgrade made the Cardano network completely decentralized, which is the essence of cryptocurrencies. The Mary hard fork allowed developers to create their projects on Cardano blockchain, thereby opening doors for the growth of the Nascent DeFi sector. Finally, the Goguen era, which is still in its neophyte stags, will boost the Cardano network by bringing in the much-needed smart contract functionality.
Apart from these developments on the network, Cardano received another boost when it recently partnered with the Ethiopian Government to establish the Atala PRISM solution, which is a blockchain-based digital identity for teachers and students.
Similarly, Cardano is working with Save the Children to establish a blockchain-based donation framework.
Not left behind is the partnership between Input Output and World Mobile to lay the infrastructure required to connect Africa using the Cardano network. The project aims to have all areas of the continent accessible to internet connectivity.
Cardano Price Prediction: Verdict
Undoubtedly, 2021 has been the year for most altcoins. Despite the contribution of notable personalities, such as Elon Musk, Cardano has made several milestones in its architecture. Soon, the improvement will see it gain acceptance among developers and even pose a challenge to Ethereum. With Ethereum facing challenges of scalability and mounting cost of GAS, Cardano is working to ensure that it becomes the go-to blockchain for smart contract execution.
Moreover, it will ultimately become a favorite among developers because it is scalable. Therefore, the future price of the network will remain bullish as long as the network maintains the tempo of its developments. Specifically with the emphasis on green coins. We expect to see it record huge price surges. In the meantime, do your research and invest wisely.
Cardano Price Predicted to Hit $15, While ADA Price Is Still Under Bearish Pressure
The overall cryptocurrency market traded with mixed results over the last 24 hours. The Flagship currency, Bitcoin breached its 60K mark. On the other hand, Ethereum managed to also regain its uptrend and show another bullrun. However, cardano Price Seems to be still dead !
ADA Price Action
The ADA/USD currency pair is presently trading at $2.1, down roughly 13% on the week after a strong increase of around recently. Given that the upside was rejected yesterday after a brief jump above $2.30, Cardano price research shows that this rejection will result in a negative trend.
For weeks, the price of Cardano has been in a downward trend. However, there was a higher low at the end of September, indicating that bullish momentum was growing.
Following that, the market rebounded upward on October 1st, driving ADA/USD to a new low of $2.30. This price activity implies that the market is trading in a tighter range now.
ADA consolidated after a fall to $2.15, when another higher low was made. A technical bullish signal was triggered by yesterday's rise above the previous high of $2.30, signaling that market momentum has turned positive once more.
Cardano Price to hit $15-$20 by year-end?
The most parabolic action is at the end of the cycle. I do believe we can see #Cardano $ADA between $15 – 20 at the very end. I believe it is possible.#ADAGang what can I say? 🤷 pic.twitter.com/JWKjqanoUc— Ben Armstrong (@Bitboy_Crypto) October 9, 2021
Popular crypto Youtuber Ben Armstrong in his recent Youtube session discussed a bullish scenario for ADA. In a tweet that followed he says, he believes ADA will definitely hit the $15-20 range at the end of this bull cycle.
Ravendex, A Cardano-Based Project, Releases its DEX Demo, to start with Tokens Sales soon
Ravendex, a new Cardano project has made a demo version of its first decentralized exchange, having features like Swap Pools, Light & Dark Mode.
While the company continues to make rapid progress after the private token sale started, which has 100 million $RAVE tokens available for the investors, while 82 million $RAVE tokens are already said to be sold out.
Ravendex team is committed to launching a working DEX on the cardano ecosystem before the year ends.
The project will be launched and maintained using funds raised from the sale of $Rave tokens to early investors.
Features Of Ravendex
Ravendex will also have A Staking Platform and also a decentralized lending and borrowing platform, which sets it apart from other Cardano network projects as they are one of the very few projects on the third generation blockchain with the idea conception.
Investors & Liquidity providers can give liquidity to tokens and in return, they will make profit from transaction fees. Alternatively, users can stake their assets on the staking platform and earn a commission and percentage from borrowers' fees.
According to the Ravendex team, their decentralized exchange will include wallet connect features, Asset Price display and transaction list features.
They will also keep their payment fees low and secure. As a matter of fact, Ravendex aspires to be the Cardano network's primary financial hub.
RAVE TOKEN
Ravendex reveals that the total number of $RAVE coins will be limited to one billion.
Investors will be able to stake, provide liquidity, or vote with their tokens on the Cardano network.
The Private Sale Phase is almost filled as the company has already reached 82 percent of its goal of selling 100 million tokens by the end of its first private sale and the pricing places it at 0.00225 ADA per $RAVE token.
The Cardano-based project, on the other hand, intends to hold a total of five sales which can be seen in the sale stages page.
Ravendex, like many other cryptocurrency projects, plans to open its sale to the general public later this year.
200,000,000 $RAVE tokens will be available in the pre-sale phase at a price a little more expensive than the private sale at 0.0027 ADA per coin.
Those who missed out on the first public sale will have another opportunity to purchase $RAVE tokens for 0.0032 ADA each. A total of 100 million tokens will be sold during this stage.
This Medium link provides more information about the Ravendex
About Ravendex
Ravendex is a Cardano-based crypto project that aims to create a decentralized exchange.
Its purpose is to provide a platform that has incredibly minimal fees and allows for quick cross-border transactions.
More importantly, it aspires to include features that will be useful to Cardano supporters. Also, we also look forward to creating a community of active investors who may vote on issues. They can also lend coins or provide liquidity to create a fully functional decentralized exchange.
Cardano Price Prediction: ADA ready to explode to $4
Cardano price returns to bullish conditions, denying further sell-side control
An imminent breakout towards new all-time highs is likely.
Little resistance ahead, but bulls should remain wary.
Cardano price has failed to capitalize on the movement generated by its closest peers, Bitcoin and Ethereum. As a result, very tight and challenging trading ranges have been the norm for Cardano, but that may change here soon.
Cardano price targets a breakout above $2.45
Cardano price has a very bullish set up on its $0.05/3-box reversal Point and Figure chart. If a new column of Xs forms and hits the $2.45 entry, three things happen simultaneously. First, a double-top is broken, confirming an entry signal. Second, the entry confirms a complete Bear Trap Point and Figure pattern. Finally, the entry at $2.45 is a breakout above the dominant bear market angle.
The breakout could be the very beginning of a new bullish expansion phase for Cardano price. The initial target on the breakout is based on the horizontal profit target method in Point and Figure analysis. $4.05 is the initial range and would be a new all-time high.
However, the current trading conditions still have a significant bearish weight. Therefore, Cardano price must remain above the $2.05 value area. If it fails to hold $2.05 as support, a return to the $1.80 trading range is likely.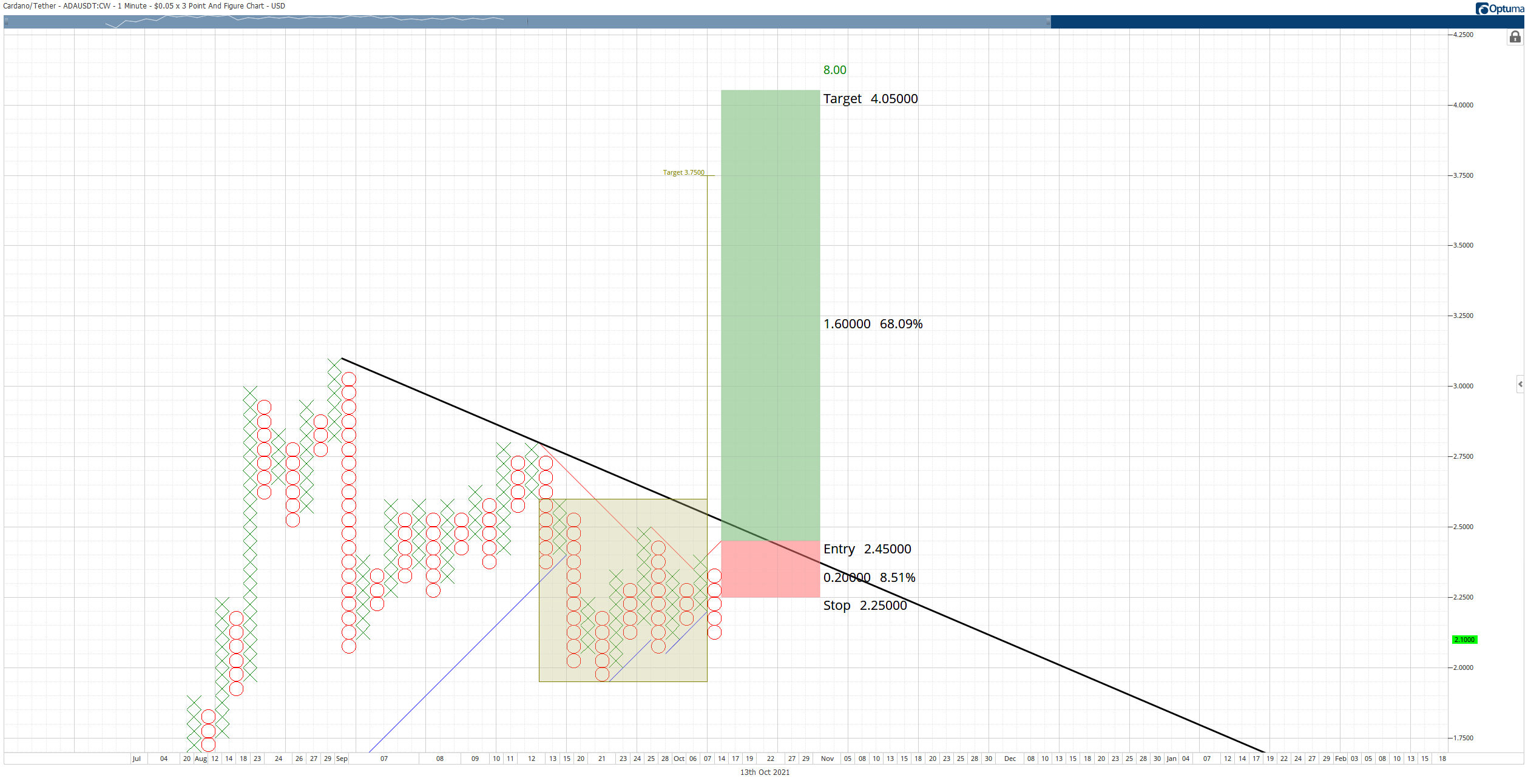 ADA/USD $0.05/3-box Point and Figure Chart
Bulls should also be aware of some resistance on any breakout near the prior swing high and high volume node at $2.80. While the momentum of the breakout may make any near-term resistance moot, $2.80 has been a consistent source of trouble for Cardano, and it would certainly be odd for it not to provide some resistance in the future.