Investors and Traders Have High Hopes on Cardano Price. How High Will the ADA Price Rally Be?
Cardano Price Analysis
Over the previous two days, the Cardano cryptocurrency has reawakened investor interest. Last week, it surpassed Binance's BNB token as the world's third most valued cryptocurrency. The price increase is most likely due to impending network improvements. In the previous month, the price of Cardano has more than doubled. 
After a big gain yesterday, Cardano price analysis is positive today as the market approaches the $3 threshold. As a result, we predict ADA/USD to continue to rise today and break above the $3 level. Following the current surge, which has reached a new all-time high, hopes for ADA have risen, and more new investors are buying ADA coins in anticipation of a further advance.
On the upside, the price is coming up against a big resistance near $3.00. If the price breaks out to the upside above $3.00, it could rise to $3.25. The next significant resistance is currently near $3.50.
If the price breaks down below the $2.80 and $2.65 support levels, it may return to the $2.50 support. ADA has strong support at $2.40, and it is in desperate need of consolidation after hitting new highs.
We believe that now is a good moment to buy before Cardano price rises above $5. With a further breakout, one can expect the current trend to continue. 
The fact that I'm seeing people predict $ADA to $100, and $ADA to flip $ETH.

That fact.

Shows FOMO to me.— Michaël van de Poppe (@CryptoMichNL) August 23, 2021
Van de Poppe, a full-time cryptocurrency trader, discussed the optimistic $100 price forecasts. According to the analyst, such aims on Twitter demonstrated "fear of missing out," or "FOMO."
Cardano Millionaires Count Surges 173%
According to CoinMetrics statistics obtained by Messari, Cardano's UTXO count has increased from 816,600 on January 1 to 2.85 million at the press time. This demonstrates an enormous increase in Cardano investors' "hodling" attitude, which may have acted as a support to ADA's 1,455% YTD gain.
Additionally, there were increases in Google Trends queries for the term "Cardano," indicating retail curiosity. Also, the number of Cardano wallets containing over $10 million in ADA tokens increased from 504 on July 20 to nearly 1,000. There were just 86 wallets with balances of more than $10 million on January 1.
Here's how Cardano [ADA] plans to offer NFT creators an eco-friendly solution
Ever since the debate of energy consumption sparked this year, Cardano [ADA] has been at the forefront of exploring eco-friendly solutions for the industry. In line with this, IOG, which happens to be the technical team behind Cardano, has announced the joint creation of an official cross-chain 'bridge' with the NFT platform, Bondly.
The bridge in question will connect the Cardano and Ethereum networks and enable non-fungible token [NFT] creators to opt for an eco-friendly alternative for their NFTs. According to Bondly, the project will be four million times more energy-efficient than Bitcoin [BTC]. The NFT creators will be able to easily move their NFTs from the "energy-intensive Ethereum" to Cardano. Bondly also revealed that the latter "will only ever use the energy equivalent of a family home."
Meanwhile, Ethereum has been known to use the power equivalent to the nation of Qatar. Bitcoin, on the other hand, has been at the centre of this debate for a long time. The increasing concern about potential environmental impact has always followed the rise of the prices of these cryptocurrencies. And the 2021 bull run was no different. As a matter of fact, the partnership comes at the backdrop of a major NFT explosion that has witnessed several well-known faces hopping on the bandwagon.
NFT bridge between Ethereum and Cardano
With the new bridge, the NFT creators will be able to mint or transfer non-fungible tokens without the risks associated with lost transactions or sudden high costs since Cardano provides price predictability as well as stability for transaction costs.
As part of the joint project that is slated to release in early 2022, Bondly is tasked with the development of a special series of eco-friendly NFTs celebrating the launch of smart contracts on Cardano.
According to Harry Liu, CEO, Bondly, the latest project of a cross-chain NFT bridge between Ethereum and Cardano marks a "pivotal moment" in the transformation from traditional blockchain technology to highly-anticipated 'third generation' networks.
Following the development, Charles Hoskinson, Founder of Cardano and CEO of IO Global, stated,
"We built Cardano with energy efficiency in mind, which is why this partnership with Bondly is so crucial, as it will allow NFT creators access to a leading solution for token creation which doesn't compromise on environmental credentials."
Bullish for Cardano?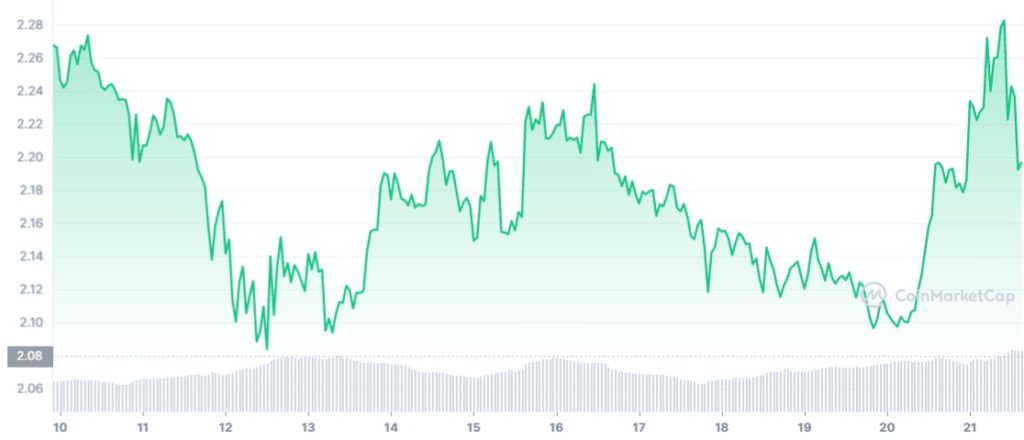 Cardano [ADA] might have lost the third spot to Binance Coin [BNB], but the slew of developments taking place in its ecosystem could help boost its price movement. The much-awaited summit last month saw some of the most crucial partnerships.
Crypto Economy had earlier reported its partnership with Oasis Pro Market, which happens to be the first-ever United States regulated multi-asset Alternative Trading System [ATS], to bridge the traditional finance sector and decentralized finance [DeFi]. During the same event, Hoskinson had revealed another major partnership with the American Fortune 250 company, the Dish Network.
Cardano, Polkadot and Four Additional Altcoins Are Set To Explode in 2022, According to Crypto Trader Austin Arnold
Crypto trader and Altcoin Daily host Austin Arnold thinks six major altcoins are gearing up for massive rallies in the next year.
In a recent crypto update, the YouTube star tells his 1,040,000 subscribers that Ethereum layer-2 (L2) scaling solution Polygon (MATIC) is gaining momentum after landing a partnership with the $20 billion gambling company DraftKings.a
Arnold shares a statement from DraftKings' president of global product and technology, Paul Liberman, explaining how the company is positioning itself to grow alongside Polygon.
"Although DraftKings marketplace is still in its nascency, we are bullish on the possibilities that blockchain, NFTs, cryptocurrency and more will present as we prepare for Web 3.0 alongside Polygon and the new innovations ahead for digital collectibles."
Next, Arnold looks at the decentralized interoperability platform Polkadot (DOT). He points to a recent tweet from Polkadot founder Gavin Wood explaining that there are currently just under 19 million DOT tokens stored in the DOT treasury to fund community projects.
If any DOT goes unused, it gets burned. Currently, the Polkadot treasury is burning 239,988 tokens every month, according to Gavin Wood.
"Either burned or used, the DOT token is only getting more scarce. We have seen a rally in the DOT price recently. This could be linked to some exciting developments ahead, such as the upcoming parachain launch and slot auctions – these parachain auctions will take DOT off the market as well.
And with the first 11 parachain auctions coming to Polkadot next month, along with the 100 or so available slots to be filled, this could boost Polkadot's presence in the crypto sector, and could cement the multichain system's rising status."
The third coin Arnold looks at is the supply chain management protocol VeChain (VET). The trader highlights that VeChain recently landed a partnership with major logistics company DHL for enterprise NFT (non-fungible token) issuance.
"This collaboration with DHL China, one of the first things it will allow customers to experiment with is customize the DHL mascot and then mint it as NFTs on the VeChainThor blockchain solution."
Next up is the smart contract platform Cardano (ADA). Arnold notes that Cardano appears to be gaining more traction after landing partnerships with television satellite provider DISH and announcing that the network has received $100 million for investment in Cardano-focused projects in Africa.
"Simply put, there are so many people in more developing areas of the world that don't have financial stability, and that can be changed with Cardano with blockchain."
Another coin on Arnold's list is the decentralized oracle network Chainlink (LINK). He notes that despite the token's lackluster performance over the last few months, he believes there is still massive upside for LINK to realize in the market as partnerships continue to rise month-over-month, with 84 integrations made just in September.
"I get it, but in my opinion, Chainlink still has a lot of room to grow. Think about this: Chainlink already has a ton of exclusive, big partnerships with big companies – Google and Oracle to name two – over 75 different blockchains already use Chainlink technology, as well as being used by many data feeds, including USD [US dollar] currency pairs. That's a strong foundation.
My speculation is this: over these next few years, as DApp [decentralized application] platforms like Ethereum [ETH], Cardano, Solana [SOL], Polkadot, Elrond [EGLD], etc. continue to fight for market share… Chainlink is integrating with all of them… Something to think about."
Finally, the crypto trader thinks that the leading smart contract platform Ethereum is gearing up for a huge 2022. He notes that Ethereum developers announced that ETH is planning to make the transition into Ethereum 2.0 in May-June of 2022, which will convert the blockchain to a proof-of-stake protocol.
"The code should be ready around February 2022. The merge to mainnet, to ETH 2.0, in June of 2022 at the earliest. Next year will be known as the year of ETH. That's where DeFi [decentralized finance] is, that's where NFTs are."
Analysts affirm Cardano will outperform Bitcoin and Ethereum given ADA's enhanced scalability
Binance coin replaced Cardano as the third-largest cryptocurrency.
Over 70% of ADA supply remains staked.
With institutional investment flows to Cardano, proponents expect ADA market capitalization to recover.
Cryptocurrency analysts expect Cardano to outperform Bitcoin and Ethereum based on ADA price trends.
Charles Hoskinson, Cardano founder, made an effort to dampen Cardano's negativity and uncertainty and the cryptocurrency ecosystem. Hoskinson broadcasted from South Africa and shared potential opportunities for the Cardano Foundation.
Analysts expect Cardano to outperform Bitcoin with updates in the ecosystem
In his recent broadcast from Africa, Charles Hoskinson shared how the rising uncertainty in cryptocurrencies puzzled him. Hoskinson believes that Cardano has met every single milestone on its roadmap.
The Cardano network has never suffered an outage, and the founder reassures users about ADA's current plans. Cardano is focused on enhancing scalability. 
Brief Update https://t.co/9Tw2zPtVxm— Charles Hoskinson (@IOHK_Charles) October 18, 2021
The Plutus Application Backend (PAB) launch is set to ensure scalability on the network. It is scheduled for later this month. Once Cardano improves scalability, more users are expected to join the network.
Cardano is working on another exciting development in the roadmap, layer-2 scaling solution Hydra. Alongside Plutus, Mamba Pool, Atala Prism and Mithral, Hydra's development is underway. 
Fourteen teams are working on different elements within the Cardano ecosystem. Hydra is expected to process transactions on the Cardano network in an efficient manner. Since most transactions will be processed off-chain, Hydra will use the Cardano blockchain to secure settlement.
The Hydra protocol is currently under extensive testing.
Despite the upcoming updates in the Cardano ecosystem, ADA's market capitalization dropped, and the altcoin no longer ranks among the top three cryptocurrencies. The percentage of ADA tokens staked remains stable above 70%; analysts are bullish on the altcoin as supply under circulation remains relatively low. 
There is a spike in institutional investment in ADA. Over $3 million capital flowed to ADA-based funds in the past week, according to a Coinshares report.
Austin Hilton, a cryptocurrency analyst and YouTuber, has set a $15 target for ADA price. Hilton states,
Cardano could hit $15 by the end of this bull run that we are all looking at. It's set to end in kind of February-March time frame.
FXStreet analysts have evaluated the ADA price trend and predicted that the altcoin's price is bound for profit-taking. Analysts set a target of $1.70 for the altcoin.