Monero Resists Selling Pressure Following Rally & Recent Atomic Swaps Launch
The popular privacy-focused cryptocurrency monero (XMR) stood out as one of the better performers in what is a vastly red crypto market today, it itself turning red as well. This correction follows a rise of over 17% in the past week, and this strong price performance comes as the implementation of a solution for atomic swaps between bitcoin and monero was announced just five days ago.
At 9:48 UTC on Wednesday morning, monero was down by 5.1%, trading at USD 303.6. The coin is currently ranked as the 29th most valuable cryptoasset by market capitalization, and the most valuable privacy-focused coin, ahead of competitors like zcash (ZEC) and dash (DASH), per CoinGecko.
It's up 17.5% in a week, more than 40% in a month, and 221% in a year.
As recently as Sunday, monero also broke through the psychologically important USD 300 level for the first time since June, further boosting the sentiment among traders.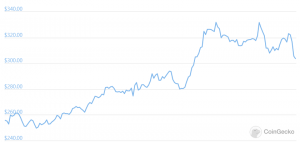 The latest price surge for monero has come as a new atomic swap implementation developed by the cross-blockchain protocol COMIT Network was rolled out on August 20. In a blog post on GetMonero.org, pseudonymous monero developer ErCiccione wrote that COMIT's atomic swap implementation is now "mature enough to be used on Monero's network."
"For now, makers must buy Bitcoin and takers must buy Monero, but anyone can be a maker or taker," the post said, while reminding users that the implementation is "brand new technology and might have unexpected bugs. Be careful and only test with small amounts."
With its heavy focus on privacy, the ability to exchange value in a decentralized and private manner between bitcoin and monero is seen as essential. A fully functional atomic swap implementation also reduces monero's reliance on centralized exchanges, which in the past have been pressured by regulators to delist the coin.
Not surprisingly, monero fans are cheering for the possibilities more private transfers between bitcoin (BTC) and XMR bring, with some even claiming that early bitcoin investors will now exchange some of their bitcoin for monero to "hide their wealth."
Others again seem excited about how an easy swap between the two coins could make monero more useful for everyday purchases.
XMR just became a legit checkings account for people who think of their BTC as their savings account https://t.co/frlzZn2S9u— //Bitcoin 𝕵ack 🐐 (@BTC_JackSparrow) August 25, 2021
Aside from the atomic swap implementation, this summer has also seen the release of Monero's General Fund report for 2020/2021. According to the report, 3,161 XMR (USD 987,148) had been received in donations for 2021 by its publication date in June, while 212 XMR (66,205 USD) had been spent by the team.
The General Fund receives donations from Monero's community members, and is managed and spent at the discretion of the Core Team to benefit the project, they said.
Monero (XMR-USD) perpetual contract market is now live in DYDX
DYDX has gained 80% in a week. So, what is driving the DEX token rally? Traders have increased their bids for the decentralized exchange token with a hope that it would benefit from China's decision to classify all crypto transactions as "illegal."
Monero Expressed: We're excited to announce that XMR has been added to dYdX synthetic perpetuals.
DYdX expressed they are excited to share that the Monero (XMR-USD) perpetual contract market is now live. Eligible traders outside of the United States can trade $XMR with up to 10x leverage, cross margining and zero gas fees.
Their goal is to continue to launch new markets with $XMR marking the 25th addition to their layer 2 product.
Contract Specs: XMR-USD; underlying market: XMR; Margin Settlement asset: USDC; Tick Size: $0.1000 USD; minimum order size: 0.1 XMR. Expiry: Perpetual (no expiration); Maximum leverage: 10x: Initial Margin requirement: 10.00%; Maintenance Margin Requirement: 5.00%; initial Margin Requirement: 10.00%; maintenance margin requirement: 5.00%; Mark price for liquidations: The index price given by Chainlink's Layer 2 XMR-USD price feed; Funding: Funding payments are credited or debited at the start of each hour, and are included in the realized PnL for the position.
The funding premium is scaled so as to have a realization period of 8 hours (8-hour funding rate); contract loss mechanism: Deleveraging, centralized, but verifiable insurance fund is the first backstop before deleveraging.
With dYdX, you remain in full control of your funds at all times. There are no central intermediaries that hold your private keys. Your funds are secured by smart contracts at all times when they are on dYdX.
dYdX is launching Perpetual Contract Markets that enable trading of any non-Ethereum based asset.
DYdX is the native token of decentralized exchange DYDX. Traders have lot of trust about the potential of the token versus China's recent ban in cryptocurrency transactions.
The China ban worked positively for the dYdX decentralized exchange (DEX) which provides perpetuals, margin and spot trading, and also lending and borrowing services to their users.
Holding DYDX gives the owners a right to propose and vote on the changes related to the dYdX's layer 2 protocol.
DYDX stakers earn their rewards by depositing to the liquidity staking pools that is DEX related. Users will benefit by getting a discount on trading fees which is based on the size of their DYDX reserves.
The China FUD is continuing to attract new users. Further, DeFi farmers are claiming to have made several hundreds of thousands of dollars by gaming dYdX's recent airdrop
News Source
Monero price analysis: XMR takes a leap forward to $248 as bullish momentum intensifies
Monero price analysis shows strong bullish signs.
Resistance is found at $249.
XMR found support at $233.
The Monero price analysis for today favors the bullish side of the market. XMR/USD pair price break up was upwards at the start of the session, and XMR bulls pushed the price through two different resistance levels at $234, followed by $235 successfully in a swift move.
Monero gained a value of around six percent due to the spike in price today, which is a major achievement for the cryptocurrency, though still XMR/USD shows a minor deficit in value over the last seven days; this is due to the steep plunge of 24th September, when XMR price stooped as low as $233. Overall, September proved extortionate for the coin, as the price trend line is downwards during this period of time, but today's spike provided good support to the cryptocurrency.
XMR/USD 1-day price chart: Crucial resistance ahead
The 1-day price chart for Monero price analysis shows a significant improvement in price as bulls rally ahead. Today XMR bulls victoriously reclaimed three fallen supports of $235, $236, and $248. As XMR is crossing the $248 level at the time of writing, ahead is the most crucial resistance of $249. Today bulls pushed the price above the moving average and also above the Bollinger bands' mean line, marking a bullish crossover, so we can confidently say the said resistance might also be conquered.
The volatility is mild for XMR/USD as the upper Bollinger band is present at the $278 mark, and the lower band is present at the $217 mark; the mean average of the Bollinger bands is forming below the price level with a difference of a few decimals at the $248.01 mark.
The relative strength index (RSI) is in the center of the neutral zone on an upwards trend at the 48 index due to today's positive market sentiment. The indicator shows a strong buying activity at the moment, and also further room for more buyers to explore the market. Thus a further indication of the bullish trend and more prospects for the cryptocurrency.
The MACD indicator also observed a bullish crossover for the first time after a month of the bearish trend; as can be seen, the histogram turned green today, and the first green bar appeared due to the marvelous bullish efforts of today covering losses of many past days.
Monero price analysis: Will bulls consolidate for a further rally
The 4-hour chart for Monero price analysis shows, today the market was regulated by bulls throughout, except for some weak efforts from the bearish side when bears tried to intervene in the price function but were rejected soon, and bulls continued their endeavor.
The volatility is increasing on the 4-hour chart as the Bollinger bands are expanding with the mean line far below the price level, showing positive indications for the coin. The relative strength index (RSI) has also gone near the overbought zone and is present at the 60 index, while still on an upwards trend. The RSI is suggesting the entrance of more and more buyers into the market.
The moving average (MA) is below the price level at $240 on the 4-hour chart and at $238 on the 24-hour chart. The short-term MA10 and MA20 favor the bullish side, and the exponential moving average EMA10 and EMA20 also favor the bullish side, whereas EMA30 favors the bearish side.
Monero price analysis: Conclusion
The 4-hour and 24-hour Monero price analysis and technical indications suggest the XMR/USD is recovering well after a consistent downward trend of the past days. We can safely assume the price of the XMR/USD pair to touch the $250 level in the coming hours.
Monero's former maintainer released from US custody
Riccardo Spagni, the former lead maintainer of the privacy coin Monero, has reported that United States officials have released him after more than a month in custody.
In a Tuesday tweet, Spagni said he was working with his legal team to return to South Africa to address the allegations against him. Authorities in the U.S. arrested Spagni in August on fraud charges tied to alleged crimes that occurred in South Africa between 2009 and 2011 at a company called Cape Cookies.
"I am actively working with my attorneys on a way to return to South Africa as soon as possible so I can address this matter and get it behind me once and for all," said Spagni. "That's what I've always wanted to do."
The South African government had been seeking Spagni's extradition on the charges, alleging he "used false information" to create invoices which inflated the prices for certain goods and services and had funds transferred to a bank account he controlled. If convicted, he could face up to 20 years in prison.
Tuesday marks the first time Spagni has tweeted since July, though someone — presumably his lawyers — did retweet a statement posted to his wife's Twitter account shortly after his arrest. The legal team claimed the arrest was on account of "his alleged failure to appear in court, and nothing more."
The lead maintainer of the privacy coin Monero (XMR) until December 2019, Spagni has been involved in the crypto space for more than a decade. Many know him for his colorful social media posts and wry humor on cryptocurrency projects and industry figures.