Can Avalanche keep it up? DeFi users rush in as incentives roll out
The total value locked in Avalanche's DeFi ecosystem has swelled to $1.8 billion in the last month. Here's why.
In an explosive move reminiscent of the growth of Binance Smart Chain (BSC) and Polygon earlier this year, the Avalanche blockchain is attracting a flood of new deposits into its decentralized finance (DeFi) ecosystem.  
Despite the signs of strength, however, not all analysts are convinced the Ethereum competitor has staying power.
At the end of July, Avalanche's DeFi ecosystem accounted for just $180 million in total value locked (TVL) – a figure that has since ballooned 1,000% to over $1.8 billion at the time of writing. Likewise, Avalanche's native token, AVAX, has rallied from $13.41 to a high of $55.42 earlier this week.
Money market Benqi is leading the way, cracking the $1 billion TVL threshold Tuesday – less than a week after its Aug. 19 launch. By comparison, Aave, among the first DeFi lending protocols when it launched in 2019, took more than eight months to reach the same mark on Ethereum.
, Ava Labs Director of DeFi Luigi Demeo said that a number of factors, including a revamped token bridge and a $180 million incentive program, are chief catalysts for the surge.
"We've kind of seen all these things culminate at once, between the bridge, lending, a massive incentive program and a lot of things the team has been working on very deeply, heads down, for six months," he said.
However, Mewny, a self-described "Internet Couch" and a pseudonymous member of the angel investing collective eGirl Capital, cautioned that the burgeoning ecosystem could be due for an eventual pullback.
"It could go one of two ways," Mewny told CoinDesk, speaking to the roving horde of DeFi investors. "The [liquidity mining] incentives kickstart a flywheel effect around their ecosystem, or enthusiasm dries up and the hot ball of money moves to the next pot of honey."
Incentives and catalysts
The timing of Avalanche's emergence is something of a surprise, given that the layer 1 went live on mainnet in September 2020 and had a functioning (if clunky) bridge as early as February this year.
"The UX wasn't great," Ava Labs' Demeo said. "It was slower, more extensive… it was a temporary solution, frankly."
Additionally, Demeo said that the ecosystem was missing "key infrastructure pieces," including oracles, a faster bridge, a lending platform and stablecoin support.
oracles went live July 21, providing the pricing data infrastructure that allowed Benqi's lending platform to launch. Money market Aave will soon be joining with $20 million in liquidity mining incentives; Curve, a protocol allowing for efficient stablecoin swaps, is also signing on with $7 million in AVAX liquidity mining rewards. 
Demeo added that the new bridge provides free AVAX (for deposits above a certain amount) to pay for subsequent transactions.
While Demeo refers to Ethereum-native dapps such as Curve, Sushi and Aave deploying implementations on Avalanche as a "validation of the technology," eGirl's Mewny says other layer 1s paved the way for Avalanche's success.
"I think BSC and Polygon set the stage for this current AVAX run. The relationship between the [liquidity mining] incentives that dropped and the rapid TVL that bridged is obviously no coincidence," they said, adding:
While I think the tech is interesting and this isn't a negative comment on its technical merits, many people saw the green light to capture the gains that were seen with the aforementioned platforms. As money trickles in to play the casino yield farms and/or long the same basic DeFi primitives but on a new platform, the same playbook is possible (yet again).
Future developments
Demeo argues that Avalanche has built-in technical advantages that will allow it to compete in the long term, including a unique consensus mechanism and architecture.
"A key fundamental decision was to allow for multiple subchains, which should let AVAX easily integrate any virtual machine or smart-contracting language," he said. "This should be a competitive advantage for long-term sustainability [allowing] AVAX to pivot easily to capture different devs."
Additionally, Demeo said the $180 million Avalanche Rush program is currently tailored to users. Over time, the money could be used to incentivize developers to build more platforms on Avalanche. He said a user base is a necessary first step. 
AVAX network TVL crossed $11.5 billion as Growth DeFi protocol partners with Trader Joe
Growth DeFi protocol has partnered with Avalanche's largest decentralized exchange to drive higher trade volume.
Avalanche ecosystem's launchpad is preparing for upcoming initial DEX offerings.
DeFi lending and borrowing have intensified on Avalanche, boosting the on-chain activity of AVAX tokens.
Avalanche network on-chain activity is set to explode with new partnerships in the ecosystem. The $180 million incentive program has attracted decentralized applications to the AVAX network.
Avalanche competes with the Ethereum-killers for higher DeFi market share
Avalanche network, the leading smart contracts platform, currently has a TVL of over $11 billion. Users prefer fast transaction processing with low transaction costs; the AVAX network has emerged as a top choice among traders in DeFi. 
Traders new to the DeFi network, seeking lending and borrowing capital protocols, have turned to Avalanche. The network offers swapping, farming, lending, and borrowing facilities in a single application, allowing traders to borrow up to 80% on USDT and 75% on BTC, ETH, and AVAX. 
The smart contract platform's largest decentralized exchange, Trader Joe, generates an aggregate of $440,000 in trading revenue per day, of which $73,000 hits the protocol's treasury.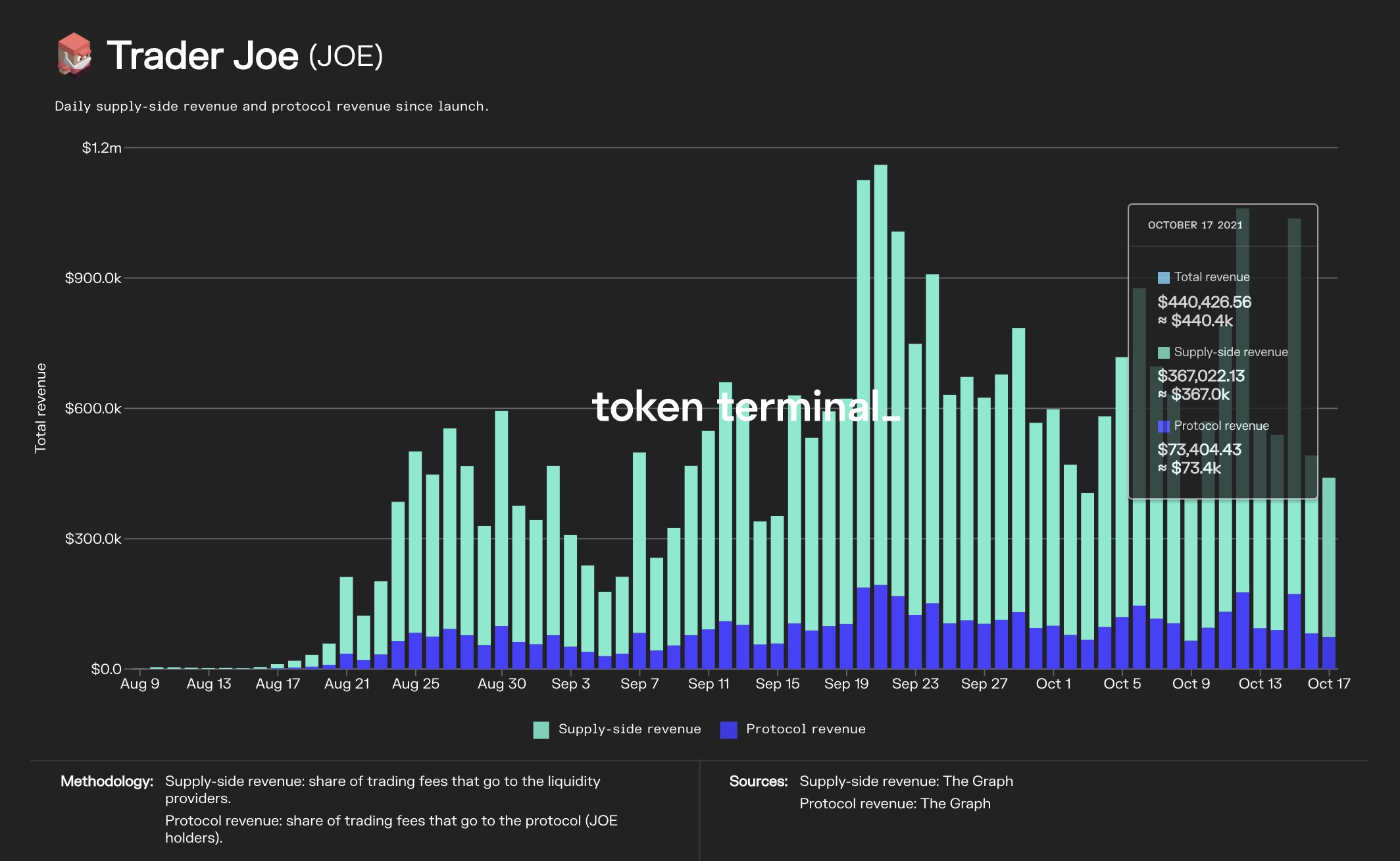 Trader Joe daily aggregate trading revenue.
The DEX recently partnered with Growth DeFi protocol, which plans cross-chain integration with the Avalanche blockchain network. Through the new partnership, the protocol will be able to offer multi-chain capabilities and generate higher liquidity.
The network is hosting decentralized applications joining the AVAX ecosystem for the $180 million incentives program, and the ecosystem is preparing for upcoming initial DEX offerings.
Avalanche announced the launch of Stake DAO and the allocation of $3 million in incentives to the DeFi project. 
Avalanche (AVAX) is the Son Goku fighting against Freezer vs. Super Saiyajin Goku
Avalanche is the only network with new tech that gets rid of the problems of Classical Consensus and Nakamoto Consensus.
When someone asked explain Avalanche like I'm five, Twitter Handle Avalunch opined, it is the Son Goku fighting against Freezer vs. Super Saiyajin Goku against Freezer. Much faster and efficient. The number of his opponents are irrelevant scaling.
For clarity, Son Goku is a fictional character and main protagonist of the Dragon Ball Manga series created by Akira Toriyama. Manga — Dragon Ball is a Japanese media franchise created by Akira Toriyama in 1984.
The story follows the adventures of Son Goku, from childhood to adulthood, as he trains in martial arts and explores the world in search of the Dragon Balls, seven magical orbs which summon a wish-granting dragon when gathered. Along his journey, Goku makes several friends and battles villains, many of whom also seek the Dragon Balls.
Community response: I very basically understood how the principles of the tech stack ushered in an entirely new paradigm in crypto. It meets the needs of the next 'mainstreaming era'. A must-own digital asset.
Jokes aside. It would be very beneficial in my opinion to actually see some legit L1 comparisons so we demonstrate AVAX's superiority.
Emin Gun Sirer opined: "Working with governments and large foundations is critical to continue to bring blockchain tech to mainstream institutions. The Avalanche Foundation is looking forward to helping the UK develop innovative and competitive digital currency solutions."
Emin stated this in response to a news which read, "A group of crypto advocates and firms are forming a new coalition to push the United Kingdom to issue a central bank digital currency (CBDC)"
The Digital Pound Foundation have announced their launch and they are focusing on supporting "the implementation of a well-designed digital Pound and digital money ecosystem." The member firms in the process consist of Accenture, Avalanche, Billon Group, CGI Group, Electroneum, Quant and Ripple.
Community: Why are you pushing for the further centralization of power? Why not choose the path of separation of money and state?
Aren't CBDCs largely against the ethos of crypto i.e. against centralized power?
It is perfectly normal for every clear-headed state to take advice about blockchain from Avalanche.
Have they given an indication of timescale when we could expect I central-bank digital currency? You guys are doing great work.
I think before issuing their own CBDCs they can buy large amounts of AVAX and use that for test purpose. Then they will ban every crypto that is not under control.
News Source
Avalanche Price Analysis: AVAX rallies back to $58-$59 previous support, reversal to follow?
Avalanche price analysis is bearish today.
AVAX/USD rallied back to previous support.
Bearish momentum is likely to reverse Avalanche today.
Avalanche price analysis is bearish today as strong previous support has been reached after a strong rally earlier today. Therefore, we expect AVAX/USD to reverse and continue lower later today along with the overall bearish momentum.
The overall market traded in the green over the last 24 hours with Bitcoin up by 4.78 percent. Meanwhile, Ethereum is up by 8 percent, while Polkadot (DOT) leads the market with a gain of almost 18 percent.
Avalanche price movement in the last 24 hours: Avalanche looking to retest previous support at $59 as resistance
AVAX/USD traded in a range of $53.33 – $58.19, indicating substantial volatility over the last 24 hours. Trading volume has declined by 22.4 percent and totals $560.9 million, while the total market cap trades around $12.72 billion, ranking the coin in 14th place overall.
AVAX/USD 4-hour chart: AVAX to reverse today?
On the 4-hour chart, we can see Avalanche price action approaching a strong resistance area, likely resulting in a reversal later today.
Avalanche price action has seen bearish momentum return so far in October after a strong increase over the second half of September. Over the past two weeks, several lower lows and highs have been set, leading AVAX/USD to the $51 current low.
Currently, Avalanche retraces higher as bulls look to set another higher low. Likely resistance will be found at the previous support at $59, and another push lower will follow.
Alternatively, if AVAX/USD breaks above the resistance, we could see a further upside, indicating that a major reversal to the upside might be in play later this week. However, until then, we remain bearish for the Avalanche price and expect it to decline to the $50 mark next.
Avalanche Price Analysis: Conclusion
Avalanche price analysis is bearish today as a strong resistance area was reached over the last 24 hours. Therefore, AVAX/USD will likely reverse over the next 24 hours and look to test the $50 support next.
While waiting for Avalanche to move further, read our guides on the Best NFT marketplaces, NFT history and development, as well as NFT Music.