COTI price soars 75% on Coinbase Pro listing, heading toward record high
Coinbase Pro revealed that it has listed COTI on August 25.
Inbound transfers are available in jurisdictions where trading is supported on the exchange.
Prior to the launch of trading COTI on the platform, the token has surged by 75%.
Coinbase Pro has announced that it will support the trading of COTI starting on August 25. Trading is expected to begin on August 26 given the liquidity conditions are met.
COTI to start trading on Coinbase Pro
US cryptocurrency trading platform Coinbase will start to support COTI trading. The digital asset exchange will accept inbound transfers of COTI to Coinbase Pro. 
Trading services for COTI will be available once liquidity conditions are met, which is expected on August 26.
Following the sufficient supply of COTI, the token will be ready for trading against the US dollar. According to Coinbase, the order book will be launched in three phases, including post-only, limit-only and full trading.
The COTI cryptocurrency stands for "currency of the internet," and the blockchain aims to be a leading protocol for decentralized payment processing that enables businesses and institutions to issue their own tokens. COTI stands for both the blockchain and the name of its native crypto.
COTI launched its version 3.0 for staking rewards, which allows node operators to stake on the network, supporting liquidity and reducing circulating supply. Cardano's venture fund, cFund, invested $500,000 in COTI in April this year.
Following the launch of ADA on Coinbase earlier this year, a theory has arisen that cryptocurrencies tend to experience a quick price jump after being listed on the US exchange. 
According to crypto research analysis firm Messari, Coinbase listings have had the highest average return at 91% compared to other exchanges.
COTI price aims higher after 75% boost
COTI price surged 75% after the Coinbase announcement, nearly reaching the target set by the ascending parallel channel on the 12-hour chart.
The token has printed a bullish pattern, providing an optimistic target for COTI price at $0.529, coinciding with the March 30 high.
COTI reversed the period of underperformance from the July 20 low, with a rise of 450%. Currently, the token is looking for support at the 78.6% Fibonacci extension level at $0.403. Holding above this level would allow COTI to be able to reach its bullish target.
Further buying pressure would incentivize COTI to set a new all-time high should the token slice above its previous record at $0.600.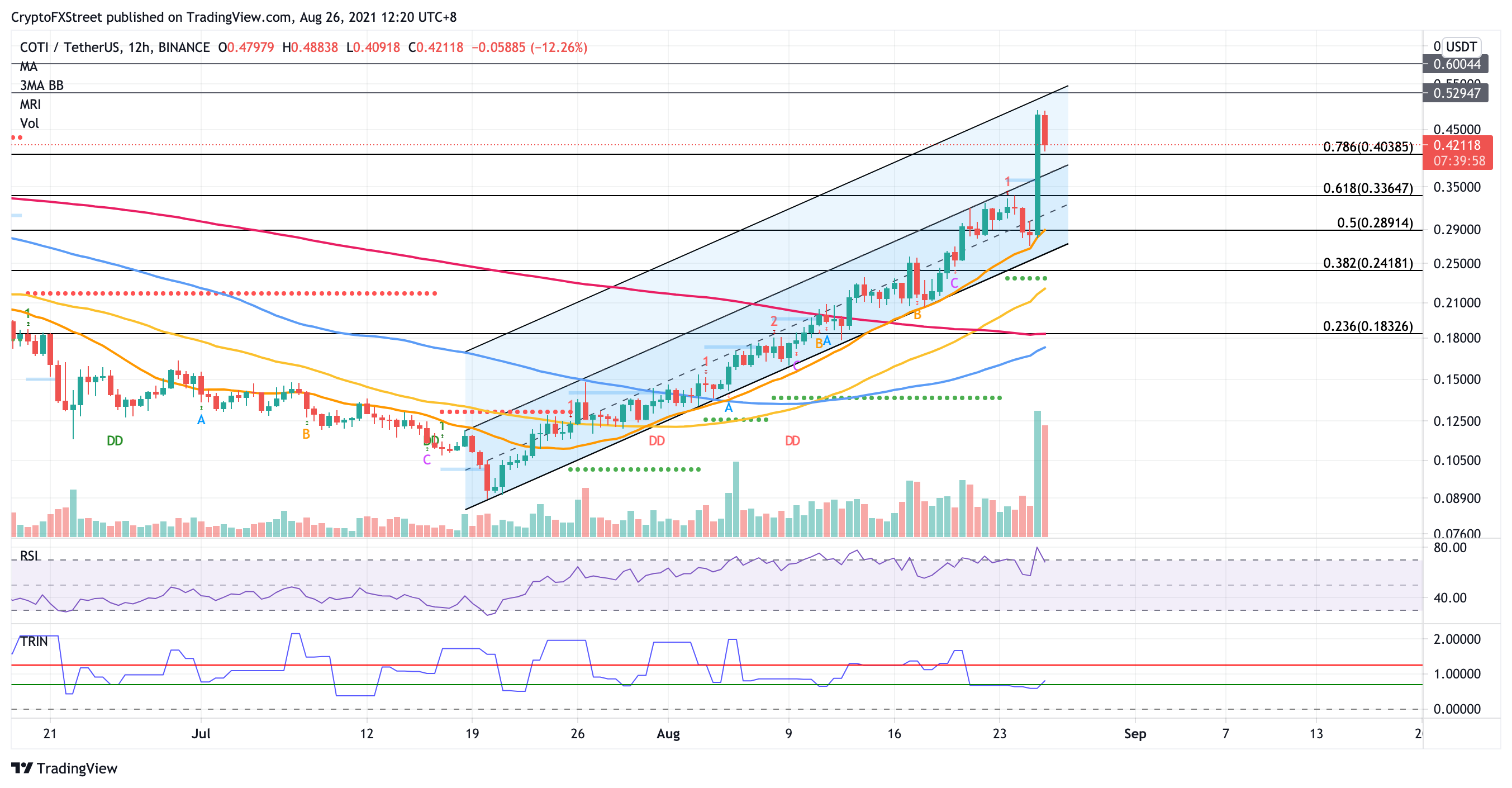 COTI/USDT 12-hour chart
If COTI price retraces and dips below the 78.6% Fibonacci extension level, the token would discover support at the upper boundary of the parallel channel at $0.374, before slumping lower to tag the 61.8% Fibonacci extension level at $0.336.
Further support may be found at the 50% Fibonacci extension level at $0.289, coinciding with the 20 twelve-hour Simple Moving Average (SMA).
COTI Price Analysis: The Dynamic Support Of 50 EMA Has Turned To Resistance Now; Is This A Start Of A Downtrend??

The COTI coin price indicated another bearish reversal when the price was rejected from the $0.67 resistance. However, this time retracement phase deepened more than expected and even breached the crucial support of $0.047. However, a positive news we have is 'Coinbase', one of the most trusted custodians now supporting COTI.
Key technical points:
The 200 EMA line stands as a crucial support level for the COTI coin price
The intraday trading volume in the COTI coin is $173.8 Million, indicating a 16.34% hike.
Source- COTI/USD chart by Tradingview
The COTI coin price initiated this remarkable rally in august, which made a New-Time High of $0.675. After this, the coin went through a usual correction and recovery phase to continue its uptrend; however, the price couldn't pass the higher high resistance and indicated another bearish reversal.
On November 16th, the coin price breached the support of the previous lower high of $0.47 mark, suggesting even more fall for COTI. This deeper correction phase managed to obtain proper support from the 200 EMA line and is currently retracing back to retest the same level.
While travelling in an uptrend, the COTI coin price received dynamic support from the daily 50 EMA line. However, with this bearish reversal. the coin broke down from this support EMA, and now it's contributing as a resistance for the retest mentioned above.
The Relative Strength Index(47) states a bearish sentiment within this coin.
COTI/USD 4-hour Time Frame Chart
Source- COTI/USD chart by Tradingview
Contracting to the bearish signals noted above, the COTI coin price action projects a bullish outlook in this lower time frame. The coin price resonated in a falling parallel channel for the recent price fall. On November 29th, the price gave a bullish breakout from this pattern, suggesting a new rally. 
However, the price is still experiencing strong rejection from the $0.47, and its the critical point of our price analysis. If the price sustains below this resistance, the crypto traders can grab an excellent short opportunity in this coin; moreover, an extra confirmation will be obtained once the price breaks down from the daily 200 EMA.
COTI Mainnet 2.0 Launch Date Set to Next Week
COTI has announced that it is finally prepared to launch its mainnet 2.0 after more than a year of development.
Digital fintech platform COTI (Currency of the Internet) has announced that it will be launching its long-anticipated mainnet 2.0 next month.
COTI Mainnet 2.0 Set to go Live
The company shared the news about its upcoming mainnet version 2.0 launch with CryptoPotato, stating that the upgrade will feature scalability and speed capabilities, as well as an optimum COTI platform.
"The release of Mainnet 2.0 will allow COTI's network to grow further, supporting a wide range of financial technologies and use cases for enterprise and merchants, as well as for COTI users," the project said.
According to the announcement, the new version of the network has been in the works for over a year, with lots of resources, including thousands of man-hours dedicated to ensuring the upgrade is successful.
Notably, COTI's dedication targeted towards the development of its mainnet 2.0 has paid off, as the upgrade will go live on November 2, 2021, at 2 PM UTC, the company noted.
Upon launch, users will be able to enjoy the new service, which is poised to offer an enhanced and reliable digital platform, without having the need for any prior tech knowledge.
Boosting Transaction Speed
Although COTI's Trustchain infrastructure, which is integrated into the current mainnet, is capable of processing over 100,000 transactions per second (TPS), the project has made significant changes to its database to achieve faster transaction processing in version 2.0.
Some of the updates made to the database to improve transaction confirmation speed were carried out on the network's storage engine RocksDB and the Queue management system, among others.
The upcoming upgrade will also provide fixes to some of the bugs found in the current version.
In preparation for the release, COTI noted that it successfully conducted a pilot program by moving its node operators to the new version's testnet in order to ensure a smooth transition when it will officially migrate to mainnet 2.0.
COTI Provides Payment Services for Clients
The development comes less than a month after COTI partnered with Simplex to provide bank accounts and visa debit cards to its customers.
Per the announcement, the service will easily grant users access to the global monetary ecosystem and also bridge the gap between fiat and cryptocurrencies.
Chainlink (LINK) Keepers Now Integrated by Coti Network's (COTI) CVI Design: Details
Coti Network DeFi ecosystem advances its CVI rebalancing mechanism with Chainlink's instruments
With its new release, Crypto Volatility Index tokens (CVI) by Coti Network (COTI) will be rebased through cutting-edge on-chain instruments.
Chainlink Keepers now empower CVI mechanism
According to the press release shared with U.Today, Coti Network (COTI) announced a crucial upgrade of its crypto volatility index token architecture.
We are thrilled to announce the launch of the CVI V2 which includes: Volatility Tokens and composability, Margin Trading and improved capital efficiency, USDC Platform and Revamped Design.https://t.co/N2hYlGLpsbhttps://t.co/t39RuOs2FC$GOVI $COTI pic.twitter.com/TQ2BE1kLq6— Crypto Volatility Index (CVI) (@official_CVI) July 29, 2021
Starting from October 2021, the underlying supply of volatility tokens will be rebalanced with Chainlink Keepers, an automated decentralized network by the team behind Chainlink Oracles.
With this novelty, every day at midnight (UTC) the supply of volatility tokens will be rebased in order to ensure a robust and accurate pegging to the current volatility of cryptocurrencies markets.
Shahaf Bar-Geffen, CEO of COTI, stresses that the current stage of Chainlink/Coti integration is a crucial one for the technological progress of his product:
Integrating Chainlink Keepers was a natural next step after using Chainlink Price Feeds to access high-quality options data used in the CVI volatility index calculation. Chainlink Keepers are reliable, decentralized, and seamless to integrate, ultimately offloading manual labor from our developers while still providing strong assurances that our volatility tokens stay pegged to the underlying CVI index.
More options to benefit from crypto volatility
Coti Network (COTI) pioneered the segment of decentralized volatility indexes that act similarly to VIX on stock markets. Traders can benefit from volatility moves in both directions.
Right now, besides ETHVOL tokens being pegged to the volatility dynamics of the first-ever smart contracts platform, Ethereum (ETH), Coti Network is going to introduce CVIVOL assets on Polygon (MATIC).
As covered by U.Today previously, Coti Network hired VIX creator Prof. Dan Galai to contribute to the release of its most eccentric product, CVI.