COTI Skyrockets 65% Following Listing on Coinbase Pro
Coinbase Pro continues expanding its portfolio of cryptocurrency assets, with the latest addition being COTI.
The price of COTI skyrocketed to a three-month high in hours following an announcement by the largest digital asset exchange in the US – Coinbase. The platform will list for trading COTI on August 26th at 9 AM Pacific Time (PT).
COTI (Currency of The Internet) is a blockchain-based protocol aiming to optimize digital payments by building a decentralized and scalable network facilitating global commerce.
Its native cryptocurrency will be listed on the largest US-based exchange – Coinbase Pro. The company announced yesterday that it had already enabled transfers of COTI into customers' accounts on the platform.
As with previous additions, users will be able to interact with COTI in supported jurisdictions with certain exceptions.
Coinbase said trading will begin "on or after" 9 AM Pacific Time (PT) on August 26th if liquidity conditions are met.
"Once sufficient supply of COTI is established on the platform, trading on our COTI-USD order book will launch in three phases." Namely, those stages are post-only, limit-only, and full trading.
Listings on Coinbase and Coinbase Pro typically serve as immediate catalysts for price increases.
This was also the case with COTI. The asset traded around $0.3 ahead of the announcement, but it skyrocketed by roughly 65% in a matter of hours to over $0.49. This became its highest price tag in more than three months.
Despite retracing since this peak, COTI still trades 33% higher than its position yesterday – at $0.40. This is in contrast to the market-wide correction that drove BTC and most altcoins south in the past 24 hours.
Another news that may have impacted the price of the digital asset came from Huobi. The popular exchange followed Coinbase's example and listed COTI just a day later.
COTI Charted New ATH Following a Partnership With Cardano's Stablecoin Hub
After partnering with Cardano's stablecoin hub Ardana, the price of COTI has exploded to a new ATH.
COTI, an enterprise-grade fintech platform that empowers organizations to build their payment solutions, recently announced that it will be partnering with Cardano's stablecoin hub, Ardana.
The collaboration will introduce stablecoin crypto-to-fiat payments aimed at the Cardano community, in addition to consumers and merchants worldwide.
Speaking in a statement, COTI's CEO, Shahaf Bar-Geffen, said,
"Today, COTI is doing its first steps in Defi over Cardano, which we believe will be huge. We are happy to collaborate with the remarkable team of Ardana to bring new Cardano Native Assets to ADA Pay and scale up our operations."
Stablecoin Payments on AdaPay
The partnership will see Ardana introduce stablecoin payments to AdaPay, a gateway solution for payments developed by the Cardano Foundation and Coti.
This will ensure that users of AdaPay will now be able to make purchases with their stablecoins wherever the product is accepted.
Additionally, merchants and consumers worldwide can now trade directly using stablecoins. They are touted to be a more stable form of digital currency as opposed to the more popular and highly volatile cryptocurrencies.
Ardana's founder, Ryan Matovu, added, "Both COTI & Cardano have a value proposition that is immediately applicable to each of our day-to-day lives, no matter where we may be. When it comes to e-commerce, it is within our vision to have our stablecoin being able to participate in all walks of life- from yield farming on-chain to financing actual farming off-chain."
COTI Price Jumps 50%
Just a few hours after COTI made the announcement, it received a lot of attention from crypto users, and its coin's price spiked by roughly 50%, hitting an all-time high (ATH) of $0.60.
Although COTI has retraced and is now trading at $0.51 following another wide-market crash induced by fresh China FUD, it has still retained a 24-hour increase of 25%, according to live data from CoinMarketCap.
Cardano Invests in COTI
In April, Cardano made its first investment in COTI through its new venture fund, dubbed cFund, in an effort to strengthen its relationship with the enterprise-grade platform.
As reported at the time, by investing in COTI, Cardano doubled down on its support for the protocol as the two parties have been working together since 2019.
Crypto Asset Backed by Cardano Surges After Surprise Launch on Coinbase
An enterprise-grade altcoin centered on payments and supported by Cardano is making waves after a sudden launch on the popular US-based crypto exchange Coinbase.
Coti (COTI) trading went live on Coinbase on Friday after hitting Coinbase Pro on Wednesday.
The listing triggered a spike in the price of the crypto asset, from $0.29 to $0.45 – a 55% increase.
The project launched in 2019 to empower any organization to build its own private payment solution and digitize any currency using the Trustchain protocol.
The Trustchain protocol can be utilized to process over 100,000 transactions per second and to power online and offline payments, loyalty payments, stablecoins, and more.
The Cardano Foundation announced its partnership with Coti back in April.
Cardano is using Coti to facilitate payments from ADA holders to Save the Children, an international non-profit organization.
In addition, IOHK, the technology company behind Cardano, invested $500,000 in Coti through its early-stage cFund.
COTI is the latest asset to arrive on Coinbase, following a frenzy of altcoin listings on the platform.
Earlier this month, Coinbase added five new tokens, including Axie Infinity (AXS), Request (REQ), TrueFi (TRU), Quickswap (QUICK) and Wrapped Luna (WLUNA).
COTI price soars 75% on Coinbase Pro listing, heading toward record high
Coinbase Pro revealed that it has listed COTI on August 25.
Inbound transfers are available in jurisdictions where trading is supported on the exchange.
Prior to the launch of trading COTI on the platform, the token has surged by 75%.
Coinbase Pro has announced that it will support the trading of COTI starting on August 25. Trading is expected to begin on August 26 given the liquidity conditions are met.
COTI to start trading on Coinbase Pro
US cryptocurrency trading platform Coinbase will start to support COTI trading. The digital asset exchange will accept inbound transfers of COTI to Coinbase Pro. 
Trading services for COTI will be available once liquidity conditions are met, which is expected on August 26.
Following the sufficient supply of COTI, the token will be ready for trading against the US dollar. According to Coinbase, the order book will be launched in three phases, including post-only, limit-only and full trading.
The COTI cryptocurrency stands for "currency of the internet," and the blockchain aims to be a leading protocol for decentralized payment processing that enables businesses and institutions to issue their own tokens. COTI stands for both the blockchain and the name of its native crypto.
COTI launched its version 3.0 for staking rewards, which allows node operators to stake on the network, supporting liquidity and reducing circulating supply. Cardano's venture fund, cFund, invested $500,000 in COTI in April this year.
Following the launch of ADA on Coinbase earlier this year, a theory has arisen that cryptocurrencies tend to experience a quick price jump after being listed on the US exchange. 
According to crypto research analysis firm Messari, Coinbase listings have had the highest average return at 91% compared to other exchanges.
COTI price aims higher after 75% boost
COTI price surged 75% after the Coinbase announcement, nearly reaching the target set by the ascending parallel channel on the 12-hour chart.
The token has printed a bullish pattern, providing an optimistic target for COTI price at $0.529, coinciding with the March 30 high.
COTI reversed the period of underperformance from the July 20 low, with a rise of 450%. Currently, the token is looking for support at the 78.6% Fibonacci extension level at $0.403. Holding above this level would allow COTI to be able to reach its bullish target.
Further buying pressure would incentivize COTI to set a new all-time high should the token slice above its previous record at $0.600.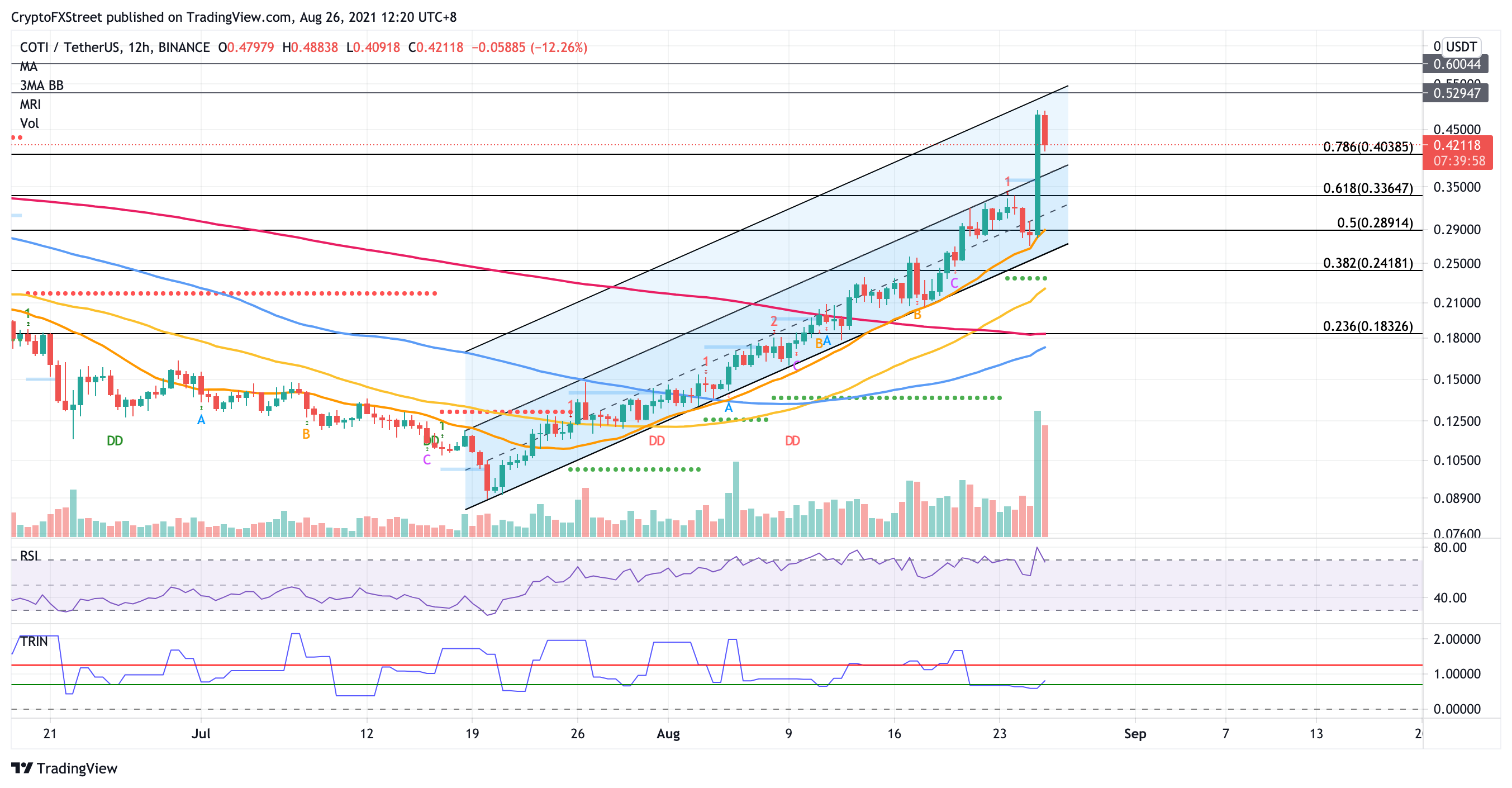 COTI/USDT 12-hour chart
If COTI price retraces and dips below the 78.6% Fibonacci extension level, the token would discover support at the upper boundary of the parallel channel at $0.374, before slumping lower to tag the 61.8% Fibonacci extension level at $0.336.
Further support may be found at the 50% Fibonacci extension level at $0.289, coinciding with the 20 twelve-hour Simple Moving Average (SMA).