VeChain price looks at 13% descent before VET can start new uptrend
VeChain price retraced 9% over the past 24 hours and shows signs of extending it.
A breakdown of the $0.117 support barrier might push VET to $0.104.
If the bulls set up a higher high above the August 23 swing high at $0.137, it will invalidate the bearish thesis.
VeChain price seems to have hit a local top on August 16 as it has retraced continuously since. A retracement is necessary before VET can hop on a new uptrend.
VeChain price waits for sellers' exhaustion
VeChain price set up a swing high at $0.145 on August 16 and has been on a 17% downswing so far. While VET still has the $0.117 support level, this barrier will likely be sliced through if the sell-off continues with the big crypto.
In such a case, investors can expect VeChain price to crash roughly 13% to tag the trading range's midpoint at $0.104.
While a breakdown of this barrier is not outside the realm of possibility, it is unlikely, considering the overall structure of the market is still bullish.
Therefore, market participants can expect a resurgence of buyers around the 50% Fibonacci retracement level at $0.104. The resulting upswing could push VET through a barrage of resistance barriers and attempt to set up a higher high above $0.138.
If this move occurs, it will confirm the start of a new uptrend and indicate more gains on the horizon, quite possibly a retest of the range high at $0.153.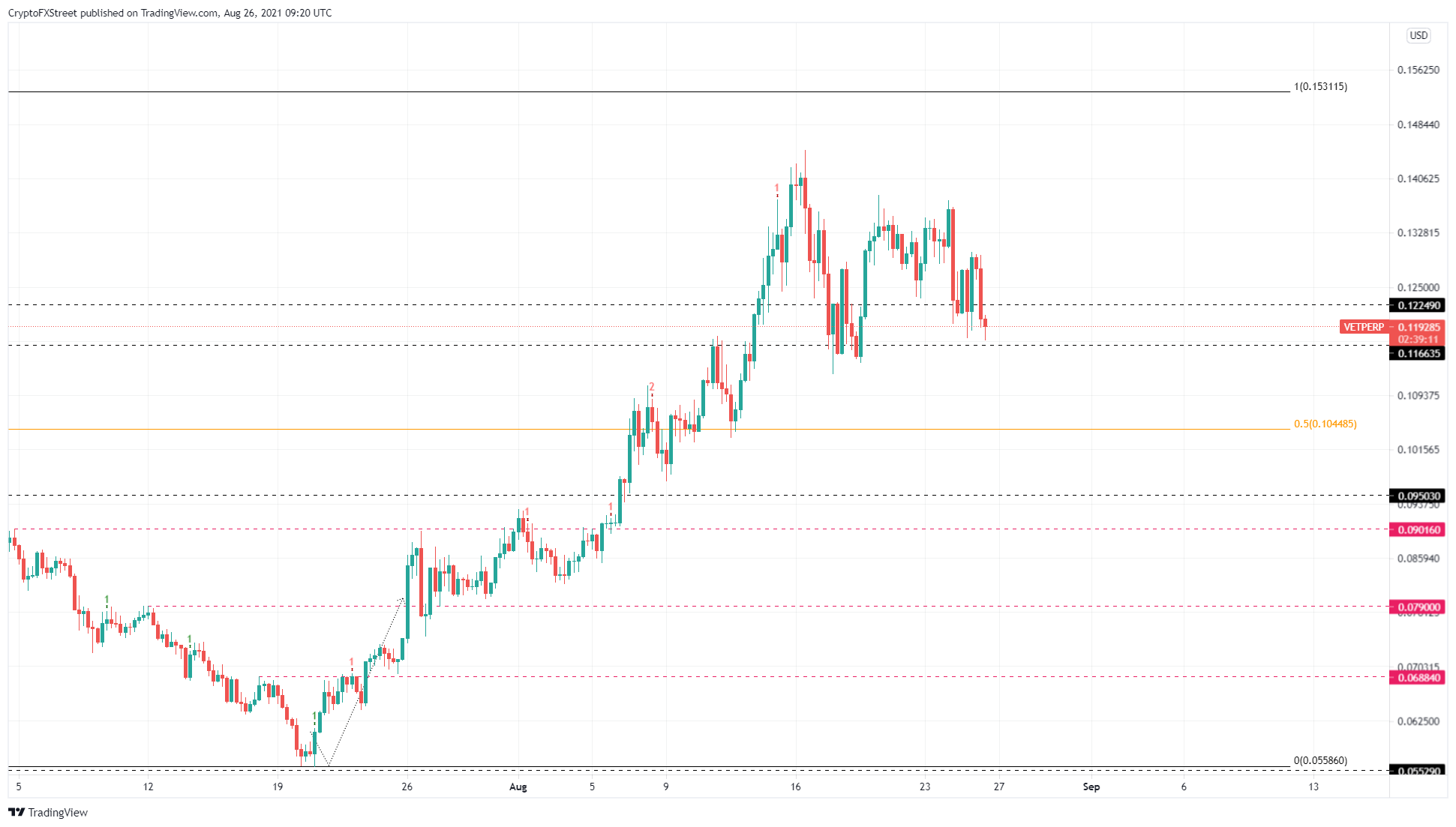 VET/USDT 6-hour chart
Contrary to popular belief, if VeChain manages to bounce off the $0.117 support barrier, it might make a premature run at creating a swing high above $0.137. If the buyers are successful, it will invalidate the bullish outlook and project a further ascent to the range high at $0.153.
Vechain (VET) Breaks Open at Round Table Interview
Sunny Lu, CEO of VeChain spoke at a recent round table. VeChain Technology is a global leading enterprise-friendly blockchain company which aims to connect blockchain technology to the real world by providing enterprises with blockchain-enabled solutions suited to their business needs.
Sunny: We has quite a reputation even outside of the blockchain space. Recently, we are closed to a big client in China. When someone brought up VeChain, their CEO went like oh I know this. So honestly the thing I learn from Louis Vuitton, is that branding is important.
People need trust. So I think we protect VeChain pretty well. We never brag things around. Building application with the new technology is time-consuming. But in the blockchain space, people wish you have it done in one day or one night. It's unrealistic.
We would like to have a very solid foundation. We want to do things step by step because we hold a long term vision. Blockchain technology can really shake the world like the internet did 40 or 50 years ago. I am looking for at least like a 20 or 25 year career ahead.
No technology can solve 100% problem. But even 1% increases of efficiency or accuracy could solve more problems bit by bit of year by year.
When talking about challenges, the biggest is strategy. Then the people. Our business is growing faster than the team. And the money and business connections. Also, the entire industry is at early stage. So among all these, I would say making money is the easiest thing.
Some people may just try to make some quick cash, which has actually been quite common in the past few years. But for VeChain, so far we have been doing quite well. We have been transforming the technology value to business value. We continue to build and deliver.
Not to anyone, even to my mom, or my dad before, I never gave suggestions or financial advice. But what I can tell you is that 90% of my assets are still in VeChain for sure. Because I'm doing it.
Community response: Insightful conversation. It feels like VeChain is upgrading Blockchain to totally another level.
We all believe in and support vet. We believe that the future will grow into an honest and desirable coin. We will go beyond the mainnet to Coinbase, and we believe it will live up to our expectations. We believe you will cross $1 by the end of 2021.
VeChain price analysis: VET aiming to overcome barrier at $0.1030
VeChain price analysis is bullish for today.
VET/USD still holds above $0.11 support.
VET is likely to move higher today.
The VET/USD pair is in an uptrend due to the recent surge in price. The $0.11 support level remains a barrier for today's price development, and the current market momentum is still positive. As a result, we anticipate that VET/USD will reverse higher once again and target the nearest resistance at $0.123
Over the last 24 hours, the cryptocurrency market has been in good shape. Bitcoin is up 3.5%, while Ethereum is up 6.73%. Dogecoin, on the other hand, has had a spectacular day, increasing by 11% and outperforming all other cryptocurrencies.
VeChain price movement in the last 24 hours: VeChain retests $0.11 support again
Over the previous 24 hours, VET/USD showed a range of small swings, with a price of $0.1113 to $0.1155 on December 15th. Trading volume has decreased by 25.59 percent and is worth $264.6 billion at current prices. Meanwhile, the market capitalization now stands at about $7.59 billion.
VET/USD started the day at $0.1132 to resistance at $0.1166. The pair then dropped slightly but recovered quickly to regain its bullish momentum. VET/USD reached the support level of $0.1113 and held it strongly.
VET/USD 4-hour chart: VET look to move higher today?
We can see the VeChain price testing the $0.11 support on the 4-hour chart once again, as bulls are likely getting ready to take over once more.
VET/USD 4-hour chart. Source: TradingView
The Vechain price is seeing significant volatility at the moment. After several days of increasing momentum, the market price dropped to $0.155 on September 7th, a 20% correction from the previous swing high.
The VET/USD pair was hit even harder, with the cryptocurrency's price dropping over 30% and then gradually rising back up to $0.11. For the next week, VET fluctuated within a tight range, ranging from $0.11 to $0.123, with retests of both support and resistance levels..
In the end, this price movement indicates that we will see further consolidation. Considering the current test of the support, the VeChain price should rise over the next 24 hours and retest the top limit of the trading range.
VeChain Price Analysis: Conclusion
The VeChain price is trading in the green today, as the market rebounds from support at $0.11 and is now poised to reverse higher once again. As a result, VET/USD will probably advance towards the $0.123 resistance next.
While waiting for VeChain to move further, read our articles on Wrapped Bitcoin, Decentralized Exchanges, as well as NFT Marketplace.
VeChain Price Prediction: bears plan to attack VET at $0.10
VeChain price pulls back after -25% drop.
Bears take profit, and bulls look for some reprieve from massive losses.
A massive gap between the close and daily Tenkan-Sen indicates a mean reversion trade was likely.
VeChain price has found a bit of a bounce during the Wednesday trading session, gaining up to +8.5% from the open. Bulls no doubt feel some relief and a reprieve from the violent downswings for VeChain. The bounce, however, is likely temporary and limited in scale.
VeChain price likely to move higher to face significant resistance at $0.10; bears to resume pressure and move VeChain below $0.08
VeChain price has made some impressive downside moves since Monday, dropping over -25% to hit the bear's target zone at $0.08. The resulting drop has placed VeChain into an inherently bearish position within the Ichimoku system by positioning the daily close below the Tenkan-Sen, Kijun-Sen and Cloud. However, the speed and size of the drop have created a significant gap between the close and the Tenkan-Sen.
Major gaps between price action and the Tenkan-Sen do not last very long within the Ichimoku system. This is because veChain price and the Tenkan-Sen like to be positioned relatively close to one another. So when a large gap does occur, that creates a trading opportunity known as a mean reversion setup. In other words, price is expected to return to the Tenkan-Sen.
The bullish bounce here is expected but will likely be capped at the $0.10 area. VeChain price has some significant resistance at the $0.10:
Bottom of the Ichimoku Cloud (Senkou Span B).
50% Fibonacci retracement.
61.8% Fibonacci expansion.
The Tenkan-Sen.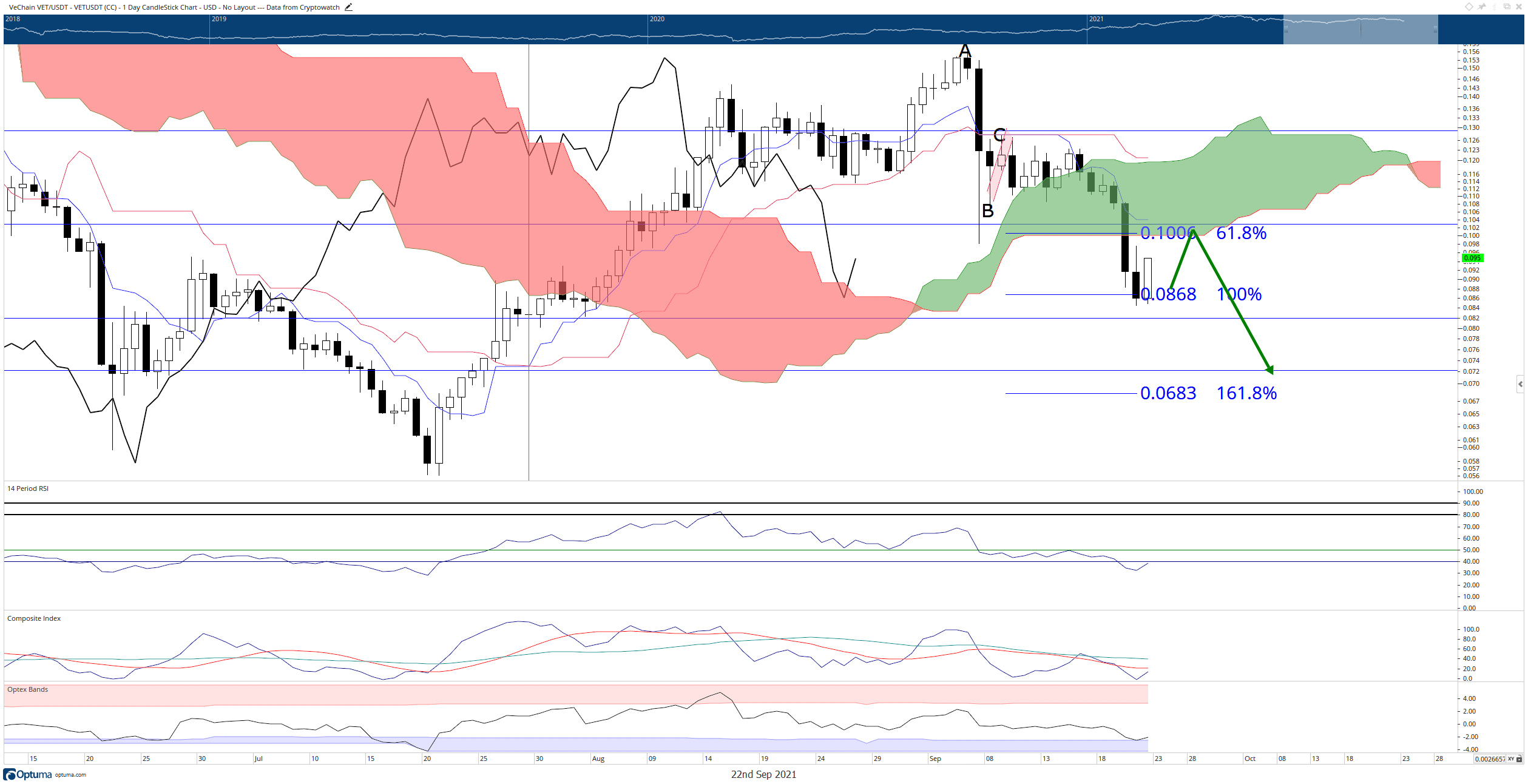 VET/USDT Daily Ichimoku Chart
Bears will likely return to place more selling pressure on VeChain price if $0.10 is confirmed as resistance. However, bulls have a long road ahead to invalidate any near-term bearish pressure. First, bulls will need to push VeChain to a close above $0.13 to return to an undeniable bull market.