Online gambling platforms that accept Ethereum
The number of platforms that accept crypto and in particular Ethereum (ETH) as a means of payment is also growing more and more in the online gambling sector . 
Cryptocurrencies and casinos
Of course, the combo between the crypto of smart contracts par excellence and the online casino is still very limited , but the platforms that accept crypto or use the blockchain are increasing more and more . 
Just think of the already known variety of application fields that involve Ethereum and how they have developed over time.
Decentralized Finance (DeFi), the Non Fungible Token (NFT) market and all those decentralized tokens and applications (dApps) that touch other markets are just a few examples.
This is why some gambling platforms such as BetWinner, FortuneJack, 7Bit Casino and RocketPot have already begun to try their hand at the world of crypto, choosing their ETH.
Ethereum in online gambling today
A first possible reason why the Ethereum casino market has not already exploded is the difficulty (especially in terms of regulation) of integrating crypto into online gambling platforms that hold a public license.
In fact, at the moment, PayPal, Visa and Mastercard are still much more used to top up accounts , which still offer payment methods in fiat currencies .
Currently PayPal has entered the crypto world only limited to the United States.
Thanks to other intermediaries, such as Neteller, the casinos that accept Ethereum are already a reality on a global level.
Gambling platforms that accept ETH and also BTC offer a variety of games such as roulette, slots, craps, poker, bingo, blackjack, and even sports betting , all while taking advantage of the benefits of cryptocurrencies.
Not only that, even the classic welcome bonus (usually given to new users after signing up) or deposit bonuses (additional gifts based on the deposit made) can be paid out from the platform in the ETH format .
Then, Ethereum also responds optimally to casino mobile apps, which are increasingly used compared to the website format.
Expansion and developments of the Ethereum Blockchain
The numbers that the second crypto by marketcap continues to record in the new sectors it has created and developed are record-breaking.
In the world of DeFi alone , today, out of a total blocked value (TVL) of $ 150 billion, $ 111 billion is related to the Ethereum blockchain-based projects and related ERC20 tokens. 
Collectible tokens are also receiving dizzying successes, with particular Ethereum-based NFTs , which are sold at exorbitant prices, over one million euros.
Like the recent case of the 400 ETH or $ 1.3 million spent on EtherRock 's NFT which represents a clipart of a rock. 
Not only that, Ethereum also records success in its own technical development. Like the last fork of London this month, which took place without problems and with the aim of passing the Ethereum Blockchain from a Proof-of-Work (PoW) to a Proof-of-Stake (PoS) to all effects.  
The price of ETH , then, since the beginning of this month has returned above $ 3,000 , a price that was not seen after May 2021. 
Ethereum's Second-Largest Mining Pool to Shut Down on Sept 30 Amid China Regulatory Pressure
The Chinese crackdown on the cryptocurrency industry has taken another victim – this time, the Ethereum mining pool Sparkpool.
The second-largest ETH mining pool – Sparkpool – has announced that it has halted access to new users in Mainland China. Furthermore, the organization plans to abandon all of its services as of September 30th.
Based in Hangzhou, China, Sparkpool is the second-largest Ethereum mining pool responsible for more than 20% of the total hash rate, as the picture below demonstrates.
However, the company plans to seize all operations due to the most recent Chinese crackdown. The announcement published earlier this week reads that it has suspended access to new users who are located in Mainland China as of September 24th.
This part might be expected to a large extent because of the nation's openly hostile stance against the cryptocurrency industry. The latest news coming from the country indicated that all digital asset trading is banned.
This forced Huobi, one of the largest cryptocurrency exchanges, to stop providing any of its services to Chinese users.
However, Sparkpool has decided to take it a step further. The statement reads that a "complete shutdown for all Sparkpool services and operations for the existing users, at home or abroad, has been planned for September 30th, 2021 (UTC +8) at 20:00."
The company argued that this decision comes "under the premise of ensuring the safety of our users' assets."
Sparkpool promised to provide more specific information on clearing and refunding rules in upcoming announcements through emails and in-site letters.
The closure of the second-largest ETH mining pool would most likely lead to damages to Ethereum's hash rate. The metric, which is crucial for the network's security, recently reached a new ATH, but it might drop in the following few weeks.
Ethereum Price Analysis: ETH tests $3,150 resistance, a breakout to follow?
Ethereum price analysis is bullish today.
ETH/USD continued to move higher overnight.
ETH is likely to pause before breaking higher.
Ethereum price analysis is bullish today as bulls pushed the market price to the $3,150 resistance after a strong rally yesterday. Therefore, we expect ETH/USD to break higher later today and finally set a new higher high.
The overall market traded with a bullish momentum over the last 24 hours. Bitcoin is up by 1.6 percent, while Ethereum has gained 4.47 percent. Meanwhile, Solana (SOL) is the best performer today, with a gain of 10 percent.
Ethereum price movement in the last 24 hours: Ethereum tests $3,150 previous high
ETH/USD traded in a range of $2,976.34 – $3,163.67, indicating a substantial amount of volatility over the last 24 hours. Trading volume has declined by 13.33 percent and totals $18.85 billion, while the total market cap trades around $365.4 billion, resulting in the market dominance of 18.75 percent.
ETH/USD 4-hour chart: ETH ready to set higher high?
On the 4-hour chart, Ethereum price action can be seen to look for a breakout above the previous high of $3,150 as bulls have regained control.
The overall market continued to trade in a bearish momentum last week. After a new lower high was set around $3,650, ETH/USD dropped more than 25 percent until support was found around $2,750.
What followed was a reaction higher, with the previous major support of $3,150 retested as resistance. What followed was another spike lower on Friday, with a slightly higher low set this time.
Yesterday, the $2,750 support was tested for the third time, with a subsequent rally to $3,150 resistance over the last 24 hours. Overall, we can expect exhaustion for bearish momentum, likely leading the Ethereum price higher over the next 24 hours.
Ethereum Price Analysis: Conclusion
Ethereum price analysis is bullish for today as bulls pushed higher overnight, and the $3,150 resistance currently gets tested. Therefore, ETH/USD should see further upside above the $3,150 resistance later today.
While waiting for Ethereum to move further, read our guides on NFT Games, CoinJar, as well as Bitcoin Memes.
1/3 of Ethereum Supply Has Been Moved Out of Exchanges in Span of One Year
Ethereum is being moved away from centralized exchanges, and DeFi might be one of the reasons
According to data presented by Santiment, 1/3 of the circulating Ethereum supply has been moved from exchanges to personal wallets. From Sept. 26, 2020, to this day, the circulating supply has been reduced from 24% to 16%, totaling an 8% loss in a year. The main reason for such a trend is the update of the coin's network and a rapid price increase.
Ethereum price increase
Accumulation periods usually accelerate after the price of an asset has rapidly increased, which makes investors move funds away from the exchange since they are not willing to sell them. Traders usually hold money on exchanges whenever they are willing to sell their assets.
Since Sept. 2020, when exchange supplies have started to decrease, the Ethereum price has risen by almost 1,000%, with the average entry being $1,800-$2,000 on the network. The majority of Ethereum holders are currently holding their coins with a 69% profit.
The period of accumulation is considered over after on-chain data started reflecting a rapid exchange inflow increase. Usually, after the accumulation period is replaced by spending cycles, the price of underlying assets drops significantly.
Alternative investment options presented
Compared to the previous 2017 bullrun, Ethereum has stepped further in development with the announcement of various alternative investment options like liquidity provision and lending. That is why, in some cases, investors choose to reinvest their coins rather than keeping them on exchanges or selling them.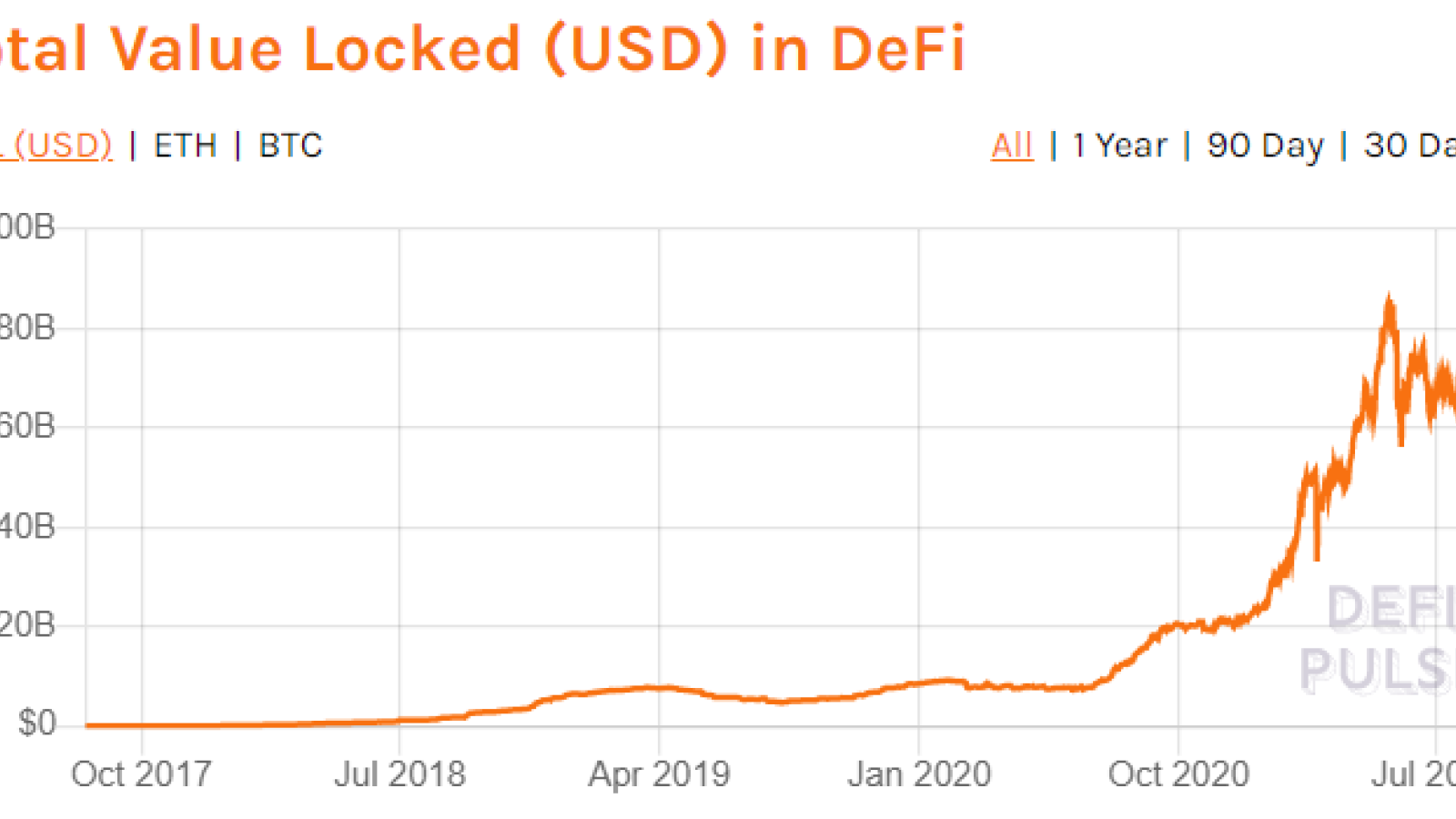 The total value locked in the DeFi industry is currently staying at $85 billion, with a $95 billion TVL ATH reached on Sept. 6. The current trend indicates that Ethereum holders prefer holding their assets in either personal wallets or DeFi smart contracts, rather than exchanges.