Stellar Lumens (XLM) Denelle Dixon Industry Stands Ready to help Lawmakers Craft Informed Legislation
Denelle Dixon expressed:  Let's be clear: blockchain technology IS infrastructure, not just a revenue source to fund it. We must put the focus back on the use cases and the economic opportunity it enables. The possibilities are limitless if legislation enables innovation to continue.
Denelle Dixon, in her recent publication: "Let's be clear: Blockchain technology is infrastructure," pointed to how she hopes that regulatory legislation will provide for a mutually beneficial resolution.
Recently, the blockchain and cryptocurrency industry were involved in intense debates with lawmakers after a $28 billion crypto tax reporting proposal.
The crypto reporting proposal was a part of the Bipartisan Infrastructure Bill (BID); the language was not certain about the details it conveyed. The cryptocurrency sector voiced its opposition in this regard; however, the lawmakers did not make the due amendments.
Denelle points to how just like roads, railways, and broad bands, blockchain is an infrastructure. She points to how cryptocurrency is just one of the use cases of blockchain technology. Further, reinstated on how the technology itself creates opportunities for improved efficiency and connectivity, eventually making it possible to solve real-world problems.
Blockchain is already creating improved access to financial services, providing for faster and cheaper cross-border payments leading to greater interoperability of international banking systems. Thus, improving economic opportunity and financial inclusion in the US and across the world.
She also wrote about stable coin adoption and how the remittance to low and middle-income countries has touched $540 billion in 2020. Individual senders are incurring huge fees when transferring funds across borders when making use of traditional payment infrastructure. However, when the payments are made using blockchain-powered technologies, it can take just a few seconds instead of days. The transaction fees can, in turn, be negligible. The fee can be as low as fractions of a cent.
Innovators with tremendous talent are using blockchain technology to create products and solutions at a rapid speed. The kind of things that we can achieve with blockchain technology does not have limits.
Regulators are not distinguishing between the builders of blockchain vs. the infrastructure vs. one specific use of that technology vs. brokering trades vs. BID risks. Therefore they are preventing progress in this burgeoning industry.
Those in the blockchain industry are now facing reporting requirements they simply cannot fulfill. Thus, they are forced to operate in a regulatory environment without reasonable regulatory clarity.
After hearing the well-informed senators who championed amendments that distinguished between technology builders and financial service providers, she acknowledged how the industry is optimistic.
She concluded by stating, the industry stands ready to continue to help lawmakers craft informed legislation.
Stellar USDC Based $150 million Liquidity Support to On-Chain Projects
Leveraging on-chain assets to support the ecosystem financially is a great way to showcase the value of Stellar. There are several projects building on Stellar.  Thus, creating new pathways for expanding financial inclusion. Stellar are looking to leverage those pathways.
The on-chain assets will help the ecosystem along with the tools that they already have and will continue to add more to the toolbox. To that end, Stellar heard the growing demand from ecosystem partners where debt financing will be able to advance innovative projects, both new and existing, on Stellar.
Denelle Dixon expressed:  We've just moved $150 million on-chain to support the growth and development of the Stellar network.
These on-chain assets will be deployed in support of our mandate with tools we have already been using and a new tool: tailored financing to help ecosystem companies when they need it most.
Think working capital loans to payment companies as an example. Funds will be based in Stellar USDC.
Having USDC at the ready is powerful. It's a tool to swiftly remove roadblocks for fast-growing projects, and clear wider pathways to expand financial inclusion.
The financing based in Stellar USDC is great as it permits near-zero transaction costs and takes nearly 5 seconds to finalize a transaction.
It is possible to see how ecosystem companies will be already leveraging USDC on Stellar worldwide. By moving $150 million worth in USDC on-chain makes it possible for SDF to work with a pool of flexible capital can be deployed quickly to help these projects by tailored financing when they need it the most.
Denelle reinstated on how they are looking to further reinforce Stellar USDC as the "go-to" stablecoin for projects which make use of a digital dollar currency for global settlement.
The Stellar ecosystem are looking for new ways to meet their liquidity needs to further growth. Thus having USDC ready on-chain furthers the support requirements of these companies. Thus, removing roadblocks for the fast-growing projects like enabling cross-border payments and remittances on Stellar, which will ultimately drive toward SDF's goal of expanding financial inclusion and access.
SDF will continually evaluate projects and their potential value to the Stellar network, and based on that funding will be available for different ecosystem needs. This will include working capital loans to payment companies and debt financing for lending businesses.
Community Response: This is awesome, Denelle, but whatever you do, don't accept any invitation from Gary to "come see" him. You'll regret it.
That is great news. With pendulum_chain building the DeFi infrastructure, Stellar will be top-tier network for the next generation of finance.
Pendulum does the job of connecting Fiat to DeFi.
News Source
XLM Price Prediction: Stellar traps bulls as it targets $0.195
Bulls picked up Stellar coins at the monthly S1 pivot near $0.26
Although Stellar price action looks to claw back, a bear trap appears to be forming.
A bull trap would spell bad news for XLM price action that could fall to $0.19
Since Wednesday, the Stellar (XLM) price has been paring back losses, but price action has already started to fade on XLM. Bulls cannot push the price above $0.30, and XLM price has startedto form a bull trap. A further downturn would spell more buyers' headaches as the downtrend would still be intact and attract more sellers to the stage.
Stellar bulls worries as downtrend look to be intact
Stellar price looked to favor the bulls on Thursday as price action in XLM tried to push above $0.30. With the price fading today, it seems as if a bull trap is being formed. Price not getting back above the $0.30 level spells bad news for the buyers in Stellar. As that $0.30 level starts to drift away, buyers will start closing their positions, giving sellers the chance to drive price action further down. With not many supporting factors in the way, expect a retest of the monthly S1 supporting pivot at $0.26.
XLM price will not stop there, and buyers will get stopped out upon the stops that they placed just below the S1 monthly support. As this will prove that the downtrend in Stellar price action is still very much intact, expect a break lower $0.20. With the confirmation of that downtrend, sellers will add short positions along the way as there are few places where buyers will step in between $0.26 and $0.20.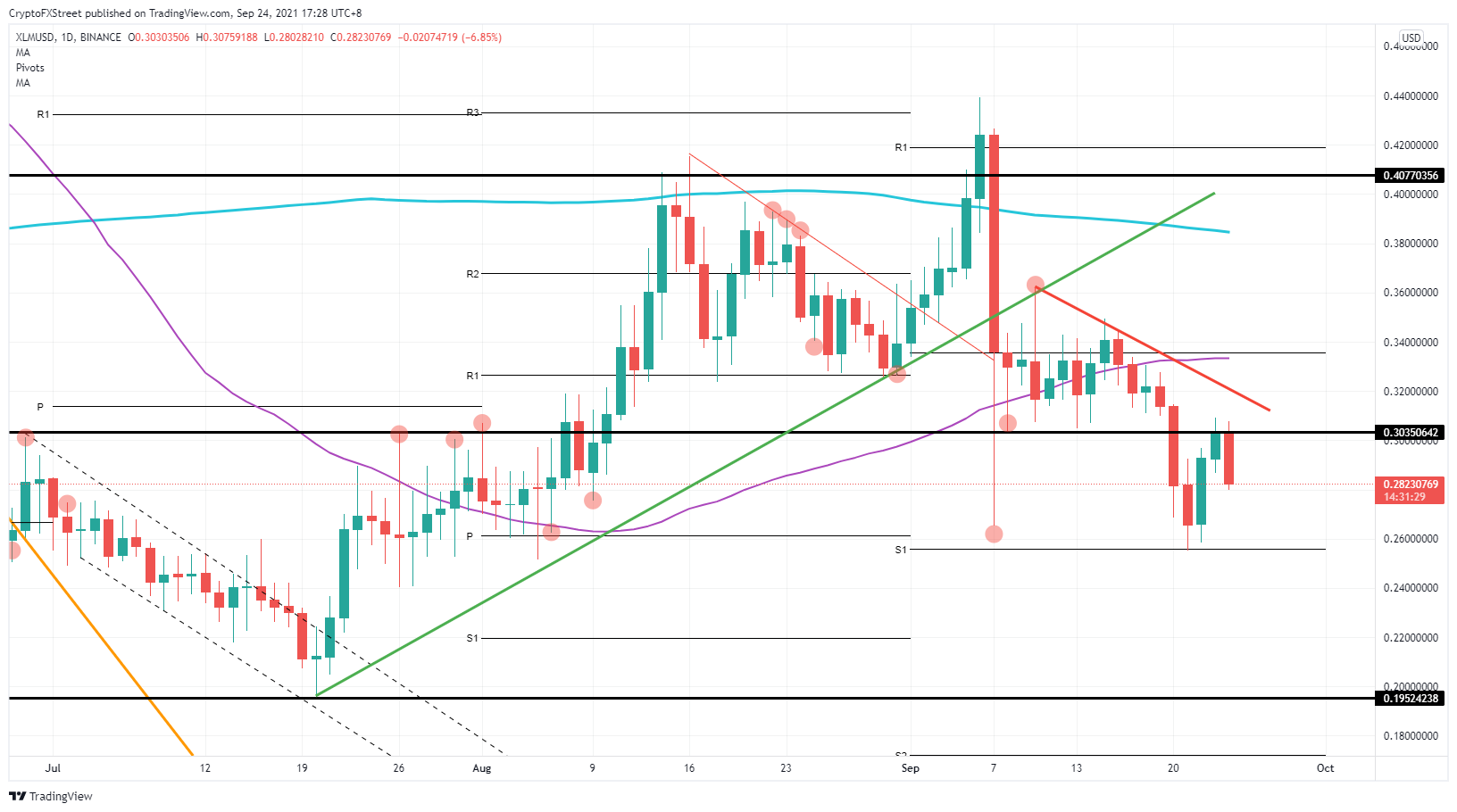 XLM/USD daily chart
Except with the downtrend, sellers stay in charge of the Stellar price until some supporting grounds can be found where buyers might start to go long again when Stellar has been discounted enough in its price. That level looks to be $0.20, which is the low of last summer and has proven its importance on two occasions already. 
Should any favorable tailwind reemerge and XLM push price action back toward the buyers, expect a shift in sentiment back toward $0.30. It would be imperative, however, that a daily or even a weekly close above there is needed to break the downtrend unfolding at the moment.
Stellar-Polygon Bridge Goes Live to Expand XLM Usage in DeFi
NewsCrypto is going to unveil a mechanism to allow Wrapped XLM tokens to get integrated into DeFis on Polygon
NewsCrypto (NWC), a multi-purpose platform for crypto education and development, received a grant from Polygon (MATIC) to create an interoperability protocol between the two networks.
Stellar-Polygon bridge launches with Wrapped XLM
According to the press release shared with U.Today, Stellar (XLM) and Polygon (MATIC), two mainstream smart contracts environments, will be 100% interoperable as the new bridge launches.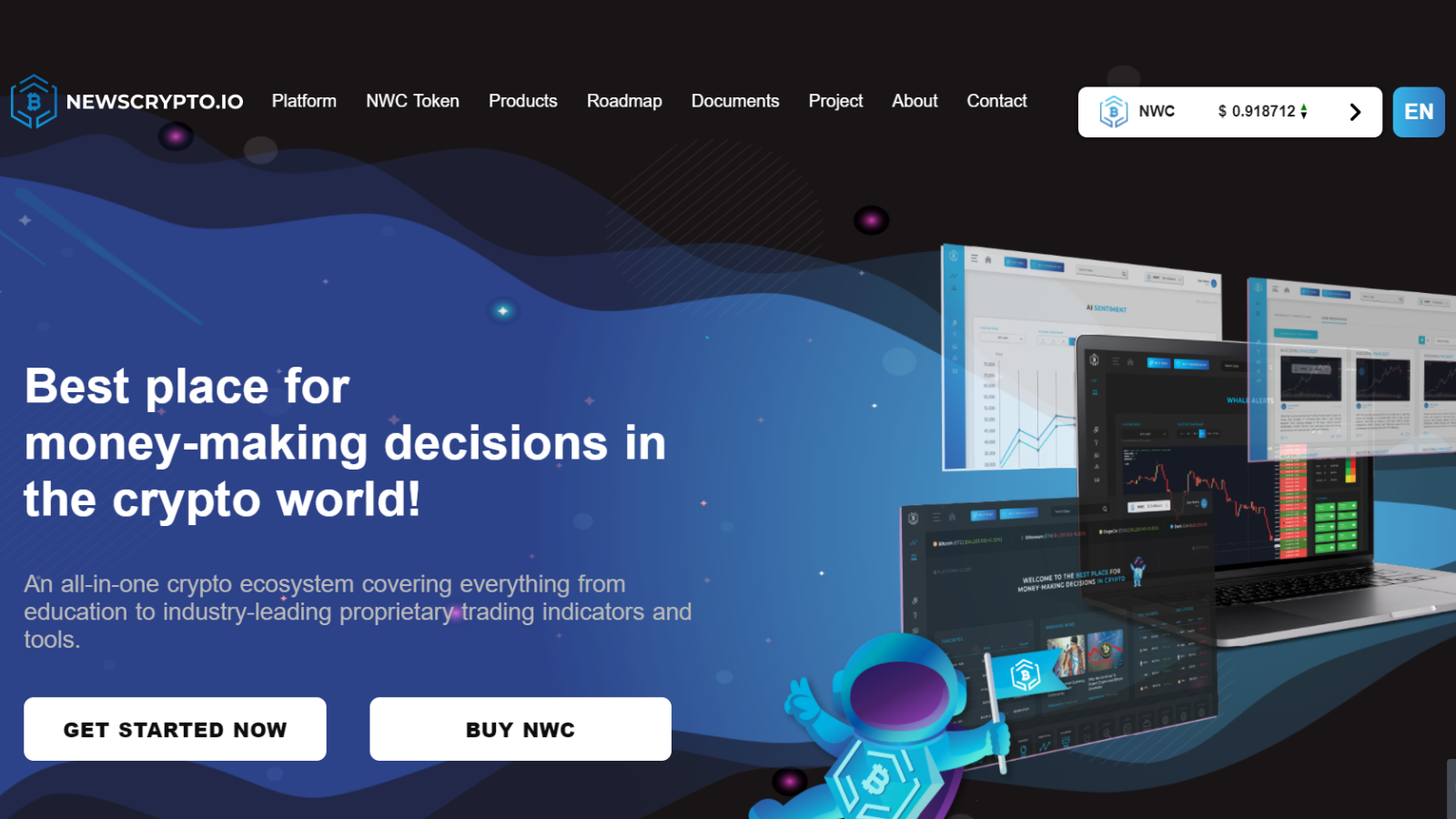 The system, developed by the NewsCrypto (NWC) platform, is backed by a massive developer grant from the Polygon team. To create this bridge, NewsCrypto (NWC) leveraged its unmatched expertise with Stellar (XLM).
The new protocol will support nearly instant swaps with zero fees. Its security design boasts decentralized multi-sig schemes and Chainlink's proof-of-reserve (PoR) module for safe and peer-to-peer interaction of all of its participants.
Recently, the system has undergone a thorough audit by Proxima, a high-profile blockchain security vendor.
$10 billion Stellar (XLM) ecosystem can be used in DeFi
Arjun Kalsy, VP of Growth at Polygon, states that the new instrument will ensure the inflow of liquidity to Polygon-based DeFi ecosystem:
NewsCrypto is looking to deploy their learning solution stack and becoming a part of the Polygon network. With the newest Stellar – Polygon bridge designed and developed by NewsCrypto, the Stellar network community can now transfer liquidity and engage with Polygon's growing ecosystem.
For Stellar, this step will reaffirm its focus on expanding into the DeFi segment. As covered by U.Today previously, with its Project Venus, Stellar devs introduce a new type of smart contract.
Vid Gradišar, CEO of NewsCrypto, emphasizes the paramount importance of this announcement for the progress of DeFi on Stellar (XLM) and Polygon (MATIC):
The Stellar bridge represents an important pivot for us into infrastructure projects. The Stellar ecosystem is criminally underserved by popular interoperability solutions, far less than its capacity would imply. We knew that without us, it would've stayed the same, so we went ahead and connected the $10 billion XLM ecosystem to DeFi on Polygon.