Exclusive: Data wizard talks what to expect this weekend for BTC as $50K resistance persists
As we get into the weekend, Bitcoin is once again approaching $50,000, a resistance level beyond which it can't seem to break, as expert opinion remains divided.
One data wizard has told CNF that he expects a brief dip before Monday, but this will be quickly offset by the continued interest, especially from professional investors.
---
The weekend is here. And while this signals joy, relaxation, time with family and bliss all around, it's a period of anxiety for Bitcoin traders. Weekends have been known historically to bring bad tidings, with the top cryptocurrency sometimes shedding up to 10 percent in two days.
Bitcoin is trading just above $49,000 and seems ready to once again test the $50,000 resistance level. One expert told CNF that he expects a brief dip over the weekend, but BTC will once again pick up the pace in the new week.
For the past two weeks, Bitcoin has been trading in a range between $45,000 and $51,000. Every time it has seemed to pick up momentum and ready to break past this range, it has been rejected at critical levels and retraced. On August 16, it was rejected at $48,000 and retraced to $44,000. It again picked up the pace and after testing $50,400, it was once again rejected and lost over $3,700.
BTC has once again picked up the pace and is approaching $50,000. In the past day, it has gained over $1,600, or 3.5 percent to trade at $49,050 at press time. It has set an intra-day high at $49,283, even as the trading volume has dropped slightly, expectedly so for a weekend.
A brief Bitcoin dip over the weekend
These price turns, especially the drops, are not unexpected. However, according to Yuri Mazur, the head of data analytics at CEX.IO Broker, a platform that offers cryptocurrency trading via CFDs, they can have a drastic effect.
Speaking to CNF, Mazur, who previously served for a decade as the head of portfolio at Ukraine's Prominvest Bank, stated:
While the current reversal is not uncommon with sharp price runs, it can send a signal to weaker hands to sell off, and usher in an avalanche that might lead to a fall-off to the $40,000 price level.
However, despite this, Mazur pointed out that "Bitcoin's fundamentals have never been stronger." Citing a Chainalysis study, he observed that the number of whales (those with at least $50 million in BTC) has especially gone up.
"These accumulations contribute to reducing the overall scarcity of Bitcoin in supply as these whales are known to HODL for the long term," he told CNF.
He added:
The current Bitcoin mining difficulty is also gradually returning to the levels it was before the China ban set in. With increasing difficulty, the attractiveness of mining reduces in theory, limiting interest and the number of coins generated. All these events are bound to have a direct impact on the price of the asset in the long term.
Weekends are known for price drops historically, and this may not be too different, the data wizard believes. However, even then, this may end up presenting an opportunity for the whales to continue the accumulation they began in July.
"If it happens, even a very massive price drop will be temporary as an imminent recovery will be ushered in the coming days," he noted.
Shrinking Bollinger bandwidth signals trouble
There's a lot that's going for Bitcoin, from an astronomical 9x rise in adoption and skyrocketing wallet addresses to more countries such as Cuba acknowledging it.
However, there are some red flags as well. One of these is mapped out by a popular technical indicator that looks at an asset's volatility to predict future price movements – Bollinger bands. This statistical chart was put forward by John Bollinger in the 80s.
John took to Twitter this week to point out that Bitcoin's Bollinger bands are narrowing (as can be seen in the chart below).
Time to pay attention: $BTCUSD Watch carefully, maybe take some profits or hedge a bit… Aggressive traders can think about putting out some shorts. Hodlers can look can look at add at lower levels if we see them. No confirmation yet, just be on the alert. #Bitcoin— John Bollinger (@bbands) August 24, 2021
This indicates that Bitcoin is facing a resistance zone between $50,000 and $51,000. The defining level for the king of cryptocurrencies is in the middle line of the Bollinger bands, somewhere in the $46,000 level, and should BTC close for consecutive sessions below this, it will almost certainly drop to the $40,000 level, at least according to chartists.
Elsewhere, top traders seem unfazed by such bearish outlooks and are increasingly longing BTC. Data from Bybt, a cryptocurrency derivatives data analytics platform, shows that most top traders from a number of the top exchanges are reducing their shorts and/or adding to their longs on BTC.
Top traders on OKEx and Huobi have all become increasingly bullish on BTC, with the long-to-short ratio on these exchanges rising in the past few days. On Binance, however, this metric has remained just bearish.
Top Analyst Maps Bitcoin and Cardano Price Trajectories, Warns Best Entry Point for ADA May Be Gone
Top Analyst Maps Bitcoin and Cardano Price Trajectories, Warns Best Entry Point for ADA May Be Gone
Crypto trader Michaël van de Poppe is looking at what's ahead for Bitcoin (BTC) and the smart contract platform Cardano (ADA).
The analyst tells his 420,000 Twitter followers that the best entry point for Cardano may be gone after the asset bounced off a key support level at $1.86.
"If you want to get into Cardano, this was the region where you would want to get into it, and the higher low that might be created.
So based on the daily timeframe, the best entry might be gone, but you're still getting a better entry than the ones who have been buying around $2.80."
Van de Poppe is now looking to see if ADA can turn resistance at the $2.37 level into support.
If the markets correct further, he is keeping an eye on the $2.15 level as a potential buy zone.
"When you're looking at the four-hour time frame, I think you're getting the exact same view as what you have right now on Bitcoin and [Ethereum], actually. So you're going to look for an entry point which is around the fact of $2.15, so anything in this region might be a good entry point if we get a corrective move."
Looking at the Bitcoin pair, van de Poppe thinks that ADA will most likely consolidate briefly after retesting support at its previous all-time high.
"We can see that we've had a beautiful retest of the previous high here too, and therefore some consolidation is most likely going to take place before we're going to have new impulse waves.
So both the USDT and BTC pair are looking for continuation, and I think that's just great, and I think that's just what we want to see with the markets right now."
Bitcoin Maintains $42K Amid the China FUD: Cardano the Only Top 10 in Green (Weekend Watch)
Bitcoin has managed to recover around $2,000 since yesterday's low after China reminded once again about its hostile stance against crypto.
Yesterday the crypto markets went through another bloodbath initiated once again by China. Bitcoin dumped by $4,000 in minutes but has managed to complete a partial recovery as of now. Most altcoins suffered even more, and some have failed to bounce off decisively, including ETH, which still stands below $3,000.
Bitcoin's Recovery Attempt
The past few days were actually going well for the primary cryptocurrency. It had recovered from the sub-$40,000 price drop and added several thousand dollars of value.
This culminated in yesterday's retest of $45,000, which became a multi-day high. At this point, though, when the bulls were preparing for another price surge, China's central bank decided to remind the world of its hostile policy against the cryptocurrency industry.
The institution's latest statement, which was reportedly published a few weeks prior, prohibited financial organizations, payment companies, and internet platforms from facilitating cryptocurrency trading.
As it typically happens when China goes after the digital asset space – prices tumble immediately. Bitcoin went down hard as it lost more than $4,000 in an hour.
Forecast: What future for Bitcoin in 2025?
While the most famous cryptocurrency is below $ 45,000, the question of the long-term future of Bitcoin is increasingly questioning investors. If the development of the cryptocurrency market is undeniable and could have a positive effect on the price of the token, other variables must also be considered. Foremost among which are climate and regulatory issues. Overview of the various opinions on the price of Bitcoin in 2025!
Bitcoin: The Climate and Regulatory Threat
It's no secret that Bitcoin is often mocked for its carbon footprint. A colossal carbon footprint which is mainly linked to its mining protocol: the famous Proof of Work. This protocol is based on increasing the difficulty of mining and has the direct consequence of requiring ever more energy-consuming devices. In terms of energy consumption, the Bitcoin problem has also been raised for many years. This trend could increase in the months and years to come. This debate therefore gives rise to fears of a possible drop in the price of the token.
But Bitcoin could also vary due to regulatory changes. This element could then affect the entire crypto sector. Many organizations are also calling for the creation of a common regulatory framework around digital currencies. But the threat of an outright cryptocurrency ban seems highly unrealistic. Among the questions about the future of Bitcoin's price, we can also highlight the deployment of CBDCs, the famous digital currencies of central banks. An element that could precisely push the authorities to legislate on cryptoassets.
The rise of DeFi is also an axis to be considered. Ethereum and other protocols could then be favored in an arbitration with Bitcoin. But this scenario shows some limitations. Indeed, most of the predictions which estimate that the price of Ethereum could explode assume a BTC which would have exceeded 6 digits. These estimates then tend to show that a high Ethereum also necessarily goes through a healthy Bitcoin.
Feedback on the Bitcoin price
The following graph shows the price of Bitcoin over the last 5 years.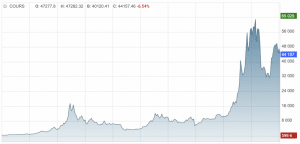 Graphically, we see that the enthusiasm has been extremely strong. If we spoke of an explosion in the price of the asset in 2017, this episode of several months could today pass for an epiphenomenon. However, it was indeed the major trigger for the craze and a tremendous accelerator for the development of digital currencies.
While it was listed at 547 euros at the end of September 2016, the asset is now above 41,000 euros. In the space of 5 years, its price has multiplied by nearly 80. If Bitcoin were to experience the same trajectory in the next 5 years, the price of the asset could then exceed $ 3 million. This would value Bitcoin to the tune of $ 69 trillion, more than 3 times the GDP of the United States and barely below the global GDP. It is difficult, if not impossible, to imagine a Bitcoin at this level by 2026.
Future of Bitcoin: What about Prediction Algorithms?
Based on the prediction algorithms, the data appears to be quite positive. According to the models developed by DigitalCoinPrice, the future of Bitcoin could be written loud and colorful. Assets would exceed the $ 100,000 mark in the course of 2024. For the end of 2025, the platform's algorithms are counting on the probable scenario of a Bitcoin above $ 130,000.
TradingBeasts, which only offers predictions until 2024, is more cautious. The platform predicts that the price of the most famous cryptocurrency could exceed $ 56,000 in December 2024. In an estimated price range of between $ 48,000 and $ 70,000. On the side of WalletInvestor, optimism is also de rigueur. The site's models estimate that Bitcoin will likely end up nearing $ 177,000 by the end of 2025. In a price range between $ 157,000 and $ 198,000. This equates to price approximately 4 times higher than the current price.
Bitcoin Price: Large and Heterogeneous Estimates
Bloomberg estimates that the token could exceed the $ 100,000 mark by 2025. Raoul Pal, former Goldman Sachs and current head of Real Vision is even more optimistic about the future of Bitcoin. According to him, a token could be exchanged for nearly a million dollars by 2025.
Other players in the stock market or the world of cryptocurrencies believe that Bitcoin could experience some form of crash. Without measuring or evaluating the consequences.
Nevertheless, over a fairly long horizon, the predictions obviously remain very uncertain. A time factor which largely explains the significant differences that may exist between the forecasts of each actor. Some forecasts also seem to be guided by self-interest. Either way, some form of positive consensus seems to be forming over the long-term future of Bitcoin.