Ethereum Bullish Prediction: ETH Is Ready For A Massive Move
There have been all kinds of optimistic crypto predictions these days, and they continue despite the volatile crypto market.
Check out the latest predictions about Ethereum.
Altcoin Daily host Aaron Arnold recently said that he believes Ethereum (ETH) is poised for a massive move up amid exponentially strong fundamental growth.
In a new video, Arnold revealed that Ethereum is going through a supply shock courtesy of the EIP-1559 update.
Just in case you don't know, this will permanently remove a certain amount of ETH from the circulating supply each time a transaction is processed.
"The Ethereum block space is getting used and because Ethereum changed its monetary policy, an insane amount of ETH is getting burnt, over 100,000 ETH due to NFTs platform, DEXs (decentralized exchanges), DeFi (decentralized finance), play-to-earn [games], stablecoins."
Low annual inflation rate
Another reason for why Arnold is bullish on Ethereum is due to its low annual inflation rate.
"For the first time, Ethereum's daily issuance was actually lower than that of Bitcoin. So understand this: ETH's net inflation was 1.1% annualized and Bitcoin's net inflation was 1.75% annualized."
Arnold is also looking at the explosion of the total value locked (TVL) in decentralized finance (DeFi) platforms.
It's been revealed that the amount of capital locked in DeFi puts Ethereum in a position to compete as one of the largest banks in the world.
"Ever since the beginning of the year, the total value locked in DeFi, which is primarily Ethereum, has gone exponential. On January 1st, the beginning of the year, total value locked was [a] modest $16 billion. Seemed like a lot at the time. Today, that number is now a staggering $85 billion. This would place ETH as the 20th largest bank in the world by market cap."
Regarding the price of ETH at the moment of writing this article, ETH is trading in the red and the coin is priced at $3,190.
Ethereum Price Analysis: ETH tests $3,150 resistance, a breakout to follow?
Ethereum price analysis is bullish today.
ETH/USD continued to move higher overnight.
ETH is likely to pause before breaking higher.
Ethereum price analysis is bullish today as bulls pushed the market price to the $3,150 resistance after a strong rally yesterday. Therefore, we expect ETH/USD to break higher later today and finally set a new higher high.
The overall market traded with a bullish momentum over the last 24 hours. Bitcoin is up by 1.6 percent, while Ethereum has gained 4.47 percent. Meanwhile, Solana (SOL) is the best performer today, with a gain of 10 percent.
Ethereum price movement in the last 24 hours: Ethereum tests $3,150 previous high
ETH/USD traded in a range of $2,976.34 – $3,163.67, indicating a substantial amount of volatility over the last 24 hours. Trading volume has declined by 13.33 percent and totals $18.85 billion, while the total market cap trades around $365.4 billion, resulting in the market dominance of 18.75 percent.
ETH/USD 4-hour chart: ETH ready to set higher high?
On the 4-hour chart, Ethereum price action can be seen to look for a breakout above the previous high of $3,150 as bulls have regained control.
The overall market continued to trade in a bearish momentum last week. After a new lower high was set around $3,650, ETH/USD dropped more than 25 percent until support was found around $2,750.
What followed was a reaction higher, with the previous major support of $3,150 retested as resistance. What followed was another spike lower on Friday, with a slightly higher low set this time.
Yesterday, the $2,750 support was tested for the third time, with a subsequent rally to $3,150 resistance over the last 24 hours. Overall, we can expect exhaustion for bearish momentum, likely leading the Ethereum price higher over the next 24 hours.
Ethereum Price Analysis: Conclusion
Ethereum price analysis is bullish for today as bulls pushed higher overnight, and the $3,150 resistance currently gets tested. Therefore, ETH/USD should see further upside above the $3,150 resistance later today.
While waiting for Ethereum to move further, read our guides on NFT Games, CoinJar, as well as Bitcoin Memes.
1/3 of Ethereum Supply Has Been Moved Out of Exchanges in Span of One Year
Ethereum is being moved away from centralized exchanges, and DeFi might be one of the reasons
According to data presented by Santiment, 1/3 of the circulating Ethereum supply has been moved from exchanges to personal wallets. From Sept. 26, 2020, to this day, the circulating supply has been reduced from 24% to 16%, totaling an 8% loss in a year. The main reason for such a trend is the update of the coin's network and a rapid price increase.
Ethereum price increase
Accumulation periods usually accelerate after the price of an asset has rapidly increased, which makes investors move funds away from the exchange since they are not willing to sell them. Traders usually hold money on exchanges whenever they are willing to sell their assets.
Since Sept. 2020, when exchange supplies have started to decrease, the Ethereum price has risen by almost 1,000%, with the average entry being $1,800-$2,000 on the network. The majority of Ethereum holders are currently holding their coins with a 69% profit.
The period of accumulation is considered over after on-chain data started reflecting a rapid exchange inflow increase. Usually, after the accumulation period is replaced by spending cycles, the price of underlying assets drops significantly.
Alternative investment options presented
Compared to the previous 2017 bullrun, Ethereum has stepped further in development with the announcement of various alternative investment options like liquidity provision and lending. That is why, in some cases, investors choose to reinvest their coins rather than keeping them on exchanges or selling them.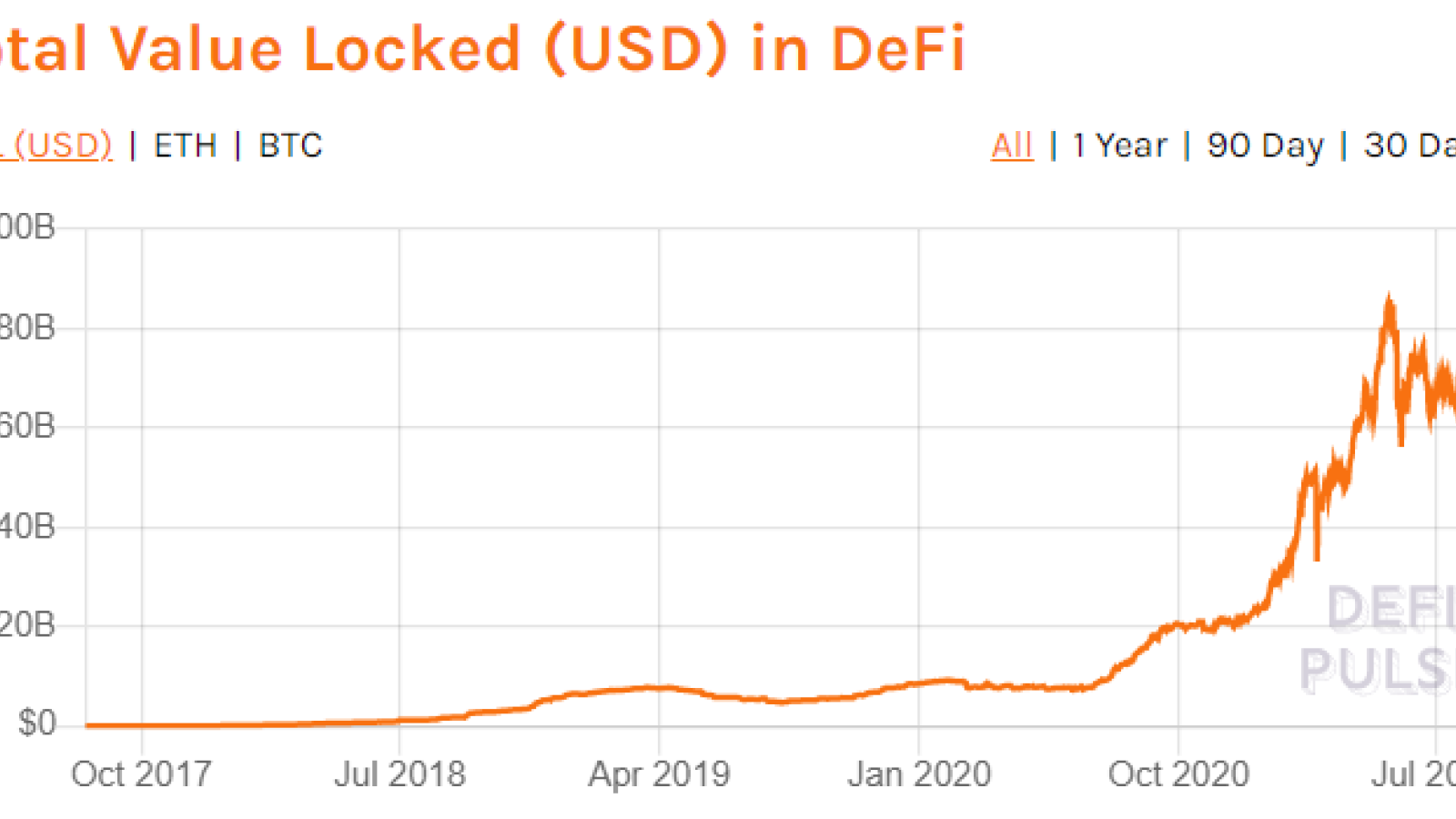 The total value locked in the DeFi industry is currently staying at $85 billion, with a $95 billion TVL ATH reached on Sept. 6. The current trend indicates that Ethereum holders prefer holding their assets in either personal wallets or DeFi smart contracts, rather than exchanges.
ETH Price Analysis: A Slowing Mid-Term Bearish Trend Hints Bullish Comeback for Ethereum
The ETHUSDT price finally slumps by roughly 21% after trading within an expanding channel formed by a bearish and bullish divergence setup on 03 Sep '21 16:00 and 05 Sep '21 04:00.
This price move was eventually felt on the Daily time frame ending the mid-term uptrend trend bias, and a transition into a downtrend. A first attempt by the bulls gave in to another 25% sell off that started on 17 September '21 20:00.
ETHUSDT 4 Hr Chart
Bullish and Bearish Scenario
The recent bullish divergence on 21 Sep '21 20:00 led to a slowing of the earlier price drop and a possible hike in the ETH price may just be around the corner. Negative statements towards cryptocurrency transactions by China's Central Bank (PBOC ) appears to be losing steam and traders may start scaling up a buy position after an advance above the $3174.50 resistance.
On the other hand, a breach of the $2,652.00 support may hint continuation of the down trend.
ETH Intraday Levels
Spot rate: $2916.71
Trend: Bearish bias
Volatility: Low
Support: $2652 and $2733
Resistance: $3676.28 and $3174.50