Polygon (MATIC) Price Fails to Break Major Resistance Zone, Can MATIC Break $2?
MATIC price has fallen -15% over the last week
MATIC Price is attempting to break below mid term trend
25 day MA is acting as support
Road to $2 MATIC?
MATIC price had an amazing run in the first half of this year as prices rose nearly 16,000%. Since the cryptocurrency market had its 2 month correction, MATIC has been attempting to reach previous levels traded at in May. Only a few alt coins have set new ATHs since the low was recorded on July 20th.
If BTC & ETH decide to breakout to the upside, we may see MATIC price & other alt coins reach new all time highs. MATIC has been trading along with the majority of the market, closely following ETHs moves.
Since MATIC price bounced off its low on July 20th, price has been riding a trend line ever since. At the time of writing, MATIC is trading right above this trend line. If bulls assert their dominance & push MATIC price off this line, it may have a shot a breaking to the upside. Firstly, bulls must break & hold the major resistance found at $1.52.
If this is deemed successful, MATIC will then have to battle it out at its major resistance zone of $1.63-$1.72. If bulls clear both of these marks, we should see MATIC trading around $2.00.
MATIC Price Analysis: MATIC/USDT 1 Day Chart
Live Chart
At the time of writing, MATIC price is hanging out within its major support zone of $1.38-$1.47. Price must hold this mark to have a shot at reaching its given targets. In the case that bulls fail to break & hold the important resistance marks, we should expect a break of this major support zone. Breaking this zone will also break below the mid term trend line that price has held for nearly 4 weeks. In addition, the 25 MA has held as support for over a month & this MA is directly in line with the mid term trend line. If this break occurs, expect MATIC price to fall into its major support zone around $1.20.
While looking at the Stochastic RSI, we can see strength has just slowly reset to oversold conditions over the last 2 weeks. As long as strength can push back out of the oversold region & break over the 50 value, we should expect a strong revival off the current trend line. While looking at the MACD, we can see how it just crossed bearish & the histogram started to tick red. If the MA's continue down & break below the 0 value, we may see MATIC price fall to the $1.20 region.
MATIC Intraday Analysis
Spot rate: $1.14
Trend: Neutral
Volatility: High
Support: $1.38
Resistance: $1.47
MATIC price defends 200-DMA as Polygon bears keep $0.95 in sight
MATIC price is testing bullish commitments at the critical 200-DMA.
Polygon needs a sustained move above the 100-DMA to negate the bearish bias.
Bearish crossover and RSI suggest that the downside remains favored for MATIC.
MATIC price is consolidating the swift recovery seen on Friday following the crash to the pivot support just above the $1 mark.
Despite the volatile trading, MATIC price remains in a familiar between $1.30-$1 seen so far this week.
At the moment, MATIC bulls are looking to extend the previous recovery momentum, snapping the two-day downswing from three-week highs of $1.273.
It's worth adding that Polygon is in a downside consolidative mode, awaiting a strong bearish catalyst to yield a sustained move below the $1 mark.
MATIC/USD: Rejection above 100-DMA recalls sellers
From a short-term technical perspective, the downside appears more compelling for MATIC price, especially after the bulls failed to resist above the 100-Daily Moving Average (DMA) at $1.21 over the last two trading sessions.
The bear cross, represented by the downward-pointing 21-DMA having pierced the slightly bullish 50-DMA from above on Thursday, adds credence to the additional weakness in Polygon while the 14-day Relative Strength Index (RSI) trades flat-lined below the 50.00 threshold.
That said, MATIC bears need a daily candlestick closing below the critical upward-sloping 200-DMA at $1.05 to resume the correction from three-month tops of $1.875.
Sellers will then target the horizontal (dashed) trendline support at $0.95 on intensifying downward pressure.
Further south, the $0.85-$0.80 demand area could come to the rescue of MATIC bulls.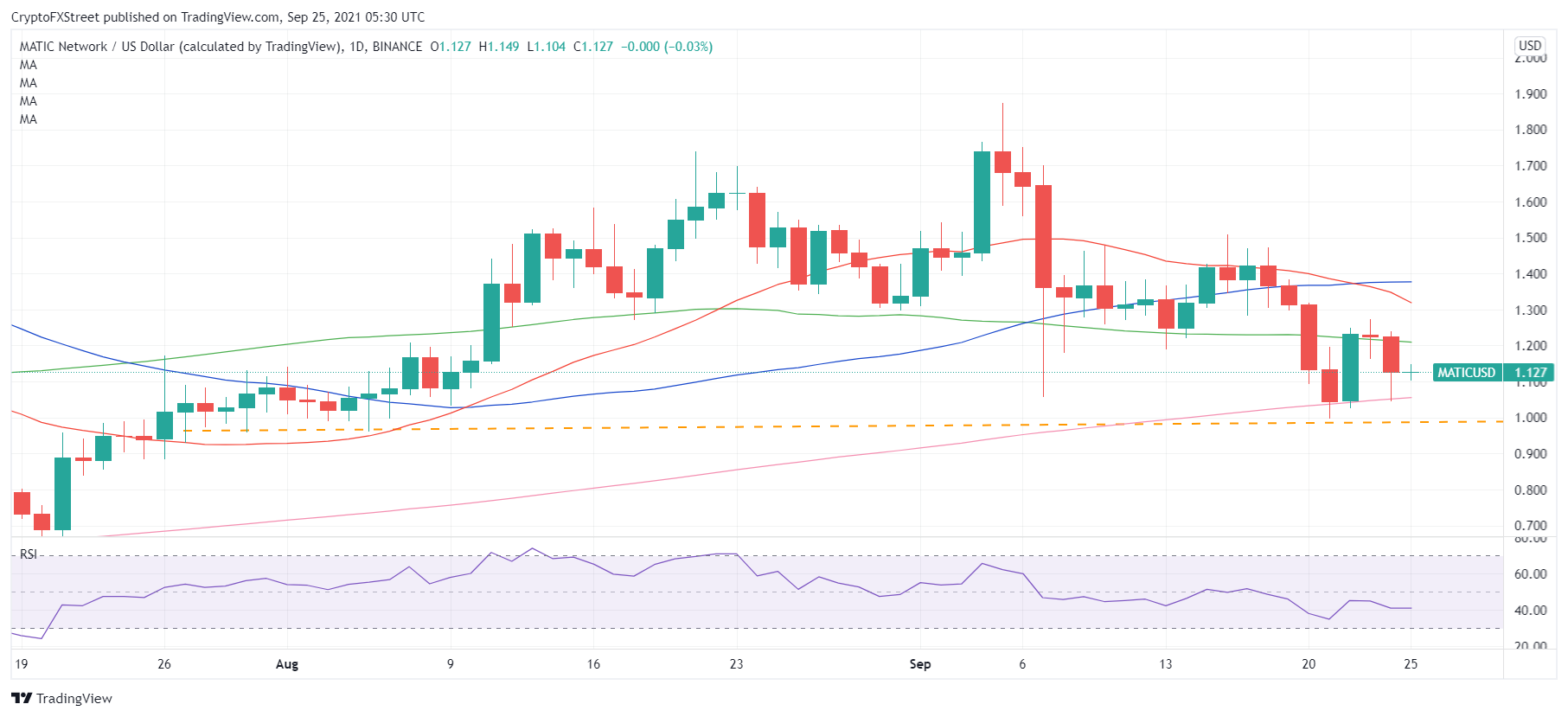 MATIC/USD: Daily chart
On the flip side, a firm break above the 100-DMA is needed to negate the near-term bearish momentum.
The bearish 21-DMA at $1.32 could keep the further upside elusive in MATIC price. The next relevant upside barrier is envisioned at the ascending 50-DMA at $1.38.
Polygon Price Analysis: MATIC moves lower again, rejection is seen at $1.05
Polygon price analysis is bullish for today.
MATIC/USD rejects further downside at $1.05.
Polygon is ready to move higher.
Polygon price analysis is bullish today as a further downside was rejected yesterday after an intense bearish pressure. Therefore, we expect MATIC/USD to see reversal last weekend, with bulls likely targeting the $1.25 mark next.
The cryptocurrency market traded with mixed results over the last 24 hours. The market leader, Bitcoin is up by 0.15 percent, while Ethereum remains almost flat, with a small loss of 0.01 percent. Tezos (XTZ) is the best performer from the major altcoins, with a gain of 8.5 percent.
Polygon price movement in the last 24 hours: Polygon retests previous low above $1
MATIC/USD traded in a range of $1.09 – $1.15, indicating mild volatility over the last 24 hours. The total trading volume has decreased by 10.94 percent and totals $769.3 billion. Meanwhile, the total market cap trades around $7.5 billion, ranking the coin in 21st place overall.
MATIC/USD 4-hour chart: MATIC ready to reverse?
On the 4-hour chart, we can see another rejection for the downside, indicating an upcoming reversal.
Polygon price action has traded with strong volatility so far this month. After the market price peaked at around $1.80 on the 6th of September, a drop of more than 30 percent followed.
Support was eventually found around $1.25. MATIC/USD consolidated above this support for several days as it attempted to reverse. However, after an upsurge to $1.50 last weekend, another strong drop followed on Monday.
This time, the Polygon price action found support above the $1 mark, with a reaction forming a lower high at $1.25. Yesterday, another retest of the previously set low was made, with bulls quickly picking up selling pressure above $1.05.
Polygon Price Analysis: Conclusion
Polygon price analysis is bullish today as the market saw another rejection for further downside yesterday after a strong bounce from the $1.25 resistance. Therefore, we expect a reversal to follow, which likely will lead the Polygon price action to set a higher high next.
While waiting for Polygon to move further, read our guides on Decentralized Exchanges, NFT Crypto, as well as Bitcoin Memes.
Stellar-Polygon Bridge Goes Live to Expand XLM Usage in DeFi
NewsCrypto is going to unveil a mechanism to allow Wrapped XLM tokens to get integrated into DeFis on Polygon
NewsCrypto (NWC), a multi-purpose platform for crypto education and development, received a grant from Polygon (MATIC) to create an interoperability protocol between the two networks.
Stellar-Polygon bridge launches with Wrapped XLM
According to the press release shared with U.Today, Stellar (XLM) and Polygon (MATIC), two mainstream smart contracts environments, will be 100% interoperable as the new bridge launches.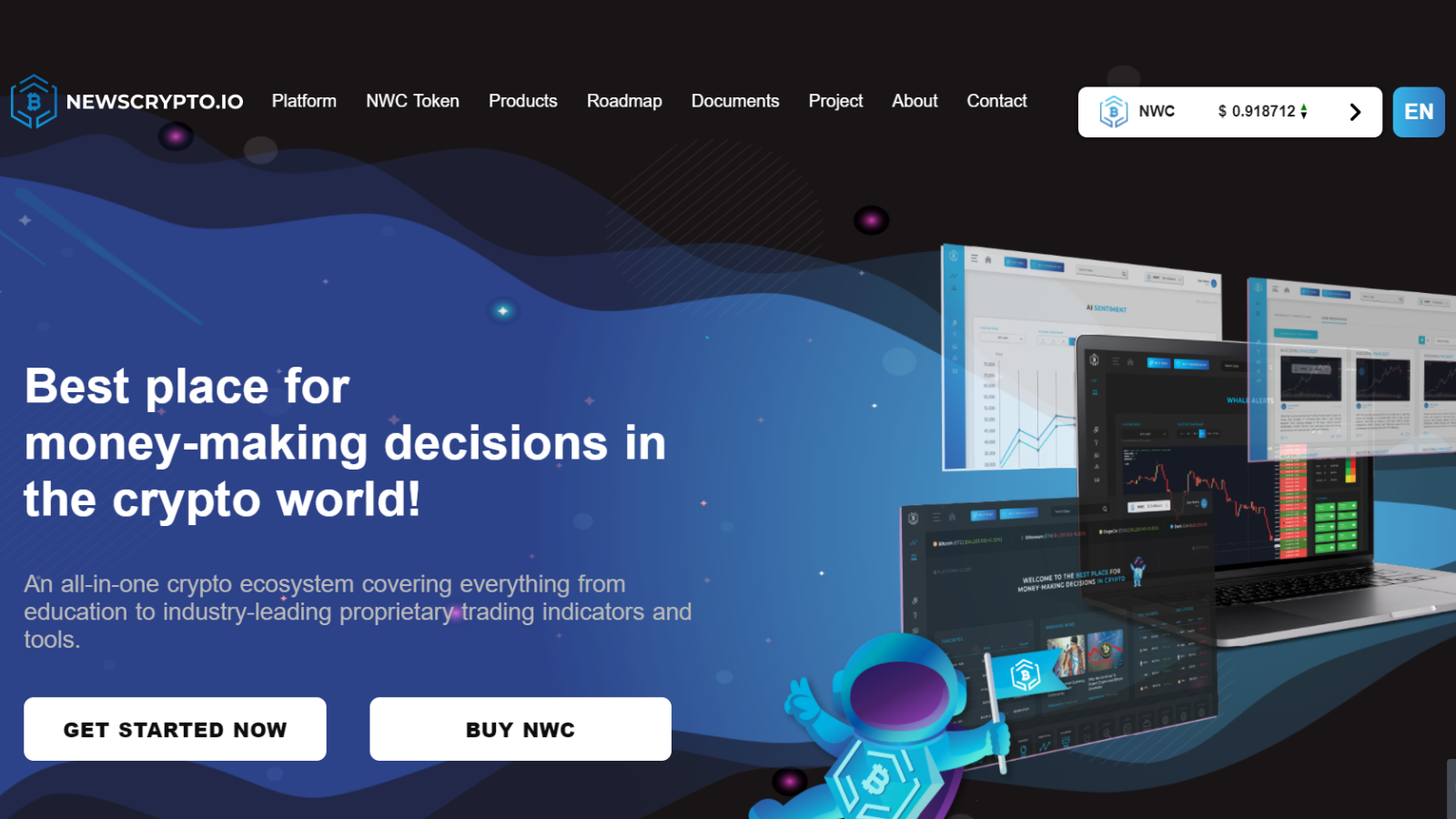 The system, developed by the NewsCrypto (NWC) platform, is backed by a massive developer grant from the Polygon team. To create this bridge, NewsCrypto (NWC) leveraged its unmatched expertise with Stellar (XLM).
The new protocol will support nearly instant swaps with zero fees. Its security design boasts decentralized multi-sig schemes and Chainlink's proof-of-reserve (PoR) module for safe and peer-to-peer interaction of all of its participants.
Recently, the system has undergone a thorough audit by Proxima, a high-profile blockchain security vendor.
$10 billion Stellar (XLM) ecosystem can be used in DeFi
Arjun Kalsy, VP of Growth at Polygon, states that the new instrument will ensure the inflow of liquidity to Polygon-based DeFi ecosystem:
NewsCrypto is looking to deploy their learning solution stack and becoming a part of the Polygon network. With the newest Stellar – Polygon bridge designed and developed by NewsCrypto, the Stellar network community can now transfer liquidity and engage with Polygon's growing ecosystem.
For Stellar, this step will reaffirm its focus on expanding into the DeFi segment. As covered by U.Today previously, with its Project Venus, Stellar devs introduce a new type of smart contract.
Vid Gradišar, CEO of NewsCrypto, emphasizes the paramount importance of this announcement for the progress of DeFi on Stellar (XLM) and Polygon (MATIC):
The Stellar bridge represents an important pivot for us into infrastructure projects. The Stellar ecosystem is criminally underserved by popular interoperability solutions, far less than its capacity would imply. We knew that without us, it would've stayed the same, so we went ahead and connected the $10 billion XLM ecosystem to DeFi on Polygon.