Did the SEC Allow Employees To Trade XRP? Ripple Files Motion To Get Answers
Ripple's legal team has filed a motion to compel the U.S. Securities and Exchange Commission (SEC) to reveal whether it allowed its employees to trade XRP.
The SEC requires its employees to seek clearance before they trade any security. However, according to Ripple's motion, the SEC had not adopted any policy restricting its employees from trading digital assets prior to January 2018.
That month, the regulator reportedly released a policy stating that digital assets could be subject to existing prohibitions against securities transactions, but it didn't specify which assets – if any – would be classified as securities.
Ripple's lawyers argue this internal policy indicates that the SEC, at least until January 2018, had not concluded that sales and offers of XRP were securities transactions.
"That fact undermines the SEC's allegations that the Individual Defendants were reckless in failing to determine as early as 2013 that offers and sales of XRP were securities. Likewise, it supports Ripple's fair notice defense: that the SEC itself had not concluded that sales and offers of XRP were transactions in securities is evidence that market participants lacked the requisite fair notice that XRP later would be deemed a security."
The motion also notes that the SEC's legal team has indicated the regulator eventually did prohibit its employees from trading XRP, but not until March 2019, when it issued a "formal order of investigation" on Ripple.
Ripple wants to see whether any employees requested to trade XRP in the period when there wasn't a clear policy on the asset, and what the SEC allowed or didn't allow them to do. The San Francisco-based company also requested the same information about Bitcoin (BTC) and Ethereum (ETH).ADVERTISEMENT
Ripple's lawyers say they are happy to accept anonymized documents to protect SEC employees' privacy, or, alternatively, an aggregated summary indicating how many preclearance trades were made and how many were approved or rejected.
"Defendants are entitled to know whether the SEC permitted its own employees to sell, buy and hold XRP as market participants during the very period the SEC now claims that Defendants violated the law and acted recklessly by selling XRP. Defendants are entitled to know whether the SEC ever prohibited its employees from trading XRP and if, as the SEC has orally suggested, that occurred for the first time only in March 2019."
The SEC filed a lawsuit alleging Ripple offered XRP as an unregistered security last December.
Ripple Shifts 33.8 Million to Huobi in Past 2 Weeks, After Allocating 100 Million XRP for It
Ripple fintech firm has sent almost 40 million XRP to Huobi since October began from the 100 million allocated for it in the first place
Data provided by the analytics platform Bithomp that works with XRP transactions, over the past eighteen days, Ripple distributed ledger tech provider has shifted 33,805,080 XRP to the major digital exchange Huobi.
One third of Ripple's 100 million XRP shifted to Huobi
This amount of crypto equals to $38,790,225. The size of weekly transactions has been changing since September 29, when Ripple allocated a whopping 100 million XRP lump to be sent to Huobi in regular transfers – it started as 1,542,780 XRP, continued as 2,309,580. So far, Ripple is moving 1,911,150 XRP lumps to Huobi.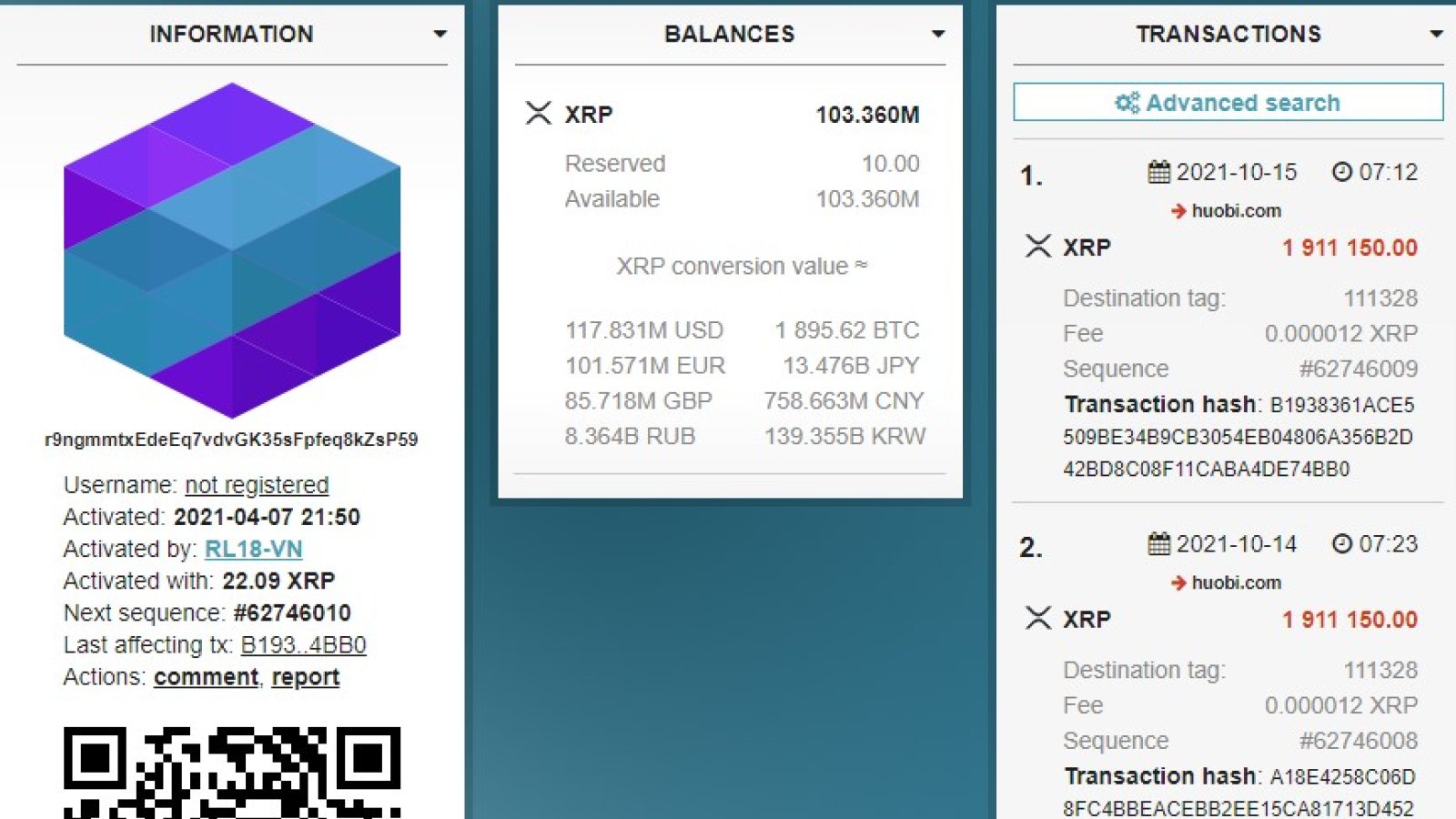 The exchange has recently announced its withdrawal from mainland China and by December 31 it plans to stop crypto trading against CNY.
XRP becomes number one choice for UK retail investors
At the time of writing, the sixth largest cryptocurrency, XRP, is changing hands at $1.15, showing a mild rise of 2.54 percent, as per the data provided by CoinMarketCap.
As reported by U.Today earlier, a recent report by a leading trading platform eToro stated that the majority of retail crypto investors in the UK now prefer XRP as their top asset. Cardano's ADA is the second favorite.
Ripple Labs has recently joined the Digital Pound Foundation to help UK authorities work the CBDC they are developing – digital pound sterling.
XRP is UK's most popular crypto as analyst expect massive gains
In a recent report by the eToro trading platform, XRP emerged as the most popular cryptocurrency in Q3 2021.
Ripple has partnered with Digital Pound Foundation to support the creation of the UK's central bank digital currency, the "Digital Pound Sterling."
Analysts are bullish on XRP price, predicting a big move in altcoin within the next two days.
In the third quarter of this year, XRP became the number one cryptocurrency in the UK, according to social trading platform eToro. XRP holders are bullish on the proceedings in the SEC v. Ripple case.
Analysts predict a big move in XRP, bullish on the new partnerships
eToro, the social trading platform, recently revealed that XRP is UK's most popular cryptocurrency, followed by Cardano (ADA). Crypto traders in the UK have put more funds in XRP than any other crypto in Q3 2021.
The year-on-year increase in XRP price is over 100%; despite higher gains in Bitcoin and Ethereum, traders held on to XRP for its volatility and risk-adjusted returns. 
Interestingly, XRP has witnessed a spike in retail and institutional adoption over the past few months. Ripple collaborated with the Digital Pound Foundation and prepared to work in line with the firm's objectives to work with global banks and resolve issues related to CBDC development.
XRP is engaging with centralized institutions for the development of CBDCs. After announcing its partnership with Bhutan's Monetary Authority, Ripple works with the UK's central bank for the "Digital Pound Sterling."
Ripple has positioned itself to be a bridge in CBDC development. Nearly 80% of central banks are currently exploring CBDC development, and the Ripple network's engagement with centralized institutions is expected to boost XRP's utility.
The world's sixth-largest cryptocurrency started at $0.22 in 2021 and hit a high of $1.9 in April before further correction.
Cryptocurrency analyst @Koolaid_crypto has predicted a big move in XRP price over the next two days. 
$XRPBTC showing a possible big move for $XRP in about 2 days time if this fractal holds up. #XRP #XRPcommunity #XRPusdt #XRP pic.twitter.com/ZRI7y2lt7s— Crypto Koolaid (@Koolaid_crypto) October 15, 2021
FXStreet analysts have evaluated the XRP price trend and predicted that the altcoin would skyrocket to $2 with a rise in trade volume. 
XRP Lawsuit: SEC aims to make XRP skip the bull run with an Expert Discovery Extension Appeal
The latest update in the XRP lawsuit saw the SEC file a letter requesting the Court to extend the expert rebuttal report deadline to November 12, 2021, and the expert discovery deadline to January 14, 2022, from the former date of November 12, 2021. The plaintiff noted that the extension will allocate both parties sufficient time to prepare rebuttal reports and depose a minimum of 14 expert witnesses.
Ripple Opposes SEC extension appeal to save XRP from an isolated bear run
While consenting to the extension of the rebuttal report deadline until November 12, Ripple opposes the January 14 deposition deadline to avoid the case from stretching long enough for XRP to entirely miss the bull run. Furthermore, Ripple also intends to file an opposition to this letter motion on October 18, 2021.
The SEC offered a compromise to Ripple, preponing the expert discovery extension to December 22, but the defense has rejected that offer as well. Ripple argues that the extension would "would likely impact the briefing schedule for summary judgment motion[s].", as post-December 10, 2021, the Thanksgiving holidays will commence the holiday season.
SEC supports extension appeal with pending motions
The SEC objects that the case is even less ready for summary judgment motions as expert discovery has commenced with an incomplete factual record. The commission noted that on September 1, 2021, Magistrate Judge Netburn granted the SEC's motion to compel Ripple to produce certain instant messages among its employees, but Ripple has not completed its production of responsive documents and has not provided any timetable by which it will be complete. Along with the incomplete discovery of a granted motion, the plaintiff states that the parties have a total of four pending discovery motions before Magistrate Judge Netburn. The plaintiff claims that even if one motion is granted, the parties will require an additional extension to proceed with the discovery.
"If Magistrate Judge Netburn grants any of the pending motions to compel, at minimum, the parties would need additional time to review and produce the documents at issue…The SEC's proposed extension is fair and reasonable under the circumstances and should be granted for good cause.", stated the SEC.