How Solana traders can capitalize on this buy opportunity
While the broader crypto-market has mostly remained flat over the past week, Solana has been pumping to the moon. With weekly gains of 52%, the DeFi platform's native cryptocurrency, SOL, has skyrocketed into the top-10.
On the charts, the alt has continued its upwards run on the back of a bull flag breakout that peaked at $130. However, a correctional phase seemed to be in effect, at press time, and SOL needs to steady ship before its next upcycle.
At the time of writing, SOL was trading at $108.46, down by 8% over the last 24 hours.
Solana 4-hour Chart
SOL's impulsive move from $43 to a swing high of $82 and a correction to $66 thereafter were used to plot out a few important Fibonacci Extension levels. The 100% Extension level, backed by the 20-SMA, has the potential to kickstart another round of buying pressure.
A deeper retracement would bring focus to the 61.8% level. A level that has already served as a base for buying activity. On the other hand, any move towards the 50% and 38.2% levels would invite short-selling.
The next target for SOL lay at the 200% Extension present at $143.56. However, before such a move, SOL needs to negotiate with selling pressure. A few tall red bars lined up on its chart and identified heavy profit-taking over the past couple of sessions. Buyers would need to be vigilant from here to avoid a drop below the 61.8% Fib level.
Reasoning
Each of SOL's indicators factored in the strong wave of selling pressure. Even so, it still traded above key areas. For instance, the RSI witnessed a sharp drop from the overbought zone and was heading towards the half-line. Nevertheless, traders need not fear a sharper pullback till the RSI maintains itself above 45-40.
Even the Awesome Oscillator registered four red bars after forming its highest ever peak. On the Directional Movement Index, the -DI was inching closer to the +DI line as a result of selling pressure. However, a crossover had not developed just yet.
Considering the aforementioned signals, SOL has the advantage to continue its upwards run as long as the indicators remain in favorable positions. Failing to do so would pave the way for an extended sell-off.
Conclusion
Since SOL is looking to stabilize its current losses, traders have the opportunity to bag the alt before its next upcycle. The 100% Extension level would be an ideal entry for bullish traders, especially since the region is backed by the 20-SMA.
Take-profit can be set at the 200% Fibonacci Extension level of $143.56. On the other hand, short-sellers need SOL to decisively close below its 20-SMA to take advantage of the situation.
Is Solana the Fastest Horse? Veteran Crypto Trader Shows Why SOL May Be Set to Outperform Everything
A closely followed trader suggests that smart contract platform Solana (SOL) might be the fastest horse in the crypto bull market.
The trader known as Cantering Clark shares with his 76,000 followers a snapshot of a collection of different cryptos throughout the day.
He notes that even while Bitcoin was receiving all of the attention during its rally past $60,000, SOL quietly outperformed the rest of the market.
"There are so many reasons to have been long SOL to this point. Are you seeing the trend yet? Even on a day where Bitcoin is the main show, Sol is outperforming. Fast horse."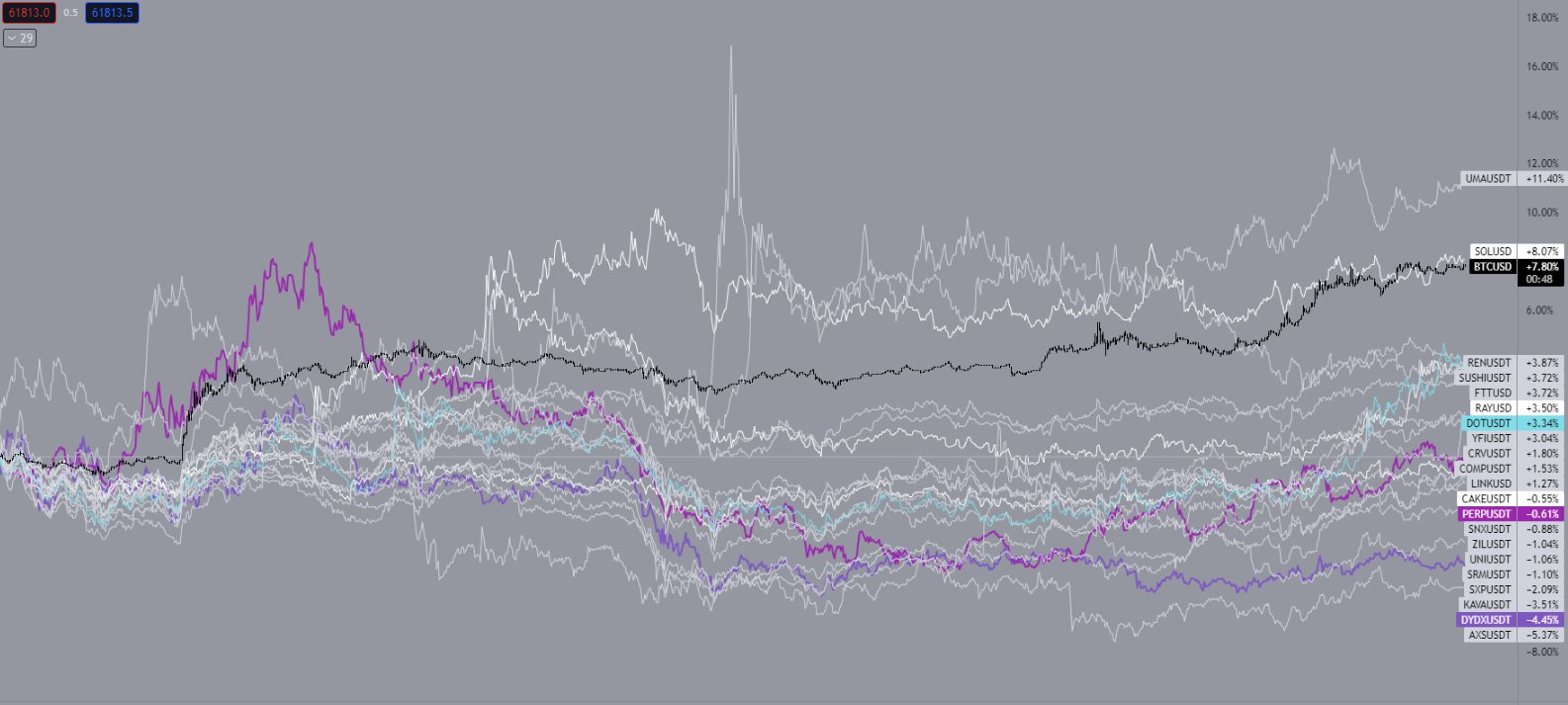 Looking at Bitcoin and the crypto markets in general, the trader says he's keeping his outlook simple. He sees the upcoming launch of a Bitcoin exchange-traded fund (ETF) as a bullish catalyst that should send prices higher.
"How many people are going to get long as hell thinking each confirmation is going to yield a higher result?
I believe in the inefficiency of this market.
ETF = ATH"
According to Canterin Clark, Bitcoin will take the lion's share of capital flows moving into the near term. He says he expects altcoins to underperform compared to BTC.
"If you think Bitcoin is going to break the ATH soon and you are also positioned heavily in alts, maybe rethink that…
Because when Bitcoin breaks the ATH alts are going to get cut down. So yes, the post absolutely makes sense."
Solana Set for New All-Time High While Ethereum Still Has Juice in the Tank – Crypto Analyst
A popular cryptocurrency analyst and trader is outlining the path forward for smart contract platforms Solana (SOL) and Ethereum (ETH).
The cryptocurrency analyst pseudonymously known as Smart Contracter tells his 173,800 Twitter followers that SOL is set to surge to a new record high after a period of accumulation.
"Sol ATH [all-time high] soon anonymous. This re accumulation won't last forever."
Solana, the fifth-largest cryptocurrency by market cap, is trading at $158 at time of writing, according to CoinGecko.
Earlier this week, Smart Contracter predicted that Solana could surge by over 100% against the US dollar (SOL/USD) and Bitcoin (SOL/BTC) after ending wave four of its five-wave uptrend.
"[Wave] four low very close to being put in on SOL/BTC in my opinion. The same low on the USD pair already put in and just in some HTF [high timeframe] re-accumulation. The next move higher will be >100% [in my opinion]."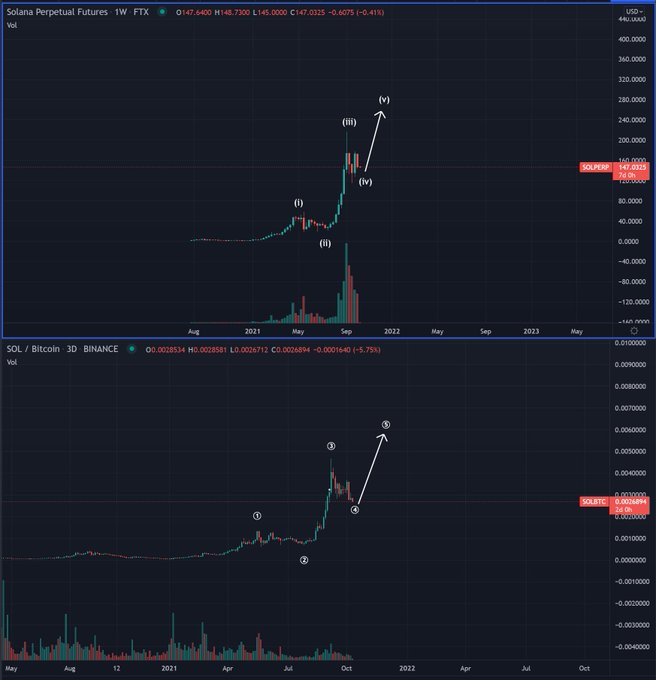 Smart Contract uses the Elliott Wave theory, a technical analysis approach that predicts future price action by following crowd psychology that tends to manifest in waves. According to the theory, Wave four is the final corrective phase before the asset launches the last wave of its cycle.
In the case of ETH, Smart Contracter says that the leading smart contract platform hasn't run out of steam yet after taking out its diagonal resistance at $3,500.
"Solid move. I think there's still some juice in the tank."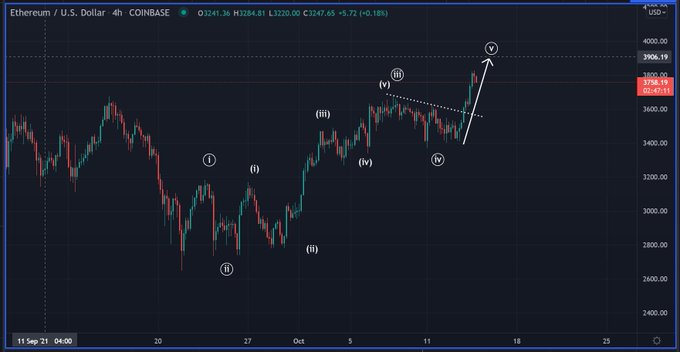 Ethereum is trading at $3,785 at time of trading, according to CoinGecko.
The crypto analyst is also keeping a close eye on Ethereum in its Bitcoin pair (ETH/BTC). According to Smart Contracter, ETH/BTC is currently gearing up for a move to 0.12 BTC ($7,355), representing an upside potential of nearly 100% from its current value of 0.062 BTC, worth $3,800.
"There [are] people out there that actually think ETH/BTC looks bearish."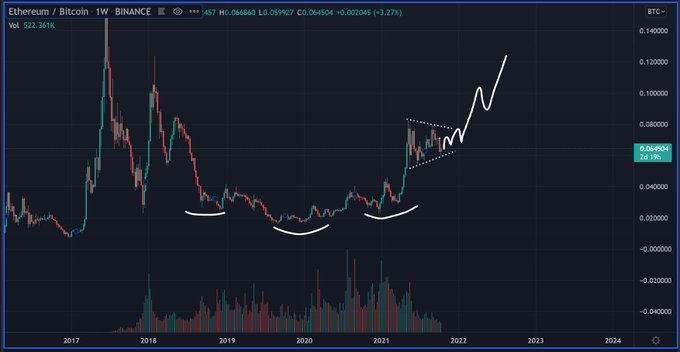 Crypto Traders Most Bullish on Polkadot, Solana, Polygon and 10 Additional Altcoins: Digital Asset Survey
A new survey unveils that crypto traders are most bullish on 13 altcoins including Polkadot, Solana and Polygon.
The Real Vision Exchange Crypto Survey is designed to track sentiment among investors by allowing participants to scan 30 tokens and choose if they want to have an overweight or underweight allocation for each one. The survey was conducted by Real Vision Bot, which was created by two independent developers and boosted by macro guru Raoul Pal.
Results from voting that happened on the first two days of this week indicate traders prefer an overweight portfolio consisting of smart contract platforms Polkadot (DOT) and Solana (SOL), as well as Ethereum-scaling solution Polygon (MATIC).
The scalable and interoperable ecosystem Cosmos (ATOM) is fourth on the list, and smart contract platforms Terra (LUNA) and Cardano (ADA) appear tied for fifth. Traders also have overweight allocations for decentralized oracle network Chainlink (LINK), Ethereum competitor Avalanche (AVAX), Ethereum-based token Enjin Coin (ENJ) and decentralized exchange Uniswap (UNI) for the sixth, seventh and eighth places, respectively.
Tied in ninth place are cross-border payment solutions Stellar (XLM) and XRP, as well as decentralized storage network (FIL).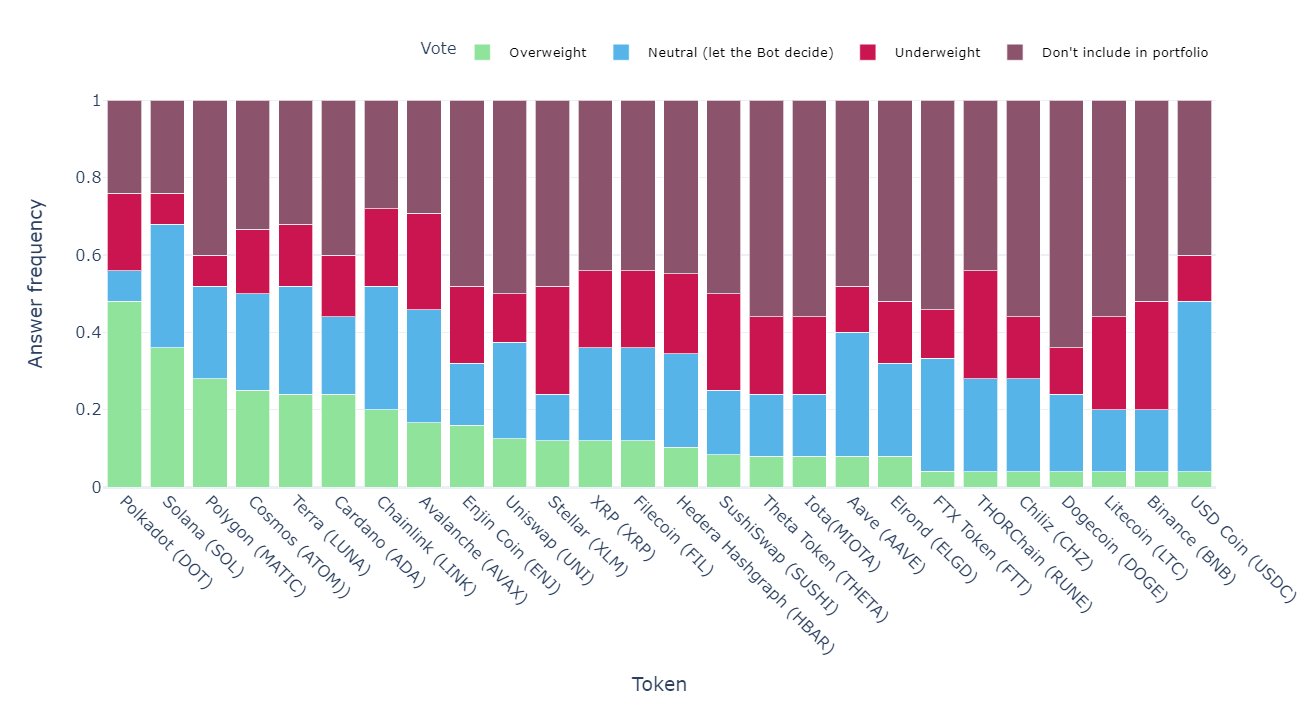 Real Vision Bot clarifies that the participants are not necessarily holding the cryptocurrencies that they voted for.
"They can of course vote according to their own positions, but also just based on their sentiment or forward looking. There are many reasons why the own book might not be 1:1 the preferred allocation."
Bitcoin (BTC) is conspicuously absent from the list. Pal highlights that the community is responsible for that absence.
"It's not us – it's the community who makes the allocation… You guys, to be exact.