Is Ethereum's rally signaling the next bull market phase for Bitcoin above $50K?
Bitcoin (BTC) has been seeing some consolidation below $50,000 as a psychological barrier. However, during this pullback, several big altcoins have been surging in price, suggesting that the alt season isn't over yet.
Meanwhile, Bitcoin's price faces a crucial resistance to break through, while Ether (ETH) is already cracking that resistance, hitting a three-month high versus BTC and facing a run toward the next resistance around the all-time high.
The primary question is now whether this Ether breakout is a signal for Bitcoin to follow suit and break through the resistance barriers in September. Historically, September has been a corrective month, meaning that such a breakout may catch many traders off guard. 
Critical resistance zone at $51,000 to break for Bitcoin
The daily chart for Bitcoin shows a consolidation between $44,000 and $50,000. This consolidation resulted in a big breakout of altcoins across the markets as some already broke their previous all-time highs.
The resistance is quite clear for Bitcoin. If BTC can break this resistance, a big impulse move is likely, comparable to the breakout above $6,000 in the earlier phase of this cycle.
The bearish divergence in the chart will only be confirmed when the recent higher low is invalidated and broken downward. At that point, the uptrend is officially reversed.
Currently, the market is consolidating after the rally from BTC's July lows. In other words, the bearish divergence remains unconfirmed until Bitcoin loses the lower bound of the support range, which can be found at $44,000.
Total market cap eyes new highs
The total cryptocurrency market capitalization shows a bullish continuation with constant higher lows and higher highs.
The crucial breaker for the market cap to break through is the resistance zone around $2.12 trillion. Once that one breaks, more upside is likely toward new all-time highs. This structure might also foreshadow Bitcoin's price trajectory, as this chart is currently demonstrating even more bullish behavior than BTC/USD.
Ether breaks above key $3,400 level
The daily chart for Ether shows a breakout above the crucial breaker at $3,400. This is a signal of strength for the entire market. The difference between Bitcoin and Ether right now is that ETH is hitting higher highs, while Bitcoin remains in a sideways range.
In this chart, the critical breaker for Ether is the previous resistance zone at $3,400. As long as that sustains support, continuation toward all-time highs becomes increasingly likely.
However, if a breakdown beneath $3,400 takes place, a potential bearish divergence comes into play, resulting in a correction to $2,600. Such a correction would also affect Bitcoin, which also has a few critical levels to watch as support.
Crucial levels to watch for Bitcoin
The chart for Bitcoin shows a slight downtrend since the recent high at $50,300. However, the chart shows significant support at $46,400 as well, which may prevent any more downside to $44,000 and below.
Such a correction could harm the markets and bring the entire market down toward lower levels, which might mean that Ether could drop below $3,400.
On the other hand, if Bitcoin remains within this range between $44,000 and $51,000 (on the lower timeframes, $46,400 is also an essential level), the conditions for altcoins to rally will only get better.
Until Bitcoin doesn't go vertical or has a significant impulse wave, altcoins are in a good position to outperform BTC in the short term, and that's what the market is currently seeing.
Bitcoin Price Rejects Dumping Further! This Is Where It Could Head Next!
The coin market has been consolidating, post a healthy momentum. The market capitalization of the space, at press time, is up by 1.1% at $2,743,014,523,516. Meanwhile, the dominance of the star crypto is at 43.1%. Enthusiasts in the space, are eagerly waiting for Bitcoin to pick up the pace. Meanwhile, a popular investor's trade mistake turns pocket heavy. 
Bitcoin Goes Long, While Investor Predicts Short!
 BTC did break through its resistance around $62,000. While the trade volumes remain below satisfactory levels. Crypto proponent Lark Davis, mentions that Popular American investor, Michael Burry had shorted both Bitcoin and Tesla. Both of which, have given out exceptional gains. Costing huge money for the investor. He also believes, going long could have returned over 100%. On the contrary, shorting would have given him 50%.
Analyst opines that one cannot be pessimistic with innovation and technology. As these are programmed to skyrocket. In addition, he contemplates 3.4 billion more users to come into the crypto market in the future. Analyzing the impetus following the user base would be no rocket science.
Institutional investments in Bitcoin are now a thoroughfare. Korea Teacher's Credit Union is planning to invest in Bitcoin. The fund manages more than $40 billion in assets. Even a fraction of which, would mean huge impetus to the network. In addition, BlockFi is set to launch a partnership with Neuberger Berman, which manages around $437 billion in client assets.
Bitcoin drops $1K in five minutes in fresh dip below $60K
Bitcoin (BTC) fell sharply on Oct. 27 as $60,000 finally gave way to two-week lows.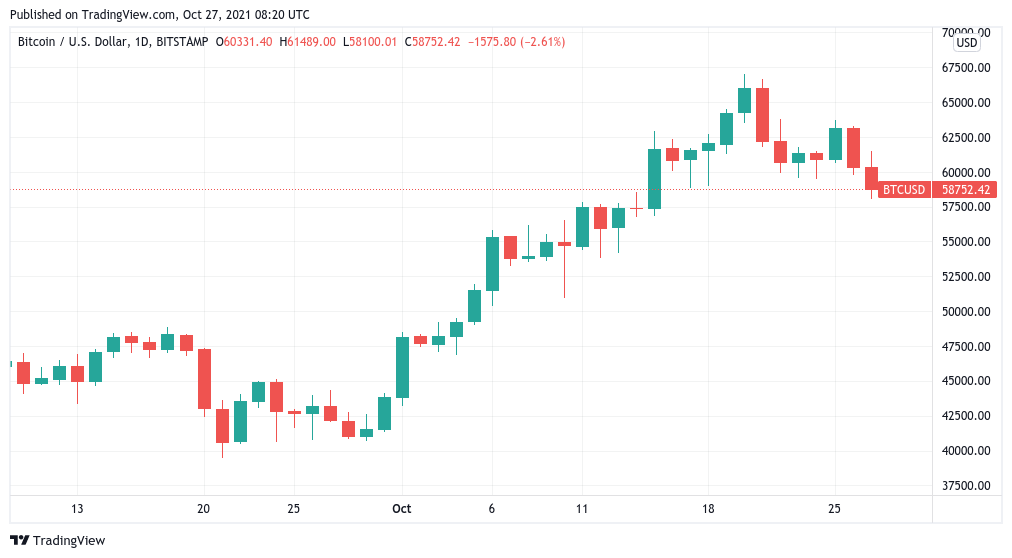 BTC/USD 1-hour candle chart (Bitstamp). Source: TradingView
Bitcoin bites into major buy wall
Data from Cointelegraph Markets Pro and TradingView showed BTC/USD nearing $58,000 at the time of writing, hitting its lowest since Oct. 15.
The move follows multiple retests of $60,000, with Bitcoin now taking liquidity in a large support wall with $57,000 as its base.
Analysts, as Cointelegraph reported, were already prepared, with some data suggesting a deeper dive to a low as $50,000 would still preserve the overall bull trend.
Commenting on the situation meanwhile, Charles Edwards, CEO of investment firm Capriole, blamed leveraged traders for sparking the volatility.
"Basically Bitcoin looks incredible here on most metrics, but leverage traders have gone out of control," he argued.
"We won't get sustainable price rises until that changes."
Data showed $500 million being liquidated in a single hour across cryptocurrency.
Altcoins lose big on trend reversal
Ether (ETH) led a bleed from altcoins Wednesday, falling below its hard-won $4,000 support line.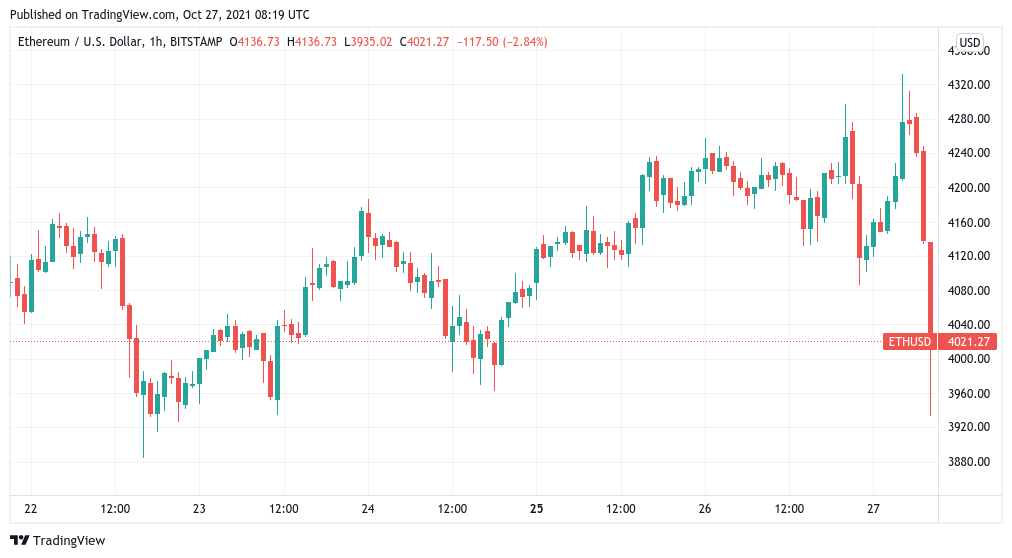 ETH/USD 1-hour candle chart (Bitstamp). Source: TradingView
Several of the top 10 cryptocurrencies by market capitalization saw daily losses of over 15%, including Dogecoin (DOGE) and Solana (SOL).
Shiba Inu (SHIB) was still largely in the green, up 23% on the day despite the market turnaround and continuing a wild month.
Top 3 Price Prediction Bitcoin, Ethereum, Ripple: Pioneer crypto to retrace briefly while altcoins go higher
Bitcoin price might retreat to $56,000 as investors continue to book profit.
Ethereum price also prepares for a sub-$4,000 pullback.
Ripple price edges closer to a breakout from a bullish pennant pattern.
Bitcoin price continues to move sideways above a crucial psychological level. As long as support holds, BTC is in no trouble, however, if it breaks lower, it will likely drag Ethereum and Ripple along with it. Although this descent is likely to play out in the short term, it may be required to start a second leg-up.
Bitcoin price needs to correct
Bitcoin price is stuck producing lower highs and lower lows since rolling over at the October 21 $67,016 swing all-time high. While this pullback is currently stabilizing above the $60,000 support level, a breakdown could exacerbate the downswing and knock BTC down to the liquidity area, ranging from $52,595 to $56,004.
A dip into this zone will provide an opportunity for the sidelined buyers to jump on the bandwagon for the next leg-up. It will also allow investors to book profits, creating a double pressure of sorts. When this development reaches an inflection point, BTC will trigger a new bull run.
As for the upside, Bitcoin price will first encounter the $70,000 psychological level. Clearing this barrier will open the path to retest the 161.8% trend-based Fibonacci extension level at $77,525, a new all-time high.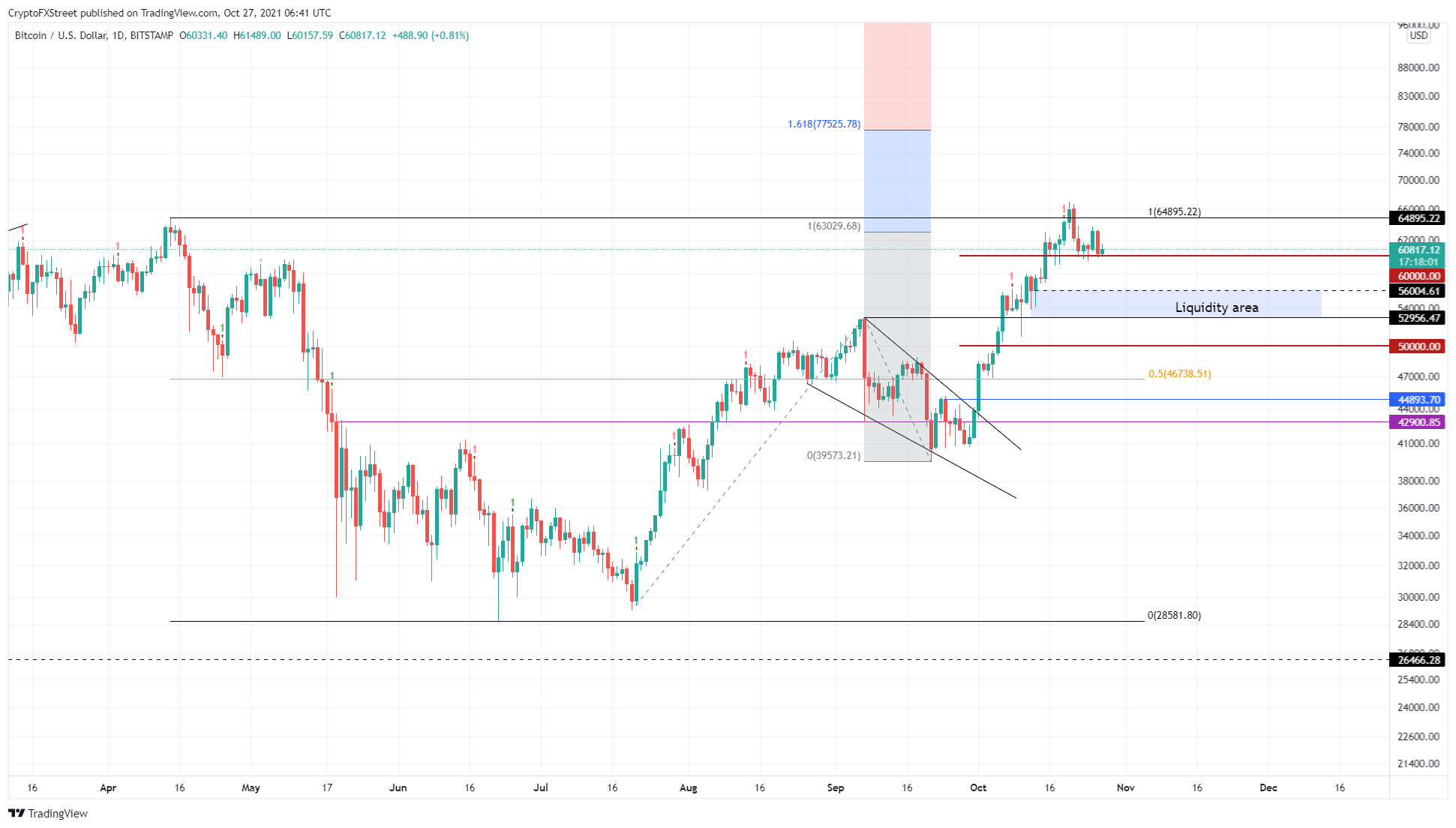 BTC/USD 1-day chart
While things are looking up for the big crypto, a breakdown of the liquidity area's lower limit at $52,956 will put Bitcoin price in a tough spot. While this move does not invalidate the bullish thesis, it will delay it.
In such a case, BTC might revisit $50,000 before restarting the uptrend.