Solana Price Analysis: SOL hits $119 and sets higher low on the daily chart
The SOL/USD pair is 2.28 percent up on our daily Solana price analysis
24-hour Solana price range between $103 – $115
The bulls are more focused on sustaining the $100 psychological support.
The SOL/USD pair is 2.28 percent up on our daily Solana price analysis after a hectic day of bearish momentum. Bulls came out strongly to defend the $110 support and went ahead to steer a rally which was rejected slightly below the $120 price mark. Buyers are advised to anticipate a continuation of the 24-hour rally in the upcoming session as we approach the close of the day. 
As of this writing, the general cryptocurrency market is bullish. The majority of the coins hae recorded daily gains of more than 3 percent. Bitcoin improved by 3.40 percent, while Ethereum is up by 8 percent. Polkadot and Cardano surged by 4.67 and 3.20 percent, respectively. 
Solana price movement in the last 24 -hours: Wide range suggesting high volatility
We recorded a wide daily range on our 24-hour Solana price analysis between $103 – $115, which suggests increasing volatility.  The trading volume is down by 34 percent to a total of $7.5 billion, while the market capitalization rose by 1.30 percent to a sum of $33.28 billion. According to data from Coin Market Cap, Solana is position #4 among the top ten altcoins by market cap. 
4-hour Solana Price Analysis: Bulls clearing path to $130
Solana is currently trading at $114 on the 4-hour chart, and the bulls are attempting to activate an uptrend past the $115 minor support and retest Monday's swing high of $117.
The bulls are more focused on sustaining the $100 psychological support as they prepare to hit two upper targets at $132 and $140.
Take profit traders might affect the medium-term outlook of the price, but there are many chances that Solana price action could rally higher and new higher lows.
Solana has been quite bullish for the better part of the last three months. The coin was least affected by the market crash in May, which crashed most of Solana's competitors in the Layer 1 smart contracts category.
The relative strength index (RSI) is trending at the 46 leel and pointing upwards, suggesting the market is biased against sellers and showing more opportunities exist for buyers before entry into the neutral zone. As of this writing, Solana is trading at $114 against the US dollar.
Solana Price Analysis: Conclusion
Solana is enjoying an envious position as the best performing altcoin in the market presently. The short-term and long-term outlook of the coin's price is positive, and we can't wait for the next All-time high. Today's Solana price analysis is bullish, and therefore you should expect an increase in the price action over the next 24 hours.
Buying Solana now to gain 700% profits by 2022
Solana price has been on a massive run-up in 2021 from $1 to $216 in roughly eight months.
This stellar climb is likely to continue into 2022 as significant bullish signs emerge.
Moreover, the start of a new bull run will serve as a tailwind for SOL, propelling it by roughly 713%.
Solana price performance has been extraordinary in 2021, and this trend is likely to continue into 2022. There are three reasons for this optimism,  all of which forecast a bullish outlook for SOL.
Solana price and Q4 crypto markets
Solana price is bullish and has been this way since its inception. The partners backing/investing in it include FTX's Alameda Research, CMS Holdings and other big names. Moreover, SOL finds its place in many famous investors' portfolios like Multicoin Capital, Sino Capital, etc. That these large yet important investors are backing the project with an "Ethereum-killer" narrative is one of the reasons for Solana's exponential returns over the past eight months.
Unlike other Ethereum killers, which have never been able to stand up to Ethereum, let alone steal its market share, SOL has played a crucial role in DeFi and its events and continues to slowly siphon users away from the ETH ecosystem.
While Solana's backing makes it extremely attractive as an investment, that is only half the reason. The other half includes the upcoming bull run – or bull run 2.0 if you will – which is more than likely to trigger altcoins to rally exponentially. But what makes this second phase intriguing and the most sought-after cycle is that it is happening in the last quarter of the year. From a historical perspective, Bitcoin bull run tend to overextend in Q4. Altcoins, however, take this to a new level, increasing their market value multiple times.
We expect, therefore, that it will be in the second half of the run-up that that the big buying will take place, with pressure from retail and institutions a significant tailwind to Solana price, as it reaches unfathomable levels.
Technicals to push SOL the rest of the way
From a technical perspective, the daily and weekly charts both show an interesting yet bullish outlook for Solana price. The daily time frame shows SOL rose 713% between July 21 to September 8, forming a flag pole – the first element in a bullish flag or pennant pattern. This exponential growth was followed by consolidation that created three lower highs and higher lows, resulting in a pennant forming when connected using trend lines.
Taken together, the run-up from July 21 to October 20 and the consolidation that followed is a continuation pattern known as the bullish pennant. This technical formation forecasts a 713% upswing to $1,336, obtained by adding the flag pole's distance to the breakout point at $164. A more conservative estimate would be to extend the poll by a 61.8% Fibonacci ratio resulting in a surge of 440% to a price target of $721.60.
Solana price shattered the pennant's upper trend line on October 20 and has rallied 21% to where it currently is. Going forward, investors can expect SOL to continue its 713% uptrend to reach its theoretical target of $1,336 or the more conservative $721.60 price objective.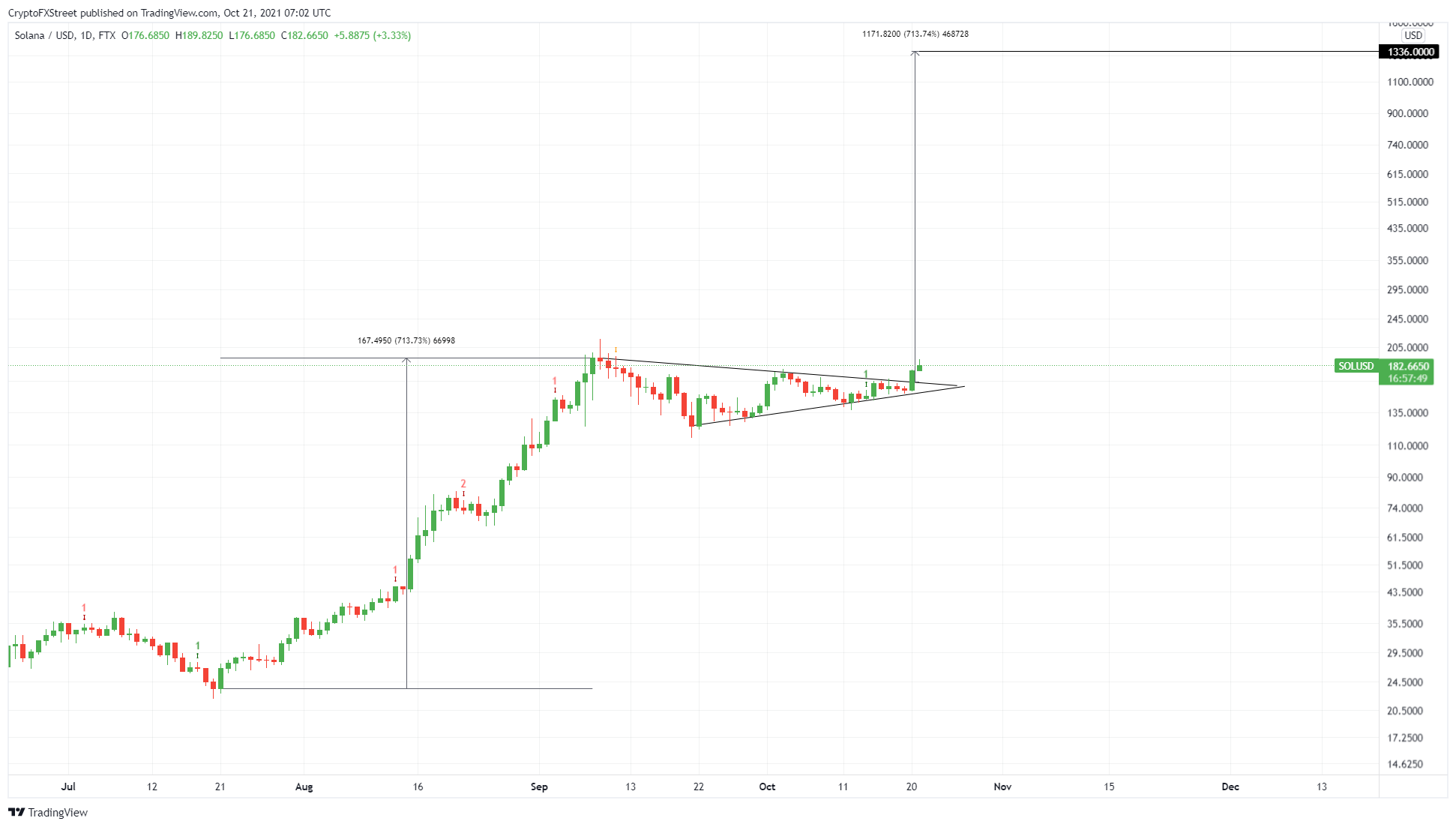 SOL/USDT 1-day chart
Interestingly, the weekly chart for Solana price shows that it is currently hovering above the $174 resistance level. This barrier has prevented SOL from climbing higher over the past five weeks, although the recent 21% run-up seems to have done the trick.
Investors should wait for a decisive close above $174 to confirm that this upswing was backed by genuine buyers, however. Assuming SOL flips the $174 hurdle, a retest of this barrier (although unlikely) will serve as a secondary confirmation and convert it into a support floor. This development is more than likely to kick-start a new bull run on a higher time frame.
What makes this climb more assuring is the red 'one' sell signal from the Momentum Reversal Indicator (MRI) on the weekly time frame. This indicates investors need not worry about an unforeseen sell-off or spike in selling pressure.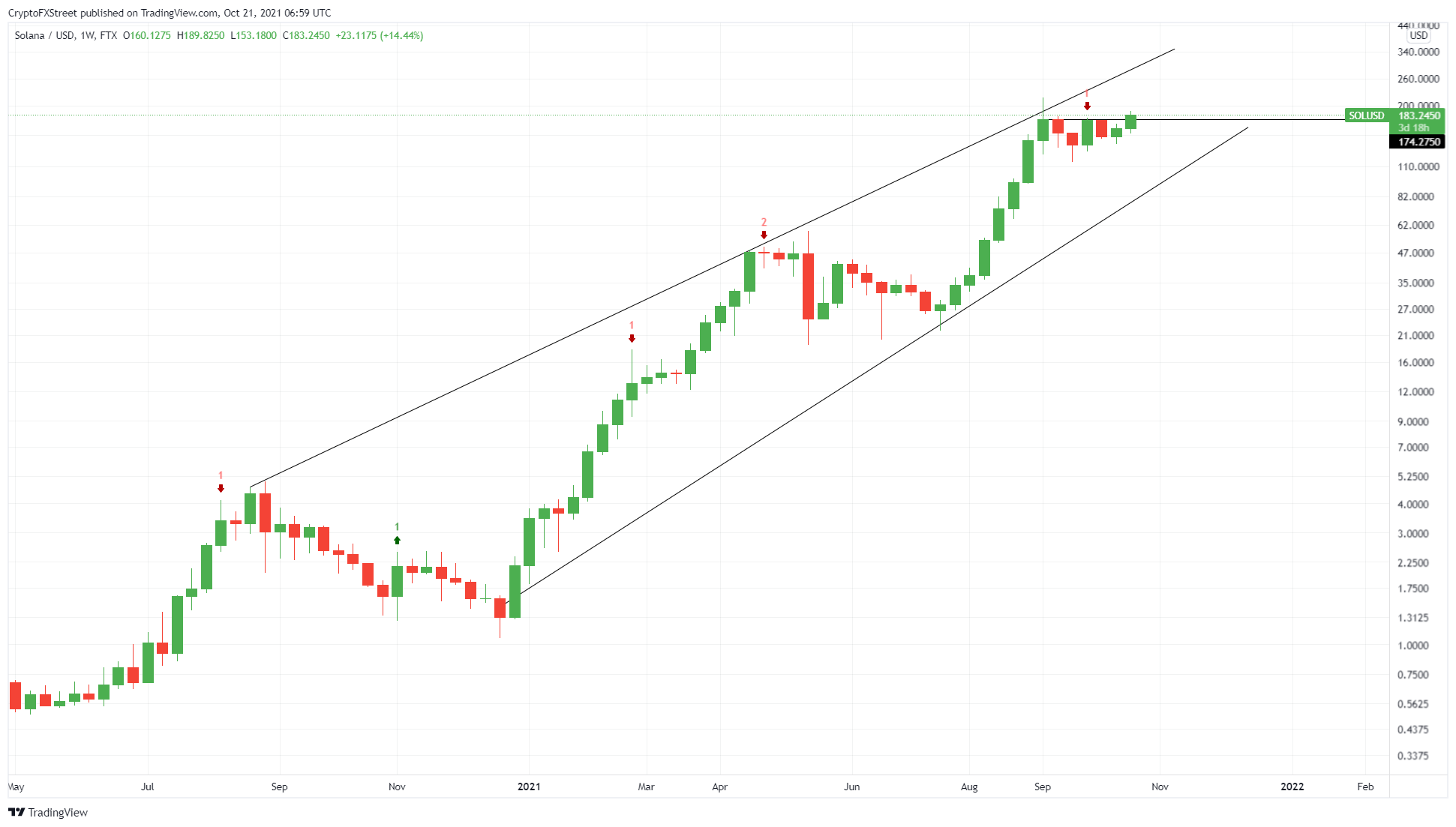 SOL/USDT 1-week chart
While things are looking up for Solana price, a breakdown of the lower trend line of the symmetrical triangle at around $143 will invalidate the bullish pennant. However, this does not invalidate the bullishness surrounding SOL. In some cases, this downswing could extend, pushing SOL to $130.
Solana Price Prediction: SOL to retest $125
Solana price continues to consolidate and approaches key breakdown levels.
Overbought levels in the Relative Strength Index act as consistent resistance to higher prices.
Failure of support could trigger a flash crash.
Solana price maintains an overwhelmingly bullish bias on the daily Ichimoku chart. The Chikou Span remains above the candlesticks, and the close is above the Tenkan-Sen, Kijun-Sen and the Cloud. But the current close is positioned to trigger bearish price action.
Solana price must hold near-term support, threats of downside pressure increase
Solana price has some important price levels to watch out for to prevent bears from taking over. Between $149 and $154, four primary support levels exist: the bottom of the current bear flag, the Tenkan-Sen, the Kijun-Sen and the top of the Cloud (Senkou Span A). Below $149, there is no support for Solana within the Ichimoku system until Senkou Span B at $125. But it could move lower.
Below $125 Solana price runs into a very thin 2021 Volume Profile. It is very possible that any break of $125 could drag Solana lower towards the weekly Kijun-Sen and 38.2% Fibonacci retracement at $116. However, a move that low from the present value area is likely to occur only if there is a broader sell-off within the whole cryptocurrency market.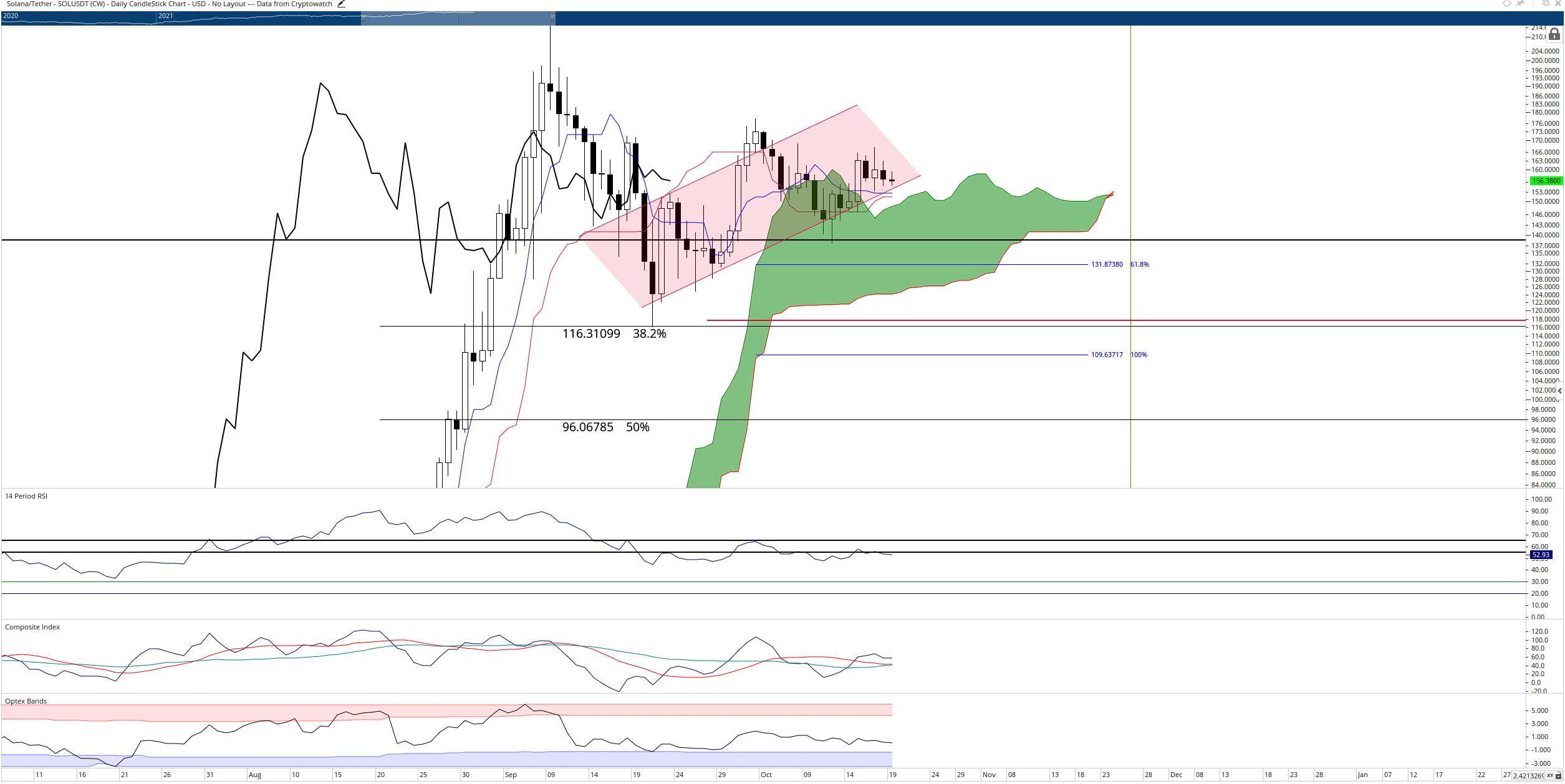 SOL/USDT Daily Ichimoku Chart
However, Solana bears shouldn't be overly confident about an impending sell-off. Solana will benefit from any bullish sentiment if Bitcoin has substantial bullish support after its futures ETF listing. Any near-term bearish bias will be invalidated if Solana price closes at or above $173. From there, Solana is on the road to pushing beyond its all-time highs and into the $300 value areas.
Polkadot and Solana lead the altcoin rally, SOL price likely to double
78% of Solana's circulating supply is staked, fueling a bullish narrative for SOL price.
Solana ecosystem's top five projects have over $1 billion in TVL each, driving higher utility for SOL.
Using the Nakamoto Coefficient, Solana scores higher in decentralization than Bitcoin and Ethereum.
Solana, also popularly known as the "Ethereum-killer', has emerged as one of the fastest-growing cryptocurrencies in the ecosystem. The altcoin move into NFTs has attracted capital rotation from Bitcoin and Ethereum onto the SOL ecosystem. 
Analysts expect SOL to rally based on developments in the Solana network
Solana's Ignition hackathon concluded with 568 new projects formed on the network's blockchain. The new projects are expected to launch the next wave of cryptocurrency applications and web3 infrastructure on Solana. 
🔥 Submissions for the IGNITION Hackathon are closed, with 568 projects formed 🔥

Probably nothing https://t.co/TmZqEB8O5e pic.twitter.com/UUyaUvMZUy— Solana (@solana) October 18, 2021
While Solana's total value locked (TVL) was $1 billion in late July; the ecosystem's top 5 projects each have now over $1 billion in total value locked. The network has attracted several non-fungible token (NFT) projects and customized applications with varying degrees of rarity. 
Matty Tay, head of growth at Solana, reflected on the growth of the top five projects on the SOL network in a recent tweet:
In late July, the entire @Solana DeFi ecosystem had $1 billion in TVL. Now, there are 5 individual projects each with over $1 billion in TVL.

Congrats to team @orca_so, along with @Saber_HQ, @SunnyAggregator, @RaydiumProtocol, and @ProjectSerum.

Up Only. https://t.co/j53hiLZigg— Matty Tay☀️ (@mattytay) October 14, 2021
Analysts argue that Solana is not as decentralized as other cryptocurrencies in the top 10. The "Nakamoto coefficient" outlined by Balaji Srinivasan, former CTO of Coinbase, is used to estimate the decentralization of a blockchain network.
Using the Nakamoto Coefficient, higher scores correspond to higher levels of decentralization. When measuring Solana using the Nakamoto Coefficient, it scores higher than Bitcoin and Ethereum, contrary to popular belief. 
Interestingly, 78% of Solana's circulating supply is staked, based on data from Solana Beach, an SOL ecosystem statistics platform. Rise in the staked supply of SOL is fueling a bullish narrative for SOL price.
Pseudonymous cryptocurrency analyst @CanteringClark is bullish on SOL price and expects the altcoin to outperform the rest. He states:
​​There are so many reasons to have been long SOL to this point. Are you seeing the trend yet? Even on a day where Bitcoin is the main show, SOL is outperforming. Fast horse.
Elliot Laybourne, a cryptocurrency analyst, is bullish on SOL price for when capital rotation from BTC to altcoins begins. Polkadot and Solana were the top two cryptocurrencies leading the altcoin rally before Bitcoin started trading closer to an all-time high.
Laybourne shared his analysis in a recent tweet
I'm liking the $SOL set-up for when capital rotates from BTC back into Alts pic.twitter.com/mBv8YQVA8D— Elliott Laybourne (@fearfultrader) October 19, 2021
Laybourne was recently quoted:
As long as Solana remains above $85.00, I consider the structural bull market intact. Therefore, I expect to see buying on any dip towards $100. As long as Solana respects the rising trend channel, I maintain a long-term bullish price outlook.
FXStreet analysts have evaluated the SOL price trend and predicted that the altcoin is primed to hit a new all-time high at $225.