Exeno.com – HODLers ready for cryptocurrency transactions
65 per cent of customers are ready to buy with crypto. HODLers would like to use their Bitcoins, Ethereum, and other popular cryptocurrencies to purchase mainstream products, such as real estate, cars, and electronic gadgets. Exeno unveils the results of its market survey of cryptocurrencies adoption.
65% of customers are ready to spend their crypto on popular goods.
Real estate, cars, electronic gadgets are at the top of the list of desired products for crypto transactions.
32% of respondents declare investing in cryptocurrencies as their retirement saving instruments.
Exeno.com is an innovative global online store. The platform allows customers to pay for selected goods with Bitcoin, Ethereum, USDT, and novice Bitcoin Vault with no FIAT conversions. People from all over the world can use their digital coins to quickly and securely purchase popular products ranging from electronics, cosmetics, sports accessories to travel gear. Exeno organized a survey to study crypto holdings and spending patterns of modern customers. The research was part of the effort to explore the role of cryptocurrency in people's lives and identify what should be done to improve the online shopping experience.
People are ready to buy products with crypto!
The respondents were asked whether they would buy goods such as smartphones, tablets, computers, and game consoles with cryptocurrency. Two-thirds gave an affirmative answer: 65% of respondents are ready to buy these goods for their crypto. Most customers find cryptocurrency to be an attractive payment method. Crypto's main advantage over FIAT money seems to lie in its politically independent nature. 54% of respondents are open to using their crypto to buy real estate, 45% to buy cars, and 33 % to acquire electronic gadgets (respondents were allowed to give more than one answer). Buying luxurious, expensive things with crypto seems to be a common strategy, likely due to exchange rate fluctuations offering an opportunity to make a purchase at a low price point. Regarding the frequency of and rationale for spending crypto, 21% of respondents would use their crypto for major purchases; 28% are considering using crypto as a regular payment method.
Why do some people still avoid shopping with crypto?
Although 65% of the respondents are open to shopping with cryptocurrency, only 22% have done so. The prevailing cause was simply the lack of shops accepting such payments: 36% of respondents pointed to popular stores not honoring crypto. 24 % were apprehensive about going through complex procedures required from crypto users. 19% are wary of high exchange rates and 14% of high commissions. 23% of respondents are planning to spend their crypto in the very near future ('right now'), and another 32% are ready to take this step within the next 1-3 years. Thus, the survey suggests that 55% of crypto holders are likely to be looking for stores accepting cryptocurrency payments. Only 8% declared the intent to HODL their digital coins for 10 years or more.
The survey results show a clear upward trend in the popularity of cryptocurrencies as a payment method. Such players as Exeno see this potential with a growing number of cryptocurrencies transactions every day. The research was conducted in June and July 2021. Participants answered 10 multiple-choice questions via an anonymous online form.
About Exeno:
Exeno.com is an innovative global e-commerce that enables purchasing all goods with cryptocurrencies Bitcoin (BTC), Ethereum (ETH), USDT, Bitcoin Vault (BTCV). The company was founded in 2020 in Tallin, Estonia. The platform operates from February 2021 and ships all goods globally to people around the world. The offices of the shop operator are based in the EU (Warsaw, Poland). The use of digital currencies in transactions makes the Exeno.com platform not only fast but also extremely safe. Low transaction fees are an additional advantage for a constantly growing crypto-maniacs group. To find out more visit Exeno.com or follow one of social media channels: LinkedIn, Facebook, Twitter, Instagram, YouTube, Telegram.
Entire Crypto Market Cap Surges to $2.5T as 10K BTC Were Sold on OKEx
The world's crypto market capitalization is currently up by $2.5 trillion.
Over 10,000 BTC were sold on OKEx amid the crypto market cap surge.
The digital finance world is experiencing a mix of reactions these days. However, it is worth mentioning that as of today, the global crypto market cap index has seen an upward surge of $2.5 trillion. Since the start of this year, the crypto market has risen by 233%.
In fact, this monumental increase in the crypto market cap value is quite a welcoming gesture that every crypto advocate hopes to see. Adding more to this, the trading volume of BTC/USDT pairs has also increased drastically to over 10,000 BTC sold today on the OKEx exchange.
To note, one of the on-chain analytics firm's Wu Blockchain gave the BTC/USDT announcement today. Specifically, Wu Blockchain cited the BTC/USDT trading volume statista directly from Trading View. 
Also, it mentioned that they seem to be sensing another pending 14,000 BTC sell order still on the OKEx exchange. A few minutes after disclosing this, the latter then said the pending order got away by the buy order that was also in BTC/USDT.
In the same breath, Bitcoin Magazine has also tweeted that the $38 billion Grayscale Bitcoin trust will soon be converted into ETF. This milestone would be achieved as the proposals filed to approve Bitcoin's Future Exchange-traded Fund (ETF) is yet to be accepted.
OFFICIAL: $38 billion Grayscale #Bitcoin trust will file to be converted into an ETF.— Bitcoin Magazine (@BitcoinMagazine) October 18, 2021
Surprisingly, due to how Bitcoin is dominating today's crypto news footage, this confirms the crypto community's suggestions on how vital BTC is in the crypto market.
Surprisingly, due to how Bitcoin is dominating today's crypto news footage, this confirms the crypto community's suggestions on how vital BTC is in the crypto market.
Here's why the market might be overestimating the impact that new futures-based ETFs will bring to the market
While the cryptocurrency industry waits for the drop of the first Bitcoin exchange-traded fund to be delivered shortly, Bloomberg has released an article in which the agency covers how and why traders might miss even greater rewards while trying to catch big gains from a "new" product.
The primary basis of such a statement is the Bitcoin futures curve. Futures contracts with long expiration dates usually trade at a premium to the price of the underlying asset. The main reason for that is that most traders believe, due to its nature, cryptocurrency will rise in the future.
But the main problem with current ETF products is the underlying asset. While the fund may be called "Bitcoin ETF," it's not actually tied to Bitcoin. The underlying asset here is Bitcoin futures contracts that become a reason for funds to lose some of their profits since they have to pay fees to enter a new contract. Since longer futures contracts trade at the premium, it is more convenient to enter short-term futures contracts and pay the fee.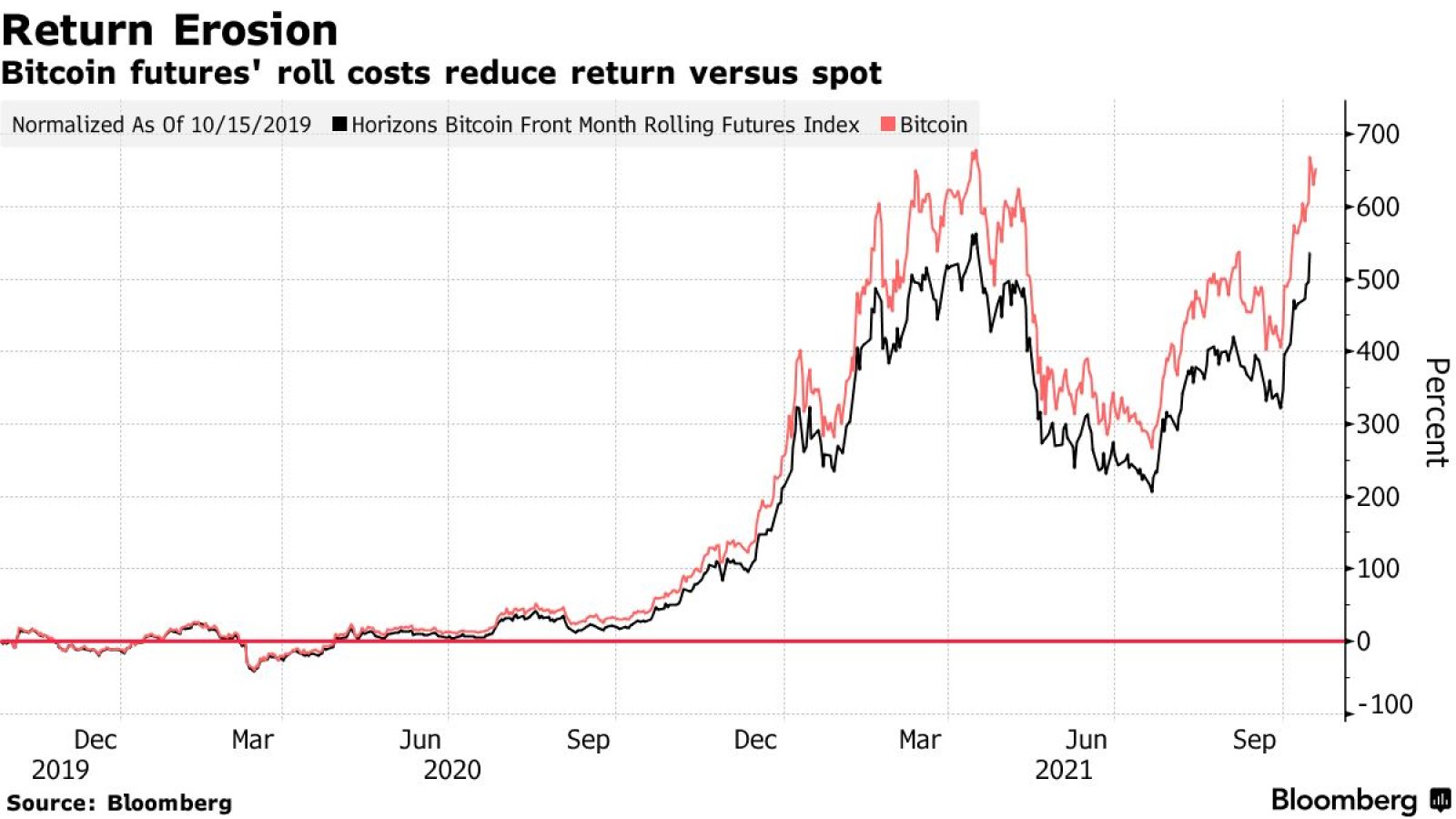 For the mentioned reason, Genesis Trading's Noelle Acheson said that Bitcoin traders are overestimating the potential upcoming demand for derivatives-based ETFs since, as was mentioned, they have more underlying management costs. As an example, the BITO fund currently carries an expense ratio of 0.95%, while the average equity-based ETF will function at around 0.7%.
With the number of underlying expenses behind futures-based Bitcoin ETFs, traders and investors might not choose the mentioned funds for long-term crypto market exposure. Instead, it is more reliable to simply buy the asset itself rather than invest in the ETF, especially for retail traders.
Crypto Markets Presenting Historic Opportunity As Bitcoin Thrusts Upward, According to Closely Followed Trader Pentoshi
Widely followed crypto market analyst Pentoshi thinks that Bitcoin's run-up is giving traders a prime opportunity.
The trader tells his 309,300 Twitter followers that Bitcoin (BTC) moving higher before dragging the crypto market up creates an opportunity to compound Bitcoin profits with altcoins.
"​​If $Btc up + alts down it's truly a great opportunity historically because you get to ride Btc to new ath's [all-time highs] then compound alts to ath's
Why better opportunity to achieve your goals than that for those who get it
When you've experienced multiple cycles you know. Take what we get"
At the time of writing, Bitcoin is trading at $56,856, according to CoinGecko. Pentoshi thinks that all-time highs are almost certain for BTC. But traders could still expect to see a dip below $55,000.
He's looking at $73,200 and $85,000 as the next levels for Bitcoin to hit in Q4.
"58k hit, so far so good
So what next?
I think best case scenario for dip hunters now is 53-55k for a [higher low]
Def feels like a lot of people are offside since much lower, and Bitcoin is in a new trend
ATH's seem almost certain for Q4"
He reminds traders that while Bitcoin moves in a strong uptrend, dips become shallow with fewer to take advantage of.
$BTC trending

Dips are shallow. a lot of people waiting for that retest but never get it

Obviously 2 important areas ahead before potential ath's https://t.co/tSULnCRsjO— Pentoshi Won't Dm You. hates Dm's. DM's are scams (@Pentosh1) October 11, 2021