Top 3 Price Prediction Bitcoin, Ethereum, Ripple: BTC kick-starts second phase of bull run, joins altcoins
Bitcoin price has sliced through an inclined resistance level, heading toward the $50,000 psychological level.
Ethereum price pierces through the $3,716 resistance barrier, indicating a move to $4,000 is nigh.
Ripple price is grappling with the $1.76 supply level, a breach of which would trigger a move to $1.70.
Bitcoin price saw its uptrend being thwarted multiple times over the past week. However, the recent upswing seems to be taking a second jab at this barrier and is likely to push through it, restarting the bull run.
Ethereum, Ripple and many other altcoins have already begun rallying with some achieving new all-time highs.
Bitcoin price arrives at $50,000 psychological level
Bitcoin price breached $50,000 on August 23 but failed to sustain itself above that level, leading to a sell-off. While BTC tried recovering from this crash, it failed time and time again, leading to a tight consolidation between $50,000 and $46,000.
The recent upswing sliced through the inclined resistance level and is attempting to take over the $50,000 psychological level successfully. Assuming BTC does, this move could push Bitcoin price to $51,483.
A decisive 12-hour candlestick close above $51,483 will likely trigger FOMO, propelling it to $56,361. In some cases, this move could extend higher and even attempt to retest the all-time high.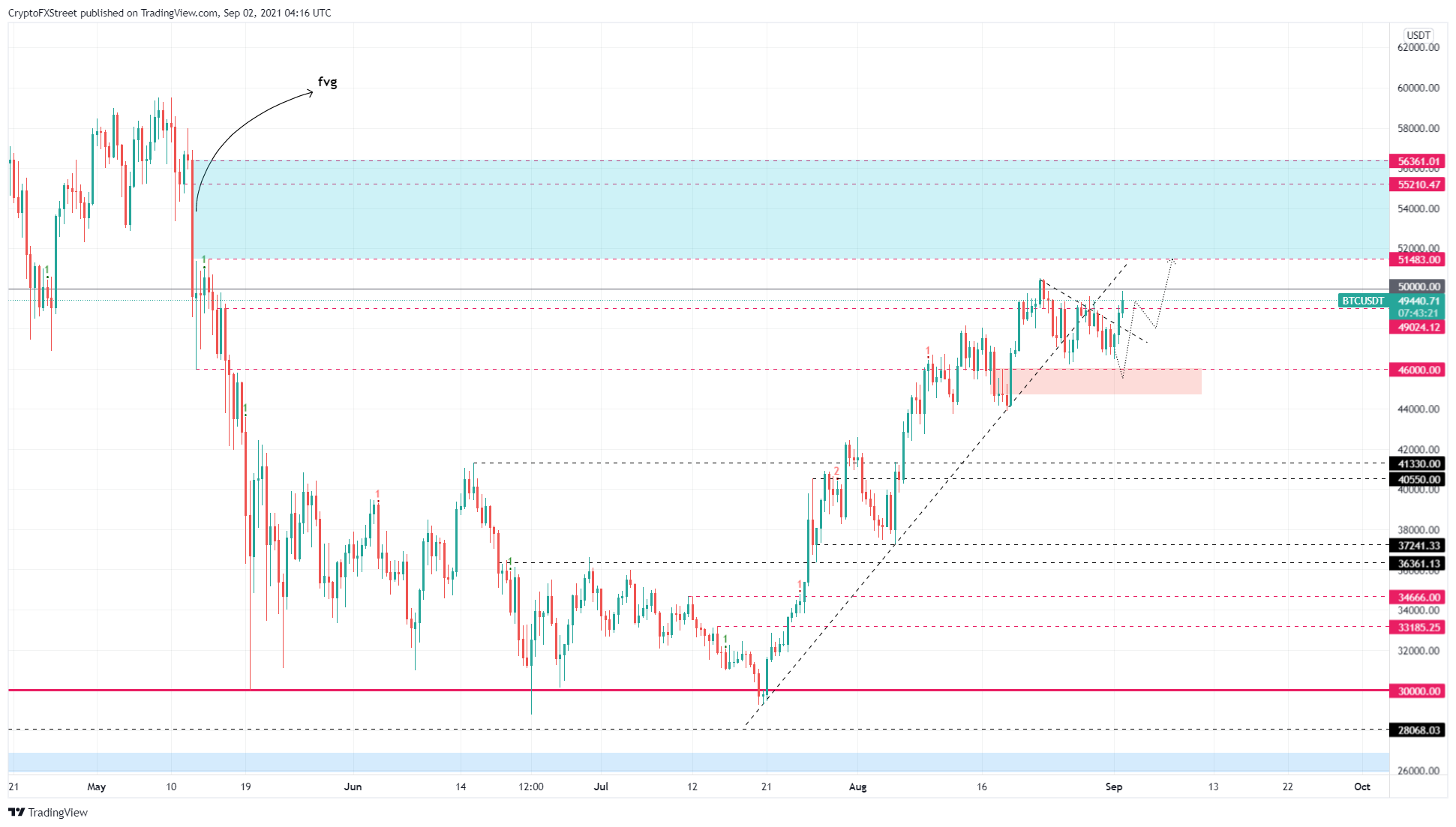 BTC/USDT 12-hour chart
Regardless of the optimism, Bitcoin price needs to clear the $50,000 level. Failing to do so might restart the consolidation and keep it bound above $46,000.
A decisive close below $46,000 will invalidate the bullish thesis as it would create a lower low.
Ethereum price experiences exponential gains
Ethereum price stayed lull for almost a month after breaching the $3,000 psychological level on August 7. The consolidation from August 7 to August 30 set up roughly equal highs and higher lows, leading to the formation of an ascending triangle. 
This bullish pattern witnessed a breakout on September 1, which led to a 20% upswing that produced a decisive daily close above a crucial resistance level at $3,716. This move opens a resistance-free path for Ethereum price up to $4,071.
Therefore, investors can expect ETH to tag another psychological level soon.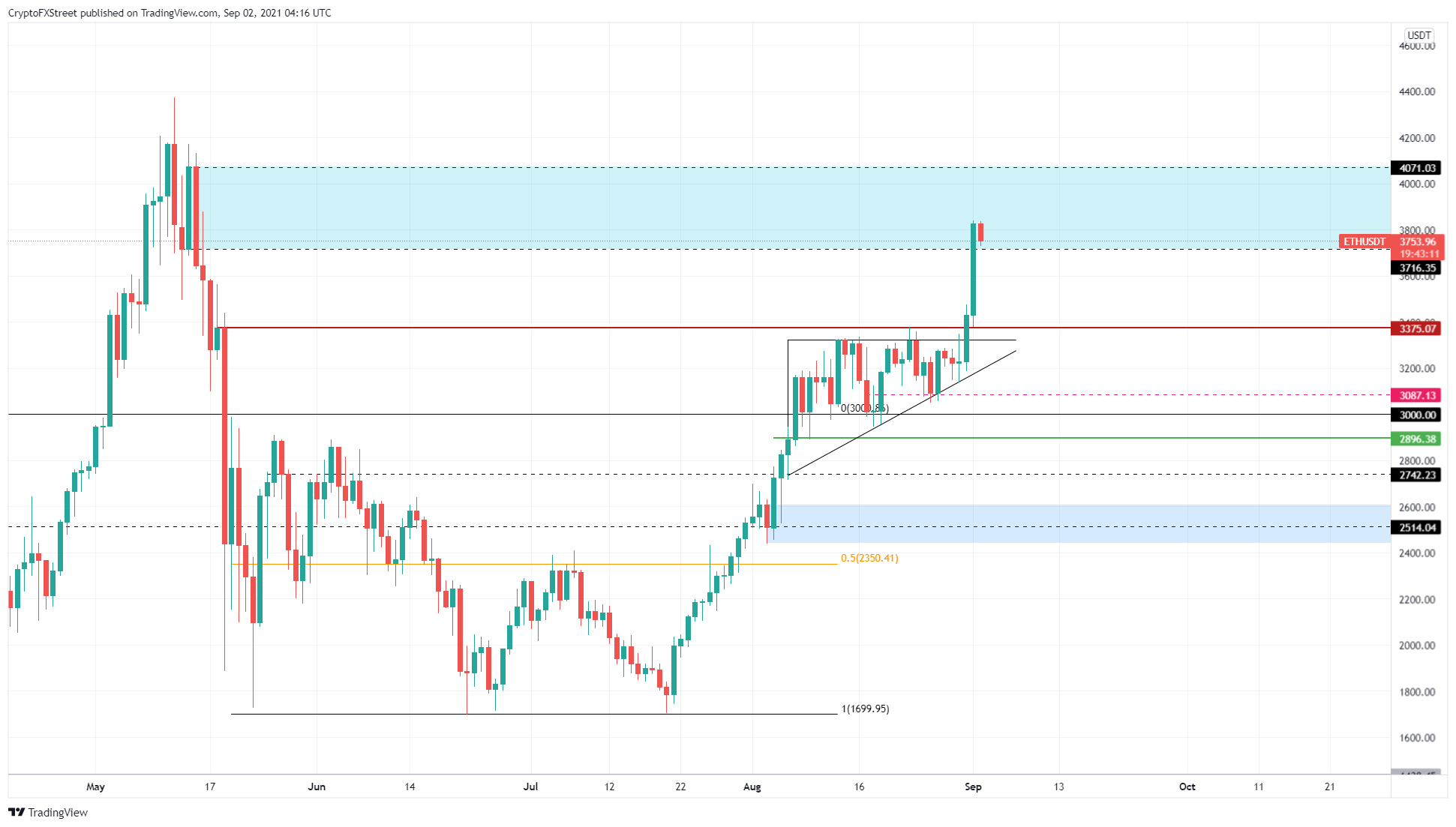 ETH/USDT 1-day chart
On the other hand, a breakdown of the $3,716 will delay the move to $4,000 and beyond. However, if Ethereum price retraces to $3,375, it will indicate a weakness among buyers and significantly postpone the uptrend.
If the bears produce a decisive close below $3,375, it will invalidate the bullish thesis and could trigger an 8% crash to $3,087.
Ripple price continues to move forward
Ripple price has been consolidating since late November 2020, forming higher highs and higher lows. Connecting trend lines along the higher highs and higher lows results in the formation of an ascending parallel channel.
So far, XRP price has managed to bounce off the lower trend line on July 20 and has also shown resilience to correction, indicating the presence of strong buyers.
Recently, Ripple bounced off the second hurdle at $1.09 and is close to targeting a resistance barrier at $1.27. If the bulls manage to produce a decisive close above $1.27, it will confirm the start of a new uptrend and propel XRP price by 36% to the third hurdle at $1.70.
In a highly bullish case, Ripple could continue this ascent and make a run at the 2021 high at $1.96 or take the bull run a step further by attempting to retest the all-time high at $3.31.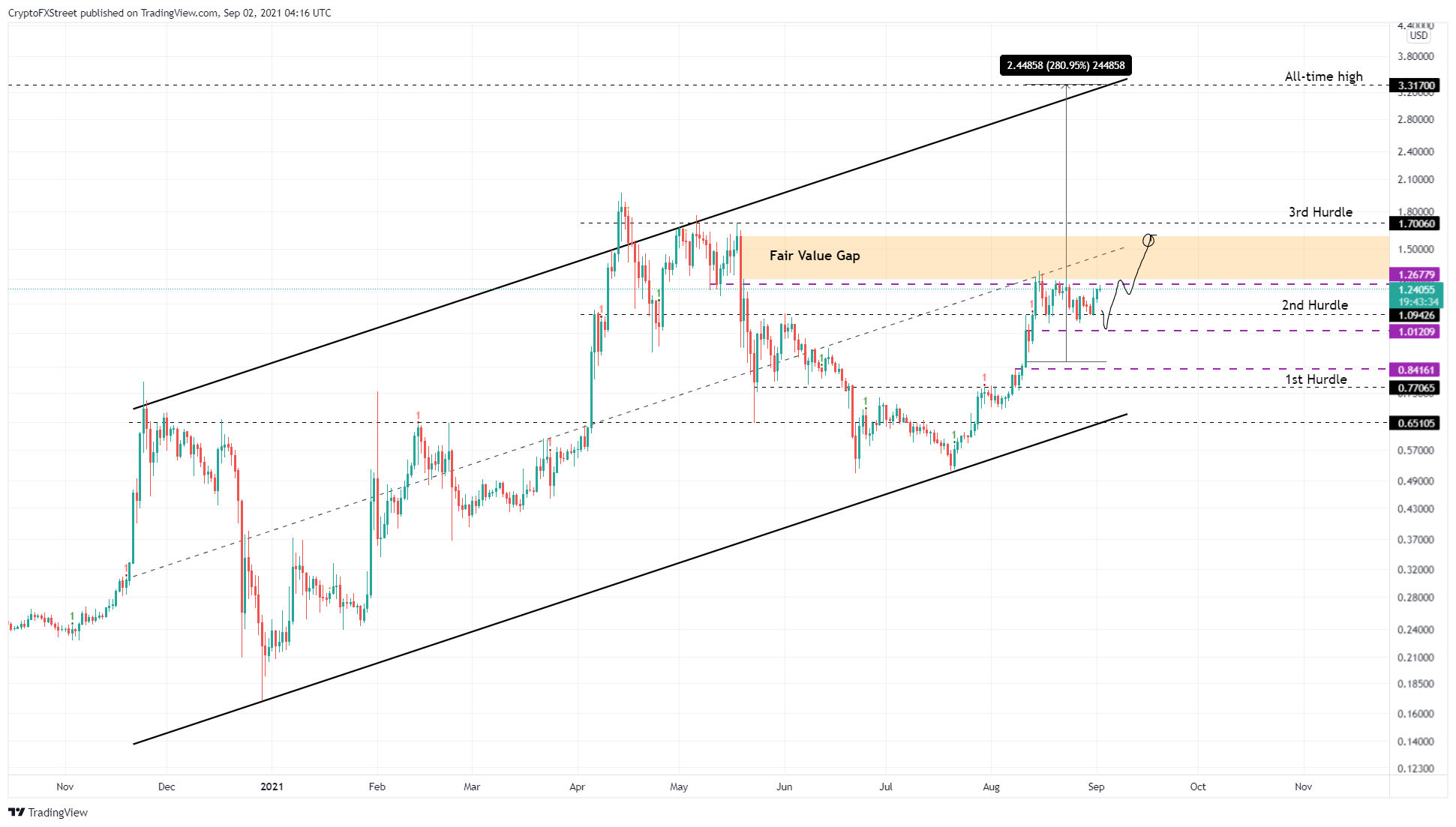 XRP/USDT 1-day chart
Ripple price has managed to hold up above the support levels without major downswings, which indicates a resilience among its investors to accumulate. Therefore, XRP price needs to hold above $1.01 to have any chance of keeping the upswing alive.
A breakdown of $1.01 will create a lower low, invalidating the bullish thesis. This move is likely to trigger a 16% sell-off to $0.842.
This crypto soars higher than Bitcoin and Ethereum
The price of bitcoin is now approaching its all-time high on April 14, when this crypto was valued at $ 64,800, and shows no signs of slowing down. Meanwhile, all kinds of other digital assets, from Ethereum to Dogecoin, are reaching impressive heights as well.
Behind the scenes, however, one coin is stealthily gaining traction and outperforming the big names in the cryptosphere. RBIS, the native token of the ArbiSmart platform, has quietly continued its ascent, maintaining a steady increasing trajectory, since its launch in 2019. It has already risen by 662% and analysts are forecasting an increase of up to 40 times the current price of 'by 2023.
A lucrative and low-risk strategy
The ArbiSmart platform performs automated cryptocurrency arbitrage. This means that it takes advantage of temporary price disparities, which are brief moments when a digital asset is available at different prices on multiple exchanges, at the same time.
ArbiSmart, connected to 35 exchanges, searches for disparities on hundreds of crypto-assets, simultaneously. When it finds a price difference, the algorithm generates a profit by buying the asset on the lower priced exchange, then instantly selling it on the higher priced one, before that the gap has not had time to close.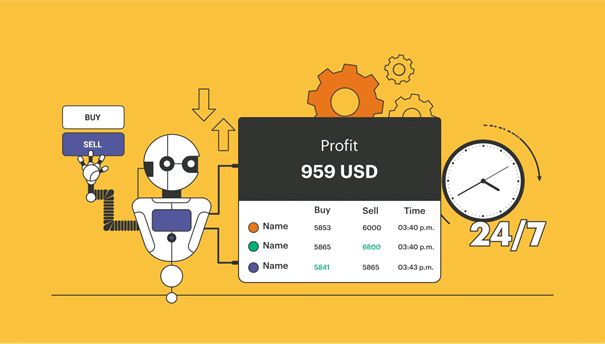 Because price disparities occur as well in a rising or falling market, ArbiSmart provides valuable hedge against a crash. If the market suddenly plunges and the recovery ends abruptly, your crypto will not lose its value, but instead will continue to generate a steady and reliable profit.
From the user's point of view, nothing could be simpler. Just register, make a deposit and that's it. Once you've deposited fiat or crypto, the algorithm does everything else. Your capital is automatically converted into RBIS and put to work, 24/7, to trade crypto-arbitrage. Profits start at 10.8% per year (0.9% per month) and reach up to 45% per year (3.75% per month) depending on the size of the investment.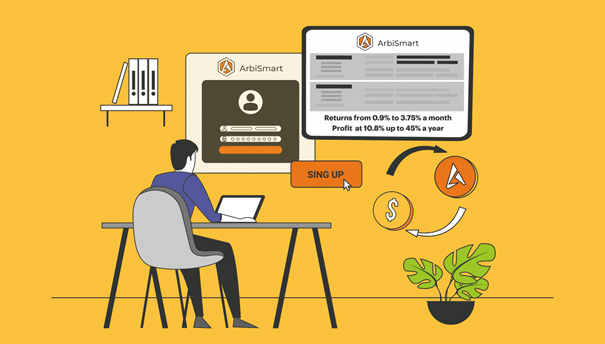 A considerable and stable profit
Since price differences between exchanges occur consistently in both a bull market and a bear market, you can anticipate your annual rate of return against crypto arbitrage with a high level of accuracy. Using ArbiSmart's yield calculator, you can see exactly how much you will earn over a given period, starting from a given deposit amount, taking into account compound interest and the changing value of the RBIS token.
In addition to profits of up to 45% per year through cryptocurrency arbitrage and compound interest, passive income can also be collected for the provision of liquidity. By locking your capital in a closed savings account for a predetermined period, you can earn up to 1% per day, just for having stored your funds on the platform.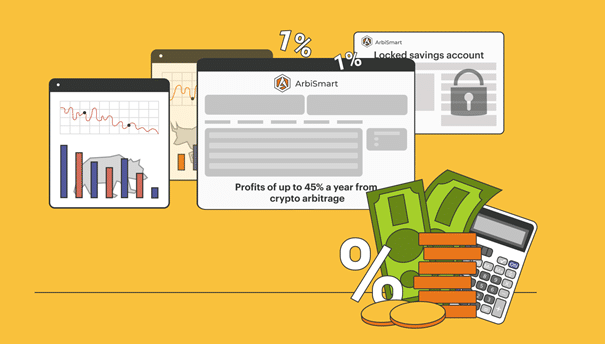 ArbiSmart also offers huge capital gains. The RBIS token has already reached more than 6 times its starting price and its value is expected to soar in the coming months.
Growing demand globally
In 2020 ArbiSmart's annual growth was 150% and so far 2021 has seen growth of 550%. During this time, the development team has not been idle. Major infrastructure upgrades have been implemented, and from Q4 2021 to Q1 2022, a series of new RBIS utilities are launched, including an interest-earning crypto and fiat currency wallet, yield farming as well as a crypto credit card.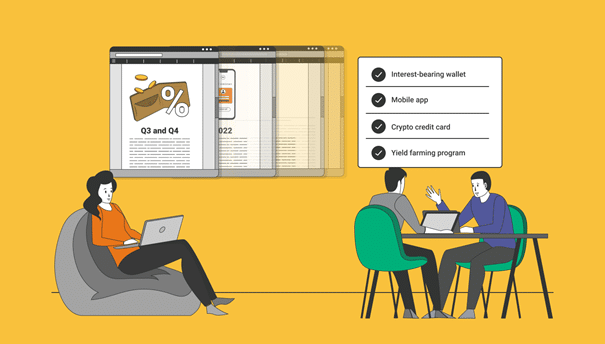 The fourth quarter of 2021 will also be marked by another event likely to increase the demand for tokens: the listing of the RBIS. Once globally tradable, RBIS will become accessible to people for whom this token was inaccessible due to ArbiSmart's European license. These include people whose account registration has been refused because regulatory requirements have not been met, residents of countries where ArbiSmart cannot accept customers, and people who wish to remain anonymous and do not not provide KYC (Know Your Customer) documents.
As demand for the token climbs this quarter, with the introduction of new RBIS utilities and listing on global cryptocurrency exchanges, the limited supply of tokens, the total of which is permanently capped at 450M, will decrease.
Whether in a bullish or bearish market, RBIS has proven to be a solid and lucrative investment opportunity, and in the coming weeks, the value of the token is likely to jump significantly. So it seems like now is the best time to buy, before the price of RBIS goes up further. Buy RBIS today.
If bitcoin doesn't need banks, should I buy bitcoin ETFs?
The launch of the first US Bitcoin ETF, the ProShares Bitcoin Strategy ETF (ticker: BITO) helped propel bitcoin to new all-time highs.
This was a milestone for the asset management industry, further integrating Bitcoin into traditional finance.
A big question raised this week was whether it's worth buying a bitcoin ETF, especially one that is tied to futures (not spot).
That's the issue that some members of the investment community may have been struggling with since the fund's launch on Tuesday. With the expectation that there are more such products on the horizon, let's try to better understand the advantages and disadvantages of investing in a bitcoin ETF.
A first advantage, especially for those who do not have enough time or knowledge to minimally actively manage their investments. Actively managed BITO provides exposure to bitcoin without having to worry about "storage", using so-called private keys and/or digital wallets to do so.
On the other hand, the best and most economical way to own bitcoin or other cryptocurrency is directly, and yet, traditional brokerages offer relatively low fees compared to administration and custody fees charged by ETFs.
The ProShares ETF proved to be the 2nd most traded fund launch on record, with more than 24 million shares changing hands on the 1st day, and reached $1.2 billion in assets after just 2 trading days.
futures
The head of the SEC (the US CVM), Gary Gensler, has suggested that a futures-linked bitcoin ETF offers better investor protections than an ETF that is backed by spot cryptocurrencies.
A key criticism of a bitcoin futures ETF is that managing futures contracts can be expensive compared to direct ownership.
Futures are contracts that give the buyer exposure to the price movements of an asset, usually with monthly expiration dates.
A future ETF involves the cost of "rolling over" contracts that expire soon into future months, which would likely be passed on to the end user.
Also, when the prices of a futures contract are higher for futures months contracts, the market is said to be in contango. That is, you will pay more to exit the expiring contract and enter the new one.
On the other hand, when shorter-term contracts cost more than longer-term contracts, this is called backwardation.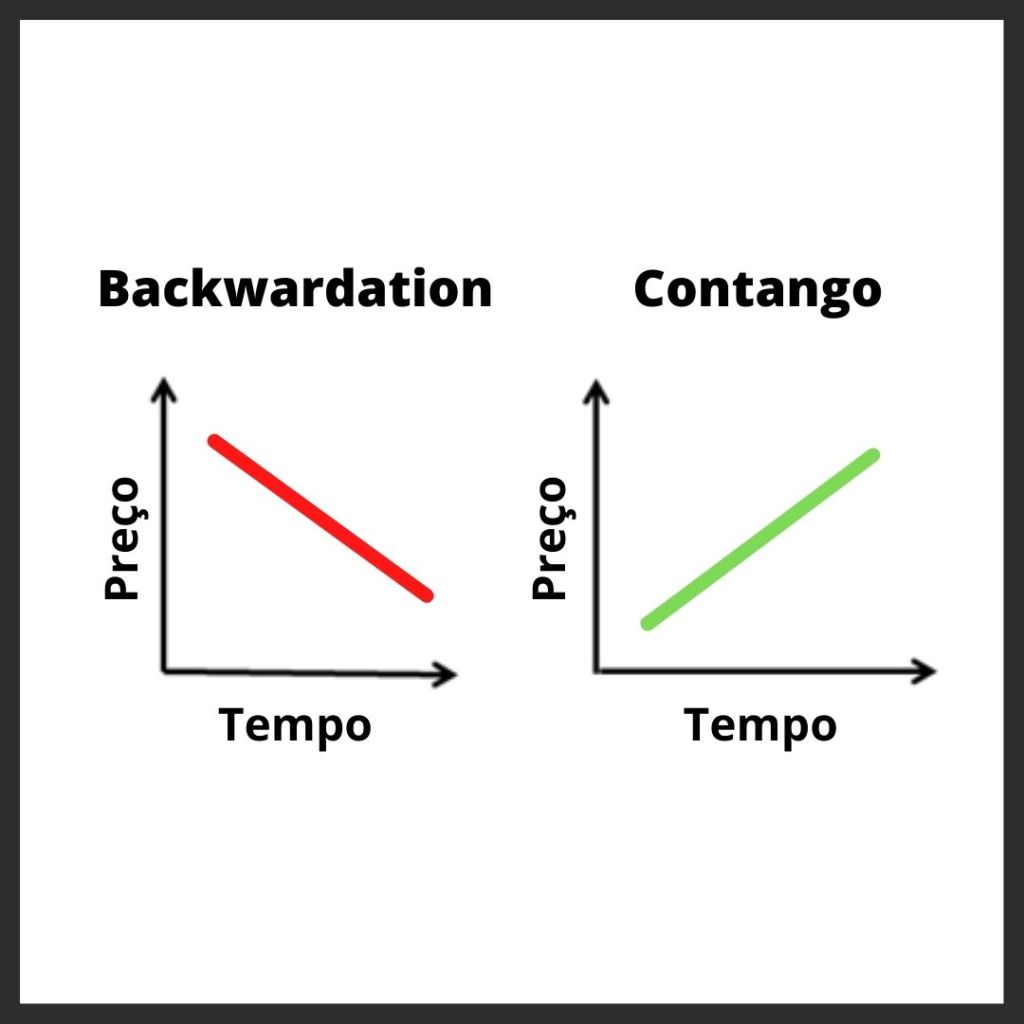 For those who don't feel confident going to a brokerage or owning their own private keys, the bitcoin ETF can be a good place to start. But, it should be kept in mind that it also has its costs and risks.
"Veterans are not buying" ("Veterans are not buying")
Despite the hype about the debut of the first Bitcoin-linked ETF, many proven crypto enthusiasts aren't planning to buy it anytime soon.
This move was a big step for the traditional market. But bitcoin's central goal is still to bypass Wall Street and democratize the financial sector.
Some Bitcoin advocates claim that the ETF, in some terms, defeats Bitcoin's fundamental purpose: autonomy and ownership.
Cathie Wood of Ark Investment Management said she did not buy the BITO fund on its first trading day because she wants to better understand the tax ramifications of ETF futures exposures first.
Despite all this, it is worth reinforcing several positive points in favor of ETFs, such as: you do not need to worry about their custody, the ease of portfolio planning, the simple way to manage investments, the security involved (since the custody is usually done by specialized companies), among other points.
In summary, it is not possible to say in a binary way whether the bitcoin ETF is or is not a good investment alternative. It all depends on your investor profile, your intentions and objectives when investing in bitcoin, and your strategy.
Futu Niuniu and Tiger Securities can't search for Bitcoin ETF market data
China's largest stock trading platform, Futu Niuniu, Tiger Securities, can no longer search for Bitcoin ETF market data.
The blackout comes at the backbone of their success after BITO's listing.
Futu Niuniu and Tiger Securities have been unable to search for the market data of two Bitcoin ETFs, including Valkyrie's BTF or ProShares BITO. The Chinese government seems to enforce its regulations even on companies working abroad. The blackout comes at the backbone of their success after BITO's listing. BITO was the number one hot stock in the Tiger Securities app. It is not yet clear why the companies cant search for Bitcoin ETF currently.
Tiger and Futu played an integral part in a record number of Chinese IPO deals. These, despite threats from China to block any future American involvement. Last year, the two firms advised on 26 U.S.-based IPOs. Besides, they also helped their clients get listed abroad through offshore listings.
Futu and Tiger facing risks of new personal data privacy law
Futu and Tiger have attracted one million brokerage clients, which has helped provide trading flows in droves. In early September, tech stocks were falling in the entire United States. The two entities helped contribute almost $1 billion to Tesla Inc.'s value.
Yet, Futu and Tiger are both facing risks as China's new personal data privacy law takes effect on Nov 1.
The Chinese authority is cracking down on big technology firms focusing on crypto. Yet, these same giants have found success in the US with IPO underwriting.
Investors in China are taking their money to brokers that help them invest overseas. But these firms could run into problems with data privacy rules and compliance risks.
China targets the most extensive stock software
China's latest round of governing attacks has come in a flurry, targeting cryptocurrency. The People Daily News lists Chinese online agents next on the list for firm oversight and docility. The total crackdown comes as China braces itself arising from trade wars with America.
Futu, reacting to a piece that discussed how they protect user data, said. "Since our launch, Futus has insisted that the security of information and data is supreme."
"Futu stands firm on its pledge for strict compliance with relevant laws & regulations," they said.
China plans to execute a new law to govern cyberspace and enhance national security. The Personal Information Protection Law takes effect on Nov 1. And it will complement China's Data Security Law. It's okay for the country's investors to invest abroad in cross-border Connect schemes. And Qualified Domestic Institutional Investors (QDII).
The new rules will regulate the export of personal data. They are posing a challenge and a threat to online brokers. In most cases, these brokers provide cross-border trading services for mainland Chinese citizens.
Futu and Tiger Securities don't have brokerage licenses on the mainland. But, Chinese citizens can open accounts with them online. Citizens must submit personal data related to ID cards, bank cards, and tax records for this to happen.