Ethereum and Chainlink are posting double-digit gains
Earnings for Ethereum
The bulls of Ether can finally rejoice as ETH broke the above $ 3,500 resistance and is within walking distance of $ 4k . Ethereum continued with the recent macro trend reaching session highs or lows in the daily close with a session high of $ 3,842 just a few minutes before the close of Wednesday's candle.
Ethereum dominance now accounts for 19.5% of the aggregate cryptocurrency market capitalization.
There are countless variables in cryptocurrencies to be aware of, but Ether is outpacing bitcoin at a rapid pace and the ETH fractal increasingly resembles the 2017 bull market.
If Ether follows the 2017 cycle and the major upside is imminent, then $ 7,500 could be the prime target. A second goal of $ 10,000 and subsequently $ 20,000 could be met if history repeats itself.
You can see in the IvanLabrie chart above the similarities to the last big cryptocurrency cycle and the current one that traders are immersed in now – the chart claims that traders are currently close to the November 2017 setup on the chart.
Ether is + 674% against the US dollar over the past 12 months and + 92.96% against BTC over the same period.
The 24-hour ETH price range is $ 3,382- $ 3,842 and the 7-day price range is $ 3,092- $ 3,842.
Ethereum's 52-week price range is $ 320 – $ 4,352. The average price of Ether over the past 30 days is $ 3,159.
Ether closed the daily candle on Wednesday with a value of $ 3,842 and in green figures for the third consecutive day.
Chainlink analysis
LINK's price action has calmed down over the past 12 months, but the fundamentals and technical data may be better than ever.
Chainlink has really been leading the bull market in many ways during the summer of 2020. However, despite the ecosystem's unparalleled development and progress, the price hasn't fared as well in 2021.
In the last 12 months LINK is + 82.25% against the US dollar, -54.72% against BTC, and -76.58% against ETH.
With only the last third of 2021 remaining, where is LINK heading?
The chart below from harisonhbn9718 shows that Chainlink has officially broken its bullish pattern and the next target is the $ 35 level. Above the psychological resistance of $ 30, the movement measured on the Chainlink daily time scale can push the price above $ 40.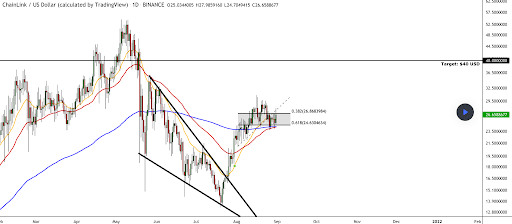 Chainlink's 24-hour price range is 26.10- $ 29.80 and the 7-day price range is 24.27- $ 29.80.
Chainlink's 52-week price range is $ 7.61- $ 52.35 and its 30-day average price is $ 26.08.
Chainlink closed the daily candle on Wednesday with a value of $ 29.75 and + 11.31% for its second consecutive close in green figures.