Solana, Chainlink Price Analysis: September 3, 2021
Solana springs to a new all-time high at $136; investors believe the rally is far from over.
Chainlink steps above $30 for the first time in September as the mission to $40 gains momentum.
Bitcoin bulls stepped up their game on Thursday, leading to a price increase above $50,000. As reported earlier, the upswing was short-term because BTC retreated, almost testing support at $48,000.
In the meantime, Ether stalled before rising to $4,000, but its upward momentum is not entirely lost. Hence, Ethereum may still trade above the psychological level during the weekend. The rest of the market is mainly green, but crypto assets post-minimal gains as per CoinGecko's live price data.
Solana:-
Solana exploded to the moon again, roaring to a new all-time high for the second time in the same week. This altcoin has put up an impressive show in the ongoing bull cycle to the extent of hitting a new record high at $136.
Earlier in the week, Solana's rally took a breather at $130, followed by a correction to $100. However, the token did not stay down for long. Hence it has gained ground toward $130 by the end of Thursday.
Following the launch to a new all-time high, Solana is trading at $134. It has accrued 19% in gains over 24 hours and 77% in seven days. Solana boasts a trading volume of $5.5 billion and a market cap of $39 billion.
A correction will likely occur in the coming session, especially if the Relative Strength Index (RSI) exits from the overbought area. Support is expected at $130 (the previous ATH) and $120, respectively. Besides, the Moving Average Convergence Divergence (MACD) still spots a bullish impulse, according to the four-hour chart.
SOL/USD Four-Hour Chart
Chainlink, like Solana, has been on a north-bound mission in the wake of the short-term losses in August to $24. This support allowed bulls to regroup and gain traction to $30.
The live price data oracle token came short of missing the high achieved last month but extended the bullish leg to $30.89. Meanwhile, the challenge is to keep LINK above $30 and allow bulls ample time to execute the mission to n$40.
LINK/USD Four-Hour Chart
Live Chart
The short-term technical outlook is still bullish, fronted by the RSI's position slightly above the 70. A bullish impulse from the MACD suggests that buyers have the upper hand, and Chainlink will potentially lift the price higher.
Chainlink Price Analysis: LINK tests $25 resistance again, breakout to follow today?
Chainlink price analysis is bullish today.
LINK/USD moved to $25 resistance again yesterday.
LINK currently consolidates below the $25 resistance.
Chainlink price analysis is bullish today as the market has seen bullish momentum return over the last 24 hours, with another retest of the $25 resistance. Therefore, we expect LINK/USD to move higher later today and finally break higher.
The overall market traded with a strong bullish momentum over the last 24 hours. The market leader, Bitcoin is up by 6.69 percent, while Ethereum has gained more than 12 percent. Meanwhile, Uniswap (UNI) is among the best performers today, with a gain of around 35 percent.
Chainlink price movement in the last 24 hours: Chainlink rallies back to $25 resistance
LINK/USD traded in a range of $22.43 – $25.44, indicating strong volatility over the last 24 hours. The total trading volume has increased by 14.91 percent and totals $1.73 billion, while the total market cap trades around $11.17 billion, ranking the coin in 15th place overall.
LINK/USD 4-hour chart: LINK ready to break past $25?
On the 4-hour chart, we can see the Chainlink price consolidating below $25 resistance as bulls gather momentum to push higher.
The Chainlink price action traded within a strong bearish momentum over the past weeks. After a new major swing high was set around $36 on the 6th of September, a strong decline followed the next day.
LINK/USD found support above the $25 mark, which currently gets retested as resistance. Following the several-day consolidation, a new swing lower high was set around $32, with the further decline seen on the 16th of September.
This time, support was found above $21, with the following rebound to the upside retesting the $25 mark as a resistance. From there, LINK/USD made another move lower late last week and set a slightly higher low at $22 this time. Yesterday, LINK started to move higher again, resulting in another test of the $25 resistance.
Chainlink Price Analysis: Conclusion
Chainlink price analysis is bullish today as bullish momentum has returned over the last 24 hours, and the $25 resistance is tested again. Considering that bears are likely exhausted, we should see LINK/USD break higher and finally set a new higher high.
While waiting for Chainlink to move further, read our guides on NFT Games, CoinJar, as well as Bitcoin Memes.
Chainlink Rated as an 'Undervalued' Crypto, Will LINK Bounce Back?
Crypto strategist and trader, Michael Van de Poppe tweeted that Chainlink is a very 'undervalued' crypto.
The tweet generated different opinions.
Investors are hopeful LINK will pick up in the crypto market.
A crypto strategist and trader, Michael Van de Poppe, took to his Twitter to raise an interesting personal sentiment towards the decentralized oracle network, Chainlink (LINK). In detail, he stated that 'Chainlink is a very undervalued crypto'. As a result, the tweet generated diverse opinions.
Specifically, some questioned what basis made him feel that LINK is undervalued when there are more useful oracles out there. In contrast, others agreed with him.
On the other hand, there are also people who wondered why LINK's daily partnerships have no effect on the price. However, a few are optimistic that Chanlink's recent partnership with Cardano could help increase its value.
Currently, Chainlink stands at a market cap of over $10 billion with a growth rate of 1.32%. With its price at $23.01 as of the time of writing, some believe in due time, it will break out with a hit of even $200.
Moreso, LINK users feel it deserves to be minimum at the top 10, instead of its 15th position according to its ranking in CoinMarketCap. To add on, one says he sees Chainlink going up to $500 to $800 before 2024.
Will Chainlink (LINK) Bounce Back?
Chainlink (LINK) made a massive growth in 2019 and 2020. As a result, investors question why LINK has not yet made a mark like Cardano and other top 10 altcoins. Since its launch in 2018, investors have been hopeful that the crypto would compete with top coins, like BTC, ETH, and a few others. But, surprisingly, after showing prospects in only 15 months of its debut, LINK took a turn for the worst.
Based on the chart above, the price of LINK is still in a bearish position. This comes after it was stuck in the same volume for quite some time. However, If LINK succeeds in reclaiming the $34 to $35 zone, new highs should be on the table.
Above all, one has to keep an eye on Chainlink (LINK) as it has chances of hitting the moon soon. It never hurts to watch and anticipate as we could see a nice move up. LINK will have its moment, it's just a matter of time.
Crypto Analyst Predicts Fresh All-Time Highs for Two Explosive Altcoins, Says Chainlink Is Primed To Rally
A prominent crypto strategist and trader is predicting new all-time highs for two explosive altcoins, while anticipating a surge in the value of Chainlink (LINK).
The trader known in the industry as Inmortal tells his 72,600 followers that he's keeping a close watch on FTX Token (FTT), the utility token of crypto exchange FTX.
According to Inmortal, FTT is flashing multiple bullish signals that can ignite an 85% rally from its current value of $54.
"Deviation + Triple Raid + Bull divergence. Send FTT to $100."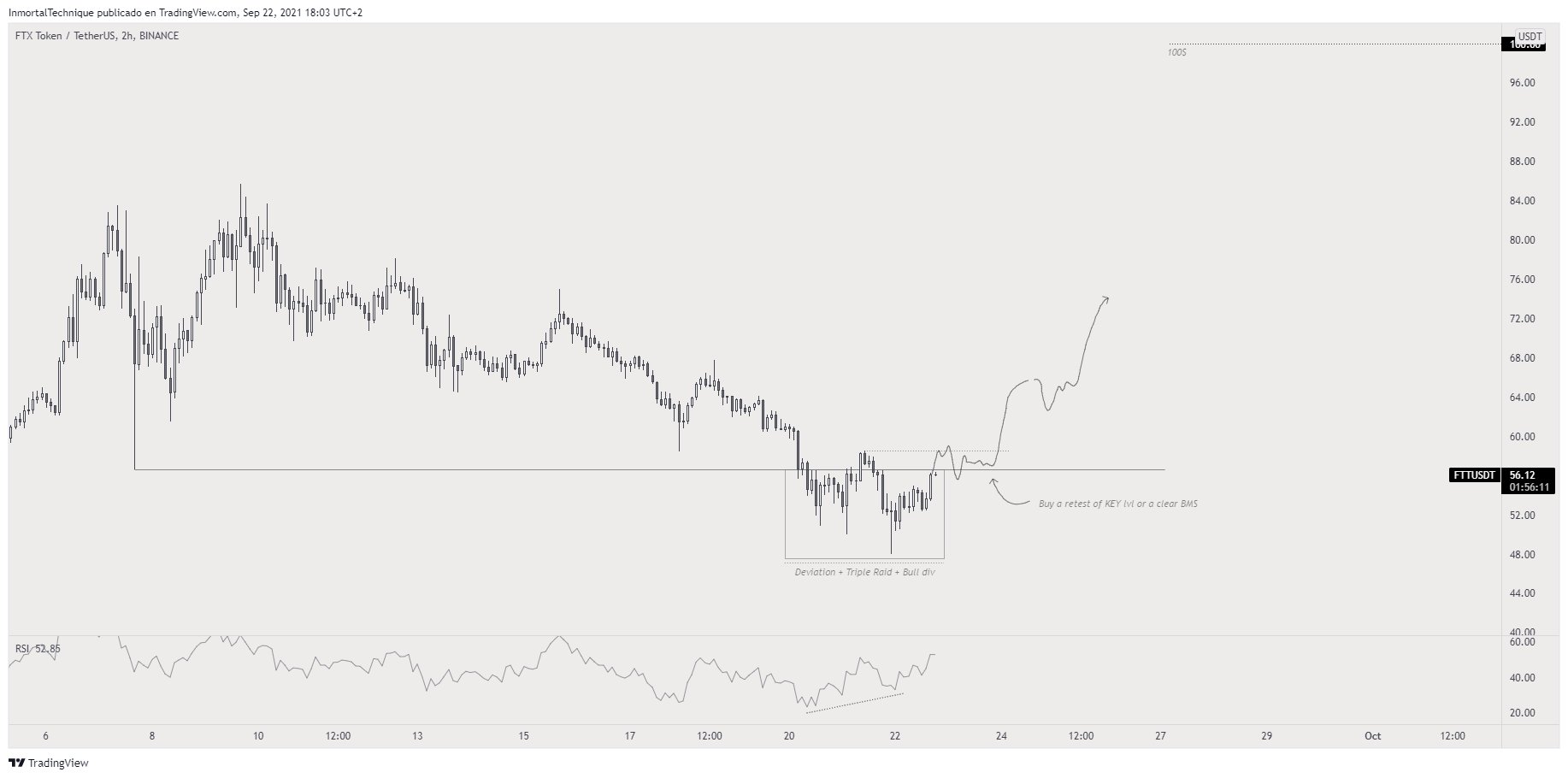 Another coin on the trader's list is Cosmos (ATOM), a crypto project touted as the "internet of blockchains." Inmortal says ATOM is ready to print a fresh all-time high as it follows in the footsteps of explosive altcoin Avalanche (AVAX).
"Since the drop, ATOM was one of the best performers, (between others like AVAX or SOL). +46% bounce so far. I expect ATOM will follow AVAX and make a new ATH soon."
As for decentralized oracle network Chainlink (LINK), the crypto strategist believes that it is poised to launch a 66% surge after reclaiming a key support at $24.
"Easy trade. Send LINK to $40 ASAP."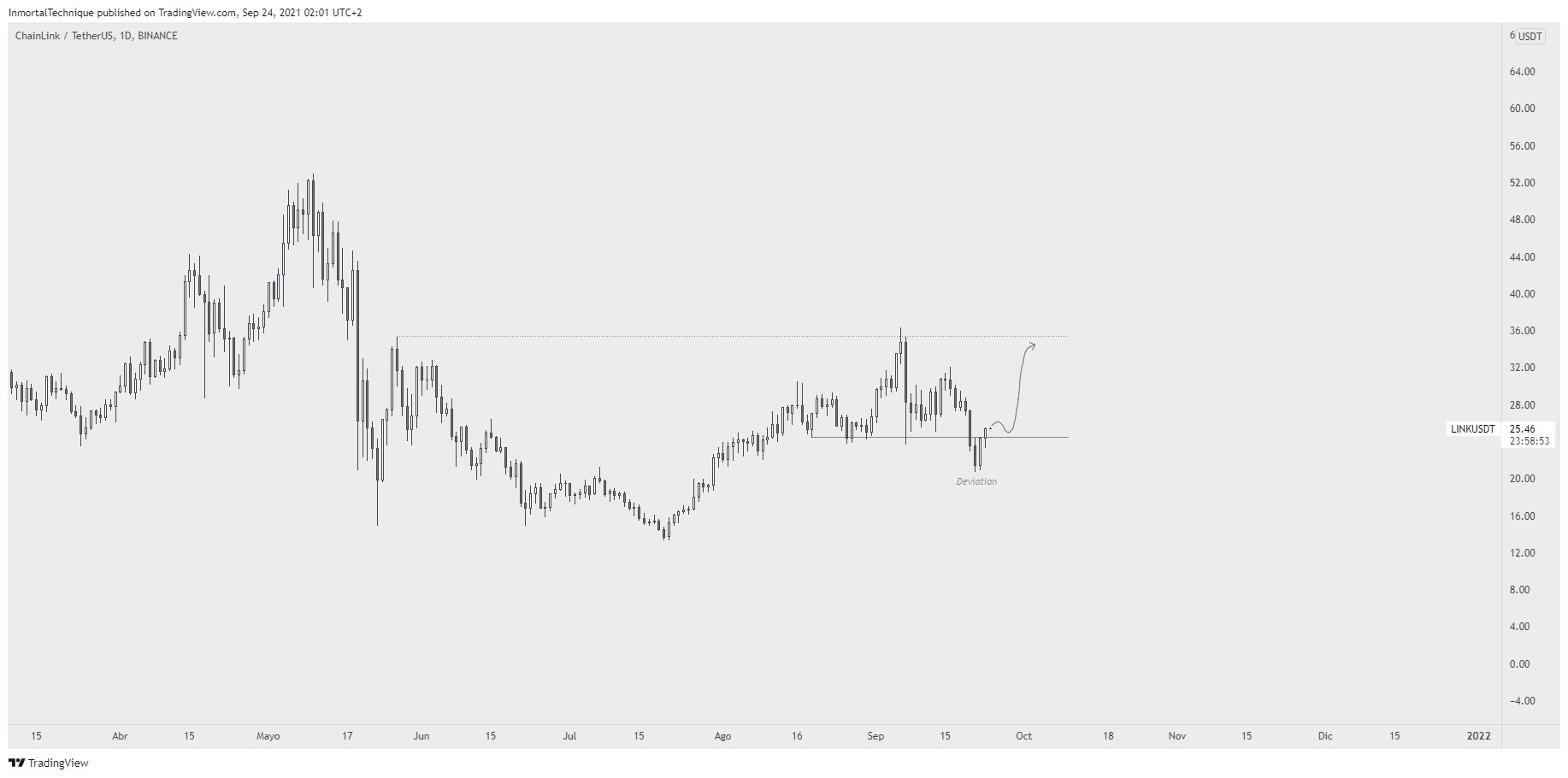 Looking at Bitcoin, the crypto trader predicts that the king crypto is gearing up for a steep rise that will erase Bitcoin's losses over the past week.
"I don't understand it.. but short a V reversal if you want. BTC is still going to $100,000."