Solana (SOL) Skyrockets To New Highs Following The Ignition Hackathon
Solana (SOL) took the crypto market by storm when it smashed an all-time high of $145.97 today.
Since early 2021, Solana has demonstrated an aggressive bull rally. The token nailed a whopping growth rate of over +7,500%, acquiring a massive market capitalization of over $41 billion. Very recently, Solana dethroned $DOGE and became the seventh most valuable project of the cryptosphere.
Solana (SOL) is riding a wave of NFT and DeFi projects
While investors continue to have a positive outlook on SOL and its success, experts attribute the altcoin's explosive surge to NFT and DeFi project integrations. It is worth noting that Solana network hosts a cumulative of 400 projects at present, and some of the projects are performing really well in markets. Solana's key driving factors listed down below.
Degenerate Ape Academy was Solana's prime big leap into NFTs in August. The platform enables users to mint amusing cartoon apes — with various degrees of rarity. At the time of launch, the collection saw 10,000 apes and in mere eight minutes, they were all gone aka sold! The incident drove SOL's overall trading volume to 96,000, approximately $5.9 million at the price of $61.5. Besides this, the episode also propelled Solana amongst top 10 cryptocurrencies on CoinMarketCap,
We sold out in 8 minutes. Holy Ape.

No the drop was NOT smooth. It was shitty at best. We did A LOT wrong and the team was overwhelmed with the wave that hit us in the past week. It was exponentially bigger than we thought. Please ape rage in the comments /1 pic.twitter.com/HCccxoSoQn— Degenerate Ape Academy 🎓 (@DegenApeAcademy) August 15, 2021
FTX and Alameda Research launched a decentralized cryptocurrency exchange dubbed 'Serum' on the Solana network, which hosts Circle's stablecoin USDC. Most recently, on September 2, Solana announced an integration with blockchain-powered music platform Audius. These factors helped Solana to record higher highs and dethrone meme coin $DOGE.
What May be Fueling Solana's Rise
Solana appeared more bullish following its global hackathon launch, dubbed as Ignition. Speculators misunderstood Ignition to be 'SOL burning event' which further propelled the token higher above $100 for the first time in its history on August 30. 
Per the network, the hackathon will run from August 31 until October 8 with an aim to fetch out talents from around the world into the Solana community. Ignition has also pledged to distribute over $5 million worth of rewards and prizes from event sponsors like Microsoft, Jump Capital, and Standard Chartered, Mango Markets.
The token price is on a tear. One of the analysts on twitter anticipated that SOL price will breach the $200 mark in upcoming trading sessions. 
$SOL magic happened after breakout.
200 not that crazy anymore.
Anyway, get ready to TP. pic.twitter.com/X2SaEPOFzS— Don Crypto (@DonCryptoDraper) September 3, 2021
Analysts also speculate that SOL can see further highs observing the ongoing DeFi and NFT mania. 
Solana price needs to crack this key level as SOL bulls eye an upswing towards $200
Solana price is teasing a falling wedge breakout on the daily chart.
SOL bulls need to find acceptance above $148 to initiate a fresh upswing.
The downside remains cushioned by the 50-DMA at 110.50, bullish RSI.
Solana is seeing some buying resurgence on Saturday, as it reverses Friday's temporary drop to near the $127.50 region.
SOL bears fought back the control a day before, tracking the downbeat tone across the crypto market, in light of the blow from China. The People's Bank of China (PBOC) issued a notice, imposing a ban on all crypto transactions as it will be considered illicit financial activity.
At the time of writing, SOL price has recaptured the $140 mark, adding about 1% on the day, although remains on track to book the second straight weekly loss.
Solana price prepares for a big technical breakout
Looking at Solana's daily chart, SOL bulls are challenging the falling trendline resistance at $148 after two failed attempts earlier this week.
If SOL bulls manage to find a strong foothold above the latter on a daily closing basis, then it would confirm an upside breakout from a falling wedge formation.
SOL price has been trending within the bullish continuation pattern ever since it recorded all-time highs at $221.38 on September 9. The price has been forming lower highs and lower lows, carving out a falling wedge pattern on the said timeframe.
The 14-day Relative Strength Index (RSI) inches higher above the midline, allowing room for more upside.
Therefore, the wedge breakout would open doors for a rally towards the $200 mark. Ahead of that the horizontal 21-Daily Moving Average (DMA) at $159.40 could test the bearish commitments.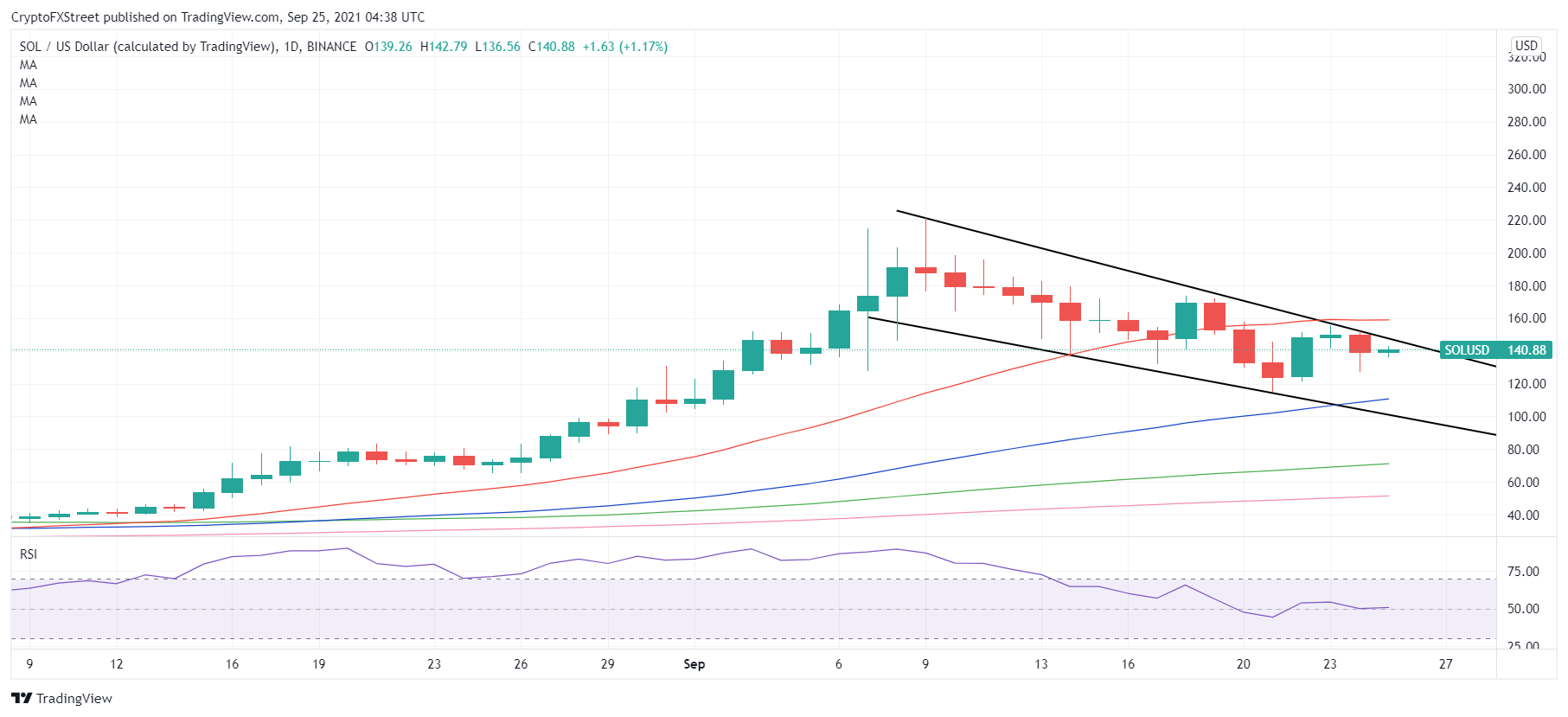 SOL/USD: Daily chart
Should the wedge hurdle emerge as a tough nut to crack SOL price could see a retracement towards the upwards-sloping 50-DMA at $110.50.
The next downside target is seen at falling trendline (wedge) support at $100.60, below which a fresh downswing could kick in towards the mildly bullish 100-DMA at $71.54.
First Permissioned Decentralized Exchange Launch on Solana
Solrise Finance and Civic Technologies launch the first permissioned DEX on Solana.
Solrise DEX Pro allows institutional investors to access Decentralized Finance.
The DEX utilizes the Civic Pass for its KYC identification requirements.
Decentralized fund management and investment protocol Solrise Finance and decentralized identity firm Civic Technologies partnered to launch the first Solana-based decentralized exchange with permissioned access. As regulators continue to eye DeFi, a permissioned DEX allows for more checks within Decentralized Finance (DeFi).
The product, Solrise DEX Pro, will offer a traditional order book experience and a permissioned environment that's suitable for institutional investors. It's built on Project Serum which is a DEX that utilizes Solana's throughput. Aside from this, Civic Pass, Civic Technologies' identity verification for DeFi will be integrated.
In a nutshell, the project enables institutions to jump into DeFi. Under normal circumstances, institutional investors cannot join in because of the need to comply with regulations. However, with the advent of a permissioned DEX, a parallel ecosystem is achieved. This means that they can access DeFi while still meeting regulatory requirements.
The project is also backed by one of the biggest firms in the market. Quantitative trading firm Alameda Research, a key investor in Solana, will also support the project and provide initial liquidity for Solrise DEX Pro.
Filip Dragoslavic, Co-Founder of Solrise, said that as Solana is becoming the DeFi ecosystem for traditional finance, the team expects institutions to jump into the ecosystem.
Dragoslavic added,
This is our way of bridging the world of institutions to DeFi without resorting to centralization, thanks to Civic.
According to Chris Hart, CEO of Civic, a permissioned DEX will make room for new players in DeFi — including institutions. He further explained that the team is building technology that aims to protect individuals' digital identities and new financial systems.
Hart added,
In Solrise, we've found a partner that shares our values and is working with us to set a higher standard that will ultimately benefit the broader industry.News Source
Solana Kurs: SOL bald wieder unter 100 Dollar?
Der Solana-Kurs erlebt gerade die erste nennenswerte Korrektur seit seiner 876%-Rallye.
Ein Rutsch unter die Nachfragebarriere bei 119,26 $ würde SOL bis auf 95,94 $ zurückwerfen.
Eine erfolgreiche Rückeroberung des Widerstandsniveaus um 147,55 $ würde die Abwärtsthese entkräften.
Der Solana-Kurs befindet sich seit dem 20. Juli in einem exponentiellen Aufwärtstrend, der sich bis zum Erreichen eines neuen Allzeithochs am 9. September nicht abschwächte. Dieser etwa anderthalb Monate dauernde Anstieg des SOL-Kurses erfährt derzeit einen Pullback, der sich noch weiter nach unten ausdehnen könnte, wenn entscheidende Barrieren durchbrochen werden.
Solana-Kurs vor Entscheidung
Der Solana-Kurs ist seit dem 20. Juli in 51 Tagen um rund 876 % gestiegen. Das Beeindruckendste an diesem Anstieg ist, dass es auf dem Weg dorthin keinen massiven Abschwung gegeben hat. Nachdem er jedoch mit 216 $ ein neues Allzeithoch erreicht hatte, begann sich der SOL-Kurs abzukühlen.
Bislang ist der Altcoin um 44 % gefallen und prallt derzeit am 50 %-Fibonacci-Retracement-Level bei 119,26 $ ab. Dennoch ist es unwahrscheinlich, dass sich dieser Aufwärtstrend fortsetzt, insbesondere in Anbetracht der Marktlage.
Ein möglicher Anstieg des Verkaufsdrucks, der die Marke von 119,26 $ durchbricht, würde den Solana-Preis bis zur unmittelbaren Barriere bei 110,25 $ nach unten ziehen. Diese Marke ist die einzige Unterstützungsuntergrenze, die zwischen einem SOL-Kurs von unter 100 $ und einer starken Korrektur steht.
Wird diese Barriere durchbrochen, rutscht Solana auf das 62%-Fibonacci-Retracement-Level bei 95,94 $ und bei anhaltendem Verkaufsdruck auf das nachfolgende Level bei 79,43 $ ab.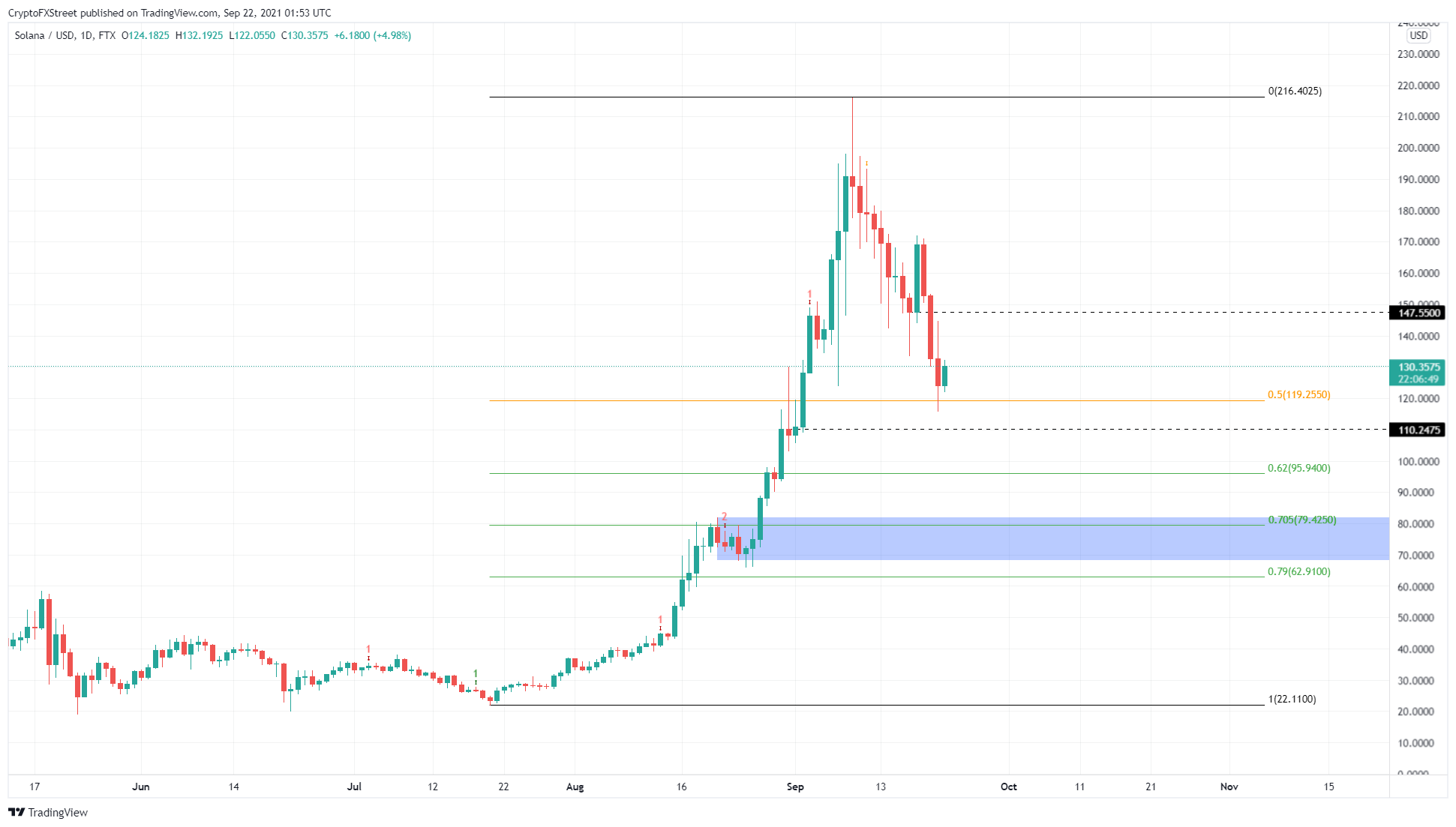 SOL/USD 1-Tageschart
Andererseits könnte dieser Abwärtstrend nach einem erfolgreichen Abprallen vom 50%-Fibonacci-Retracement-Level bei $119,26 enden. In diesem Fall müsste der Solana-Kurs das Widerstandsniveau von $147,50 zurückerobern, um einen Boden zu bilden.
Diese Bewegung würde die Abwärtsthese entkräften und als Plattform für einen weiteren Anstieg auf 169,29 $ dienen.