NFL Bans Teams From Selling NFTs, Entering Crypto Sponsorships: Report
The National Football League (NFL) is reportedly banning teams from selling non-fungible tokens (NFTs) and entering sponsorship deals with crypto trading firms for now.
According to The Athletic, the league is imposing the temporary policy as it comes up with a strategy to enter the market for sports digital cards and arts. The league is also barring NFL teams from selling sponsorship agreements with crypto exchanges like FTX. However, The Athletic reports that NFL teams can work with asset management firms selling funds that track the performance of crypto assets. 
An unnamed team official reveals the NFL's new guidelines involving the digital asset industry.
"Clubs are prohibited from selling, or otherwise allowing within club controlled media, advertisements for specific cryptocurrencies, initial coin offerings, other cryptocurrency sales or any other media category as it relates to blockchain, digital asset or as blockchain company, except as outlined in this policy."
Although the NFL is slow to jump into the booming NFT space, the National Basketball Association (NBA) is raking in hundreds of millions of dollars from sales of digital collectibles. NFT resource CryptoSlam shows that the NBA Top Shot, which sells short clips of NBA highlights as digital collectibles, has generated over $704 million in all-time sales.
Earlier this year, the NBA's Miami Heat inked a $135 million agreement granting crypto exchange FTX the naming rights to its home arena in Florida. The Chicago Bulls also launched their own NFT collection in partnership with online shopping platform Shopify.
Snoop Dogg Partners With Metaverse Sandbox
Snoop Dogg partnered with the Sandbox.
Snoop Dogg creates, shares and monetizes NFTs on Ethereum (ETH).
The crypto world's presence continues to be felt in and outside the crypto space. This time, the famous rapper Snoop Dogg partnered with the Sandbox. In detail, the Sandbox is a non-fungible token (NFT) project of Metaverse. Through this gaming ecosystem,  Snoop Dogg can easily create, share and monetize NFTs and gaming experiences on Ethereum (ETH).
I'm entering the #metaverse with @TheSandboxGame !! #TSBxSnoopDogg #NFT https://t.co/DZvSV4NNSc pic.twitter.com/zoa87iDhRl— Snoop Dogg (@SnoopDogg) September 23, 2021
The Sandbox gaming ecosystem will also allow the rapper to build his own mansion where fans can participate. For instance, Snoop Dogg can create his own palace or mansion of his liking where the player can join Snoop at his parties and concerts.
Snoop Dogg further explained:
I'm always on the look-out for new ways of connecting with fans and what we've created in The Sandbox is the future of virtual hangouts, NFT drops and exclusive concerts.
Snoop added that NFT brings online adventure to the next level. he said,
We'll have a fresh set of Dogg style NFTs that players can integrate into the game experiences to take this online experience to the next level for sure, he said.
On the other hand, the NFT space continues to make noise that can be heard everywhere. Today, NFT is not limited to arts. It has also entered the world of play-to-earn games such as Cryptozoon and My DeFi Pet, to name a few. Through this, we can say that the crypto world is one step closer to dominating the digital and financial system of the world.
Ethereum's NFTs Can Now Be Moved to Solana: Here's How
Wormhole bridge for digital collectibles goes live to bridge Solana and Ethereum: details
Wormhole, the development team behind the world's first-ever bridge between Ethereum (ETH) and Solana (SOL) smart contracts platforms, now boasts NFT functionality.
Ethereum, Solana now have common NFT ecosystem powered by Wormhole
According to the official announcement shared by Wormhole cross-chain bridge vendor, Ethereum and Solana users can now send NFTs between two blockchains.
1/ Today we're incredibly excited to announce the launch of our NFT bridge between @Ethereum and @solana 🙌🏻.https://t.co/zCm3nJIkHF— Wormhole (@wormholecrypto) September 22, 2021
Starting from today, Sept. 22, 2021, holders of digital collectibles on Ethereum (including iconic Crypto Punks, Degen Ape Academy and so on) can now seamlessly move them to Solana (SOL).
In its inaugural releases, the product will support only the most popular standards of digital collectibles: ERC-721 and SPL tokens. More standards, including ERC-1155, will be added soon.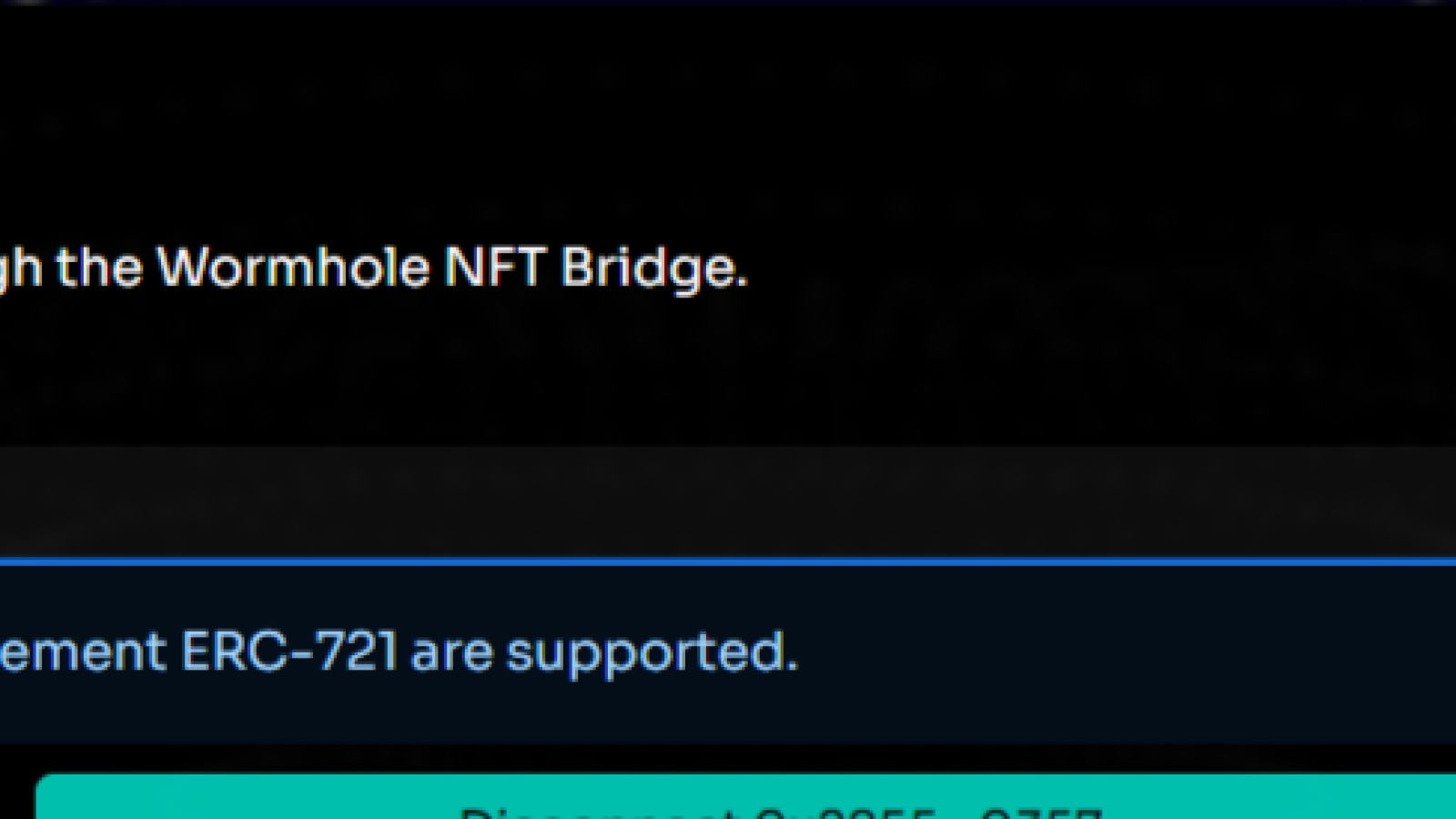 To send NFTs between the two chains, users should only connect wallets (Metamask, Sollet and so on), customize the chain and target account and choose NFTs to transfer and authorize the transaction.
Cross-network bridges are on fire
This release is part of Wormhole's second iteration (Version v2). As covered by U.Today previously, Wormhole is going to integrate more chains like BSC and Terra (LUNA) in this version.
As DeFi and NFT adoption gains steam, the usage of cross-network bridges is rocketing. Ethereum-Polygon bridges are the most popular in the Web3 universe.
Also, USD Coin (USDC) stablecoin by Circle has surpassed Ether as the top asset of cross-chain bridges.
Taker Protocol Secures $3M to Build New Financial Primitives Into the NFTs Market
Taker Protocol announced it has raised $3 million from well-known investors.
It secured the fund to build new financial primitives into the NFTs market.
Taker Protocol announced it has raised $3 million from well-known investors. The crypto liquidity protocol for the non-fungible token (NFT) said it secured the fund to build new financial primitives into the NFTs market.
According to Taker Protocol, the round was led by Electric Capital, with DCG, Ascentive Assets, Dragonfly Capital, Spartan Group, The LAO, Sfermion, and Morningstar Ventures.
Taker Co-Founder Angel Xu commented, expressing his excitement about the investment fund.
We are absolutely thrilled to welcome so many well-established investment funds to the team. Their participation heralds an exciting new phase for the protocol as we seek to address persistent problems in the NFT lending market for the benefit of end-users. This investment will enable us to further optimize the liquidation of NFT assets across multiple blockchains, removing the barriers to entry that prevent new players from entering the market.
Furthermore, Xu adds that they are using an innovative approach to solve the biggest problem in the NFT space. "With Taker, we are one step closer to the world where anyone anywhere can use their NFT assets to take out a loan." (Maria Shen, Partner at Electric Capital)," she says.
Taker Protocol is a multi-strategy, cross-chain lending protocol for lenders and borrowers to sell and rent digital assets. More so, the platform provides liquidity via its lenderDao support and extensions that integrate into NFT marketplaces.
In addition, the blockchain platform strives to solve liquidity issues that the NFT industry faces. To specify, the firm said it would allow lenders and borrowers to liquidate and rent assets like NFTs, financial papers, synthetic assets, and much more. The team also added that they would create new liquidity streams and possibilities.
As per the team, the funds raised will help the firm launch the complete version of the protocol across multiple chains. This includes Ethereum, Polygon, Solana, Binance Smart Chain (BSC), and Near Protocol.
Note that Taker's DAO includes many Curator DAOs. Even more, the team said that each sub-DAO will manage its whitelist and a price for any NFT on its whitelist if the borrower defaults on the loan. Highlighting the interest of the DAOs with that of the lenders, Taker said it would lessen the risk exposure for the lenders. Aside from this, the team will also optimize the profits for the DAOs.
News Source