Bitcoin(BTC) Is Now A National Currency Of El-Salvador
It was on Sep 15, 1821, El-Salvador signed the Act of Independence of Central America, declaring independence from the Spanish Empire. And nearly 200 years later, the country adopts Bitcoin declaring independence from the fiat hegemony. 
The El-Salvador government with a huge majority passed a bill to accept BTC as a legal tender, the current national currency way back in June. And today, the country is all set to transform the bill into law. All entities in the country will now have to oblige the law in accepting BTC as a payment mode for goods and services. Moreover, it is to note that the use of BTC is not mandatory.
Why Did El-Salvador Legalize BTC As A Legal Tender?
El-Salvador receives a good chunk of its economy from remittances, last year alone remittances attributed to almost $6 billion. Which is about 23% of its GDP, now that is one of the highest ratios in the world. Citizens will save around $400 million that is spent annually in commissions for remittances, most of which are sent from the U.S.
Implementation of BTC as a legal tender will reduce the cost of remittances, to a greater extent. Moreover, the business of remittances relies on the electronic transfer of funds through commercial bank's payment systems, and banks charge hefty charges for the use of their infrastructure. Moreover, a significant number of citizens are unbanked.
The use of BTC will enhance the power of purchasing to a greater extent while boosting the import of goods and services. With a newer model of payment coming into place, citizens will find newer employment opportunities in their region. Bitcoin being globally recognized, El-Salvador will see a major boost in foreign trade, investments, and migration.
Moreover, it is known to the masses that BTC will act as an inflation hedge, reduce the nation's debt, counter shortcomings of FIAT, and will encourage more businesses to follow blockchain technology. Over time acceptance will penetrate in masses.
How Is The Nation Preparing For The Big Move?
El-Salvador is readying itself for the big move, by incorporating necessary changes in its system. The country has set up 200 Bitcoin ATMs and 50 kiosks. BTC adoption will get an initial boost from the government's BTC wallet "Chivo". This comes pre-loaded with $30 worth of the currency for users who register with a Salvadoran national ID number.
The finance ministry of El-Salvador has created a $150 million fund at the state-run bank "Banco de Desarrollo de la República de El Salvador", Bandesal, to back the transactions. The country has also proposed the idea of implementing Bitcoin mining, using renewable energy from volcanoes.
El-Salvador has bought 200 bitcoins ahead of the BTC legalization, and the country now holds about 400 BTC's. The country will be buying a lot more coins. El-Salvador is the first country to buy BTC, implement BTC as a legal tender, and give BTC to its citizens.
Bitcoiners Look No Further!
El-Salvador President Nayib Bukele has listed the perks for the people who wish to settle in their territory. The individuals who wish to carry out crypto-related business are entitled to the following,
Great weather, world-class surfing beaches, beachfront properties up for sale.
No taxes on properties.
No capital gains tax on Bitcoin, as it is a legal currency.
Immediate permanent residence for crypto entrepreneurs.
In conclusion, El-Salvador is all geared up for its economic development. The perks are drool-worthy for any crypto enthusiast. We can expect more countries to join the league. El-Salvador's adoption of Bitcoin might turn pivotal in the mass acceptance of cryptocurrencies across the globe.
Bitcoin Doesn't Work as a Form of Payment, According to Celsius CEO Alex Mashinsky – Here's Why
The CEO of crypto lending platform Celsius does not think that Bitcoin (BTC) has the correct properties to become a suitable payment option.
In a new interview on Coin Stories, Alex Mashinsky offers a contrasting picture between the qualities of the US dollar and the leading cryptocurrency.
"I'd much rather be in a scenario where the dollar remains as the reserve currency but Bitcoin continues to do very well…
The dollar is a phenomenal form of payment. It's a horrible store of value and Bitcoin is a phenomenal store value, but it's a pretty bad form of payment."
Mashinsky highlights that it is not a great idea to use Bitcoin to pay for goods and services as he says that people who have done so in the past often regret making the transaction.
"If you fell for Elon Musk's deal where he gave you a Tesla for two or three Bitcoins, obviously you hate driving that Tesla because you would in a second go back and take those three Bitcoins and return the Tesla, which lost value during the same period of time.
Anything you bought with Bitcoin in the last 10 years, you rather have the Bitcoin back and would have paid in US dollars. That's really the crux of the matter that you cannot use it as a form of payment or cannot use it in a way that makes you happy about the transaction."
Is Bitcoin Officially in Bear Territory? Crypto Analyst Michaël van de Poppe Analyzes State of BTC After Deep Pullback
A widely followed crypto strategist and trader is looking at the state of Bitcoin to determine whether the largest crypto asset by market cap has crossed bear territory.
Hours before the deep crypto pullback, analyst Michaël van de Poppe told his 518,000 Twitter followers that he was expecting Bitcoin to correct hard and leave an impression that the bull market is over.
"The scenario is very simple.
People expected a peak bull run in December. Not happening.
Let the market correct due to that.
People will expect a bear market at the low (approx. $47,000-$50,000).
Moon the markets and leave everyone behind.
Supercycle."
With Bitcoin trading below $50,000, Van de Poppe says BTC is still in a bull market and highlights that he believes the correction is now over.
"Overall, this should be the low of a standard 30-40% correction in the markets.
However, corrections are super wicky the past few years in Bitcoin as there's such a massive amount of leverage in the markets.
Through that, we overshoot.
But all good, should be done now."
Looking at the charts, Van de Poppe says there's a decent chance that Bitcoin will launch a V-shaped reversal or a sharp rally where BTC revisits its all-time high around $69,000 by early next year.
"Rounding off the day with this chart on Bitcoin.
I think that the chances for a V-shape recovery are there.
We'll see coming week how it unfolds, but these bounces are significant and good."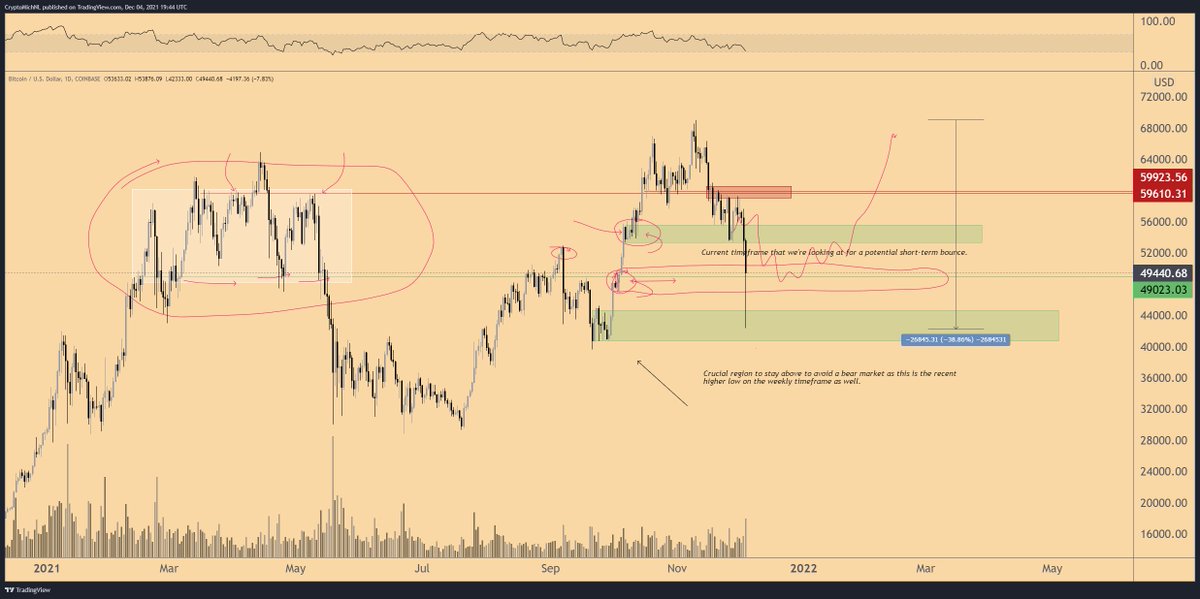 Bitcoin is exchanging hands at $48,994, down over 7% in the last 24 hours.
This Bitcoin fractal predicted the fall, but here's the next price target
Bitcoin, along with the larger crypto-market, dropped the ball after the most recent price fall had echoes of 19 May's crash. With BTC shedding 25% of its value in a matter of a few hours, the market seemed to reset to its September-end levels. While it was trading around the $49k-mark at press time, for a brief moment, it did tread close to $42,000 too.
The aforementioned price fall led to a mass wipeout, giving way to over $2.5 billion liquidations across the market. Ergo, the question – Does the macro bullish outlook for Bitcoin remain intact?
The dip was overdue
On the daily chart, Bitcoin's price had been in a falling wedge structure since the 16 November crash. Looking at the larger structure for the past month, it can be argued that the latest crash to the $42k level was overdue.
On zooming out, a look at BTC's weekly chart highlighted how after the 4 December crash, the price broke the MA 50 trend-line. 
During the previous major corrections too, the price had broken below this level in May and then again, in late June. However, it has always managed to hold it.
In fact, this level has acted as a support for the +100% rally from July to November. Thus, as long as the weekly closes above or at least around the 1W MA50, BTCUSD has a legitimate probability of forming support there and starting a new rally.
Interestingly, an RSI fractal seemed also to be in play here. As noted in the chart above, a similar RSI structure was seen from mid-2019 to early 2020, as seen from early 2021 to the time of writing. The key catalyst in both cases was the sell-off due to COVID fears.
However, this crash was more of a combination of multiple factors like the panic among retail investors, tech market crash, over-leveraged crypto-markets, high Open Interest, positive funding rate, and so on.
So, what's next?
For now, while the price has rebounded, another fall to the lower $40k-level cannot be discarded.
However, BTC's two main utility indicators continue to rise – A good signal. BTC's token circulation and its daily active addresses, at press time, sat at a 6-month high. In fact, they seemed likely to continue their uptrend too.
Furthermore, the estimated leverage ratio dropped by 22% in just one day. This was last seen in September when the price dropped by 24% and touched $40k.
In case a similar rally follows and BTC's price makes a similar structure, the next minimum target of $75k for Bitcoin towards the end of January 2022 can be expected.
At the time of writing, the biggest takeaway as BTC's price rebounded from its lower levels seemed to be that the market dynamics have been looking very different than previous cycles.
Even though volatility was still high, the market seemed to move from FOMO-induced price tops and sell-offs to more mature and sustainable growth while flushing leverage. Nonetheless, with the price structure still tilting towards bearish, despite the bounce, it would be best to be cautious.