Chainlink Price Analysis: LINK/USD rallies to $35 as bulls target new high
Today's Chainlink price analysis indicates bullish signals
LINK/USD witnessed a quick retracement during the night.
LINK found support around $31 today
Today's Chainlink price analysis indicates bullish signals for the upcoming 24-hours after successfully breaking resistance at $29 and climbing to the $30 region. The 24-hour chart shows that the coin rejected further downsides at $31, where the daily low is located. 
Cryptocurrency heat map. Source: Coin360
The overall cryptocurrency market is trading in the red zone after shedding value on the 24-hour chart. Bitcoin broke from the $52k mark and retraced by 0.81 percent, ETH lost 3.77 percent while  ADA and XRP lost more than 2 percent. Solana emerged as the best performing coin of the day with a percentage increase of 28 and was able to break into the $180 level. 
Chainlink price movement in the last 24 hours: Chainlink retraces to the $26 mark.
According to data from the 24-hour Chainlink price analysis, the coin traded within a daily range of $31.42 – $35.34. Quite a moderate range suggests low amount of volatility. The overall daily trading volume for the data feeds blockchain token went up by 21 percent and hit a total of $2.740 billion. Meanwhile, the total market capitalization stands at approximately $14 billion, ranking the coin at number #12 overall.
LINK/USD 4-hour chart: LINK set to rally again?
The 4-hour Chainlink price analysis chart shows that the LINK/USD price action has been moving sideways with the market choppiness index moving to high ground.
LINK/USD 4-hour chart. Source: TradingView
Since the beginning of August, chainlink has been through a bullish wave, having corrected from a July swing low of $13.40 to a swing high of $36 in September, which represents a 125 percent rally.
The present swing high as of this writing currently stands at $36.5 and was set on the initial days of September. Chainlink would, however, retrace lower to the $27 region and start another slow and gradual rally.
Therefore, we expect Chainlink to advance towards the $36 swing high and build more support above that point.
Chainlink Price Analysis: Conclusion
Our Chainlink price analysis indicates positive market signals as the bulls are aiming for a retracement from $32 to $36. The daily high at $36 is only a measly point below the September swing low at $36, and therefore we should expect higher chances of a breakout above this level in the course of the day.  Read some of our articles on Wrapped Bitcoin, NFTs, and Decentralization.,
Chainlink price ready to reverse, 30% upswing likely for LINK
Chainlink price is reversing its downtrend and is eyeing a higher high to solidify the bullish thesis.
On-chain metrics suggest that LINK is in a place of accumulation, adding a tailwind to the rally.
A breakdown of the $21.35 support level will invalidate the optimistic outlook.
Chainlink price seems ready for a reversal of its two-week downswing as it attempts to create a higher high. This outlook is also supported by on-chain metrics, which suggest the possibility of accumulation at the current levels for LINK.
Chainlink price to kick-start a rally
Chainlink price has dropped roughly 41% over the past 18 days, creating a swing low at $22.65, which could potentially be the reversal point. From this pivot point, LINK has rallied 14% to where it currently trades – $25.93.
Investors can expect Chainlink price to continue its upswing toward the 50% retracement level at $30.51. This run-up will represent a 17% ascent and in some cases, the uptrend could extend to the 62% Fibonacci retracement level at $32.40. This move, however, would indicate a 30% upswing for LINK.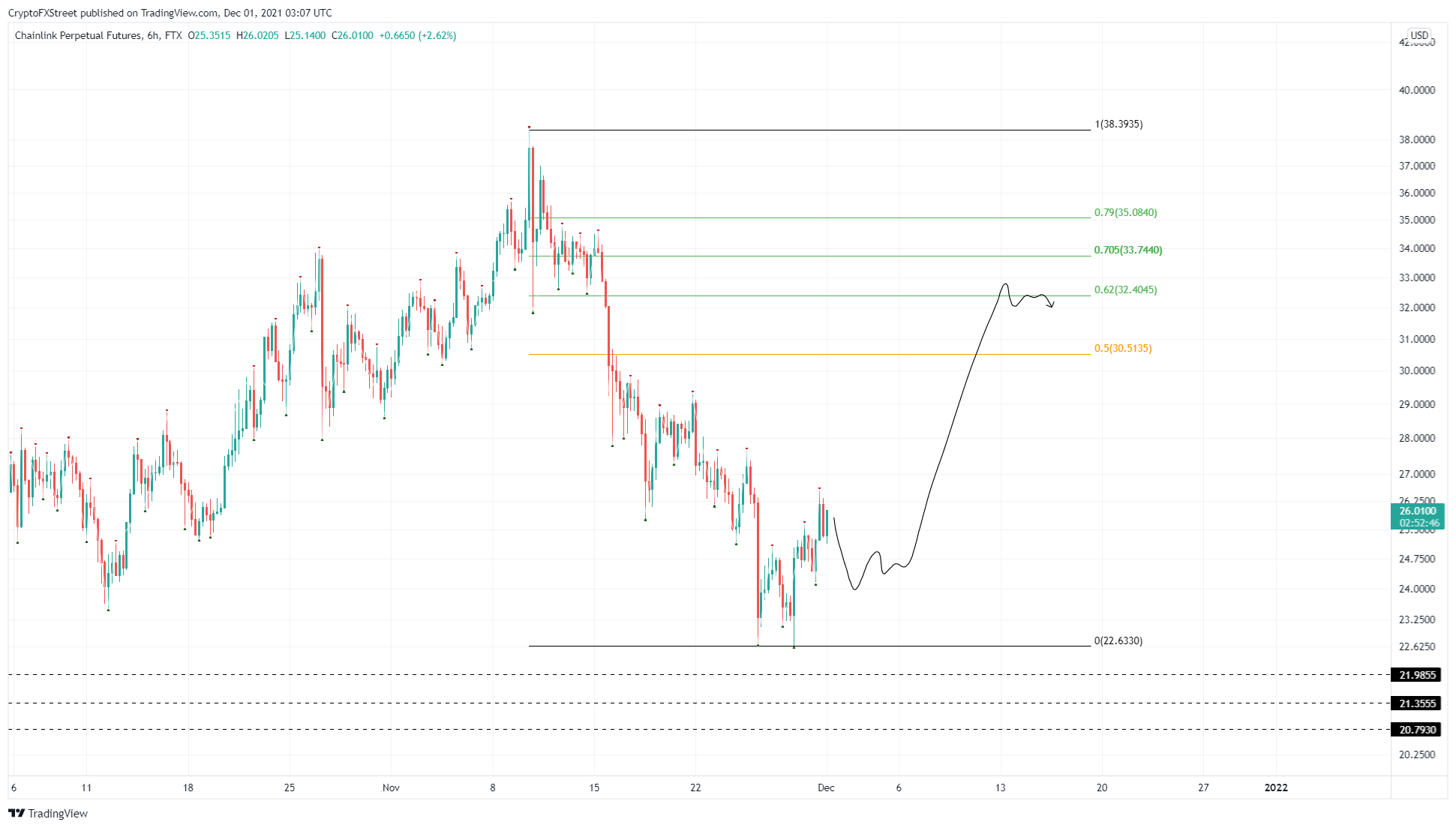 LINK/USDT 6-hour chart
The technicals are clearly indicating a bullish outlook for the oracle token and the Market Value to Realized Value (MVRV) model also suggests a similar outcome as it hovers around -11.5%.
This on-chain metric is used to determine the average profit/loss of investors that purchased LINK over the past month. A negative value indicates that the short-term investors are in the red and this is where long-term holders tend to accumulate.
Therefore, market participants can expect Chainlink price to see a bullish reaction and trigger an upswing.

LINK MVRV 30-day chart
On a similar note, IntoTheBlock's Global In/Out of the Money (GIOM) model shows that Chainlink price has a free path up to roughly $30. Here, nearly 85,000 addresses purchased 117.45 million LINK tokens.
Therefore, these underwater investors might offload their holdings if the LINK price rises to their breakeven levels. Hence, market participants need to pay close attention to $30.

LINK GIOM chart
Regardless of the bullish outlook from both technical and on-chain perspectives, there is a chance Chainlink price might head below the range low at $22.63 to collect liquidity. This move will invalidate the bullish thesis if LINK produces a lower low below $21.35.
In such a scenario, Chainlink price could head lower to retest an immediate support level at $20.79.
Chainlink Becomes Most-Traded Token Among Whales
Ethereum whales are actively trading Chainlink, and here's how the market reacts.
Chainlink flips UNI token in trading volume among 1,000 largest Ethereum addresses. Currently, the token reacts with a small 2.8% growth.
Whale activity
While UNI remains the most-held token among large addresses, Link has the greatest trading volume, which means that whales were either selling or buying the asset. But according to the current price action, buying power exceeds selling pressure.
Whales currently hold $360 million worth of Link tokens, which is only 1.85% of all funds concentrated among the largest Ethereum blockchain wallets, excluding exchanges and projects.
Ascending volumes
Though Link has taken first place as the most traded token in the last 24 hours, it is still losing to Shiba Inu, which remains in 5th place among the top 10 most purchased tokens, while Link remains in 6th place.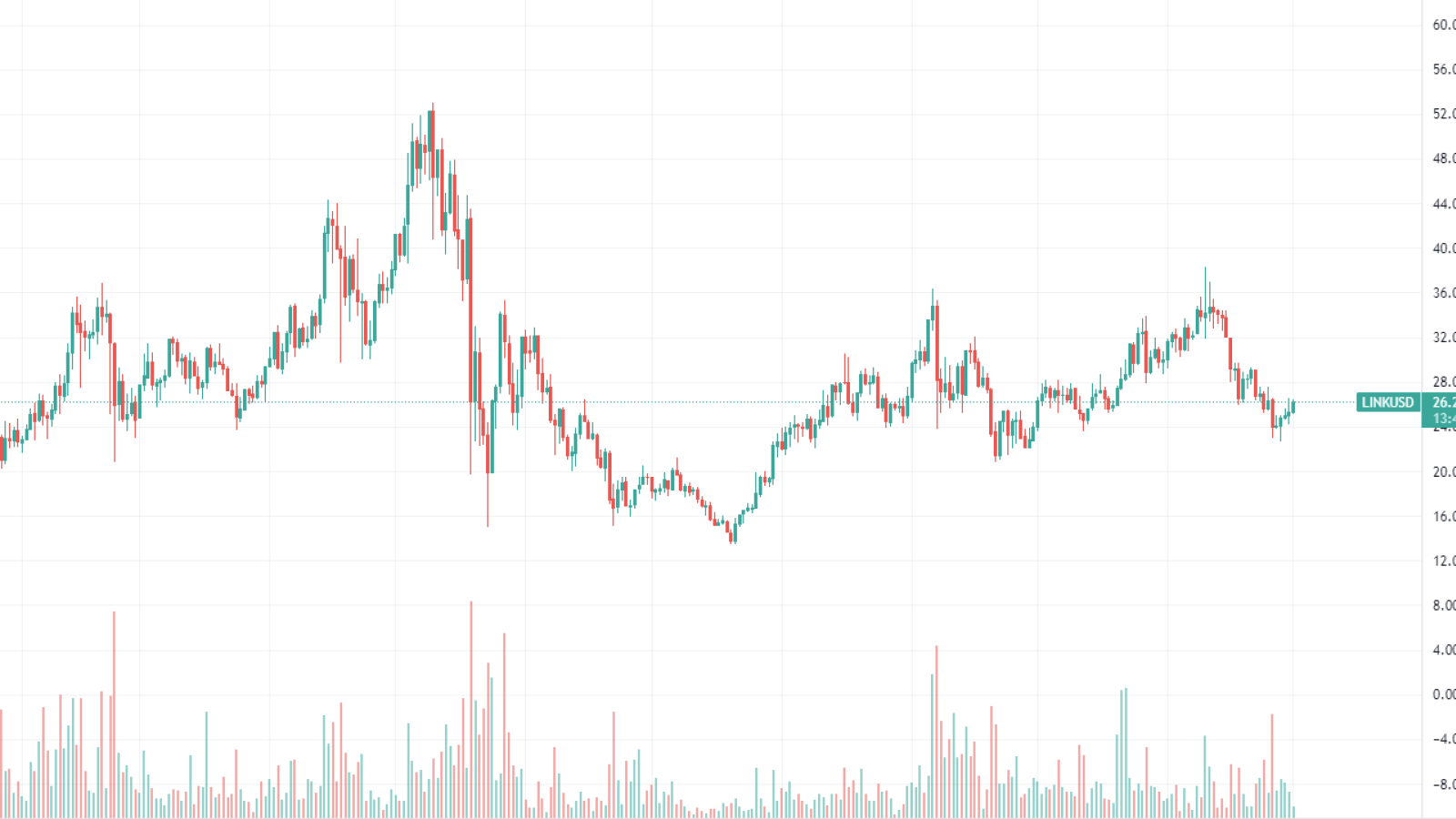 The increased trading volume on Link token can be considered a positive sign for the market since higher trading volume for an asset in a bullish trend might act as fuel for a continuation. Trading volumes tend to decrease at the top of the current trend. In the case of Link, the current trading volume tends to decrease but still remains above average.
At press time, Chainlink is trading at $26.40, with a 9.7% price increase in the last four days. Previously, Chainlink lost 30% of its value from the ATH point on the chart. After the global cryptocurrency market correction, Link became even cheaper after dropping by an additional 8%.
Chainlink Price Analysis: LINK/USD set to break above $25 by midnight
Chainlink price analysis is bearish.
LINK/USD retraced to $25 yesterday.
LINK/USD is currently trading at $24.5.
Chainlink price analysis is bearish today, as we expect another lower low to be made beyond the current support at $23, which would mark the end of a devastating 5% fall. The next major support for LINK/USD is seen at $22, and it will most likely be broken in the following 24 hours.
Yesterday's Link low was placed at $26.3. LINK/USD saw a very strong increase in volatility and started plummeting shortly after that, with the new lows being made significantly lower than the previous ones. 
The market rebounded soon after to $27, but this didn't stop it from dropping again, and currently testing the key support level at $23. The next important levels are seen below $22: Previous low which stopped out many longs during previous swings from higher levels; currently being retested as support again
Today's Asian session opened at $24 for LINK/USD, and we saw a sharp fall to $23 within an hour of trading. The previous low at $22 was taken out before we created new lows towards $21 over the past 24 hours.
Chainlink's 100 SMA has fallen below its 200 SMA, showing that sellers have won control of the market. The line or support where buying pressure is expected to build up and push the price back toward the resistance at $27 is defined by this crossover point.
Alternatively, a break below this line of support will signal that selling pressure is picking up and may lead to a drop-down to either support at $21 or even the long-term floor at $20.
The RSI and Stochastic indicators have entered the negative territory, suggesting that they're on the verge of forming bearish divergence patterns. This indicates that bulls are still in control but that bears will need more time to recover.
LINK/USD 4-hour chart: LINK set to drop further?
On the short-term chart, we see Chasinlink price retracing back to its $23 previous low this morning, setting up for more selling later today.
The price of Chainlink has continued to drop this week. The LINK/USD pair first dropped below $38, the previous major swing high set on November 10th, and has subsequently declined by around 40 percent to $23.
The price has been declining steadily since then, and it appears that bearish pressure is on the rise once more. Yesterday, LINK recovered some of its losses and returned to test previous resistance at $25 as a barrier.
The dismal performance of altcoins in the last 24 hours has seen Chainlink prices drop from a high of $23 yesterday to $22 today. The seventh-ranked cryptocurrency by market capitalization is currently swapping hands at $23.
The $23 level was reached around midnight, and there has been little consolidation since bears are still unwilling to give in. However, the Chainlink price will continue to drop throughout today as the overall momentum remains extremely negative.
Chainlink Price Analysis: Conclusion
The Chainlink price prediction is bearish today because we expect the value to fall further following this morning's bearish momentum. We anticipate that the LINK/USD pair will break lower, with support at $22.