Kyber Price Prediction 2021-2025: riding high on DeFi
Kyber Network has become one of the crowning glories of the blockchain industry and crypto trade. Its native token, the KNC, has seen exponential growth in popularity since the network was launched back in 2017. Kyber's native token, KNC, is capturing the attention of the cryptocurrency community as it approaches the KyberDAO and Katalyst improvement, which will add staking features.
Addresses linking up with the platform have hiked by 438% since January 2020. More extensive usage of DEX reported record trading volumes during March, which most likely led to the growth in usage of the Kyber platform In this price prediction article, we shall look at Kyber Network price prediction by various market analysts and speculators.
We can also recall that one of the largest decentralized crypto exchanges, KyberSwap, has integrated the Chainlink oracles for price feeds on its platform. The on-chain oracle network would complement the previous asset pricing model on the exchange, which is provided by Kyber Network.
But before delving into the Kyber price forecast, it would be important to first look at what Kyber is all about.
What is Kyber Network?
Kyber Network is an Ethereum based decentralized exchange. It is an on-chain liquidity protocol that allows users to perform a decentralized token swap. It connects the cryptocurrency ecosystem and provides a means for instant, seamless and secure transactions.
Kyber Protocol users can instantly convert or exchange any cryptocurrency through the platform.
The protocol was established on the core values of instant settlements, ease of integration for on-chain operation, and plastic agnostics.
As a liquidity protocol, some of its unique liquidity features include as many cryptocurrencies as possible, interoperability allowing cross-chain transactions, and scalability.
The network is also decentralized, meaning it does not store any data or crypto. The users remain in full custody of their crypto assets. This reduces risks since the security of the crypto assets is determined by how secure the crypto wallets used by the users are.
Since its launch, Kyber Network has consistently received positive reviews due to the ease of trading and that transactions are settled instantly. There has also been an increase in the number of decentralized applications (dApps) and crypto wallets turning to the Kyber network for liquidity is on the rise.
The main goal of Kyber Network is to build an ecosystem where any cryptocurrency can be used anywhere around the world.
What is KNC?
KNC (Kyber Network Crystal) is the native cryptocurrency of the Kyber Network. Besides being traded on various exchanges where it is listed, it is also used for governance in the platform. Every token holder gets the chance to vote on issues affecting the protocol.
KNC connects the various participants within the Kyber ecosystem by linking liquidity providers with those looking for liquidity.
It is primarily used for collecting transaction fees, and a certain percentage of the tokens collected through fees is burned to avoid KNC inflation. It also connects the Kyber Network to various crypto exchanges, dApps, and wallets.
Kyber Network founders
Kyber Network was founded by Yaron Velner, Victor Tran, and Loi Luu. And its headquarters is in Singapore.
Vitalik Buterin, the Ethereum blockchain founder, is one of the Kyber Network advisors.
Before Kyber, Luu was a blockchain advisor and researcher for various blockchains. He is also the founder of Oyente, the first open-source security evaluator for Ethereum smart contracts.
Kyber Network price historical data
Kyber Network Crystal was first listed on exchanges for trading in 2017, and its first price hike occurred at the beginning of 2018. At the time, the price jumped from $1 to around $4.
The price, however, took a downturn in the remainder of 2018 and through 2019 to trade at below $0.50. The following year, 2020, saw the coin make considerable market swings which kept its price well above $0.50.
In 2021, Kyber price started skyrocketing following increased confidence in the network by investors. The prices surged from $1 to above $3 in April before retracing to trade around $1 between mid-June and mid-July.
Starting July 21, the price started another bullish trend which has continued to date.
Towards the end of August, Kyber Network, through a decentralized autonomous Organization, the KyberDAO, performed an upgrade resulting in the Kyber Network Crystal v2. The old token symbol was changed to KNCL, which stands for Kyber Network Crystal Legacy, while the new one retained the original KNC symbol.
Figure 1. Historical price chart of the KNCL coin by Coinmarketcap
Figure 2. Historical price chart of the KNC by Coinmarketcap
Currently, the KNC is trading above $2 with a live market cap of $351,375,415 and a circulating supply of 173,204,591.59 KNC.
Kyber Network price prediction 2021 – 2025
Over the recent past, several things have taken place, and they have had a direct or indirect effect on the KNC and KNCL tokens' price.
First, there is the increased use of the Kyber Network Protocol within the decentralized finance (DeFi), which has boosted KNC adoption.
Then there is the upgrade and migration of KNC to a new token contract led to a hard fork with the KNC symbol being retained for the new token and KNCL symbol being assigned for the previous Kyber Network token.
Kyber has positioned itself among the top cryptocurrencies. Still, it is yet to maximum exploit that potential, although there is speculation that the recent chronology of events may have advanced effects on the token's price.
Kyber Network Price prediction 2021
2021 has seen Kyber's price skyrocket to above $3.6 before retracing to gather more momentum, as is witnessed now after thorough technical analysis Analysts speculate that the KNC price will maintain the current bullish trend and most likely continue trading between $3 and $4 before the end of the year.
According to WalletInvestors, for example, Kyber price is expected to trade at a minimum price of $3.081 and an average price of $2.425 at the end of December 2021.
Figure 3. Kyber Network price forecast for 2021 by Walletinvestors
According to Cryptoground, which uses an in-house deep learning (neural network) algorithm to perform price analysis for price prediction, the Kyber Network price is expected to hit $3.0654 before 2021.
Figure 4. KNC price prediction for 2021 by Cryptoground
According to Trading Beasts, KNC price is forecast to trade at an average of $1.86039 by the end of 2021. It also predicts that the coin will hit a maximum price of $2.32548.
Figure 5. Kyber Network Crystal price prediction for 2021 by Tradingbeasts
Kyber Network price prediction 2022
Kyber price is forecast to continue with its bullish trend through 2022.
Walletinvestors predict that Kyber price will be trading at an average of $3.408 at the end of 2022.
On the other hand, Trading Beasts predicts that the KNC price will be trading at an average price of $2.61915 by the end of December 2022.
Figure 6. Kyber Network price prediction for 2022 by Tradingbeasts
Kyber Network price forecast 2023
According to most market analysts, the KNC price is forecast to hit a maximum price of above $4 by the end of 2023. If the current exponential growth in DeFi adoption continues to 2023, Kyber Network will see an increased surge of adopters, which will positively impact the price of KNC.
Figure 7. Kyber Network forecast for 2023 by Tradingbeasts
Kyber Network price forecast 2024
The price of KNC is forecast to stagnate between $3 and $4 within 2024, with the likes of Trading Beasts forecasting that by the end of December, the coin will be trading at an average price of $3.82547.
Figure 8. KNC price prediction for 2024 by Tradingbeasts
Kyber Network price prediction 2025
KNC price is expected to break through the $4 resistance level, and in 2025 with the likes of Walletinvestor predicting that its price will go as high as $ 12.231 before the end of 2025.
2025 is seen as the do or die year for the coin, with most analysts expecting a rise or a fall like never before, depending on how the cryptocurrency landscape will be then.
Conclusion
KNC can be a good long-term investment by the current hype of DeFi use cases within the blockchain industry. According to the above cryptocurrency price prediction and technical analysis, the KNC price is expected to oscillate about $3 for quite a while before a breakout is confirmed. However, the price will depend on the USD price prediction since the KNC price prediction is made against the US dollar.
Considering everything, the KNC price is forecast to continue with a steady but slow rise through to 2025, although it is inevitable to have some major retracements along the way.
FAQs on Kyber Network
KNC token is listed on most of the major cryptocurrency exchanges, including Binance, Kucoin, and Coinbase, among others.
Advantageously, KNC coin is cheaper compared to Bitcoin price, which is the most expensive cryptocurrency in the crypto market, and crypto investors can purchase more.
Does Kyber Network allow the use of physical currency?
No, the protocol only allows the swapping of one ERC 20 token with another.
What is the difference between KNCL and KNC?
KNCL is the old coin of the Kyber Network, while KNC is the new coin of Kyber Network that was unveiled after an upgrade on the smart contract. At the moment, one KNCL is equal to one KCL meaning their prices are still similar. Old Kyber users can convert their KNCL tokens to KNC tokens at a ratio of 1:1.
Is Kyber Network a good investment?
Kyber Network has many use cases within the DeFi industry, and the cryptocurrency market and the KNC are speculated to maintain a bullish trend in the coming months and years as the popularity of DeFi continues to rise.
If one is not familiar with the coin, it is important to seek investment advice from experts before investing to determine the amount of money to invest, the crypto exchange for investing with, and for how long. Cryptocurrency markets are very different from traditional markets, especially when it comes to market volatility.
Short-term traders will have to do some technical analysis to determine the correct market speculation depending on the past price action.
Where can I store my KNC coins?
After purchasing any digital coin, including KNC, one has to identify a secure wallet where one can store it. Since KNC is an ERC 20 cryptocurrency, it can be stored in any ETH compatible crypto wallet. Several cryptocurrency exchange wallets allow KNC.
Top Crypto Analyst Says Ethereum-Based DeFi Protocol Primed for Breakout As Binance Coin Targets New Record High
A popular crypto analyst is detailing a set of new predictions for two large-cap crypto assets.
The trader, pseudonymously known as Smart Contracter, tells his 184,000 Twitter followers that Binance Coin (BNB) will likely hit a new all-time high (ATH) well before Bitcoin (BTC) surges above its current record high of $69,044.
"BNB [is] going to send to new ATH from here, probably going to hit it long before BTC does."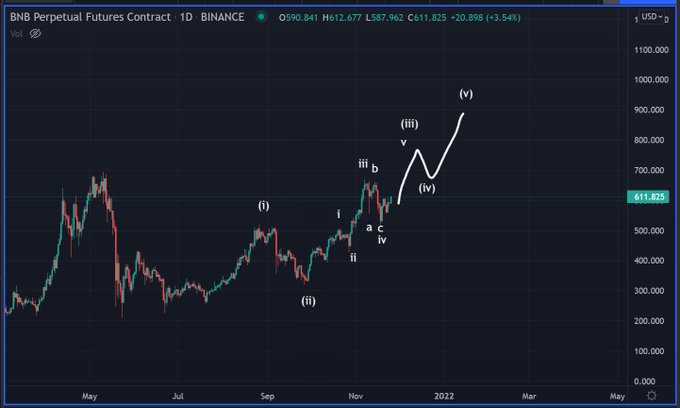 Binance Coin, which is the native crypto asset of the Binance ecosystem, hit its current record high of around $687 in May of 2021 and is trading at $636 at time of writing.
The trader is also bullish on the core crypto asset of the Ethereum-based decentralized finance protocol Curve DAO Token (CRV).
Smart Contracter says that when paired against Bitcoin, CRV appears primed to break out from a 400-day range.
"400-day CRV breakout on the BTC pair underway. I'm ready for the fireworks."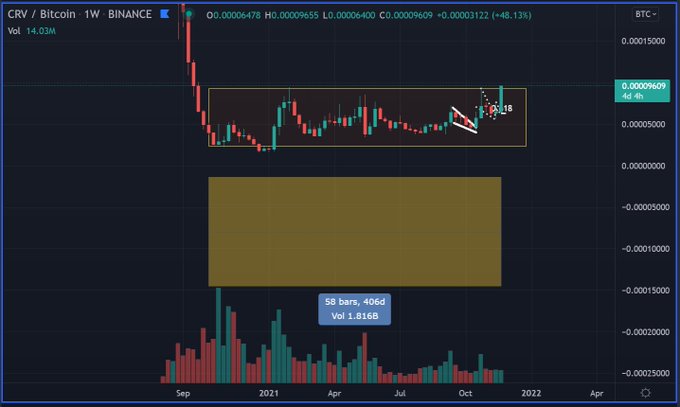 CRV is trading at 0.00009613 BTC ($5.65) at the time of writing.
Smart Contracter says that the DeFi token is likely on the verge of surging on the Bitcoin chart after an accumulation phase that had lasted over 365 days.
"CRV daily bull flag breakout on the BTC pair plus 12 month+ accumulation. Valhalla awaits."
Check Price Action
DeFi privacy project Panther raises $22M in 1.5-hour public sale
Panther Protocol, a privacy-enhancing technology provider for the decentralized finance (DeFi) industry, has completed its public sale to continue building privacy solutions for DeFi and Web3.
Panter announced to Cointelegraph on Nov. 25 that it raised $22 million in its recent public sale of ZKP tokens, bringing the total amount raised to $32 million.
Starting on Nov. 23, the Panther Protocol public sale successfully closed in just under 90 minutes, the Panther project previously announced.
Launched in Q3 2020, the Panther Protocol is built using zk-SNARKs, a new form of zero-knowledge cryptography implemented for popular privacy-focused cryptocurrencies like Zcash (ZEC). The acronym "zk-SNARK" stands for "Zero-Knowledge Succinct Non-Interactive Argument of Knowledge," referring to a situation where one can prove possession of certain information without revealing that information.
Building on multiple blockchains including Ethereum, Polygon, Flare, Near and Avalanche, Panther is developing an interoperable privacy layer for DeFi and Web3. The protocol uses zAssets, 1:1 backed representations of the underlying assets offering users benefits of private transactions in the new asset type.
As previously announced by Panther, the protocol's public sale involvea 5% of the total ZKP supply with "varying unlocking schedules." 15% of the total supply was sold via pre-seed, seed and three subsequent private sale rounds. According to Panther, the protocol has raised $10 million through private funding.
Some of the supposed investors that were willing to participate in Panther's $22 million public sale have complained about not being able to proceed with payment.
"Shocking support on the Discord, was on the site for 90 minutes and wouldn't let me make a single payment because the buttons didn't work, then no response for an hour from anybody in the discord," one supposed investor reported.
Button did not work but everything else when you send your details ID and pictures works well through your mobile phone. So where is the justice now when we wait in line, registered KYC and all that things and now we have no chance to buy it! pic.twitter.com/b4IWR42eMk— Maro Pagi (@MaroPagi) November 23, 2021
The Panther project did not immediately respond to Cointelegraph's request for comment.
Related: Polkadot-based privacy project Manta Network raises $5.5M
Amid a major rally on wider cryptocurrency markets, the DeFi industry has continued booming this year, with the total value locked across all DeFi protocols hitting a new record high above $270 billion in early November.
Source: DeFi Llama
In line with DeFi's growing popularity, industry projects have been increasingly working on privacy solutions. According to Paolo Guida, head of investments for Blockchain Valley Ventures, privacy is the biggest challenge preventing DeFi lift-off.
DeFi Development Tools to Pay Attention To
Here are infrastructure projects aimed at supporting traditional businesses and emerging blockchain projects
The world of Web 2.0, based on the internet and characterized by centralization, is quickly changing into Web 3.0, based instead on the blockchain and characterized by its inherent decentralization. DeFi, GameFi, and SocialFi are all part of this incredible new world. Although the momentum and development of Web 3.0 is strong, it's still in its early stages, and right now the construction of traditional business on the platform is the primary goal.
Currently the blockchain encounters certain problems, such as inadequate performance and an insufficient amount and quality of functions. With the continued progress of Ethereum 2.0 and the ongoing improvement of emerging public chains, performance problems on the blockchain are gradually being solved. However, there are still many shortcomings in the current functions. The difficulty for traditional business to migrate to the chain at a low threshold is one of such issues plaguing the current model. Functions that exist on the current internet such as collaboration and governance meet the requirements of traditional businesses. Governance in particular only supports voting. So infrastructure projects have been developed to support the operation, collaboration, and construction of traditional businesses and emerging blockchain projects. This article will briefly introduce those.
Encentive: Making DEX Construction Easier
Encentive is committed to bridging the blockchain operation model from Web 2.0 to Web 3.0, building an ecosystem of freely circulating assets through multi-directional modules and components. The project will help communities, projects, users, and even traditional businesses quickly and efficiently acquire operational capabilities such as fission marketing. Encentive itself offers a large number of decentralized operation tools, including Layer 2 nodes, an operation tool template library, DAO governance, Encentive UI, Encentive SDK, and more.
Through Encentive UI and Encentive SDK, developers will enjoy a low threshold for building new applications, or migrating existing applications to the chain. Via functions provided by Encentive and the graphical interface of DAO governance, developers can directly use operational functions while simultaneously interacting directly with contracts so that only a small amount of code is needed to integrate operating modules into existing Web 3.0 applications. Through Encentive's DAO governance module, a customized governance framework can be built which includes basic DAO functions such as asset management, voting contract management, and authority management.
Encentive provides in-depth operation support. The project is capable of customizing commonly used project team operation functions such as point tasks, cross-chain burning, project promotion, staking, and embedding into the DAO framework- all according to specific project or business needs and characteristics. By combining with the Web 3.0 resource market, it also meets the needs of project teams for the development of customized operation functions and obtains external promotional resources.
Encentive itself is built on Ethereum, and further improves efficiency and reduces transaction costs through Layer 2 technology. Encentive has further reduced the obstacle of acquiring customers in the early stages of traditional businesses and emerging blockchain applications, and has significantly reduced the pain points of operating on such high thresholds. Encentive will further reduce the development threshold of these applications to promote the progress of Web 3.0
Additionally, Encentive can also provide developers with tools to develop their DEX by providing them with components.
Encentive provides a simple solution to developers for the creation of a DEX.
Since Encentive provides users with audited smart contracts as well as functions such as cross-chain burning, staking, and DEX creation, B-end users only need to invoke the corresponding contract to complete operations, including issuing a DEX.
In Encentive V2.0, Encentive will launch the DEX publishing function. By doing so, developers on the B side only need to follow Encentive's prompts to enter the name of the new DEX, platform currency, platform logo, and the initial trading pairs to be included, as well as initial liquidity. In a few simple steps, developers can create a smooth functioning and attractive DEX.
By using Encentive, the period of time required to develop a DEX has dropped to less than ten minutes.
NULS: More Inclined to "Chain Creation"
NULS, the veteran blockchain technology, and its ecology was in its infancy as early as 2017. NULS is still regarded as one of the technologies facilitating Web 3.0 and is inclined towards "chain creation".
As a customizable blockchain infrastructure, NULS is committed to building a multi-chain parallel and value-interconnected blockchain ecological network.
NULS features services such as smart contracts, microservices, rapid chain creation, cross-chain interoperability, and asset insurance. Even users without a sturdy code foundation can create a customized blockchain through Chain Factory and NULS' ChainBox, easing the convenience of the creation of proprietary blockchains for many enterprises.
The NULS community also introduces microservice thinking in the design of the underlying infrastructure of the blockchain, designing software applications as independently deployable service suites, and introducing the most advanced ideas of the architecture design into the module, so that modules act as programs that start independently and are overall very flexible. Under this architecture, the coupling between modules is smaller. Multi-language development greatly improves the contribution of the code and the convenience of the users. At the same time, it is easier to expand and add on to. The modules even support distributed deployment, and the plugging and unplugging of modules is convenient and easy.
NutboxDAO: DAO Operating System for Web 3.0
Nutbox consists of three main sections: crowd-staking, governance, and DAO services. Nutbox provides developers with a series of open source plug-in systems which are highly flexible and extensible, and which adapt to DAOs in different Web 3.0 scenarios. Crowd-staking is a way to empower DAO value based on the staking economy. Holders of pledged assets can vote for community nodes or delegate the right to use pledged assets to the community to obtain DAO tokens.
Modern DAO can carry out DAO governance through the community proposal system and the community committee. This governance model effectively utilizes the advantages of decentralized governance and committee governance. DAO services are driven by the foundation, and the DAO flourishes and even incubates completely supported service function products to provide services to community members and other users.
Loopring Protocol LRC: Of Recent Interest and Gaining Steam
LRC is a DeFi infrastructure technology belonging to an established project. The Loopring protocol uses zero-knowledge proof technology to solve the bottleneck of Ethereum's low throughput and high costs, allowing anyone to build high-throughput low-cost, non-custodial, order book-based decentralization on the Ethereum trading platform.
Loopring's DEX supports traders in accurately analyzing K-line charts, order books, price trends, and set prices. With the improvement of performance and experience, as well as transactions done on decentralized exchanges, the Loopring protocol can provide services such as mortgage lending, asset issuance, and contract transactions the likes of which are seen on centralized exchanges. Many traditional businesses are expected to build their own DEX through the LRC protocol to further develop their business. Of course, the Looopring Agreement also needs to be used in conjunction with other technologies to meet such demands.
The above-mentioned infrastructure tools have their own strengths, but when compared with these tools we see that Encentive can provide the most extensive and comprehensive support in both development and operation, and is a promising infrastructure ecosystem. The technologies and tools of Web 3.0 are in a state of constant improvement, and it's therefor foreseeable that traditional businesses built on the blockchain will also receive more and more in-depth support.