Coinbase denies rumors of relisting XRP, Ripple drops 10%
XRP trading pairs appeared on the Coinbase exchange platform, leading investors to believe that the firm relisted the token.
Coinbase quickly denied these rumors, stating that it was due to a technical error.
XRP price reacted quickly to both of these events, eventually falling 10%.
XRP trading pairs started to appear on the Coinbase Pro mobile application on September 10. Ripple price rose in light of this event, as trading volume corresponded to the bulls' excitement. Shortly after, Coinbase clarified that it has not relisted the cross-border remittance digital currency.
Coinbase continues to suspend XRP trading
Four XRP trading pairs showed up on the Coinbase platform, leading many to believe that the crypto exchange has relisted the digital token. The Nasdaq-listed firm previously removed Ripple for trading on its platform due to the ongoing legal battle between the blockchain firm and the United States Securities & Exchange Commission (SEC).
Coinbase suspended trading in XRP on January 19 this year and has not announced whether or when it would resume trading services for Ripple.
The Delaware-based crypto exchange quickly announced on Twitter that XRP was temporarily viewable on the platform due to a technical error, but users were unable to trade the token.
XRP price experienced a 13% bounce when users believed that the token was once again listed on the exchange. However, after Coinbase denied the relisting rumors, Ripple fell 10%, erasing the quick gains made in the day.
While Coinbase has also been facing a lawsuit from the securities regulator, many in the crypto community have urged the exchange to relist XRP to show solidarity with Ripple against the SEC.
XRP price back below resistance as excitement falters
XRP price has faltered due to the relisting rumors denied by Coinbase. Ripple fell 10% as the crypto community learned that it was only a technical error.
The cross-border remittance token is now back under a significant resistance barrier at the 200 four-hour Simple Moving Average (SMA) at $1.14. Although the recent spike due to the Coinbase rumor pushed XRP price to slice above multiple hurdles, the excitement may now be over.
In order for XRP price to attempt to climb higher, it would need to break above the aforementioned resistance level, as well as the 100 four-hour SMA at $1.18 to tag the 78.6% Fibonacci retracement level at $1.21. Further upside momentum would see Ripple reach the 50 four-hour SMA at $1.22.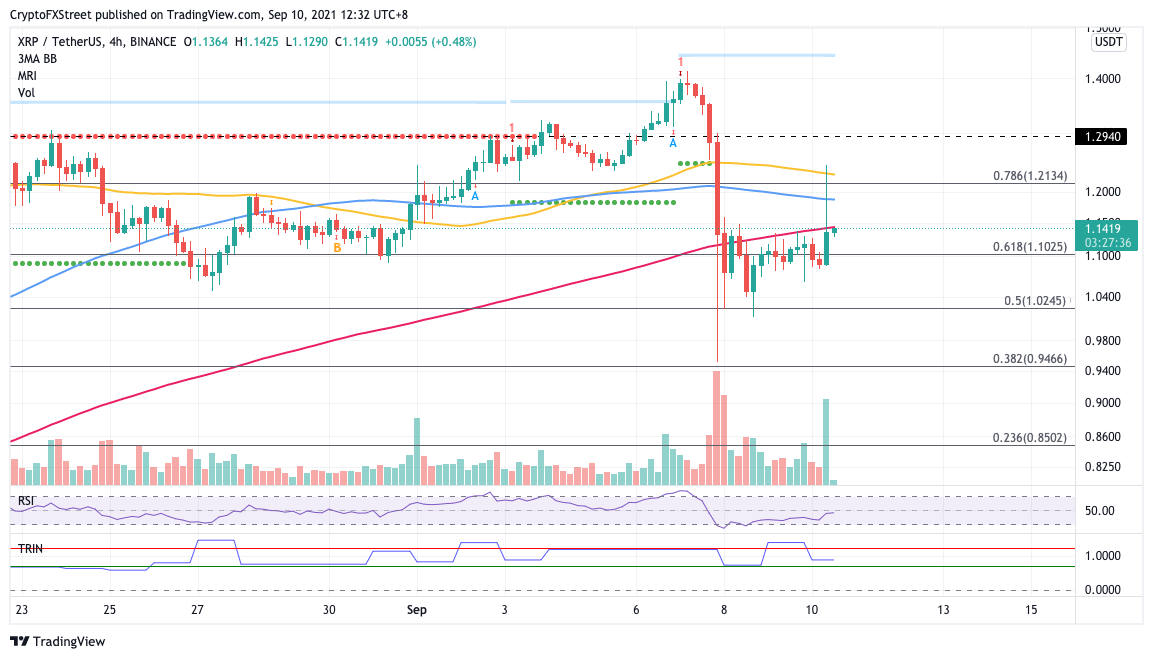 XRP/USDT 4-hour chart
Until substantial buying pressure emerges, Ripple is unlikely to see bigger aspirations.
Should the bears take control, XRP price may discover immediate support at the 61.8% Fibonacci retracement level at $1.10, before dropping lower to the 50% Fibonacci retracement level at $1.02. 
Coinbase Acquires Mobile Wallet Company BRD
Key Takeaways
Coinbase has acquired the mobile wallet company BRD Wallet.
The team behind the wallet will join Coinbase Wallet to work on self-custody and Web3 integration.
Coinbase has acquired several other companies in recent months including Agara, Bison Trails, and Skew.
Leading crypto exchange Coinbase has acquired the crypto wallet company BRD, according to statements from both firms.
BRD Team Will Join Coinbase Wallet
BRD announced today that its team will join Coinbase, where it will contribute to the company's Coinbase Wallet. The app was originally launched in 2014 under the name "breadwallet" and achieved a userbase of 10 million.
BRD suggested that its own wallet will continue to operate normally for the time being and that users will be given the option to migrate to Coinbase Wallet in 2022.
The team behind BRD will join the team behind Coinbase Wallet. Coinbase noted that BRD "brings deep expertise in self-custody for crypto wallets" and that the acquisition is part of its goal of "doubling down on [its] investment in self-custody and Web3."
It is unclear how the BRD team will change Coinbase's wallet. Though BRD offers self-custody of crypto funds, Coinbase Wallet already supports this feature, unlike many other exchange wallets.
Coinbase Is On an Acquisitions Spree
BRD is the latest Coinbase buyout in a series of 18 acquisitions since 2018. Earlier this month, Coinbase acquired Indian AI customer support company Agara for over $40 million.
In recent months, Coinbase has also acquired the wallet interoperability company Zabo, the blockchain infrastructure firm Bison Trails, and the crypto data analytics company Skew.
Coinbase also controversially acquired Neutrino in 2019, a company that has been involved in government surveillance efforts for countries such as Ethiopia, Saudi Arabia, and Sudan.
In other news, footwear company Adidas also announced today that it has partnered with Coinbase but has revealed few details about its plans.
Adidas Teasing Partnership with Coinbase
German sports apparel behemoth Adidas has announced a partnership with Coinbase, America's leading cryptocurrency exchange, on Twitter. 
The crypto platform replied with the handshake emoji, seemingly confirming the deal. 
🤝— Coinbase (@coinbase) November 24, 2021
In another tweet, Coinbase welcomed Adidas "to the party."  
While there are no details about the high-profile tie-up as of now, cryptocurrency enthusiasts were quick to speculate about it.  
Will my ape get a Adidas track suit? #nfts #bayc #adidasOriginals https://t.co/3SZ1ZgCEYy— Mr Trapie (@MrTrapie) November 24, 2021
On Nov. 22, Adidas tweeted about developing "adiVerse," a play on the term "metaverse," together with The Sandbox, a blockchain-powered gaming platform. The tweet has bolstered the rally of the native SAND token that went ballistic after Facebook changed its name to Meta in late October.  
Earlier this month, Nike filed to trademark various digital items in the U.S. In 2019, the company received a patent for "Cryptokicks," a platform for selling non-fungible tokens that represent tokenized versions of physical shoes.
Coinbase users continue to face technical issues
Coinbase users continue to face technical issues.
The exchange claimed it had fixed the issues.
Elon Musk warns traders against centralized exchanges.
Trading crypto on exchanges has been regarded as one of the few best ways to make profits in the crypto market. According to a report, San Francisco-based crypto exchange, Coinbase is facing some technical issues. The report states that the technical issue, which is not the first this year stems from a series of connectivity problems the platform has battled with in the past few months. According to a tweet from the support handle of the crypto exchange, both of their platforms Coinbase and Coinbase Pro were said to be down for a long time yesterday.
Coinbase claims issue has been fixed
According to the support handle, the issues resulted in the majority of the customers witnessing failed trades and connectivity issues in their mobile apps, among others. However, a new tweet by the exchange's support handle has mentioned that the problems were now fixed. According to the handle, traders who intend to use the Coinbase products and services can now do so without issues.
Going by records, the technical staff of the crypto exchange was said to have battled with the problems and only succeeded after two hours. Users were quick to take to Twitter to call out the crypto exchange, reminding them of a previous technical issue about a month ago. According to most of them, the connectivity issues resulted from new traders flocking into the platform to trade high-flying coins such as Crypto.com, Shiba Inu, and GYEN.
Elon Musk wants traders against centralized exchanges
A recent CoinGecko data shows that Crypto.com token CRO saw a massive 300% jump on Coinbase after it was listed in November. Also, Coinbase has restricted traders from buying and selling GYEN since November 19. Even though Coinbase released a tweet today to say the problem was fixed, some users have signaled that they are still facing issues.
According to a user, the problem persisted yesterday before he went to bed, and the problem continued after the platform said it had been fixed. Although the Coinbase Support team is still entertaining questions regarding the issues, the platform has failed to update the technical issues. According to an update by a firm spokesperson, there were issues but all the issues witnessed have now been fixed, and things are up and running perfectly.
Reacting to this, Tesla Boss Elon Musk has urged crypto traders to take their holdings away from centralized exchanges. He mentioned that traders should not consider trading with any exchange that wants to hold on to their private keys for them.