Did XRP invalidate bearish thesis of revisiting lows?
Bullish sentiment might not be running high for XRP, but will the profit-taking slow down?
XRP has stalled at crucial support and settled near $1.08-level. As the weekend approached, the crypto-asset struggled to expand its recovery and posted weekly losses of 13.97%. Despite starting the day on a positive note and with a green candle, the expected bearish trend became a real possibility. But there's hope for revival.
Despite the crash, XRP hasn't experienced a damaging fall similar to its peers. But with Ripple and SEC's drama being far from over, what has helped XRP sustain its support level? For one, the world's 7th largest cryptocurrency has witnessed its address activity picking up steam.
XRP averts a crisis, but is that all?
For the past two weeks, XRP had been trading sideways as the volatility hit a slump. But after the shake-off earlier in the market, volatility appears to be making a comeback which could be behind the on-chain activity.
On a similar note, the prominent crypto-analytic platform Santiment also observed,
"XRP just enjoyed another 10% burst, minor pullback, and now another leg up at the time of this writing. A continued great leading metric for $XRP is address activity. When unique addresses suddenly spike a price rise usually follows in the mid-term."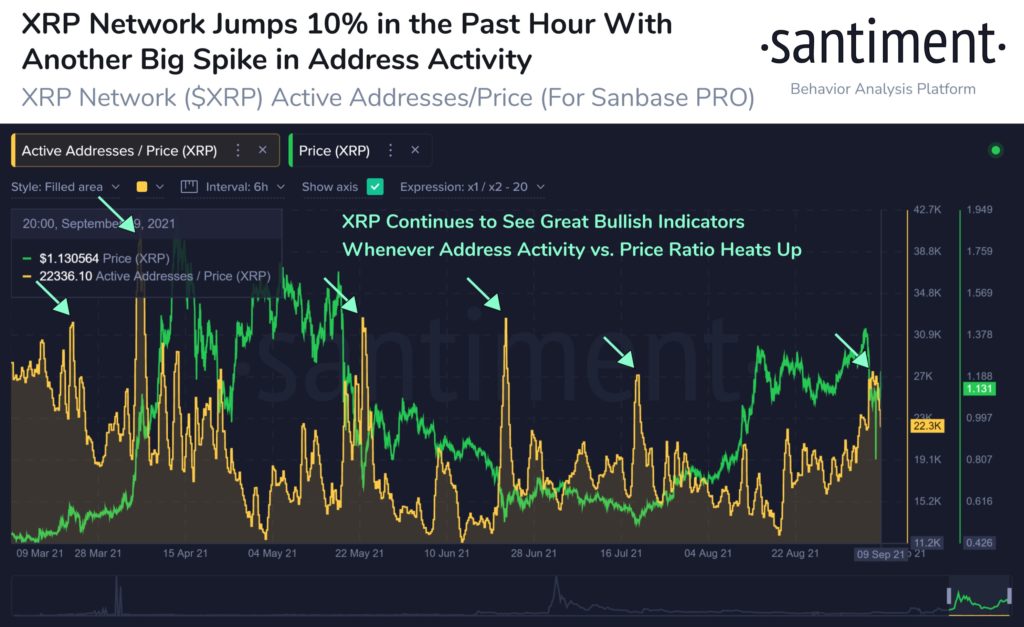 In a nutshell, an increase in address activity versus price ratio intensifying on the backdrop of rising volatility provides a bullish picture for XRP. To top that, a deeper dive into the daily chart suggested that despite some profit-taking, signs of reversal cannot be dismissed.
Is XRP's sell-off stabilizing?

The Simple Moving Averages are aligned below the XRP price candles and the correction hasn't been able to flip them over. The 100 SMA and the 200 SMA were moving in parallel to each other. A major upside indicator will be if the gauge between the two declines leading to a subsequent bullish crossover.
After more than a month-long tryst with the buyers', XRP is now experiencing heavy selling side pressure as it dropped below the 50-level for Relative Strength Index [RSI]. But the RSI formed a bullish wedge pattern which could imply a bounce back to the buying zone is still in the cards.
Besides, the Stochastic RSI was also poised for a reversal.
In short, XRP needs to stay afloat above the support area of $1-$0.83. This will determine that the chances of a surge to previously established levels. A short-term consolidation may transpire in the next couple of trading sessions, but as the volatility picks up, price will potentially follow suit.
XRP holds key support while indicators point to short-term recovery
Ripple started a recovery wave above a key support level of $1.024.
XRP price started an upside correction as indicators suggest a short-term recovery.
The coin may initiate a fresh downtrend upon a breakout of the $1.024 support level.
XRP is in the process of forming a triple bottom price pattern boding more upside, for the pair priced against the US dollar., XRP price recently found support at the pattern's base during the formation of the third bottom. Now, Ripple is at a crossroads – a spike in selling pressure may drive a bearish breakout, whilst technical indicators signal a bullish reversal. It all depends on whether or not a critical support level holds.
XRP rejected above the triple bottom at $1
XRP has found support above $1.024 and started a bullish recovery similar to peer altcoins. The XRP price has found footing at the $1.024 level for the third time making it a triple bottom pattern.
If there is increased demand at the current price level it will push the XRP price towards its double top level at $1.108. However, the 20 and 50-period exponential moving averages may act as minor hurdles at $1.076 and $1.108.
The MACD has closed the first histogram above the 0 mark, indicating a bullish reversal. While the RSI is still holding at 44, a crossover above 50 may encourage investors to go long. In that case, the XRP price might spike towards $1.165. Additional gains could lift the price towards the next key hurdles at $1.218 or $1.284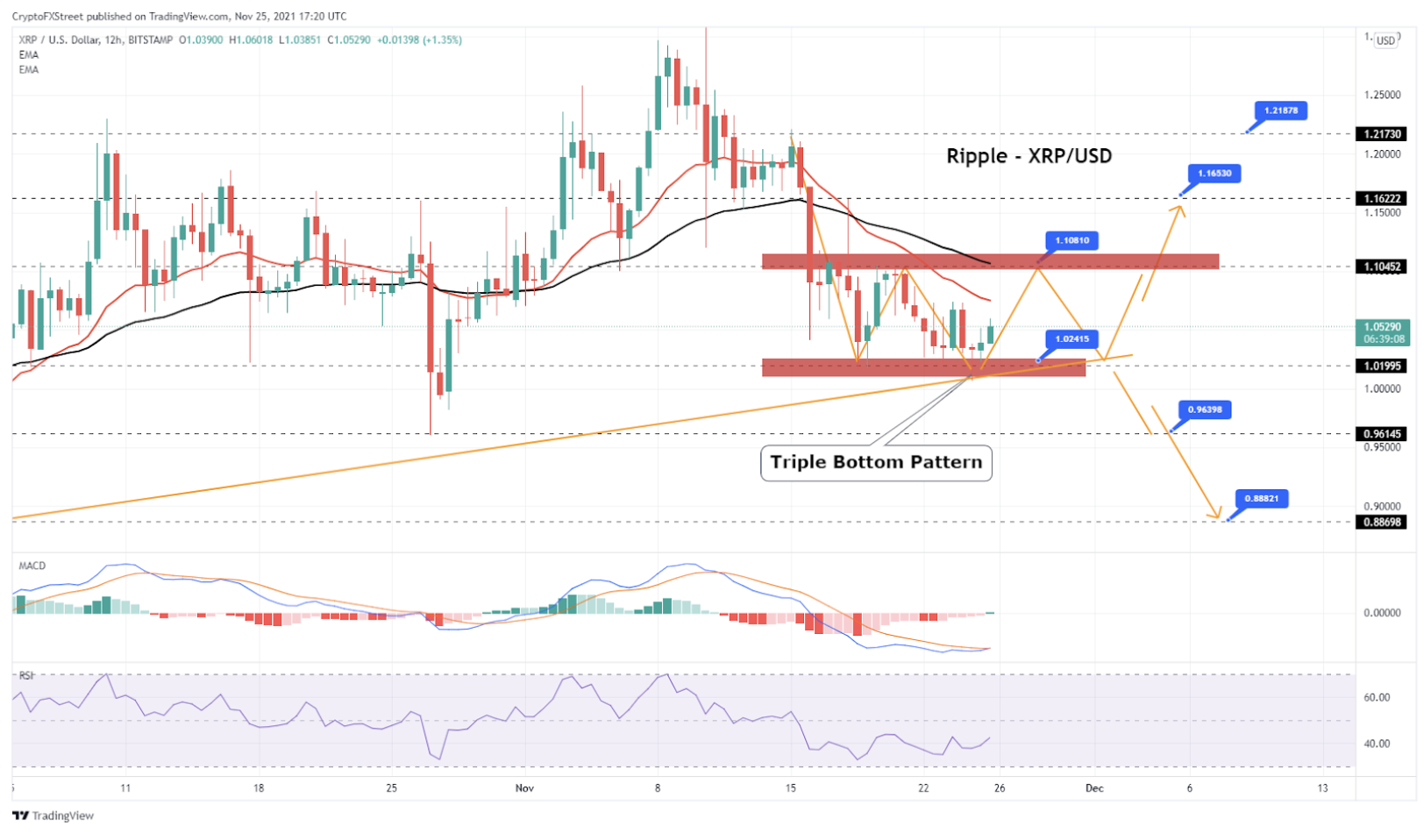 XRP 12-hourly chart – Triple bottom to drive uptrend
If XRP disappoints to start a new spike above the $1.081 level, it could extend losses. Initial support on the downside is near the $1.024 level.
The upward trend that started on September 21 also extends to significant support at the $1.024 mark. Therefore, a break below the $1.024 support level might push the price further down. The next critical support level is near $0.963, below which the price may fall to the $0.888 level.
XRP price consolidates as Ripple bulls eye a 15% run-up
XRP price is hovering above the $1.01 support level, anticipating a potential retest before an upswing originates.
A breakdown of this level could lead to a buy opportunity at $0.98 before Ripple rallies to $1.17.
A daily close below the $0.92 foothold will invalidate the bullish thesis.
XRP price has been on a downtrend for roughly two weeks and shows that a short-term reversal could be near. Market participants need to watch for two immediate support levels that are likely to facilitate this bullish outlook.
XRP price to pull a 180
XRP price has dropped roughly 23% since November 10 to where it currently trades – $1.04. The downswing is likely to retest the $1.01 support floor formed by the November 18 swing low. This will create a triple tap setup, suggesting that a short-term reversal in momentum is likely. 
In this scenario, the XRP price could attempt to retest the 50% retracement level at $1.17. This run-up would constitute a 15% ascent from $1.01.
While this scenario makes sense, a breakdown of the $1.01 support floor will suggest that a further downswing is possible. However, this move does not invalidate the bullish thesis but provides investors with a buy opportunity at $0.98. Investors can expect a bounce off this level to propel XRP price to the same level as before at $1.17. This move would constitute a 19% climb.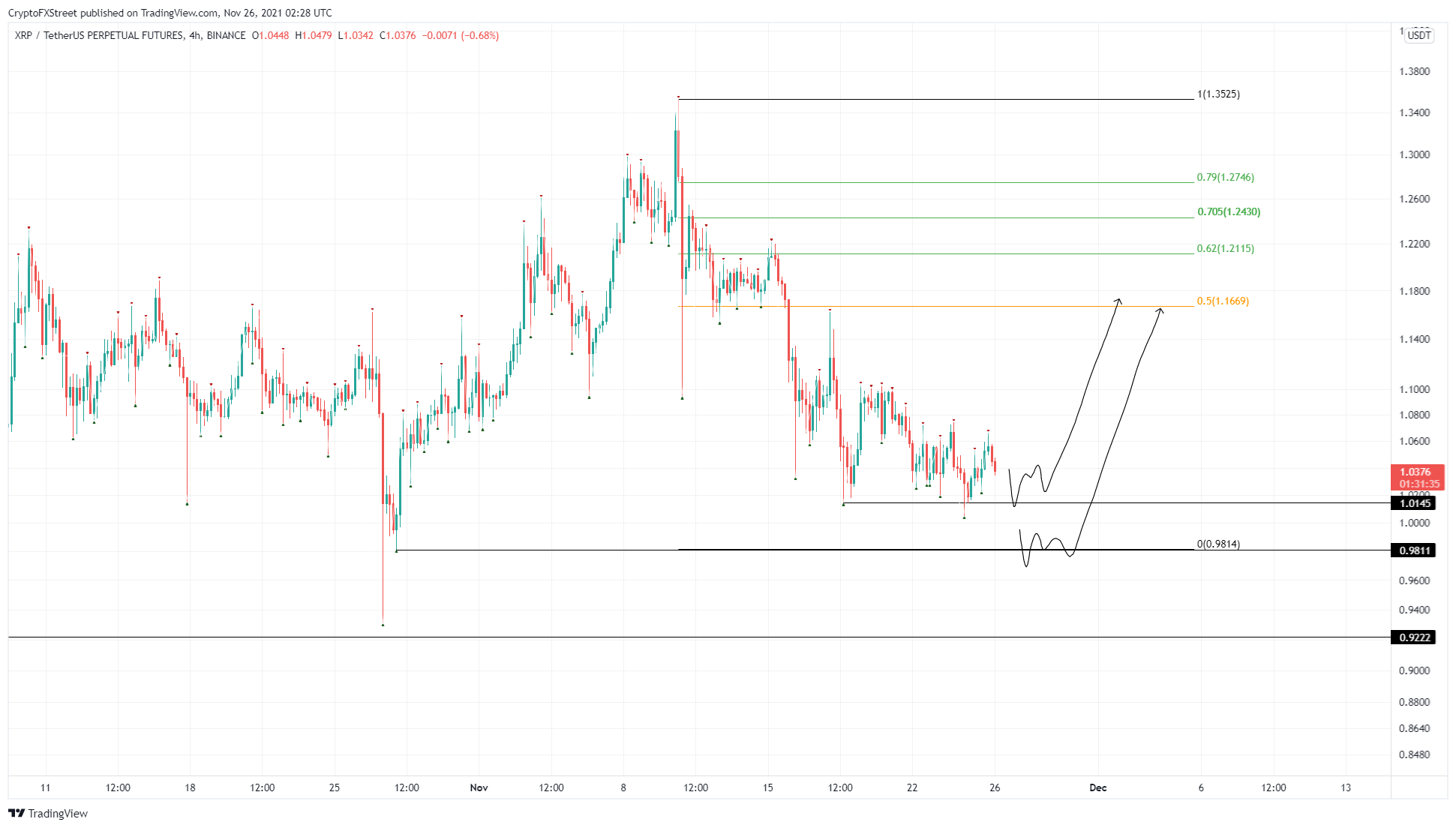 XRP/USDT 4-hour chart
While things are looking up for the remittance token, a breakdown of the $0.98 support level will create a lower low and invalidate the bullish thesis. This move would also suggest a weakness in buying pressure and set the stage for further losses. In this situation, market participants can expect XRP price to drop by about 6% to $0.92.
Abnormal XRP Activity: Someone Transferred 60 Million Coins Between Various Exchanges
Ripple whale moves coins to and from various exchanges, but the price is not reacting
The Whale Alert transaction tracking service has just shared abnormal transaction activity on the Ripple blockchain that indicates that an unknown person has been transferring a large amount of coins between various exchanges.
According to the page, numerous wallets from different exchanges were involved, including relatively small exchanges like Gopax and Bitso and a much larger exchange, Binance.
The transaction was made with an interval of around one hour. The transaction amount starts from 11 million XRP coins, and the largest transaction was 20 million coins. The further use of the coins remains unknown.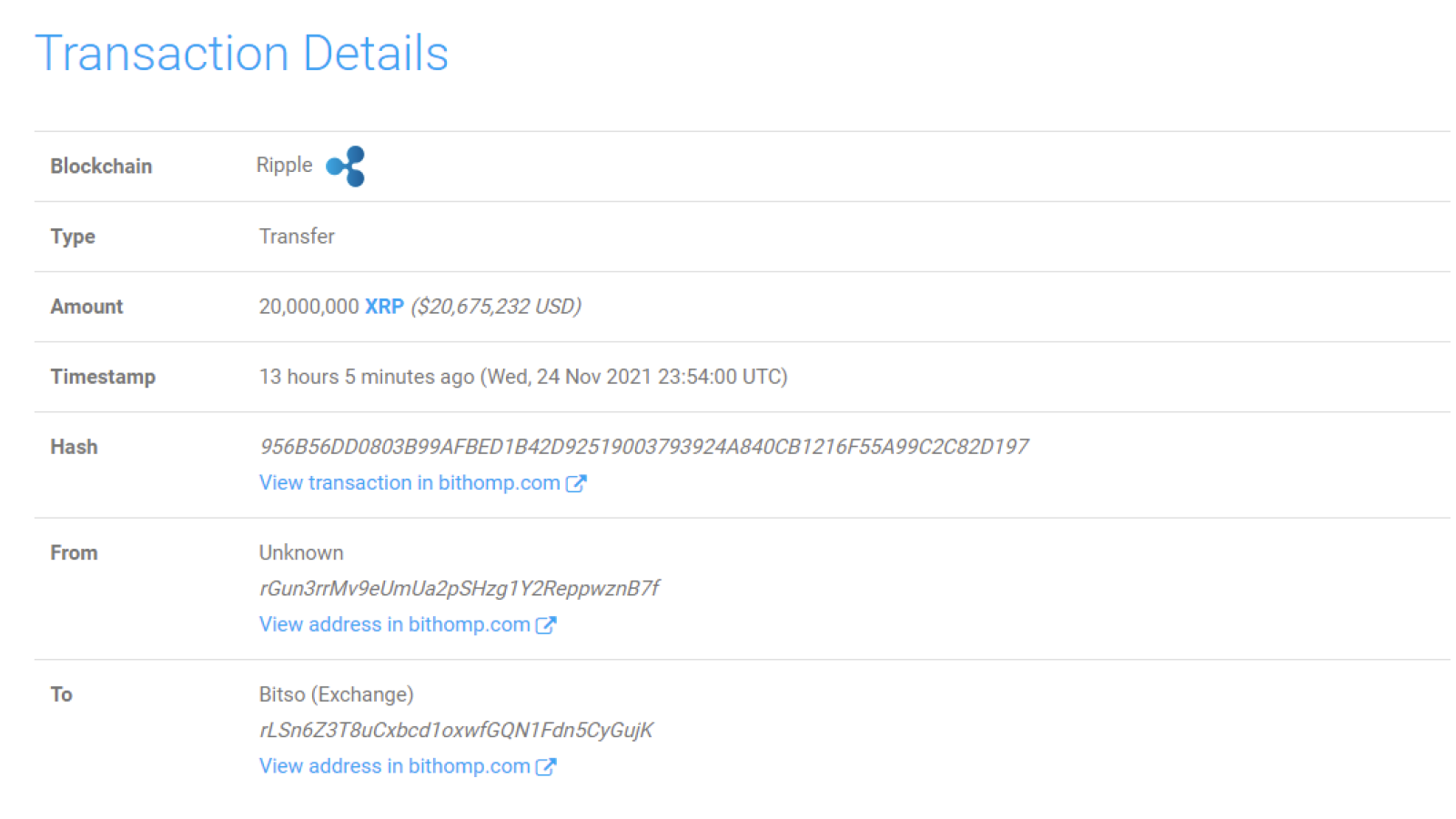 The price of the coin itself has not yet reacted to the large transactional volume on the blockchain. Currently, coins remain on smaller exchanges. All transactions have been made from exchange to exchange wallets, except a transaction worth 20 million XRP coins.
Some users assumed that the multiple transactions are tied to one whale-tier owner who is trying to redistribute his or her assets between various exchanges.
As for the assets' market performance: XRP is still moving in the range formed back on Nov. 17. The coin had multiple tests of the upper border of the rangebound but failed to break out from it. Currently, Ripple is gaining 1.8% to its value following the overall recovery of the altcoin market.