Justin Sun of Tron (TRX) To Attend Chain Plus ASIA NFT and DeFi Conference September 10, 2021
Justin Sun of Tron (TRX) To Attend Chain Plus ASIA NFT and DeFi Conference September 10, 2021
Justin Sun of Tron (TRX) will be attending the 2021 Asia NFT and DeFi Conference. This is the first 3D online conference that brings together global NFT and DeFi Unicorn companies.
The Chain Plus ASIA NFT and DeFi Conference and Investment Roadshow. The virtual conference is scheduled from September 09, 2021, through September 11, 2021.
At 9:20 Sept 10, Justin Sun will attend the 2021 Asia NFT & DeFi conference with other experts, sharing his views and thoughts on emerging issues like the Metaverse and NFT.
During 2020-2021, the true potential of NFTs and DeFi was known to the investor community. There is an increase in the interest to lend money and to earn yield. The adoption rate of Defi is expected to increase and eventually to increase the value of the total amount of money locked in DeFi to cross past 100 billion US dollars.
NFTs are being widely used in areas like art, metaverse, games, and IP copyrights. There is an increased interest seen in cryptographic art among Asia-Pacific investors.
A new generation of well-versed creators in digital technology are emerging, and they are pushing the emerging category of NFTs in a new direction. The era of DeFi +NFTs is already here. More unique markets are beginning to gain momentum.
The Asia NFTs & DeFi Conference focuses on building a platform for NFTs and DeFi innovation bringing together business exchanges, eventually connecting the Asia-Pacific and global markets.
Well-known leaders from the NFTs and DeFi space visionary international investors and the most potential emerging startups, along with disruptive creators, are set to release the latest technology and strategic cooperation plans jointly. They are set to explore the cooperation opportunities in the Asia-Pacific market to discuss the latest trends and future of DeFi & NFTs.
It is very common to see paintings getting burnt, and they are converted to NFTs, and these art forms fetch millions of dollars. It is becoming an everywhere trend to see investors, financial reporters, and futurists go abuzz about companies big and small launching NFTs for profit and publicity.
NFTs command varying prices depending upon how rare they are. Many of them collect NFTs and resell them for several tens and thousands of dollars.
For instance, A Los Angeles pizza shop released an NFT, which for one lucky owner meant free pies for life.  An artist named Krista Kim recently sold a virtual home known as Mars House and created it in an NFT format, and sold it for about $500,000.
News Source
Justin Sun of TRON (TRX) bought 100 Coins at An Average USD price of 47,627.03 Bitcoin
Justin Sun is optimistic that active and new accounts hit new ATH today. TRON network is very stable in the extreme market condition and attracting more users every day.
Also stated, To match the CEO of El Salvador Nayib Bukelee's offer, I just bought the dip – 100 coins at an average USD price of 47,627.03 Bitcoin.
Tron community member was like: What about your own coin tron trx? How about buying that? That's down too. Try to do something about that, that hasn't done anything for a long time. All the hype but never any movement in it.
Otherwise activities in the TRON foundation are progressing.
Tron Foundation expressed: Dear TRONICS, Our API function update has been completed. Our data on Coin Market Cap and other platforms have been updated and synchronised in real-time.
The circulating supply seems to increase suddenly on Coin Market Cap due to the update delay rather than caused by sudden transactions.
Coin Market Cap is one of the top crypto tracker websites globally, and we will cooperate more closely to ensure to provide all TRONICS with more timely and accurate data information.
Community Response: Still a TRONIC, but very disappointed. I can't believe more people are not. This has cut the gains possibilities to a fraction. TRON usually makes things right so I'm looking forward to that, but one foots out the door.
It looks correct Chris I never relied on CMC always monitored Tron Scan data supply circulation and it is correct. CMC had old data.
So now max supply is unknown? We have an additional 30 billion circulating no warning nothing.
How do you say this? And what is the interpretation of 40% + market for TRX?
Otherwise, The TRX and NFT Holders Airdrop event has been extended to 6th Dec. Thus, it is never too late to join.
Right after the TRX and NFT Holders Airdrop event was launched, more and more attention were drawn. But many users were too late to join or felt hard to figure out our rules. So, we decide to extend the end of the event to 6th Dec, 2021.
Community was like, what is the fun of having NFT if it's value is near to zero?
TRON SCAN stated, the average daily transfer volume of stable coins on TRON network reached $9,677,999,233 (11.26-12.02) this week.  Relying on the strong alliance of 4 TRON -based stable coins USDT, USDJ, TUSD and USDC.  TRON's ecosystem is continuously increasing.
Tron Builds First-Ever Ecological Complex in Cryptovoxels Metaverse
An ecosystem of three buildings and a temple has been built in Cryptovoxels metaverse.
In collaboration with MetaEstate, a leading digital real estate platform, Tron Foundation develops an ecological complex that includes the foundation's headquarters, digital art museum and convention club.
Tron raises bets on metaverses, builds ecological complex in Cryptovoxels
According to the official announcement shared by the Tron Foundation, it released the first-ever ecological complex in the digital metaverse of Cryptovoxels.
🔥The Ecological Complex of TRON Has Been Completed in Cryptovoxels!

💎Discover Cryptovoxels online, win $2,000 NFT Tokens & 100 precious Arts NFT.

Follow @apenftorg
RT with #TRONCryptovoxels, @ 3 friends
Join Discord: https://t.co/hqXieOKzNO

🌇We will select 100 lucky guests pic.twitter.com/Q5RktIwkeu— APENFT (@apenftorg) November 26, 2021
As such, TRON becomes the third company after SuperRare and SpaceX to announce the creation of its complex in the metaverse. The TRON complex refers to three adjacent buildings that are located on the east coast of Miami. It includes Tron Headquarters, the BT Convention Club and APENFT Digital Art Museum.
Also, the complex includes the SUN temple situated on the opposite side of the coastal landscape. TRON headquarters acts as both a conceptual art museum and displays hard capabilities together with a soft artistic comprehensive output.
Tron Headquarters (TRON ECO HQ) has three floors, including an atrium with an eco-brand display of the Tron Network, a public office area with meeting rooms, and independent offices with large outdoor terraces.
APENFT art museum is a pioneering digital art exhibition in the metaverse
BT Convention club has two levels. The first one has a reception area and large conference hall. On the second floor is a large open office and theatre-like display space for meetings and conferences.
APENFT art museum is the first-ever cultural institution that exists in the metaverse only. It is dedicated to digital art and non-fungible tokens as its technical basis.
APENFT demonstrates the artwork of prominent digital artists alongside the paintings of winners of the "Second Life" public contest.
The museum also has two floors: the first floor is a reception area accompanied by an open concert hall and artwork display area. The displays on the first floor are adjustable: they can be customized according to different needs.
Also, the second floor has a painting atrium as a symbol of Tron's ability to onboard new-gen digital artists and their paintings. The second floor also has indoor and outdoor exhibition halls for early-stage artists.
APENFT is among the largest and most influential players on the NFTs market. Associated with Tron Foundation, it performed an unmatched token burn event in July.
Its investing strategy is curated by digital art veteran Barrett Wissman, who joined APENFT as Chief Investment Advisor.
TRON price kick-starts 20% rally as TRX shatters vital trend line
TRON price breached through a declining trend line on November 29, signaling the start of a new uptrend.
A minor downswing to $0.09 is likely before TRX rallies to $0.109.
A daily close below the $0.082 to $0.087 demand zone will invalidate the bullish thesis.
TRON price experienced a two-week downswing that ended recently with an uptick in buying pressure. This move suggests that TRX has kick-started an uptrend and is likely to continue higher.
TRON price looks to set up higher highs
TRON price has corrected 30% over the past two weeks and set a swing low at $0.089. Connecting the swing highs between November 22 and November 29 using a trend line reveals a bear trend line and a declining resistance level. A potential increase in buying pressure reversed the trend and broke this hurdle, propelling TRX by 7.7% to where it currently trades – $0.096. Going forward, investors can expect TRON to head lower and retest the $0.092 support level before firmly launching.
The immediate resistance level at $0.10 is the first hurdle TRX will encounter after a 10% upswing. Clearing this barrier will allow TRON price to retest the 50% Fibonacci retracement level at $0.109. This move will indicate a 20% upswing from the current position and is likely where the upswing will face a decisive moment.
If the buying pressure continues to increase, investors can expect TRON price to retest the 62% Fibonacci retracement level at $0.11 or the following one at $0.12.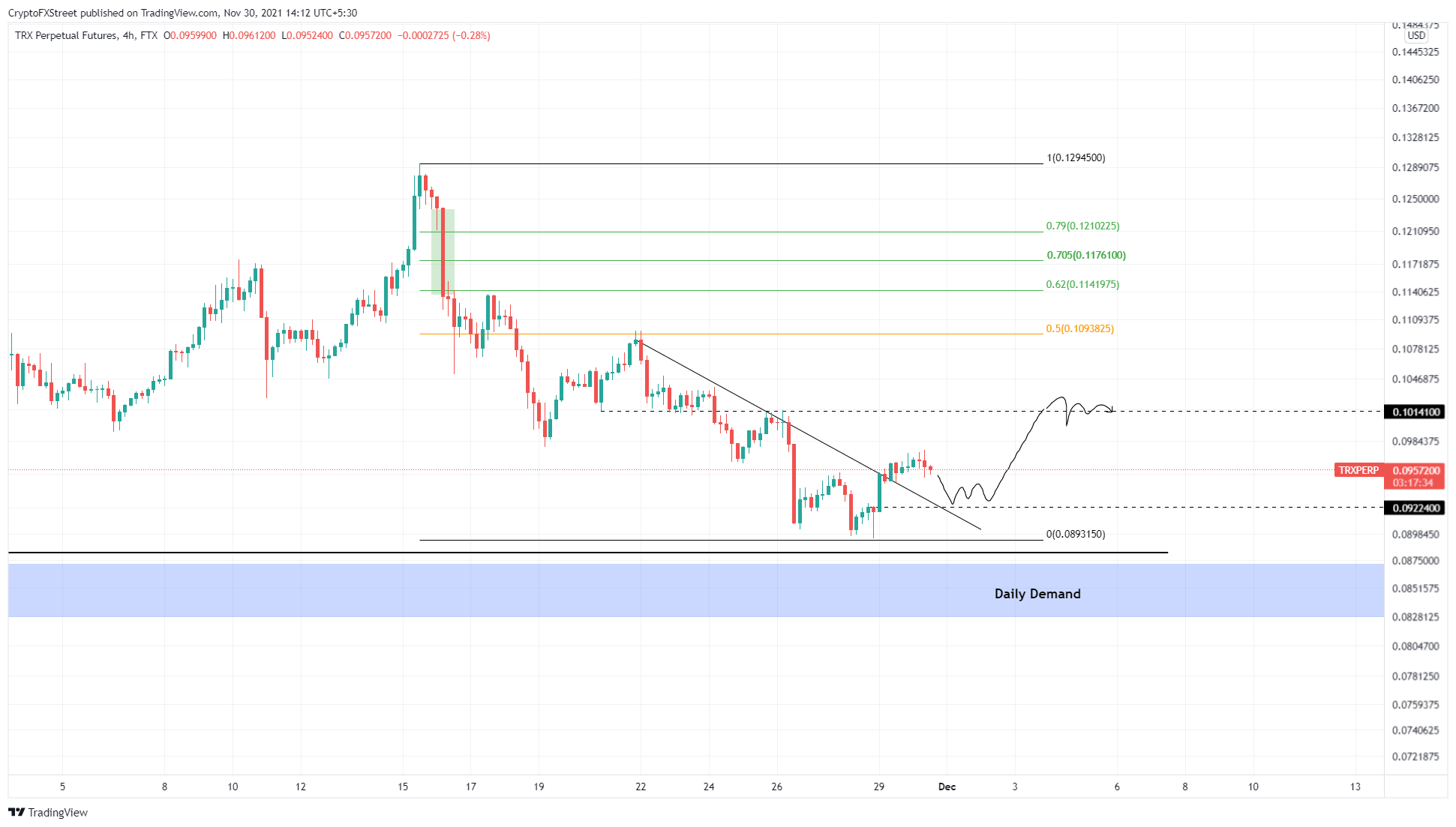 TRX/USDT 4-hour chart
TRON price needs to stay above the $0.92 support level, a failure to do so will indicate a lack of buying pressure and push TRX down to the daily demand zone, ranging from $0.082 to $0.087.
As long as TRX stays above this area of support, buyers can make a comeback. However, a daily close below $0.082 will create a lower low and invalidate the bullish thesis.