Polygon breaks records in on-chain activity, promises NFT accessibility through low gas fees
Integration of the succinct blockchain Mina Protocol brings added security and privacy to smart contract applications built on Polygon Network.
World's largest peer-to-peer marketplace OpenSea has more Polygon users than on Ethereum layer 1.
77% of OpenSea's Polygon NFT sales in August were for $100 or less, the layer 2 scaling solution promises NFT accessibility for retail traders.
Polygon has announced a merge with zero-knowledge proofs protocol Mina Protocol through a bridge. Guaranteeing privacy to users becomes increasingly essential with the security challenges faced by NFT collectors, and Polygon is taking steps to enhance privacy in its ecosystem. 
Polygon users break records on OpenSea, makes NFTs accessible to all
Mina Protocol, better known as the cryptocurrency industry's "smallest blockchain" operates on 22kb of data. The protocol's lightweight blockchain provides fast sync speeds and easy setup, with no additional requirements for hardware to maintain the network.
Ethereum's layer-two scaling solution, Polygon has announced a merge with Mina Protocol through a bridge and together the two are set to offer enhanced privacy to smart contract applications built on Polygon. 
Mina Foundation is working with @0xPolygon to implement support for #MinaProtocol on Polygon PoS.

This bridge will enable developers building dapps on #Polygon to leverage privacy and verifiability via Mina's zk-SNARK-based protocol. Find out more here👉 https://t.co/HFUzXLK3uS pic.twitter.com/t1fqwn7npJ— Mina Protocol (@MinaProtocol) September 9, 2021
The crux of the merge is that applications like Mina Protocol offer Polygon network contracts to keep features like an owner's identity or sensitive Know Your Customer (KYC) information hidden from different parties.
Sandeep Nailwal, co-founder of Polygon, said,
Building a bridge between Polygon and Mina is an important step toward achieving our shared vision of a fully decentralized ecosystem of dApps that keeps users in control of their data.
Polygon's users and on-chain activity has increased consistently over the past few months. The network's native asset MATIC has hit a new all-time high in daily active users (DAUs).
176,012 users transacted a total of $6.08 million on Polygon. @RaphaelSignal, a MATIC and DeFi analyst on crypto Twitter, has shared an engagement and monetization analysis of the record-breaking on-chain activity on Polygon.
1/ $MATIC breaking records w/ new all time high DAUs!

DAU: 176,012 (+16.64%)
Tx/day: 6.08mm (+4.69%)
Revenue/day: $27,666 (-41.77%)
Cost/tx: $0.0045 (-44.38%)

Today we continue our series on @0xPolygon user engagement and monetization. Analysis 👇👇👇 pic.twitter.com/P8F5B3C10a— Raphael (@RaphaelSignal) September 8, 2021
With several updates in 0xPolygon ecosystem, it is a lesser known fact that OpenSea is fully integrated with the network's Proof-of-Stake (POS) chain. The number of Polygon users on the marketplace exceeds Ethereum layer 1.
190,000 wallets have transacted in Polygon on OpenSea. @NiftyTable, an NFT data analyst, shared his findings in a thread on crypto Twitter.
According to @NiftyTable, 77% of Polygon NFT sales in August accounted for $100 or less. This implies that the layer-2 scaling solution has boosted NFT accessibility for traders and collectors, offering reduced gas fees.
[5/5] 𝟳𝟳% of OpenSea (Polygon) NFT sales in August were for less than $100. Combined with the low gas fees, I would say that this is promising for NFT accessibility. pic.twitter.com/3XJAykph1n— NiftyTable (@Nifty_Table) September 9, 2021
With bullish developments in the Polygon ecosystem, analysts expect MATIC to continue its upward climb. 
FXStreet analysts have predicted a 90% upswing in the altcoin's price, as they evaluated where the altcoin is heading next.
MATIC price analysis: Polygon token's price crashes as it jumps to 19th position
MATIC reached a daily high of $1.967 today.
The MATIC price analysis turned bearish, dropping to a daily low of $1.6
The nearest unbroken price support is present at $1.559
Polygon (MATIC) ranks among the top 20 biggest cryptocurrencies, rising from $0.01478 to $2.68 in the past 52 weeks. This is an extremely bullish performance shown by the MATIC token. Therefore our view on Polygon remains bullish for the long term.
MATIC's price turned bullish on Thursday after the announcement of MATIC getting listed on the Bit2Me exchange, Spain's largest cryptocurrency exchange. Following the creation of the weekly high early Friday, the MATIC price analysis also turned bullish as the token surpassed Chainlink in terms of market capitalization and claimed the 18th position in the market.
As per the data from CoinMarketCap, the trading volume surged by 36.72%, standing at $1.88 billion. Furthermore, the market cap of the token dropped by 9.71%, standing at $11.24 billion.
MATIC price analysis on the daily chart
MATIC price analysis on the daily chart remains bearish because the bulls are unable to keep up with the sellers who are cashing in their profits. The price action is currently testing the 50-day Moving Average while the 100-day Moving Averages remains intact as a key price zone and support level.
The prices were progressing in the upper end of the Bollinger Bands after the sudden bearish wave brought it down to the lower region, teasing an imminent breakout. If the prices break out, we will definitely see lower levels.
The RSI indicator turned bearish and is now entering the bearish region, i.e., below the 50-level. Furthermore, the MATIC price analysis also reveals that lower prices are possible since the gradient is sharply negative and selling pressure increases.
The MACD indicator witnessed a bullish divergence on the daily chart. However, this incredible surge in selling activity might help the signal line (orange) find its way above the MACD (blue) line, leading to a bearish divergence
Conclusion
Polygon (MATIC) snatched the 19th position from Chainlink and is now ruling the position with a dominating trading volume. However, Chainlink is also not slowing down. The two tokens will continue to battle it out as Bitcoin remains sluggish and altcoins bleed. However, as per our MATIC price analysis, this is a great time to buy the Polygon token MATIC.
Nexo lists Polygon, sending MATIC prices to higher highs
Nexo, a regulated digital assets institution, offers MATIC holders 20% APR as a promotional campaign welcoming the Polygon network.
In addition to lending initiatives, Polygon is one of the prime chains for minting NFTs and expanding Nexo's offerings in the metaverse.
Polygon network is among the top protocols that successfully onboarded the highest number of new users over the past eight weeks.
Nexo finance announces Polygon's arrival on its platform. Investors can now earn 20% APR on MATIC as part of Nexo's promotional campaign.
MATIC arrives on Nexo finance offering higher returns to investors
Polygon network is now on Nexo finance, offering holders and investors higher returns on the DeFi platform. The regulated crypto assets provider offers 150 market pairs to users. Users can now buy, swap and borrow against MATIC. 
The ongoing promotional offer gives users 20% interest and distributes daily. With the rising importance of multi-chain networks, activity on the Polygon network is on the rise. Nexo's team is engaging with the Polygon network for various initiatives.
Polygon network will help Nexo expand their offerings through NFTs, helping the DeFi protocol get into the metaverse. NFTs have high potential as a new asset class; Polygon's blockchain network offers Nexo an opportunity to offer metaverse products.
Users that purchase MATIC on Nexo's exchange can earn 20% interest and grow their passive income till the promotional offer lasts (Jan 3, 2022). 
Polygon network has reached out to enterprise projects looking for sovereignty, their own blockchain and don't want to derive security from Ethereum's scaling solutions. Mihailo Bjelic, co-founder of Polygon network, tweeted:
We're in touch with a lot of projects (many of them from the enterprise world, but not all) who want sovereignty, i.e. their own chain/L1, and simply do not want/need to derive security from Eth L1.

This is a realistic and big use case that we're addressing with Polygon SDK.— Mihailo Bjelic (@MihailoBjelic) November 24, 2021
Analysts have evaluated MATIC price trends and predicted a trend reversal. @Koolaid_crypto, a cryptocurrency analyst, believes that MATIC price is testing old resistance and is likely to breach resistance in the coming days. 
$MATIC testing old resistance. The 0.618 fib is above the downward sloping trend line so we may see a breach of resistance in the coming days. #MATIC #MATICusdt pic.twitter.com/Hq0kVZryoM— Crypto Koolaid (@Koolaid_crypto) November 24, 2021
MATIC price forms bear trap as Polygon heads to $2.6
MATIC price develops bear trap, creating a short-squeeze opportunity for bulls.
Key bullish entry levels are necessary to prevent a selloff.
Downside risks remain despite bullish reversal signals.
MATIC price remains inside a broader rising wedge pattern on its candlestick chart and has struggled to find support. However, the Point and Figure chart shows that a move above $1.70 could trigger some intense buying pressure and deny bears their selloff.
MATIC price prepares for a nearly 50% price spike higher despite current downside risks
MATIC price has a long opportunity on its $0.05/3-box Reversal Point and Figure chart. The long idea is a buy stop order at $1.75, a stop loss at $1.55 and a profit target at $2.55. The entry would complete a breakout out of a double-top while simultaneously confirming a bullish Point and Figure reversal pattern known as a Bear Trap.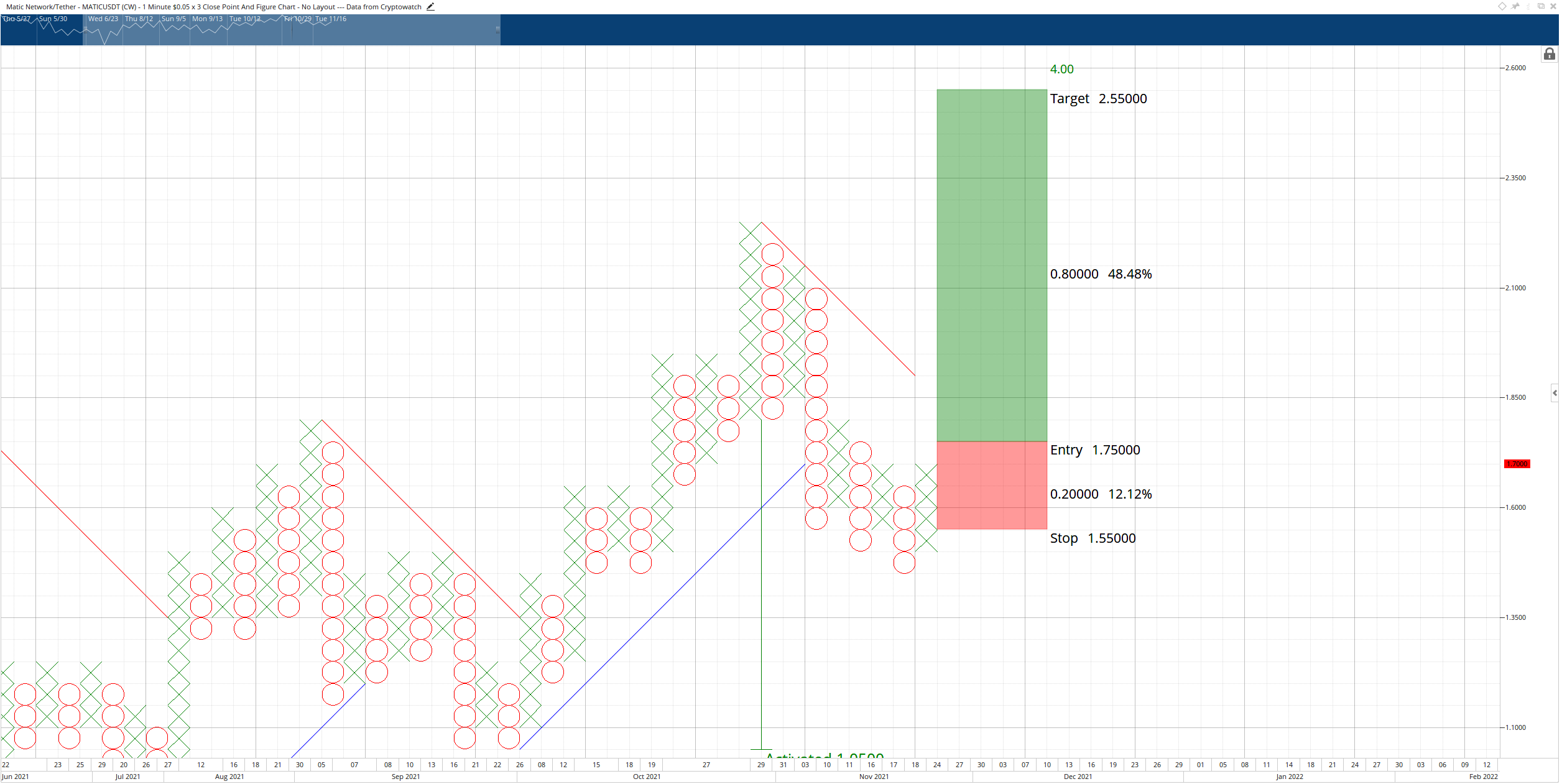 MATIC/USD $0.05/3-box Reversal Point and Figure Chart
Buyers are not entirely out of bearish territory, however – the daily Ichimoku chart shows MATIC is very close to completing an Ideal Bearish Ichimoku Breakout entry. The 50% Fibonacci retracement at $1.53 is acting as immediate support, but failure to hold there means MATIC price could drop even lower.
MATIC price will enter a capitulation zone at or below $1.40. A close at $1.40 would position MATIC price below the Cloud, the 100% Fibonacci expansion, and the lower trendline of the rising wedge pattern. More importantly, though, the Chikou Span would be below Senkou Span B. A close at $1.40 would mean MATIC may not find support until the 161.8% Fibonacci expansion at $0.95.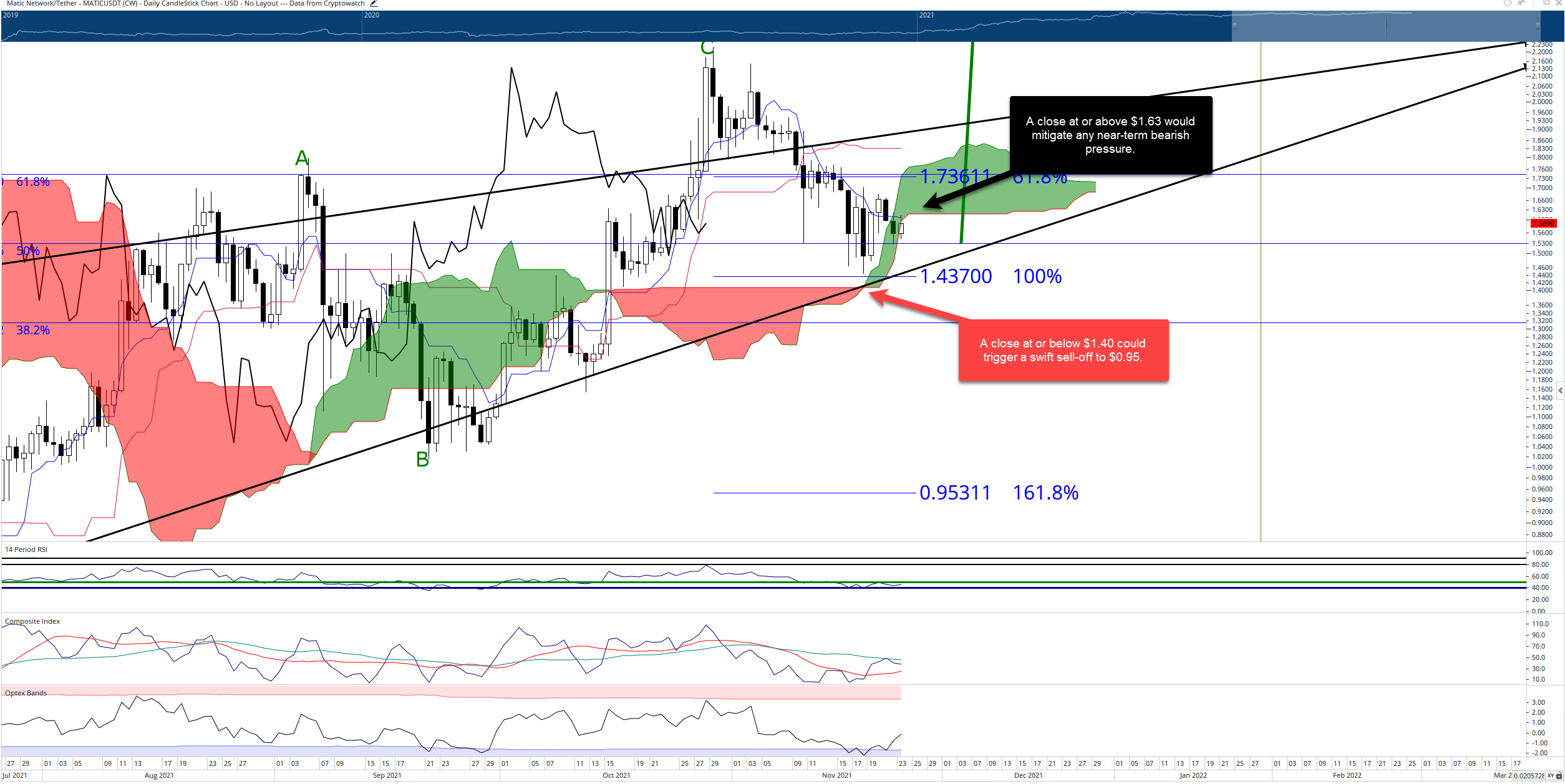 MATIC/USDT Daily Ichimoku Chart
The near-term bearish outlook could be mitigated if MATIC price closes above the Tenkan-Sen and Senkou Span B at $1.63. From there, the road to the Point and Figure buy stop entry is more straightforward and more probable.