Ripple Drains Wallet Containing 4,000,000,000 XRP As Settlement With Co-Founder Nears Completion
Global payments company Ripple emptied a digital wallet holding 4,000,000,000 XRP tokens that were used to fund a settlement with a former executive.
Ripple's now-empty wallet was periodically sending XRP to co-founder Jed McCaleb's own "Tacostand" wallet. However, McCaleb's wallet is expected to be drained as he must sell off his XRP in small amounts as a part of the agreement.
The agreement, formed in 2014, prevents McCaleb from dumping his XRP holdings in large chunks.
Currently, McCaleb's wallet holds 709,911,000 XRP, worth $795,100,320 at the time of writing. The final transfer to McCaleb's wallet was 174 million XRP on September 1st.
Analyst Leonidas Hadjiloizou shared the news for his 39,300 Twitter followers.
"The Ripple wallet that funds Tacostand is now officially EMPTY. A year ago, this wallet held more than 4 billion XRP.
Tacostand balance: 709,911 million XRP"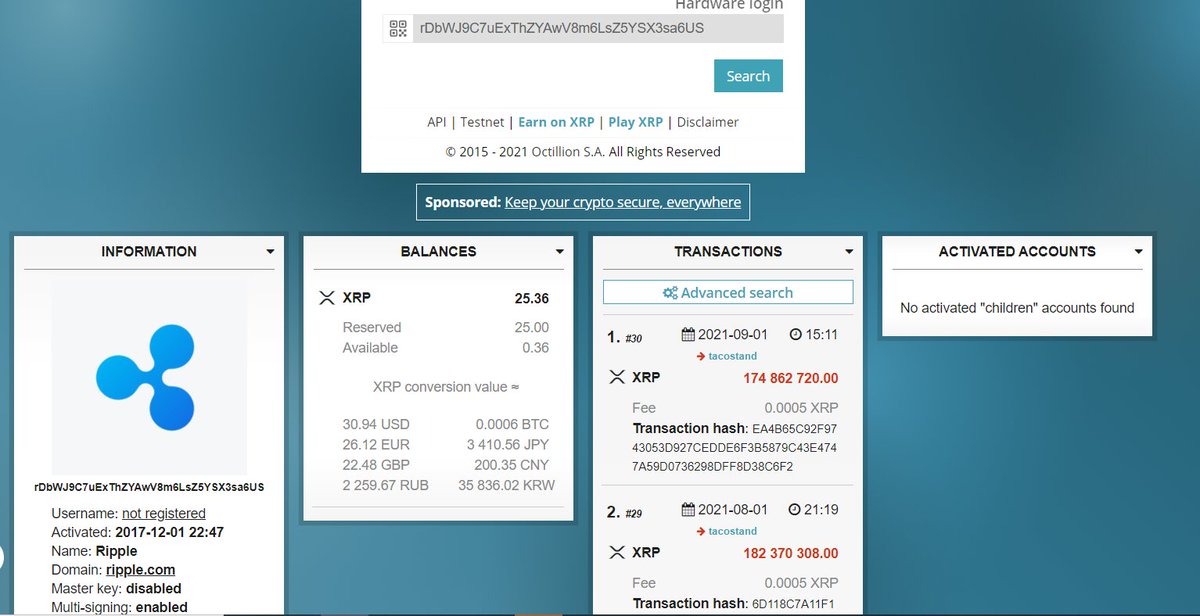 ​​Source: LeoHadjiloizou/Twitter
For the first year of the settlement, McCaleb was able to collectively sell 0.5% of the average daily volume of XRP for each day of the week, including weekends and holidays. In the second and third years, he could sell 0.75%, and in the fourth year, up to 1%.
Now, after over four years of the agreement, McCaleb is able to sell as much as 1.5% of the average daily volume.
McCaleb served as Ripple's chief technical officer before leaving in 2013 to start his own open-source monetary platform, Stellar (XLM). 
EU Plans to Ban Anonymous Cryptocurrency Wallets
The European Commission is clamping down on anonymous cryptocurrency transactions
The European Commission, the executive branch of the European Union, plans to ban anonymous cryptocurrency wallets, Reuters reports.
It aims to force service providers to collect data about those who transfer cryptocurrencies, such as the customer's name, address and age, as well as the name of the recipient.
This is part of the commission's effort to fight terrorism financing and money laundering.
The proposal—whose draft was initially revealed earlier this month—stated that the anonymity of cryptocurrencies would limit the ability to misuse crypto transactions for criminal purposes.
In its statement, the commission claims that the newly proposed law would make Bitcoin and other cryptocurrencies fully traceable:
Today's amendments will ensure full traceability of crypto-asset transfers, such as bitcoin, and will allow for prevention and detection of their possible use for money laundering or terrorism financing.
In its recent report, Goldman Sachs states that central bank digital currencies will likely be ID-verified to mitigate risks the related to illegal finance.
Last week, the European Central Bank announced the launch of a 24-month digital euro project that will explore the applications of a CBDC.
Where is it better to keep cryptocurrency?

BitMarket Network Client is the best way to store digital money
Digital money is hard to make and easy to lose. In the crypto industry, the "hodl" strategy is widespread: investors buy coins for the long term and do not sell, regardless of market fluctuations. But digital money is easy to lose, even if you don't make risky deals. One of the main questions of crypto holders is how to store money. There are several ways, and each of them has its own pros and cons. Read below to find out why the experts consider https://bitmarket.network/ the best.
 Stock exchange
The most common way to store cryptocurrency is to keep it on the exchange. When creating an account, each user gets his own wallet. It supports all the coins traded on the site, so clients always have the opportunity for selling or buying them. Another advantage of the stock exchanges: the ability to easily restore access to account. However, this has a downside – insecurity. Even the heads of major exchanges urge not to keep funds on them due to the keen interest of hackers. Therefore, it is worth keeping on the exchange only the amount that doesn't hurt to lose. In addition, the exchange can go offline at any time and become unavailable for trading. The user may lose access to their funds at the most inappropriate moment. The exchange selection must be approached with extreme caution, because there is always a risk of being scammed.
 Desktop wallet
Devices that look like a USB flash drive are the safest way to store cryptocurrency now. This method is more reliable than the stock exchange, because for hacking the "USB" criminals need to get physical access to it. Nevertheless, this way of storing money is not so simple and you need to be extremely careful. According to recent research, many wallets can be hacked in 15 minutes, and the illegal entrance will cost the attackers only a couple of dollars. Desktop wallets also often have vulnerabilities or errors in the work process. When choosing this wallet for storing your funds, you need to remember that the loss of the PIN code will lead to the loss of savings. Another significant disadvantage of using "USB" is the ability to lose or spoil it physically. For example, children or a dog can break it at home.
 Mobile wallet
It is a universal way to store funds. These are applications for PCs or mobile phones, browser extensions. Finding such a wallet is easy: just go to the official website of the project and download the appropriate version. But this method also has its own difficulties. The mobile option is suitable for those who need constant access to their coins for transactions. But the cryptocurrency will not be downloaded on the smartphone, so it can only be accessed if the Internet is available.
 Online wallet
This method is similar to the cryptocurrency storage on an exchange. But this method is more convenient and unsafe at the same time, because coins do not belong to you and its safety depends entirely on the service. At the moment hackers have a myriad of options for stealing funds: hacking users' accounts or a service itself, or creating a phishing page. You need to be extremely careful and not keep a large amount of funds in your online wallet.
A very promising multicurrency wallet project, BitMarket Network Client, has appeared in the crypto world recently. It incorporates the best features of all the listed wallets. Experts have already assumed it as the safest and most convenient service for storing digital money. The platform and its developers do not have full access to the user's coins. You can start working with the service only after setting two-factor authentication on your account. And the open source code allows independent experts to verify the application. The most convenient thing is that clients have access to their resources anytime and anyway. The application contains many currencies – Bitcoin, Litecoin, Ethereum and many others. Currency rate is constantly updated. And the transaction charge is few.
BitMarket Network Client is now in its alpha version and looking for like-minded people.
Elon Musk Slams This Cryptocurrency Wallet, Here's Why
Bitcoin Supportive Elon Musk has publicly bashed Freewallet on Twitter for the flaw always cited by the crypto community – private keys.
The richest man on Earth and the CEO of Tesla, Elon Musk, has taken to Twitter to criticize the Freewallet app, posting two tweets slamming this cryptocurrency app.
Your app sucks.
In the next tweet, he explained the reason for this harsh criticism, stating that Freewallet does not allow its users to have their private keys, referring to the issue often cited by Crypto Twitter about centralized digital exchanges: not your keys, not your crypto/Bitcoin.
Any crypto wallet that won't give you your private keys should be avoided at all costs.
Here is what the FAQ section of their website says regarding private keys.
Image via FreeWallet
These tweets by Musk came as a response to a tweet by the wallet's team, which tried to promote its app using Musk's name and his love for Dogecoin.
Image via Twitter
Earlier this week, Tesla announced its acquisition of a staggering $1.5 billion worth of Bitcoin added to its balance sheet.
This sent the price of the flagship crypto first to its all-time high of $44,000, and the following day BTC hit $48,000.