Algorand (ALGO) price doubles in two days, here are the possible reasons
The El Salvador government has chosen Algorand to build its blockchain infrastructure.
DeFi activity on Algorand is on a spike with the total DeFi TVL reaching $90 million.
---
Ethereum alternatives and other proof-of-stake (PoS) blockchain networks are gaining solid traction. Just in the last two days, Algorand (ALGO) cryptocurrency has registered 100 percent gains with its price surging all the way to $2.48.
As of press time, ALGO is trading at $2.05 and has a market cap of $10.7 billion. On the weekly charts, ALGO is still trading at a 90 percent premium. Launched back in 2019, Algorand is an energy-efficient proof-of-stake (PoS) blockchain platform.
Just like Solana, Algorand is fast, scalable, and designed to host decentralized applications (DApps) and DeFi protocols. Thus, the Algorand blockchain allows users to trade, borrow, and lend crypto assets without any third-party intermediaries.
The recent price rally has helped ALGO to enter into the top-20 cryptocurrencies by market cap. Amid high DeFi and NFT trading, the demand for other Ethereum alternatives has been on the rise. The high gas fee and low transaction throughput on Ethereum is forcing Defi players to consider other optional solutions.
This is the reason that Solana has gained massive traction with the SOL price surging past $200 on Thursday, September 9. As a result, the DeFi TVL on Solana has also reached closer to $8 billion.
Two major reasons behind the Algorand price rally
The Latin American country of El Salvador has been keen on joining the crypto bandwagon. Its government made Bitcoin a legal currency along with the USD last week. Now, to build its blockchain infrastructure, the El Salvador government has chosen the Algorand blockchain for this purpose. The El Salvador government has signed an agreement with financial services firm Koinbanx. Apart from FinTech, Koinbanx will also use the Algorand blockchain for additional blockchain-based infrastructure services such as the COVID-19 tracking system and other financial services platforms. Besides, the Algorand blockchain will also be hosting some of the most popular stablecoins like Tether (USDT) USD Coin (USDC).The adoption of Algorand by a national government puts a strong vote of confidence for the blockchain network. this can possibly lead to further large-scale adoption by other institutions and governments.
To get the Algorand community more involved and active on the network, the Algorand Foundation made some key announcements. The Algorand Foundation is working on introducing governance features for token holders. The feature will go live on October 1 and will give users better control and voice in any future developments taking place on the platform. Furthermore, the project developers are working on new decentralized finance (DeFi) and non-fungible token (NFT) applications. This will help to attract new players in the DeFi and the NFT space who want to avoid the high gas fee of Ethereum.
For the first time since June 2020, the ALGO price has attained these high levels. This bullish breakout can lead to a further price rally for ALGO.
With the dip behind it, here's how Algorand's short-term prospects look like
After Bitcoin's weekend flash crash, over $2.5 billion market liquidations shook the larger market. This brought the cumulative crypto-market cap down to $2.2 trillion. As expected, major altcoins seemed to bleed amid the wider sell-off.
However, altcoins like Terra (LUNA) and Algorand (ALGO) held comparatively well, taking the market by surprise. 
Much like the larger market, Algorand too wasn't completely unaffected by the Bitcoin dip. Especially since ALGO lost close to 25% of its value in just a day. Even so, Algorand's quick rebound was impressive.
In fact, the #18 ranked coin by market cap held well above the crucial $1.6-level. This has acted as a long-term support level since September. Seemingly Algorand's price stability stemmed from some key factors, including high institutional interest, collaborations, and partnerships, as highlighted by a previous article. 
Furthermore, as ALGO traded close to the lower support line, the crucial question remained – When will Algorand's price break out and what will it need for the same?
Algorand's Ethereum killer status strengthening?
Over the past year, Algorand has quickly emerged as a contender in the smart contract platform space as the market's focus seemed to shift towards a multi-chain approach. In fact, the platform's extensive network of partners has further strengthened its narrative as a strong Ethereum killer.
Just recently, Borderless Capital announced the launch of a $500 million ALGO Fund to help develop projects built on the blockchain. This will include projects "to disrupt the creators' economy with NFTs and initiatives. Well, something that can increase capital in the ALGO's DeFi ecosystem through liquidity mining, lending, borrowing, and yield farming."
Notably, in September this year, the platform launched a $300 million DeFi fund. Also, before that in April 2020, Algorand announced an investment of 250 million ALGO to encourage the creation of Dapps. All this has pushed the platform's image in the DeFi space.
On 2 December, Algorand's TVL touched the $100 million mark. Moreover, at press time, its TVL was up 6.19% over the last 24 hours, even though the larger market suffered and DeFi TVL fell considerably.
Algorand plunged below its critical support at $1.50. Post the fall, however, there was a 'buy the dip sentiment' among HODLers seen in the long bearish wick on its daily chart. This support from the retail side helped sustain price levels.
That being said, looking at more long-term perspective support from HODLers (A section that saw a considerable rise over the last few months) could be key to ALGO's price rally in the near future.
Algorand(ALGO) Price Prepares for a Massive Pump Ahead, Is ATH On Its Way?
Ever since the crypto space faced a similar crash to that of May, many assets are attempting very hard to recover losses. ALGO price also faced a huge drop of more than 30% and revisited lower levels around $1.3. However, the trend appears to have reversed and the asset with some pumps and dumps is approaching the immediate resistance levels around $1.8. 
The Algorand recently hosted a 'Decipher event', a gathering intending the Algorand developers, businesses, and innovators to learn about several topics. Moreover, the blockchain also launched an NFT marketplace called AlgoMart. This aims to ease out the NFT launch process offering modular tools, integrated payment systems, and many more.
After swinging within a descending parallel channel for almost a month, the price is expected to breach through upper resistance levels soon.
Currently, the ALGO Price is trending within a descending channel ever since it smashed the yearly highs around $2.5 regions. Woefully, it fell into a deep well hitting the bottom of the channel but sustaining above $1.5. However, the recent sell-off pulled down the price below the strong support levels and slashed it to $1.32 levels. Luckily, the price rebounded well before reaching the support levels of the channel and initiated a notable uptrend. 
At the press time, the Algorand price is hovering around $1.833. The altcoin is heading strongly towards $2 with a massive jump of 10.85%. The volume also spiked to a large extent of about 30%  with a market cap crossing $11 billion. The uptrend is likely to continue slowly yet steadily. However, the crucial levels reside in between $1.99 to $2.07 which needs to be cleared to reinstall a bull rally. 
Why Algorand can hit $3 over the next few weeks
Algorand price has spent nearly sixty days in a consolidation pattern.
Bulls have been positioning Algorand for a bullish breakout within the Ichimoku Kinko System.
The $3.00 price level is the next major high and target.
Algorand price action has been mostly constrained between the $1.62 and $2.14 value areas over the past two months. Multiple attempts by bulls to break out higher have not met with success;at the same time bears have been prevented from moving Algorand lower. A pattern now appears to be forming which may end this impasse.
Algorand price eyes a breakout to hit a new all-time high at the $3.00 value area
Algorand price has formed a very textbook example of what a bull flag looks like. Bull flags are consolidation channels that show up after an uptrend. In technical analysis, consolidation after a strong uptrend is considered a sign of strength and trend continuation. The Ichimoku Kinko Hyo system can assist with identifying appropriate price levels that would indicate a new uptrend is likely to occur. 
Algorand price buyers would only want to go long when the daily close is above the Cloud, Tenkan-Sen, and Kijun-Sen. Additionally, buyers will want to ensure the Chikou Span is above the candlesticks and in open space. The Algorand price daily close needs to be at or above $2.30 to confirm buyers' positive and robust breakout. However, the same is true for the downside. Bears have been equally interested in creating strong shorting conditions for Algorand. It is more difficult for Algorand to move lower than it is to move higher. Sellers have to contend with pushing a daily close below the 50% Fibonacci retracement at $1.62 to create any shorting opportunities.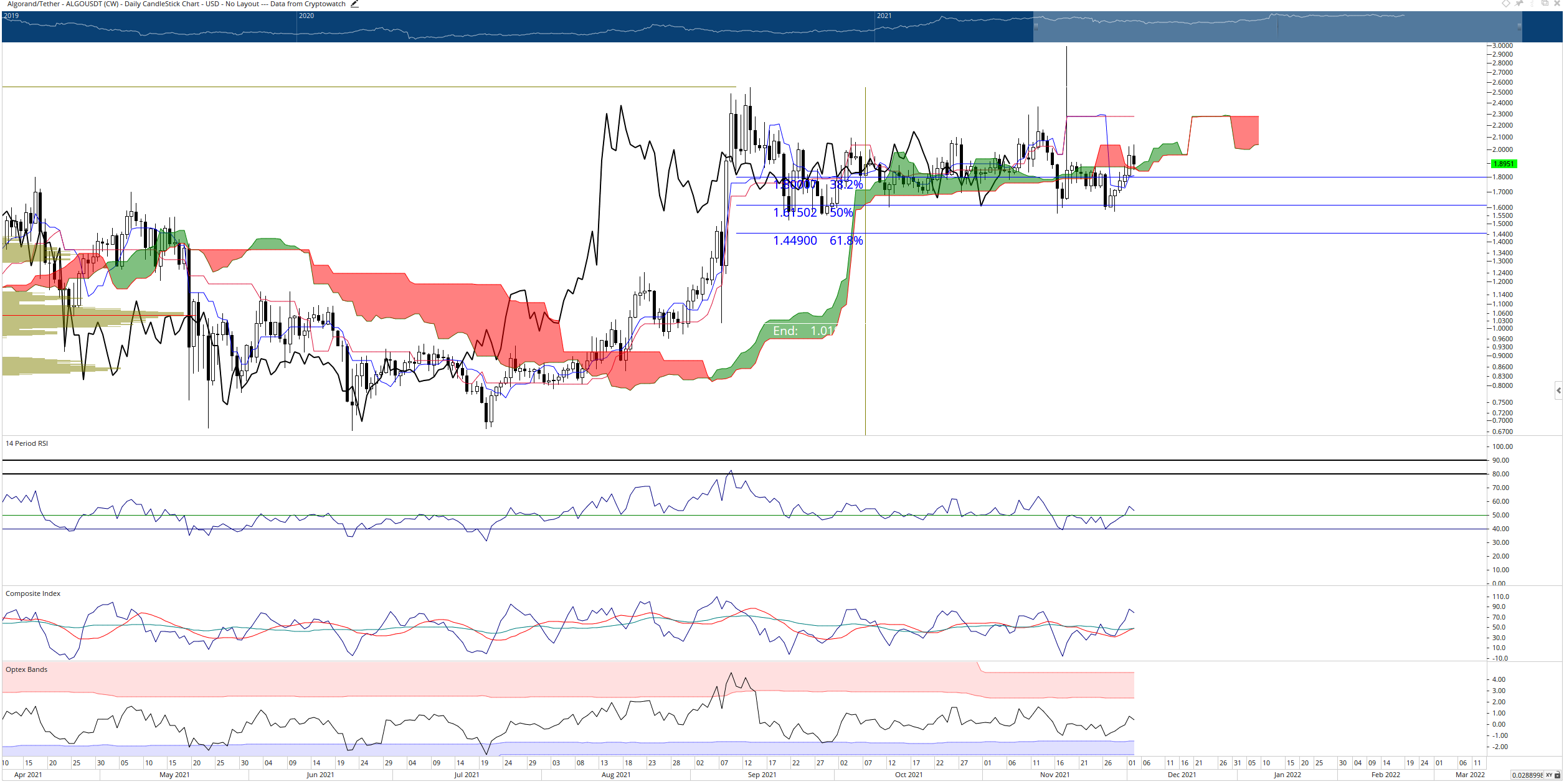 ALGO/USDT Daily Ichimoku Chart Even if sellers can even push Algorand price below the 50% Fibonacci retracement, downside risks are, however, minimal. In addition, a high volume node in the 2021 Volume Profile and the 61.8% Fibonacci retracement share the $1.45 value area, limiting any potential swings south.