Bitcoin Attains its 700,000th Block: Milestones, Criticisms and Future Prospects
The Bitcoin Blockchain has produced its 700,000th block, after more than 12 years in existence. 
Happy 700000th block, #bitcoin! https://t.co/24mpVKXK8e— Pieter Wuille (@pwuille) September 11, 2021
According to data from Blockchain.com, the historic block height was recorded by an unknown miner, atop about 1,276 transactions within the block. The milestone is a function of the growing adoption of the digital currency which has pushed it to dominate the ecosystem it pioneers.
At the time of writing, Bitcoin has a total circulating supply of 18,812,950 BTC, a figure that is about 89% of the max supply of 21 million. The very last of the remaining coins are not expected to be mined until the year 2140, a pace that is being defined by the halving process integrated into the coin's protocol.
Bitcoin's Top Milestones to Date
Bitcoin has passed through many turmoils in the past decade as many world governments have attempted to raise standards in the form of regulations against digital assets. Amidst all these, Bitcoin has charted a remarkable price growth trend, topping $64,000 back in May this year. The current price valuation of Bitcoin at $45,447.84 has positioned it as the 9th most valuable asset in the world when compared with the world's largest firms.
The ranking of Bitcoin attained through its market cap of $857.1 billion was fueled by the embrace of the digital asset by a number of top Wall Street firms including electric automaker, Tesla Inc, MicroStrategy Incorporated, and Square Inc amongst others. The milestones inked by Bitcoin in its years of existence were capped by the adoption of the cryptocurrency as a legal tender in El Salvador, a country in Central America.
Criticisms
In the early days, the major criticisms recorded by the Bitcoin community was that it was used in criminal activities due to its pseudo-anonymous transactions. However, the emergence of security intelligence firms like CipherTrace is beginning to restore confidence amongst regulators in their ability to monitor transactions.
Today, the major criticism being faced by the digital currency, including its energy requirement as a Proof-of-Work protocol is being propagated by Tesla CEO, Elon Musk. 
Energy usage trend over past few months is insane https://t.co/E6o9s87trw pic.twitter.com/bmv9wotwKe— Elon Musk (@elonmusk) May 13, 2021
Ethereum out performs Bitcoin, ETH regains the majority its flash-crash losses
Ethereum price, like the broader cryptocurrency market, suffered a massive flash-crash during the early midnight trading on Saturday.
17% losses at one point were measured.
Throughout the remainder of Saturday, buying pressure wiped out nearly all of the overnight losses.
Ethereum price performance on Saturday has been nothing short of spectacular. Considering that most of the altcoin market is down fifteen to twenty percent, Ethereum's daily close of down only 4% is a testament to its strength.
Ethereum price regains nearly all of its flash-crash loss, handily outperforming the broader market
Ethereum price experienced one of the fastest and deepest flash-crashes since May. The timing of the collapse couldn't have been more perfect: midnight Eastern Standard Time (New York). Bears could push Etheruem to the $3,503 price level before a bullish reversal occurred.
The two primary support levels holding Ethereum price up are Senkou Span B at $3,700 and the third-highest volume node in the 2021 Volume Profile at $3,410. While highly bullish in the short-term, indecision remains and downside risks.
Despite the massive recovery, Ethereum price remains inside the daily Cloud – an area rife with indecision, volatility, and whipsaws. The Cloud is the place where trading accounts go to die. Etheruem needs a daily close at or above the $4,650 price level to convert to a full-blown bull market.
Ethereum price is tilted more bearish here, especially with the Chikou Span below the candlesticks and in open space. Adding to the bearish outlook is the bear flag breakout on the Relative Strength Index. However, the final oversold level at 40 in the Relative Strength Index might yield some support.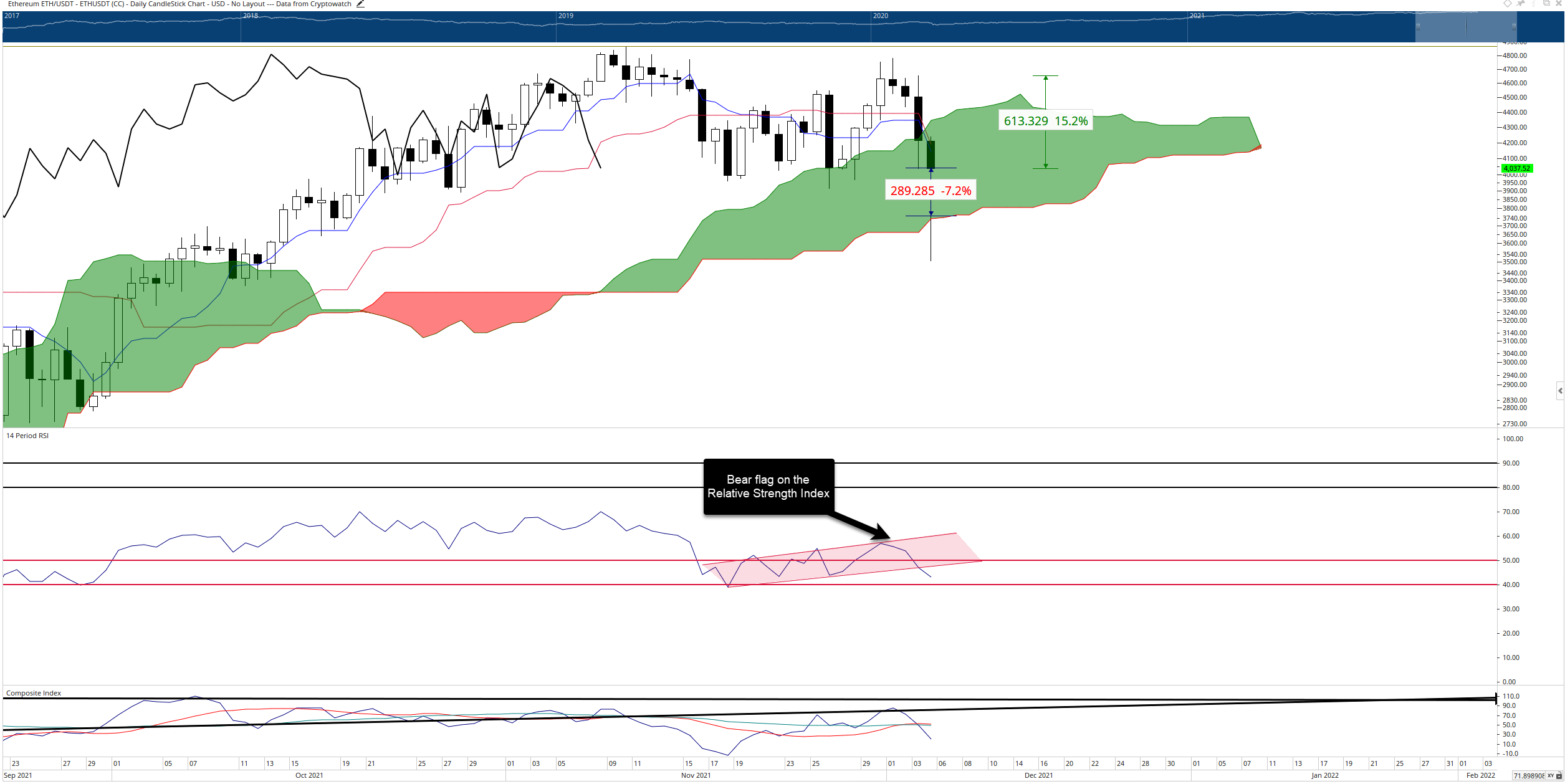 ETH/USD Daily Ichimoku Chart
The threshold that bears need to achieve to convert Ethereum price into a bear market is a much more manageable price range than converting to a bull market. For example, whereas Ethereum needs a 15% move above $4,000 to convert into a bull market, short-sellers only need a 7% move below $4,000 to convert Ethereum into a bear market.
Any daily close at or below $3,700 would position Ethereum below the Cloud and into bear market territory.
Top Analyst Says One Crypto Asset Will Spearhead Bull Market Recovery – And It's Not Bitcoin
A closely followed crypto analyst and trader is naming one altcoin that he believes will reignite the crypto bull market.
Pseudonymous crypto strategist Credible tells his 275,300 Twitter followers in a new video that Ethereum's strong performance against Bitcoin (ETH/BTC) amid the brutal correction is a sign that the markets are still bullish.
"I'm bullish on Ethereum and also in general, as long as we're holding this monthly support 0.075 BTC ($3,662). I want to show you guys on this massive drop that we just saw, Ethereum/Bitcoin is holding up beautifully… This is when alts take the lead, when alts start shining, guys.
If this was a bear market, Ethereum/Bitcoin would not be popping right now when Bitcoin's correcting. It would be dropping very, very hard. It's holding support. We're pushing up – bullish.
I think alts are going to rebound off of this drop harder than Bitcoin. I think, particularly, Ethereum is going to do it exceedingly well."
At time of writing, ETH/BTC is trading at 0.086 ($4,224), up over 11% in the last 24 hours.
Looking at Bitcoin (BTC), Credible is also bullish on the prospects of the king cryptocurrency even after an epic crash that saw it plummet from $52,000 to $43,500 in less than an hour.
According to the crypto strategist, he believes yesterday's deep pullback signalled the end of a macro corrective phase for BTC.
"I believe we're now wrapping up that flat correction. The expectation is that we're putting in a higher low above the lows at $30,000 and everything above that is fine, and I think that is what we're seeing right now."
At time of writing, Bitcoin is exchanging hands at $49,104, down over 7% on the day.
Peter Schiff Names Real Reason Behind Bitcoin Drop
Popular digital assets critic believes that measures against inflation are the real reason behind the most recent market correction
The famous Bitcoin and crypto critic, Peter Schiff, provided his Twitter subscribers with a potential reason behind one of the largest corrections on the cryptocurrency market this year.
According to Schiff, Bitcoin's correction was tied directly to the Fed's action toward risk assets like cryptocurrencies and some stocks. Previously, Jerome Powell hinted that tapering might happen sooner than the market expects.
Risk assets like stocks & #Bitcoin are tanking simply because Powell hinted the #Fed might wrap up the taper a couple of months early and the first 1/4 point rate hike may also come a bit sooner. Imagine what would happen if the Fed was actually serious about fighting #inflation!— Peter Schiff (@PeterSchiff) December 3, 2021
In addition to the end of the quantitative easing monetary policy, Powell has stated that the point rate may be increased sooner than was expected due to the inflation's change of nature, which has become a real threat to the country's economic safety and stability.
All of the actions that the Fed is currently taking are designed to control inflation, which is currently hitting highs previously observed back in the Depression era.
High-risk assets like Bitcoin and other digital assets were allegedly considered a store of value for those who wished to protect their funds from increased inflation. Schiff is a widely known critic of cryptocurrencies, and he believes they should not be considered an inflation hedge.