Ethereum Classic Prediction 2021 – Bull Flag To $100 in 2021?
While new cryptocurrencies have popped out this year, most investors have a strong connection to the old and primitive ones. Perhaps, it is because they feel confident about their moves in the future and avoid risking exploring new cryptos. While Bitcoin and Ethereum have been ruling the Crypto world no matter what, let's see about another former currency – ETC. This piece of Ethereum Classic price prediction projects forecast for 2021 and beyond!
Impressed by the current trends and strongly believe Ethereum Classic has a big part in the future market? If yes, investing in this thriving currency can be a sensible choice to make. But anxious about how well the coin will perform in the coming days? To retort your inquiries we have made a complete analysis of this currency that will make your decision-making journey easier. Jump in to know more!
Overview
| | |
| --- | --- |
| Cryptocurrency | Ethereum Classic |
| Token | ETC |
| Price | $59.16 |
| Market capitalization | $6,875,846,626.06 |
| All Time High | $176.16 May 06, 2021 |
| All Time Low | $0.4524 Jul 25, 2016 |
| Circulating supply | 116,313,299 ETC |
| Total Supply | 116,313,299 ETC |
| Average ROI | 772.81% |
What Is Ether Classic (ETC) token?
Ethereum Classic (ETC) is a hard fork of Ethereum (ETH) that launched in July 2016. Its main function is as a smart contract network, with the ability to host and support decentralized applications (DApps). Its native token is ETC. Since its launch, Ethereum Classic has sought to differentiate itself from Ethereum, with the two networks' technical roadmap diverging further and further from each other with time.
Fundamental Analysis
ETC began in a very similar technical state to ETH, with the exception of how the DAO hack transactions were handled. Since launch, however, changes in tokenomics have occurred, with participants voting to cap the supply of ETC in December 2017.
ETC uses a PoW mining algorithm, which functions like Bitcoin — miners are rewarded with new coins for validating the blockchain in competition with each other. The ETC block reward decreases with time, with the next drop due at block 15,000,000, roughly in April 2022 — from 3.2 ETC to 2.56 ETC per block.
As a voluntary organization, the developers of ETC do not aim to turn the network into a for-profit entity. Users pay transaction fees as with Ethereum, and miners collect them based on work done as per the proof-of-work (PoW) mining algorithm.
Unlike Ethereum, Ethereum Classic has no plans to convert to a proof-of-stake (PoS) mining algorithm, while multiple developers continue to work on future improvements such as scaling solutions.
Ethereum Classic Price Prediction 2021
ETH classic gained massive profits this year. ETC began trading at $5.70. Further, the price kept on surging. And eventually, the price surpassed 3 digit milestone reaching ATH $176.06 on May 06, 2021. ETC was hit hard by a market crash. The price fell by 440% reaching $41.51 on July 21st, 2021.
Since then showing an uptrend, the price surged to the $70 mark. With a slight pullback, the price is hovering around the $62.5 mark at the press time.
With average buy and sell pressures ETC price would surpass 3 digit mark this year reaching $106.45 by the year's end. If ETC executes plans as per plan then on a bullish note the price may hit the $150 mark. On the downside, in case of any regulatory issues or failure in delivering updates on time, then possibly the price may dip to $53.457.
Ethereum Classic Price Prediction 2022
If ETC closes this year hitting the lows, then it might resume next year's trade with a bearish note. In that case, the Ethereum Classic price starting January may be near $45.0.
On the other hand, if 2021 hits new highs and closes, it might continue the same trend and commence 2022 with a bullish trend. If this happens, the ETC price may be at $88.5.
The altcoin has proved to be a stable-priced investment all along! Despite the fact that Crypto markets are unpredictable, ETC has not flapped too much. If the token carries over this tagline further, it can draw investors who wish to have a safe play. And so, it might draw investors who wish to have a safe play. Thus, by the end of 2022, the Ethereum Classic price can reach a high of $270.63.
On the flip side, Unlike new currencies that bagged a huge user base and community, Ethereum Classic still has a limited community circle. In the coming year, with increasing competition in the market, if ETC fails, it can drop to $168.01. However, considering regular buying and selling signals, the average price for 2022 maybe $224.52.
5 Years Ethereum Classic Price Prediction
As the years pass, many people may dive into the crypto market, and as newbies, they will look out for relatively low-priced yet worthy currencies. Ethereum Classic is affordable for beginners and also is familiar with its very own breakout from Ethereum. If such a scenario occurs, the ETC price can boom and even touch $435.78.
But, the fact that Ethereum classic is still an inactive network in the competitive space can have a negative impact on its price movements. So, by the end of the next five years, ETC can slash to a minimum of $338.66. However, since ETC is the original Ethereum, it can move steadily with an average price of $391.54.
ETC Market Prediction
TradingBeasts.com predicts ETC might reach $52.381 by the end of 2021 and $89.672 by the end of 2024 on a higher note.
Longforecast.com predicts that ETC might end the year 2021 trading at $56.7. By the end of 2024, the price may plunge and trade near $41.6 And by the mid of 2025, the price may trade at $42.2.
According to DigitalCoinPrice, Ethereum classic may trade at an average of $90.44 by the year-end and $175.79 by the end of 2025.
Our Price Prediction
IOHK's relation with Ethereum Classic can impose a green signal for the altcoin in the coming months. According to Coinpedia's formulated Ethereum Classic price prediction, if the network turns active with IOHK working on it, the ETC price for the year can hit a high of $140.2.
On the other hand, if the network fails to work on its security and falls prey to another cyber hack in the coming months, the price can drop to $44.4 with increasing FOMO. As a long-term forecast, if Ethereum Classic grows in price and shows good profit margins it can hit $435.7 But negative sentiments like a mining ban or a market collapse can pull a low of $338.6.
| | | |
| --- | --- | --- |
| Year | Potential High | Potential Low |
| 2021 | $140.26 | $44.43 |
| 2022 | $270.63 | $168.01 |
| 2025 | $435.78 | $337.66 |
How Did ETC Price Perform Previously?
2016
Ethereum classic started its journey with a trading price of $0.66. The price drastically surged to $2.14 by the end of July. With certain price variations, ETC managed to trade at $1.38 at the end of 2016.
2017
ETC continued to trade at $1.40 by early January. The price steadily started to rise and dramatically the price hit $22.34 by mid of June and started to drop further. The price dropped around $10 by September and ETC started to surge further. However, ETC surged further and recorded its All-Time-High by reaching $47.77 by mid-December and later plunged to $26.93 to end the trade of 2017.
2018
ETC initiated the 2019 trade at $41.70 and further plunged to $19.75 by early February. Later the price surged to $41.79 in February as bulls held the market. Further, the price initiated a downward move and arrived at $14.13 by April. ETC managed to be in the range between $12 and $16 until December. Later the crypto market crash led to the decline in the price of ETC as well as other altcoins. At the end of 2018, ETC was trading around the $5 mark.
2019
ETC managed to trade at the range between $3 and $7 throughout the year.
2020
During the start of 2020, ETC was trading at $4.86. Progressively, the price managed to reach the $11 mark by early February and further plunged to $5 by the end of March. The price continued to be stable throughout the year with certain variations. At the end of 2020, ETC traded at $5.66.
FAQ
What will ETC be worth in 2021?
By 2021, ETC is expected to reach $140.Is it profitable to invest in Ethereum Classic?
Yes. The long-term earning potential is quite high.What is the difference between Ethereum and Ethereum Classic?
Ethereum runs on the Proof of Stake consensus algorithm and Ethereum Classic works with smart contracts and Decentralized Apps.Where to trade ETC?
ETC can be traded at popular exchanges like Binance, OKEx, HitBTC, Upbit, and many more.
Crypto Analyst Nicholas Merten Makes Massive Ethereum Prediction for End of Bull Cycle – Here's His Target
Prominent crypto analyst Nicholas Merten says that top smart contract platform Ethereum (ETH) may grow another 325% before the current bull cycle comes to an end.
In a new strategy session, the host of DataDash tells his 458,000 YouTube subscribers what he thinks it will take for Ethereum to eventually smash the $20,000 level.
"If everything goes perfect for Ethereum, if we get that opportunity to be able to get ETH to launch properly, people using roll-ups, whether it be zero-knowledge roll-ups or optimistic roll-ups, generally 'layer-2 solutions,' we could see a $20,000 Ethereum this cycle. I know it sounds crazy but when you look at the logarithmic chart we've seen these kinds of percentage returns before."
Rollups are solutions that execute transactions outside the main Ethereum chain, but record transaction data on it. The two types of roll-ups are zero-knowledge (ZK) rollups and optimistic rollups.
The closely followed analyst says that if Ethereum maintains solid fundamentals, a rally to the $20,000 may not be as overly optimistic as it sounds. He notes that such a gain would only be about half of what ETH achieved in the first five months of 2021.
"I think it's very reasonable we could see this kind of price level. Somewhere between our neutral and optimistic target. To play it safe, I would say that we've got a really solid steady stream of price action for Ethereum ahead of us. The key thing to understand is that there are periods of this cycle where Ethereum outpaces Bitcoin, which makes these higher targets reasonable."
Ethereum is currently trading for $4,685 at time of writing, up 7% over the last week while Bitcoin has remained almost completely sideways in the same timeframe.
Ethereum price builds the momentum to hit new all-time highs
Ethereum price develops an entry condition before a test of $5,000.
The outperformance of Bitcoin is likely to be sustained.
Downside risks remain but are limited.
Ethereum price is up more than 16% for the week, reflecting a resurgence of buying pressure despite the last three weeks of uncertainty. Point and Figure Analysis indicates a bullish entry opportunity is present.
Ethereum price action prepares for another run at $5,000
Ethereum price is positioned to be the primary leader in the cryptocurrency space again. It has broken out above the upper trendline of the bear flag it was trading in, denying any short sellers an opportunity to continue further selling pressure. The $4,800 price level is the final resistance zone that bulls must cross to put Ethereum at new all-time highs.
A double-top at $4,800 currently exists on the $50/3-box reversal Point and Figure chart. That double-top top creates what is likely the final buying opportunity before Ethereum hits its new all-time high. Therefore, the hypothetical long setup is a buy stop order at $4,850, a stop loss at $4,600 and a profit target at $6,250. The projected profit target is derived from the Vertical Profit Target Method in Point and Figure Analysis.
Conservative traders may wish to wait for a pullback from the current double-top and then look for a triple-top to develop. Additionally, conservative traders could wait for a Bear Trap, Bearish Fakeout, or Bearish Shakeout pattern before going long.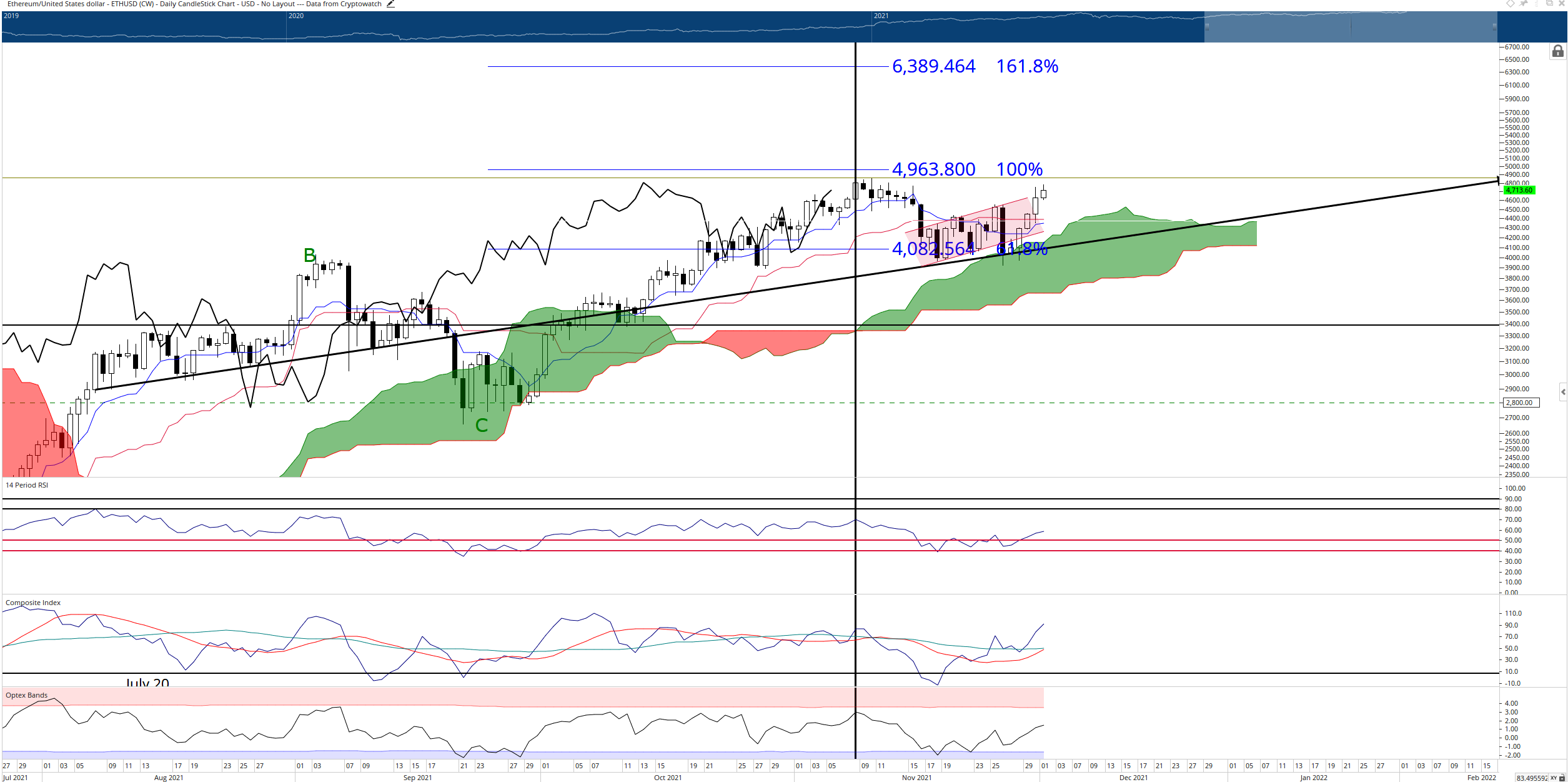 ETH/USDT Daily Ichimoku Chart
However, downside risks remain. Ethereum could very quickly develop a deep retracement towards the $3,300 level despite a breakout above the former bear flag. Hidden bearish divergence is now present on the daily Ichimoku chart, warning traders that the current upswing may be a false move. A daily close that returns Ethereum inside the bear flag would likely trigger a move south and invalidate any bullish entry opportunities on the Point and Figure chart.
Ethereum-Based Altcoin Erupts 280% in Just Seven Days After Announcing New Gaming Partnership
An altcoin that specializes in financial services is surging after forging a new partnership with one of the hottest metaverse games.
The price of Request Network's native token REQ exploded 280% to the upside as news spread that popular virtual world The Sandbox (SAND) had started using Request's basket of accounting services.
The altcoin rose from $0.20 to $0.76 in a matter of days. At time of writing, REQ is trading for $0.73.
According to the project's website,
"Payment experiences should be free from artificial barriers imposed by closed ecosystems. We work together with leading innovators and organizations in the decentralized financial (DeFi) ecosystem to create seamless financial experiences."
Main features of the Request Network include generating invoices to receive payments in different cryptocurrencies as well as accounting tools for financial management.
The Sandbox co-founder Sebastien Borget says that only Request Network offered the scope of solutions needed to ensure efficient workflow.
"Payments and accounting are challenging for large companies that deal in crypto. Making manual payments to large numbers of blockchain wallet addresses, and recording the transactions took up precious time and energy from the team each month.
We really needed a way to automate payments to our employees and contractors, and easily account for the company's crypto transactions and assets during annual financial audits.
Using Request Finance has helped us slash the time we spent on making crypto payments by 90% every month. That frees up our time and mental resources to focus on building a better platform for our community of creators and gamers."
Request Network has forged a number of partnerships as well, including with Maker (MKR), Aave (AAVE), Ocean Protocol (OCEAN), and The Graph (GRT).