Polkadot Price Analysis: DOT retraces to $28, amidst tight daily range
Our Polkadot price analysis suggests bullishness
DOT/USD reversed to $28
Today's Polkadot price analysis suggests bullish signals in the next 24-hours of candlesticks after the coin retested the $30 support and was pulled lower near the $28 mark. Therefore, we are looking forward to an uptrend in the course of the day where Polkadot could rally once more and breach the $30 mark. 
The overall cryptocurrency market trades bearishly, with the majority of the altcoins recording losses on the 24-hour chart. Market leaders BTC and ETH lost more than 3 percent, while Solana turned out to be the worst performer of the day after shedding 15 percent of its value. 
Polkadot price movement in the last 24 hours: Polkadot struggles with $29 resistance
According to our daily Polkadot price analysis, the DOT/USD underwent a tight daily range of $28.25 – $29.80 over the last 24-hours. Trading volume dropped by 13.50 percent on the daily chart to a sum of $3.04 billion. Coin Market Cap data indicated a total market capitalization of $31.7 billion after a 7.93 percent decline. Polkadot was displaced from position #9 by the USDC stablecoin after the drop in market capitalization.
DOT/USD 4-hour chart: DOT ready to reverse again?
On the 4-hour Polkadot price analysis chart, we see DOT/USD price action advocating for another push higher on the 24-hour chart. 
Polkadot's price action has recorded rapid bullish momentum over the past month. From the previous July swing low of $10.5, DOT/USD went up by over 250 percent to the $35 mark.
However, buyers could not successfully cap more gains, after several weeks of consolidation, DOT reversed. After a drop of 15 percent, support was found above $29.40, and later the coin would reverse once again above $30.
Polkadot has since retested the $30 multiple times, with the $29 mark acting as seller resistance. With the last one seen yesterday on the 2-day chart. As long as the support holds, we can expect the Polkadot price to reverse later today and quickly advance to $38.
Polkadot Price Analysis: Conclusion
Our 24-hour Polkadot price analysis is bullish and indicates positive signals above $35. We expect the coin to prepare for further upsides as the DOT/USD rallies higher and higher in the second week of September.
News Source
Polkadot price to rally as Astar Network wins third parachain auction
Astar Network won the third parachain slot auction with over 27,100 contributions.
Polkadot reveals that the first five parachain winners will launch on December 17.
Binance US announced Polkadot's listing on its exchange platform today.
Analysts have a bullish outlook on Polkadot price in the short-term, set price target at $50.
Polkadot's third parachain slot auction ended today, with Astar Network's win. December 17 is a key milestone for Polkadot as that is when the first five parachains launch on the platform.
Polkadot price awaits trigger, first five parachains to launch on December 17
The third parachain slot auction concluded today.
Astar Network, a multi-chain Polkadot dApp hub, formerly known as Plasm network, won the parachain slot. The protocol has received 27,100 contributions. The Polkadot native dApp hub supports Ethereum, WebAssembly, dApp staking and layer-2 solutions. 
Congratulations to @AstarNetwork on winning Polkadot's third auction!

Astar will be onboarded at block #8179200 [Dec. 18] at the beginning of lease 6 with the other first 5 auction winners. Over 27.1K network stakeholders locked up DOT in favor!https://t.co/ZFSzeAhc4x pic.twitter.com/mABXLeRnKh— Polkadot (@Polkadot) December 2, 2021
December 17 is an important date for Polkadot holders as the first five parachain slot winners launch their project on the altcoin's platform. Proponents expect the event to have a bullish impact on Polkadot price.
Binance, the world's largest cryptocurrency exchange, listed Polkadot on its US platform.
Polkadot network has attained 'sharding' or the existence of parallel blockchains in its network to increase speed and efficiency. This has fueled the altcoin's adoption among users. Despite Polkadot's rising adoption and popularity, proponents are of the opinion that the altcoin is unlikely to displace Ethereum as the number one altcoin. 
Ethereum is unlikely to lose the scaling war in the long term. Brad Laurie, a cryptocurrency educator, believes that layer-2 platforms will interconnect. Metaverse protocols like Polkadot will bind blockchains in layer-1. 
Longterm, @ethereum won't lose the so-called 'scaling' race. Know why?
It's not a race at all.
MANY TOP QUALITY #crypto platforms WILL interconnect. #Ethereum is a key L1.
Certain #metaprotocols WILL bind #blockchains
( $DOT, #IBC etc) & in the L1 space, $ETH will make it too— Brad Laurie (@Brad_Laurie) December 1, 2021
A cryptocurrency analyst on "Huefin News" has set a bullish target of $50 for Polkadot price. The analyst expects a bullish divergence in the altcoin's price, unlike the trend in the month of November 2021. 
Binance.US Prepares to List Polkadot (DOT) Soon
Binance.US prepares to list Polkadot (DOT) soon.
The listing will occur at 8:00 AM EST / 5:00 AM PST.
Right after the listing, traders can trade DOT/USD and DOT/USDT pairs.
Binance.US has just announced that it will soon list Polkadot (DOT) on its crypto platform today. As per what the announcement says, shortly after the listing, Binance.US will open a live trading section on DOT/USD and DOT/USDT pairs.
This will eulogize traders with an interactive and eye-catching trading experience while having immense exposure to Polkadot services. Timely, the listing event has been scheduled to occur flexibly at exactly 8:00 am EST / 5:00 am PST.
As the entire crypto world awaits the Polkadot listing, traders can deposit their DOT holdings in preparation for trading. You can solemnly do this by visiting the Binance.US platform with more follow-ups to cover the steps and deposit.
Additionally, without depriving traders of their withdrawal right, Binance.US has pledged that it will enable withdrawal right after the trading goes live. With no secret, it is worth mentioning that this listing implementation will be one of the best achievements that Polkadot has garnered so far.
Also, as the news reaches the crypto market, clearly the Polkadot community and its supporters may be in a happy mood. Polkadot is a network of blockchains that interconnect other blockchains through the project's main "relay chain" to provide cross-chain interoperability and communication service to everyone.
Polkadot price finds stable support that may help DOT resume bull run
Polkadot price finds buyers at a primary support zone.
A three-week correction cycle is complete and resumption of the bull market likely.
New all-time highs are in sight.
Polkadot price has a very healthy-looking weekly Ichimoku chart, showing significant support. Compared to its peers, Polkadot price faces limited downside risks.
Polkadot price bounces, a renewed push towards $70 likely
Polkadot price recently ended  a strong sell-off triggered by a powerful cycle in Gann analysis known as Gann's 'death cycle.' The 'death cycle' is a seven-week (49 to 52 day) cycle that Gann warned could terminate any move that showed persistent price movement at a high slope. Additionally, a three-week correction after the 'death cycle' is the most common reversion period.
Polkadot is trading against the most powerful support level combination possible on its weekly chart. The 2021 Volume Point Of Control and the weekly Kijun-Sen share the $33.50 value area, which is exactly where Polkadot has bounced. To now confirm a resumption of the prior uptrend, Polkadot price will need to return to and close above the weekly Tenkan-Sen at $42.00.
The Relative Strength Index shows some initial support against the first oversold level in the bull market (50). If 50 holds, then a bottom may be in for Polkadot. Additionally, the Composite Index has generated hidden bullish divergence – a condition that is often a precursor to a resumption of a prior bull market.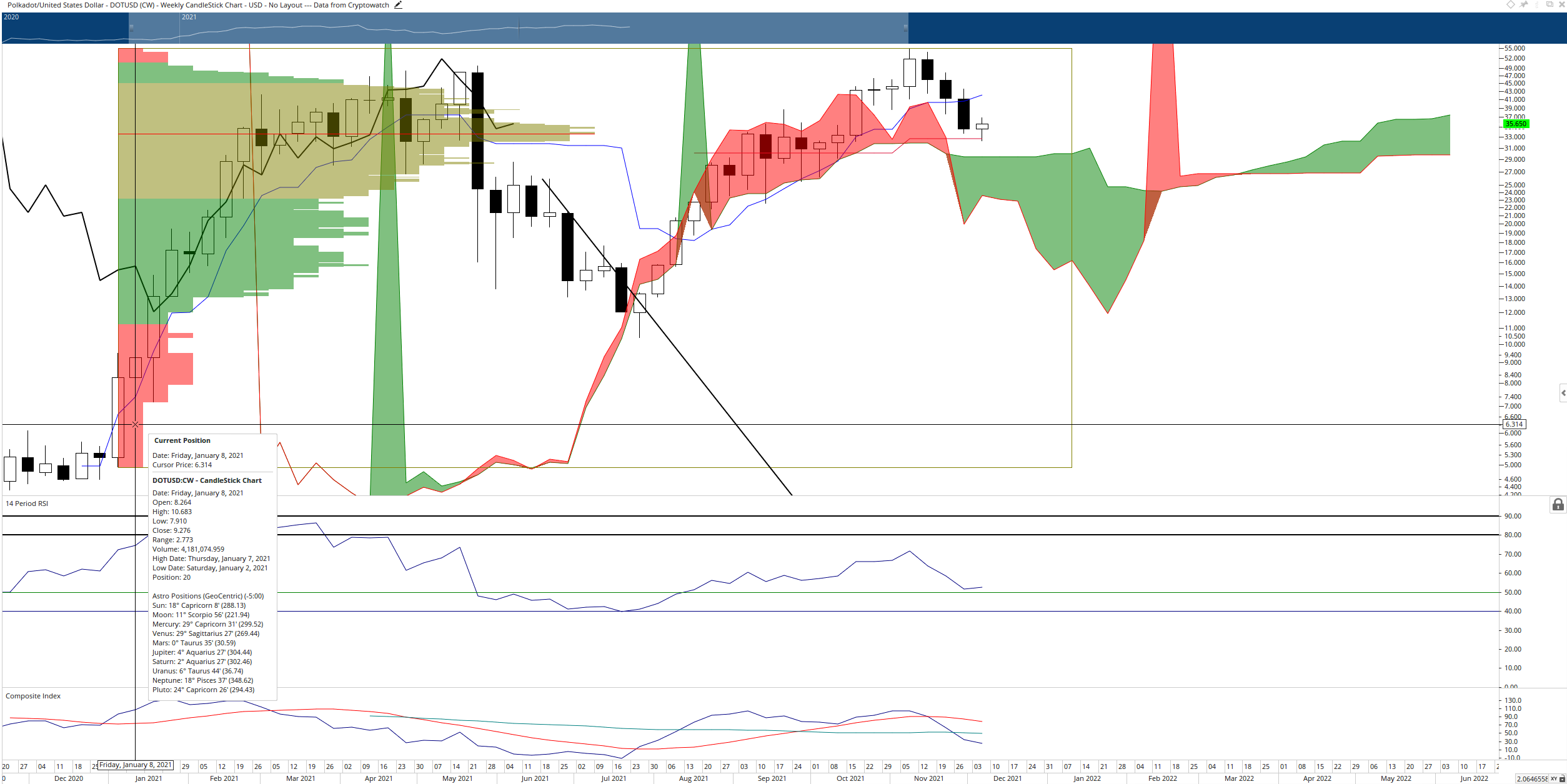 DOT/USDT Weekly Ichimoku Chart
Downside pressure and risks remain for Polkadot price, however. If the $33.50 value area fails as support, the next support zone to watch is the top of the Cloud (Senkou Span A) at $29.50. Any daily or weekly close below $29.50 could trigger faster and deeper selling pressure because the Volume Profile becomes thinner, the lower price moves. In other words, the lower Polkadot price moves below $29.50, the faster and easier it is for it to make further declines.