XRP Lawsuit: SEC files further response to its letter motion compelling Ripple to produce internal recordings
The latest development in the ongoing XRP lawsuit saw the SEC file further responses to its letter motion compelling discovery of Ripple's internal meetings' audio-visual recordings. In the response letter, SEC noted, now that the plaintiff's motion has been declared moot, the commission will not engage and thereafter shall not correct "various inaccuracies" in Ripple's Opposition.
#XRPCommunity #SECGov v. #Ripple #XRP The SEC filed a one page further response regarding the now moot Motion to Compel regarding the recordings of Ripple meeting. pic.twitter.com/3HBv28Ti1z— James K. Filan 🇺🇸🇮🇪 (@FilanLaw) September 10, 2021
SEC argues against Ripple's 'document definition' stance
Nevertheless, the SEC has argued against one of Ripple's reasons mentioned in the opposition letter, in lieu of seeking "sound recordings" since its January 2021 document request. The SEC asserted that 'Sound recordings' are listed under the definition of 'documents' by the Federal Rule of Civil Procedure 34.
Ripple, in its opposition letter, had argued against SEC's vague definition of "documents", with which the plaintiff accused the defendants of failing to discover data via meet and confer. Ripple had noted that the SEC definition of documents was "unreasonably broad" and result in a discovery process that is "burdensome and disproportionate".
#XRPCommunity #SECGov v. #Ripple #XRP Ripple has filed its Response to the SEC's Motion to Compel Turnover of Video and Audio Recordings of Ripple Staff Meetings.https://t.co/H8Ys2kjArf— James K. Filan 🇺🇸🇮🇪 (@FilanLaw) September 7, 2021
The SEC has clarified that it is ready to meet and confer with the defendants about the scope and parameters of Ripple's searches for any additional relevant recordings. Furthermore, the plaintiff has also mentioned that it may seek the Court's assistance again if they fail at reaching a solution with the defendants for ongoing issues.
One of these issues includes, "the parties' ongoing dispute as to whether Ripple should search the recordings for those in which the same employees whose emails Ripple agreed to search for responsive documents are the relevant speakers."
SEC files an objection to Ripple's Motion to Seal
The SEC has also filed an objection against Ripple's Motion to Seal documents of the defendant's internal recordings. However, this motion has already been granted by the court on "an interim basis".
#XRPCommunity #SECGov v. #Ripple #XRP The SEC has filed an objection to Ripple's Motion to Seal documents in connection with the recording of various Ripple meetings. Ripple's Motion to Seal has already been granted on "an interim basis." pic.twitter.com/49zKMIVymo— James K. Filan 🇺🇸🇮🇪 (@FilanLaw) September 10, 2021
The SEC has argued that sealed documents are relevant to the judicial process and cannot be countervailed with the excuse of business or privacy interests' disruption, upon public disclosure. Along with appealing the court to deny the seal for Ripple's internal audio-video recording, the plaintiff has also objected to the seal on redacted portions of Ripple's motion referencing deposition testimonies and corresponding exhibits.
XRP Price Prediction: Ripple momentum weakens as bears contemplate 15% decline
XRP price dropped below a crucial support level on November 26, possibly unraveling a bearish forecast.
The governing technical pattern suggests that Ripple could see a decline of 15%.
To avoid the pessimistic outlook, XRP would need to climb above $1.07.
XRP price fell below an essential line of defense on November 26, opening up the possibility of further decline for Ripple. The cross-border remittance token is now struggling to tag higher levels as selling pressure increases.
XRP price faces minor sell-off
XRP price has sliced below the lower boundary of the ascending parallel channel pattern on the daily chart, unraveling a bearish outlook. The prevailing chart pattern suggests a 22% decline from the downside trend line from $1.03.
XRP price may discover its first line of defense at $0.92, where the support line given by the Momentum Reversal Indicator (MRI) sits. The following foothold will emerge at the 61.8% Fibonacci retracement level at $0.86. If investors continue to engage in profit-taking, Ripple may drop lower to tag the bearish target at $0.79, resulting in a 15% descent.
If a massive spike in sell orders occurs, XRP price may drop even lower, exceeding the aforementioned target, reaching the 78.6% Fibonacci retracement level at $0.70, corresponding to the July 30 low.
The Arms Index (TRIN) which gauges overall market sentiment suggests that there are substantially more sellers than buyers in the market.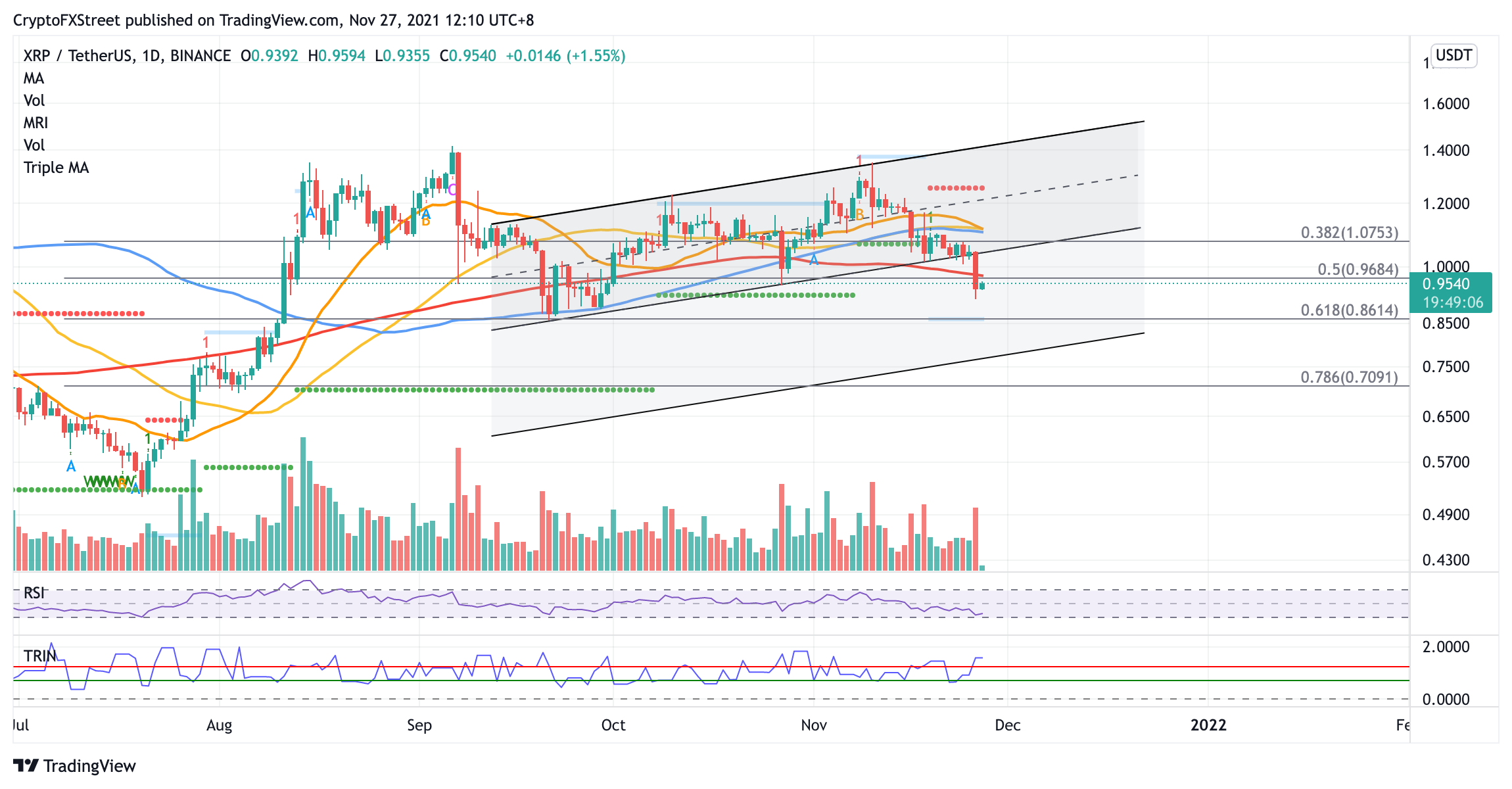 XRP/USDT daily chart
If the bulls decide to step in to undo the bearish narrative, XRP price will face immediate resistance at the 200-day Simple Moving Average (SMA) at $0.96, coinciding with the 50% retracement level.
XRP price may have a chance at restoring its uptrend if it climbs back above the downside trend line of the parallel channel at $1.07, corresponding to the 38.2% Fibonacci retracement level. However, a stiff hurdle may appear close by at $1.11, where the 21-, 50- and 100-day SMAs intersect.
An acceleration of interest in Ripple may see XRP price ascend higher toward the middle boundary of the prevailing chart pattern at $1.25.
Ripple Price Analysis: XRP spikes to $0.91, support found?
Ripple price analysis is bullish for the rest of the day.
XRP/USD saw heavy selling earlier today.
Support found around $0.91. 
Ripple price analysis is bullish today as a strong lower low has been set at $0.91, with buying pressure returning right now. Therefore, we expect bears to be exhausted, leading XRP/USD higher later today.
The market has seen strong selling pressure over the last 24 hours. The market leaders, Bitcoin and Ethereum, are down by 6.07 and 7.1 percent, while Ripple (XRP) has lost almost 9 percent.
Ripple price movement in the last 24 hours: Ripple breaks $1.02 support, finds support at $0.91
XRP/USD traded in a range of $0.9367 – $1.06, indicating strong volatility over the last 24 hours. Trading volume has increased by 35.61 percent, totaling $4.27 billion, while the total market cap trades around $44.745 billion, ranking the coin in 7th place overall.
XRP/USD 4-hour chart: XRP looks to reverse from $0.91
On the 4-hour chart, we can see slight rejection for further downside for the Ripple price as bears are exhausted after a strong selloff earlier today.
Ripple price has seen consolidation in an increasingly tighter range above $0.102 support over the past week. The $1.02 mark was initially reached on the 18th of November after a strong decline from the $1.35 previous major swing high.
Despite the $1.02 support holding, further lower lows were set over the week, slowly building up pressure in the market. Yesterday, another lower high was set at $1.06, leading to more downside overnight.
Ripple price continued lower to $1.02 when a sharp break lower was finally seen over the past hours. Currently, XRP/USD has found low around $0.91, likely leading to recovery over the next 24 hours.
Ripple Price Analysis: Conclusion
Ripple price analysis is bullish today as further downside currently gets rejected after a spike to $0.91 earlier today. Therefore, XRP/USD has likely found a new low, leading to a retracement over the next 24 hours.
While waiting for Ripple to move further, see our articles on the Best Crypto Wallet 2021, Decred Wallet, and Ripple vs SEC.
XRP holds key support while indicators point to short-term recovery
Ripple started a recovery wave above a key support level of $1.024.
XRP price started an upside correction as indicators suggest a short-term recovery.
The coin may initiate a fresh downtrend upon a breakout of the $1.024 support level.
XRP is in the process of forming a triple bottom price pattern boding more upside, for the pair priced against the US dollar., XRP price recently found support at the pattern's base during the formation of the third bottom. Now, Ripple is at a crossroads – a spike in selling pressure may drive a bearish breakout, whilst technical indicators signal a bullish reversal. It all depends on whether or not a critical support level holds.
XRP rejected above the triple bottom at $1
XRP has found support above $1.024 and started a bullish recovery similar to peer altcoins. The XRP price has found footing at the $1.024 level for the third time making it a triple bottom pattern.
If there is increased demand at the current price level it will push the XRP price towards its double top level at $1.108. However, the 20 and 50-period exponential moving averages may act as minor hurdles at $1.076 and $1.108.
The MACD has closed the first histogram above the 0 mark, indicating a bullish reversal. While the RSI is still holding at 44, a crossover above 50 may encourage investors to go long. In that case, the XRP price might spike towards $1.165. Additional gains could lift the price towards the next key hurdles at $1.218 or $1.284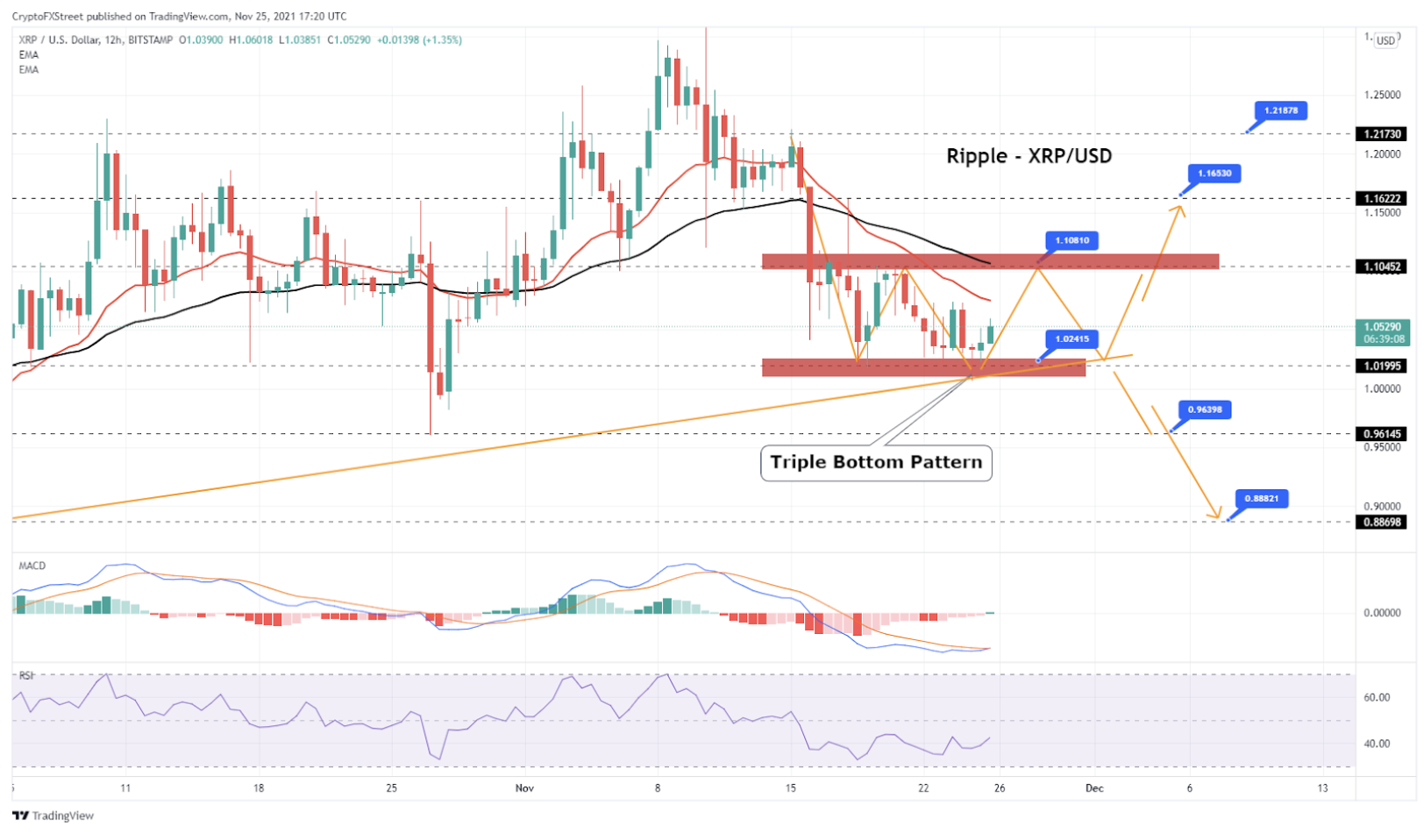 XRP 12-hourly chart – Triple bottom to drive uptrend
If XRP disappoints to start a new spike above the $1.081 level, it could extend losses. Initial support on the downside is near the $1.024 level.
The upward trend that started on September 21 also extends to significant support at the $1.024 mark. Therefore, a break below the $1.024 support level might push the price further down. The next critical support level is near $0.963, below which the price may fall to the $0.888 level.