Cardano Price on the Brink of a Huge Breakout! $5 Imminent for ADA
Market leader BTC, and ETH are hovering around previous levels. While most of top coins are in a sideways trade, Cardano has spiked around 16% ahead of smart contracts launch. 
ADA hit as high as $2.79 in the last 24 hours. However, it has now corrected back to $2.59 at the time of writing. If ADA will fall deeper to retest levels or surge higher from here is to be looked out for.
Supporting the surge higher thesis are popular analyst's. Micheal Van De Poppe in a recent tweet says, ADA has the potential to hit $5 after the massive bounce it saw yesterday.
Massive bounce on #Cardano.

Might be ready for $5. pic.twitter.com/czTMIIOjHW— Michaël van de Poppe (@CryptoMichNL) September 11, 2021
Bullish Factors for ADA Price
According to figures from Pooltool, a Cardano (ADA) data aggregation tool, the number of ADA staking wallets has climbed to 821,024 as of September 10. Since June 3, the number of wallets has increased by 212,633 from 608,391 in three months. This is a rise of 34.95%
According to LunarCRUSH's social media statistics, Solana presently has the highest AltRank score.
Top 10 coins by AltRank™ with leading combined social and market activity.https://t.co/mHpkNqYyfN$ada #cardano$movr #moonriver$hbar #hederahashgraph$srm #serum$avax #avalanche$xyo #xyo$ray #raydiumprotocol$qnt #quant$dia #diadata$egld #elrond pic.twitter.com/1FTHbNFd6z— LunarCRUSH 🚀 Social Listening for Crypto (@LunarCRUSH) September 11, 2021
Tim Harrison, Marketing & Communications Director at IOHK, the company behind Cardano, pointed to the infographic below, which paints a nice picture of Cardano's rich and diverse ecosystem, and said that the next "few months" should be fascinating to watch as more and more Cardano-powered projects launch on the mainnet.
This from @Cardians_ is beautiful. And not even the whole story. A budding ecosystem has been working tirelessly in the background for months. Many will take a while longer to launch on mainnet. But starting tomorrow, be assured, we have an amazing few months ahead of us #Cardano pic.twitter.com/KXL6Ji4sSG— Tim Harrison (@timbharrison) September 11, 2021
Finally, in preparation for today's Alonzo hard fork combinator (HFC), IOHK announced yesterday (September 10) that version 4.3.1 of the Daedalus wallet is now available, and that users should upgrade "before the HFC event on Sunday, September 12th @ 21:44 UTC."
OUT NOW: #Daedalus mainnet 4.3.1

Daedalus 4.3.1 brings #Alonzo support & includes a countdown to the Alonzo HFC upgrade. Also improved presentation of windows, enhancements to transaction management, and support for the upcoming Trezor hardware wallet firmware update. #Cardano pic.twitter.com/1p3XxmkVrh— Input Output (@InputOutputHK) September 10, 2021
Cardano Past and Present Challenges in the Crypto Industry
Smart contracts and network scalability has been Cardano's challenge.
Despite this, Cardano (ADA) is still showing an impressive performance in the market.
Cardano (ADA) has been through a mix of positive and negative downsides since its inception. Starting from the past, it has been striving to get a smart contract for smooth platform functionality. Also, apart from this, one key thing that Cardano has faced is scalability, according to a report.
However, this makes people keep doubting how Cardano claims to be an Ethereum killer and also a third-generation blockchain. This was seen from the time that the Cardano team started to fight for smart contract acquisition to make the network stand out among the odds in terms of network scalability.
Cardano has already made a significant step forward by tackling some of its challenges. This includes the implementation of the Alonzo Hard Fork Upgrade, Basho, Mamba, and other network extensions for betterment. Seemingly, all these appear not to serve as a catalyst to solve Cardano's underlying tragedy.
Mention to the community what are technical challenges openly but not in a sense of FUDing but rather that some solution needs to be found. This could also be a good thing because some community members in the spirit of the decentralized brain could start looking for solutions (research) or even start implementing them (development).
Nevertheless, regardless of all these, Cardano is still showing an absolute performance in the market. It keeps climbing ranks while rocking new all-time highs. At writing time, ADA price trades at $1.56 with a market capitalization of over $50 billion on Coingecko. This makes it ranks as the 6th largest cryptocurrency in terms of market cap.
Cardano (ADA) Down 50% from Peak: Possible Reasons
Largest proof-of-stake network sees its token in multi-week painful decline.
ADA, a core native asset of the newest smart contracts platform Cardano, touched $1.5 in its multi-month freefall. Here's what makes it plummet before gaining 200% in five weeks.
ADA loses 50% since early September
On Sept. 2, 2021, the ADA price reached its all-time high at $3.10 on the eve of the activation of its smart contract functionality. This major upgrade went live as a result of Alonzo hard-fork mainnet activation in mid-September.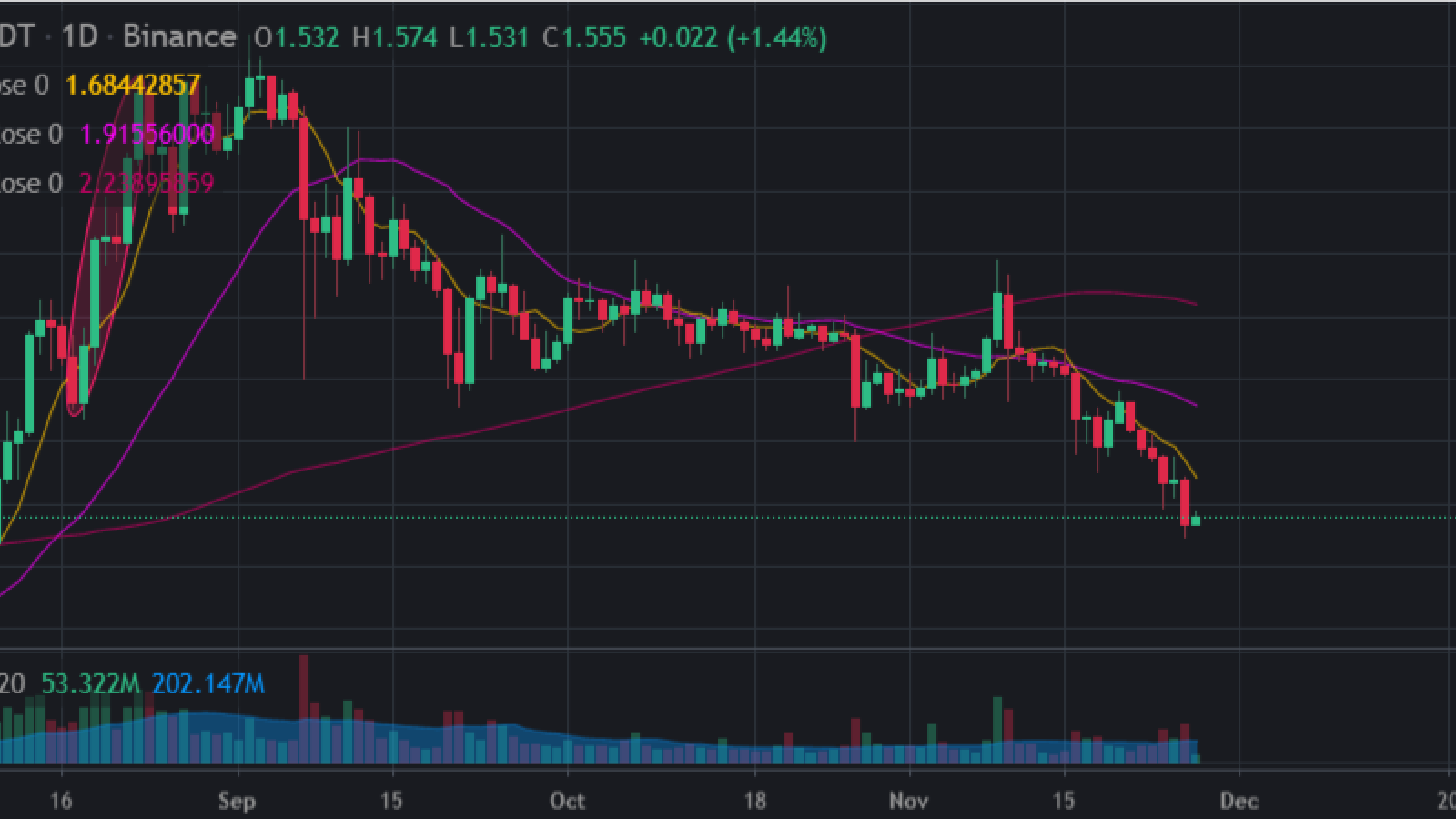 At the same time, its activation failed to catalyze another wave of ADA price rally: the asset entered a multi-week "bear market." On Nov. 26, 2021, it reached the lowest level since Aug. 9.
The most obvious mid-term catalyst is the criticism of Cardano's smart contracts performance. As covered by U.Today previously, the viability, speed and functionality of this system were attacked by both Ethereum (ETH) and Bitcoin (BTC) maximalists.
In terms of short-term bearish catalysts, the most obvious one is the delisting of Cardano's ADA by eToro, a mainstream derivatives trading platform. eToro restricted its U.S. customers from opening positions in ADA and Tron's Tronics (TRX) from Dec. 26, 2021.
Will ADA see another rally in 2022?
Cardano's inventor, Charles Hoskinson, has already slammed eToro's decision and attributed it to the lack of a global regulatory standard in the sphere of crypto and blockchain.
As U.Today reported earlier, Mr. Hoskinson is certain that 2022 will be a splendid year for his ecosystem. Speaking about its roadmap for the coming year, he called it a "living ecosystem."
He calls Cardano's technology unbelievable and claim
Red Alert In Crypto Space, Cardano Price Trembling Yet Remains Bullish
Crypto space witnessed a replica of a May crash but with lesser intensity. Bitcoin price is hovering between $53,800 and $54,400. However, some assets stood strong above their support levels like Ethereum & Cardano.
Despite the bearish trend prevailing in the short-term, yet the ADA price still remains bullish in the higher time frame.
Cardano price maintained a substantial downtrend ever since the beginning of the present trading day. In the daily chart, the asset has formed a double-bottom and was expected to surge high slicing through the neckline.
But the asset was rejected at the neckline in the last few hours of the last trading day. ADA price dumped nearly 15% ever since then, however, it's also attempting to rebound.
3rd Cardano sell-off is going on since the early hours of the Asian trade. The dump dragged the price much below the 200-day MA and extended the gap between the strong resistance levels around $2.5.
A major reason for the sell-off is speculated to be the pandemic FUD circulating in space. However, the retracement is expected to be well in place as more than 70% of ADA is staked and keeping only 30% in circulation is pretty bullish for the asset.
Exactly a year ago, the Cardano price was around $0.03 and the asset was surrounded by immense FUD. However, the ADA price didn't stop then and may not stop now also.
Collectively the asset maintains a substantial rally ever since it faced an extreme sell-off in September. Yet the strong support levels still reside around $1 and the asset is still bullish until the asset sustains above these levels.