Finding a new home: Bitcoin miners settling down after China exodus
A few months ago, the crypto industry was shaken up by the news of the mass exodus of miners from China. At the end of May 2021, it became known that the Chinese authorities were going to ban Bitcoin (BTC) mining, bringing the already existing regulatory pressure on miners to a breaking point.
The list of banned operations includes purchasing cryptocurrencies, as well as any related investment activities, crypto trading and exchange. The People's Bank of China had held substantive consultations with banks and payment systems and then the largest Chinese financial institutions were told to stop speculative trading — in particular, with BTC.
As a result, Bitcoin's hash rate showed one of the largest drops in its history. China's share of BTC mining dropped 55% since the beginning of the year, as many Bitcoin network participants turned off their equipment.
This was confirmed as China's secondary market filled with GPU cards. Miners were actively selling cards, including the all-powerful GeForce RTX 3090 and Radeon RX 6900 XT at below-market prices.
Of course, not all miners capitulated, especially the large pools. The logical way out of the situation was "mining migration" to other countries. But where did the Chinese miners move to, and which countries can become the new mecca of mining?
Is mining truly bad for China?
Before trying to find out where the miners are leaving, it is worth understanding why the Chinese government banned mining, and what consequences such a decision will have on the crypto industry and even on some sectors of the country's economy.
After the introduction of the ban, the largest mining pools were the first to react. Huobi, BTC.TOP and HashCow have ceased their activities in whole or partially. One of the largest crypto exchanges in the country, Huobi, suspended both crypto mining and some trading services for new clients from mainland China.
Mining company BTC.TOP announced it was suspending its business in China, citing risks, while HashCow has said it will stop buying new BTC mining stations.
The largest producer of Bitcoin mining equipment in the world, Bitmain, temporarily suspended sales at the end of June 2021. The company made this decision after prices plummeted by 75%. The suspension affected only BTC miners, while Bitmain continues to sell the equipment for altcoin mining.
According to the Chinese government, the problem in mining was the high consumption of electricity. China, which was home to most of the BTC mining pools, relies mainly on coal power, which produces a lot of pollution.
But according to some commentators in the crypto industry, the real motive of the Chinese authorities was not to preserve the country's ecology but to promote its own cryptocurrency, the digital yuan — i.e., by banning BTC mining, the Chinese government "clears" the space for its own central bank digital currency (CBDC).
Now the development of the digital yuan is in full swing. At the end of June 2021, subway passengers in Beijing were able to buy tickets using the digital yuan. And two weeks earlier, the Agricultural Bank of China was the first in the country to allow its clients to convert digital yuan into cash and vice versa.
At the same time, the government appears to be actively suppressing competitors to the CBDC. In 2020, the initial public offering of Ant Financial — Alibaba's fintech business — was thwarted largely due to Chinese authorities' fears that the Alipay payments system would compete with the digital yuan.
So, is it possible that miners were simply collateral damage on the way to the country's goal to support the widely implemented digital national currency? After all, the latest crypto ban did not prohibit anything new, as existing restrictions were already spelled out in 2017.
New mining centers
China, where three-quarters of all BTC used to be mined, began to reduce its share in global mining long before the prohibitive measures were introduced in May.
According to research by the Cambridge Centre for Alternative Finance on global Bitcoin mining from September 2019 to April 2021, China was gradually becoming less attractive for crypto enthusiasts. This can be considered a confirmation of the tough policy of the state's government. Nevertheless, the country's share of Bitcoin mining remained high and amounted to about 46%. However, as Fei Cao, CEO of Huobi Pool, told Cointelegraph:
"This year, the key trends for digital mining are an increased compliance and capital requirements, and these two trends seem more promising in the North American region, where mining is legal under local regulations."
Cao's words are confirmed by the statistics as the United Statescurrently has more than quadrupled its share in world mining BTC — from 4.1% to 16.8%.
Over the years, the U.S. has been building up its hosting capacity, long before the Chinese ban, even when the crypto market was experiencing a serious decline. American mining companies were especially active when large BTC farms were not in great demand, for example, in 2017.
In addition, the U.S. also has some of the cheapest energy sources on the planet, many of which are renewable. Moreover, American investors themselves are interested in cooperating with miners. At a recent meeting in Texas, U.S. oil and gas executives suggested miners use surplus natural gas to generate electricity.
Cheap electricity is also very attractive for large manufacturers of mining equipment. For example, back in 2020, Bitmain entered into a partnership agreement with Digital Currency Group's subsidiary, Foundry, which provides funding to Bitmain clients from North America and supplies a large batch of devices for mining BTC.
Kazakhstan has also shown strong growth in its share in the world of Bitcoin mining this year — increasing from 1.4% to 8.6%.
This country borders China, so the cost of transporting equipment is cheaper than transporting it across the ocean to North America. Furthermore, lawmakers in Kazakhstan are making the country more attractive to miners by allowing local banks to open accounts for cryptocurrency transactions. In addition, a mining company can be officially registered in the country since digital currency was officially legalized back in 2020.
Chinese companies have already taken advantage of this. Large cryptocurrency miner provider Canaan announced in June that it had started mining BTC in Kazakhstan. Crypto mining firm BIT Mining, which recently announced that it would expand from the Chinese market, plans to acquire 2,500 BTC miners for deployment in Kazakhstan. According to experts, the Chinese miners sent about 4,000 mining devices to Kazakhstan.
Another important factor for Kazakhstan's popularity as a destination for miners is rather low prices for electricity where 1 kilowatt costs $0.03. However, the country's energy system isn't as big as the United States'.
Russia has also increased its share in global mining to 6.5%. As in the case of Kazakhstan, Russia has a border with China, which is convenient when transporting mining equipment. The Russian Association of Crypto Industry and Blockchain (RACIB) in July 2021 outlined the advantages of mining in the country, highlighting a surplus of cheap electricity.
Given the country's diverse climate, mining farms can be installed in regions with cold climates, which will reduce cooling costs while maximizing expected profits.
In addition, the RACIB entered into a partnership agreement with a consortium of the largest mining companies in China, which until recently controlled 25% of Bitcoin's hash rate.
Miners will move, mining will remain
Less than six months after the Chinese ban, miners have found a new home, perhaps even better than the previous one, and Bitcoin's hash rate is predictably recovering.
So, Chinese miners will not disappear but will only change their location. "Due to the impact of changing policies and regulations around the world, the BTC mining industry is currently in a phase of transformation," Cao said, adding:
"The outdated mining machines in the industry have been retired, but at the same time, more advanced new mining machines will be introduced to the market to make up for lost supply.

News Source
Bitcoin Doesn't Work as a Form of Payment, According to Celsius CEO Alex Mashinsky – Here's Why
The CEO of crypto lending platform Celsius does not think that Bitcoin (BTC) has the correct properties to become a suitable payment option.
In a new interview on Coin Stories, Alex Mashinsky offers a contrasting picture between the qualities of the US dollar and the leading cryptocurrency.
"I'd much rather be in a scenario where the dollar remains as the reserve currency but Bitcoin continues to do very well…
The dollar is a phenomenal form of payment. It's a horrible store of value and Bitcoin is a phenomenal store value, but it's a pretty bad form of payment."
Mashinsky highlights that it is not a great idea to use Bitcoin to pay for goods and services as he says that people who have done so in the past often regret making the transaction.
"If you fell for Elon Musk's deal where he gave you a Tesla for two or three Bitcoins, obviously you hate driving that Tesla because you would in a second go back and take those three Bitcoins and return the Tesla, which lost value during the same period of time.
Anything you bought with Bitcoin in the last 10 years, you rather have the Bitcoin back and would have paid in US dollars. That's really the crux of the matter that you cannot use it as a form of payment or cannot use it in a way that makes you happy about the transaction."
Is Bitcoin Officially in Bear Territory? Crypto Analyst Michaël van de Poppe Analyzes State of BTC After Deep Pullback
A widely followed crypto strategist and trader is looking at the state of Bitcoin to determine whether the largest crypto asset by market cap has crossed bear territory.
Hours before the deep crypto pullback, analyst Michaël van de Poppe told his 518,000 Twitter followers that he was expecting Bitcoin to correct hard and leave an impression that the bull market is over.
"The scenario is very simple.
People expected a peak bull run in December. Not happening.
Let the market correct due to that.
People will expect a bear market at the low (approx. $47,000-$50,000).
Moon the markets and leave everyone behind.
Supercycle."
With Bitcoin trading below $50,000, Van de Poppe says BTC is still in a bull market and highlights that he believes the correction is now over.
"Overall, this should be the low of a standard 30-40% correction in the markets.
However, corrections are super wicky the past few years in Bitcoin as there's such a massive amount of leverage in the markets.
Through that, we overshoot.
But all good, should be done now."
Looking at the charts, Van de Poppe says there's a decent chance that Bitcoin will launch a V-shaped reversal or a sharp rally where BTC revisits its all-time high around $69,000 by early next year.
"Rounding off the day with this chart on Bitcoin.
I think that the chances for a V-shape recovery are there.
We'll see coming week how it unfolds, but these bounces are significant and good."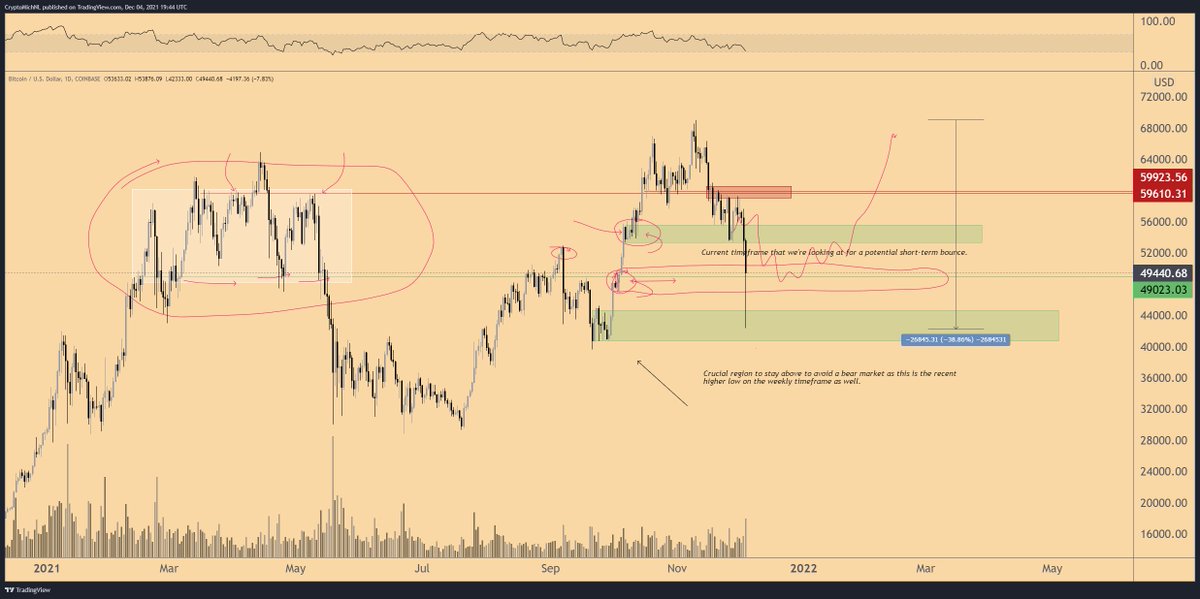 Bitcoin is exchanging hands at $48,994, down over 7% in the last 24 hours.
This Bitcoin fractal predicted the fall, but here's the next price target
Bitcoin, along with the larger crypto-market, dropped the ball after the most recent price fall had echoes of 19 May's crash. With BTC shedding 25% of its value in a matter of a few hours, the market seemed to reset to its September-end levels. While it was trading around the $49k-mark at press time, for a brief moment, it did tread close to $42,000 too.
The aforementioned price fall led to a mass wipeout, giving way to over $2.5 billion liquidations across the market. Ergo, the question – Does the macro bullish outlook for Bitcoin remain intact?
The dip was overdue
On the daily chart, Bitcoin's price had been in a falling wedge structure since the 16 November crash. Looking at the larger structure for the past month, it can be argued that the latest crash to the $42k level was overdue.
On zooming out, a look at BTC's weekly chart highlighted how after the 4 December crash, the price broke the MA 50 trend-line. 
During the previous major corrections too, the price had broken below this level in May and then again, in late June. However, it has always managed to hold it.
In fact, this level has acted as a support for the +100% rally from July to November. Thus, as long as the weekly closes above or at least around the 1W MA50, BTCUSD has a legitimate probability of forming support there and starting a new rally.
Interestingly, an RSI fractal seemed also to be in play here. As noted in the chart above, a similar RSI structure was seen from mid-2019 to early 2020, as seen from early 2021 to the time of writing. The key catalyst in both cases was the sell-off due to COVID fears.
However, this crash was more of a combination of multiple factors like the panic among retail investors, tech market crash, over-leveraged crypto-markets, high Open Interest, positive funding rate, and so on.
So, what's next?
For now, while the price has rebounded, another fall to the lower $40k-level cannot be discarded.
However, BTC's two main utility indicators continue to rise – A good signal. BTC's token circulation and its daily active addresses, at press time, sat at a 6-month high. In fact, they seemed likely to continue their uptrend too.
Furthermore, the estimated leverage ratio dropped by 22% in just one day. This was last seen in September when the price dropped by 24% and touched $40k.
In case a similar rally follows and BTC's price makes a similar structure, the next minimum target of $75k for Bitcoin towards the end of January 2022 can be expected.
At the time of writing, the biggest takeaway as BTC's price rebounded from its lower levels seemed to be that the market dynamics have been looking very different than previous cycles.
Even though volatility was still high, the market seemed to move from FOMO-induced price tops and sell-offs to more mature and sustainable growth while flushing leverage. Nonetheless, with the price structure still tilting towards bearish, despite the bounce, it would be best to be cautious.